| | |
| --- | --- |
| Extreme Sports Sequential Photography | |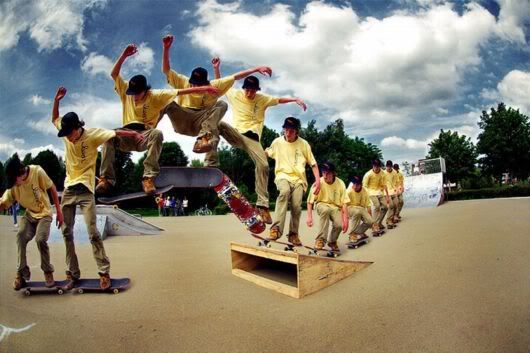 Last Updated ( Saturday, 20 October 2012 )
Read more...
| | |
| --- | --- |
| Answering Mobile Phone Up There | |
Yes, I DO want to buy life insurance: Moment daredevil answers mobile… 1,000 feet in the air

They say it's good to talk but thrill-seeker Trancede Melet could have been forgiven for letting this call go to voicemail.

Despite precariously balancing above a breathtaking 1,000 foot drop on a narrow highline, the brave Frenchman was happy to answer the badly-timed call and even stopped to chat for twenty minutes.

Vertigo free Mr Melet was caught on camera during the dizzying stunt to cross a 20 metre gap between two cliffs, with just a harness around his waist attached to a small rope to keep him safe.



Tancrede Melet stops to chat with a friend despite being nearly 1,000 foot high off the ground in the Dalles Grises sector of Frances Verdon Gorges

Mountaineer photographer Alexandre Buisse looked on in amazement as the professional daredevil crossed the line between two cliffs in the Dalles Grises region of the Verdon Gorges, France, and heard his phone begin to ring.

Expecting him to ignore the call, Mr Buisse was stunned to see him calmly stop and chat, even sitting down and admiring the view as he got deep into conversation.

Alexandre, 26, said: 'I have climbed all over the world, but when I tried highlining I nearly soiled myself, to answer the phone when you're up there shows incredible guts.

'Tancrede is well known in France as a highliner and has starred in a film about the sport, he just saw his phone ringing and decided to answer it, he didn't mind the fact he was so high up in the air.


Read more...
<< Start
< Prev
1
2
3
4
5
6
7
8
9
10
Next >
End >>
Results 22 - 28 of 83