| | |
| --- | --- |
| Renovatio Concept by Confederate Motor Company | |
I'm a little bit confused with this motor design, where do I sit ? This renovation concept by Confederate Motor Company uses minimal machine, using the fewest pieces, moving parts and systems to accomplish its dynamic mission. The word "Renovation" itself means rebirth, which also represent the rebirth of their headquarters company after destroyed by Hurricane Katrina. The Driving concept was the creation of a conceptually flexible foundation to allow a place for growth and further iteration; a utilitarian modular flexible foundation.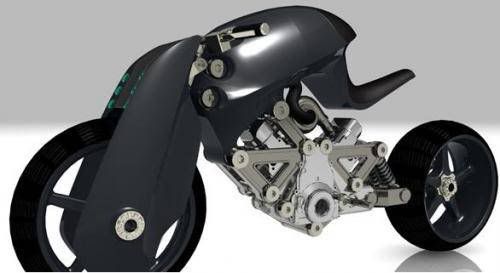 Read more...
| | |
| --- | --- |
| Crossbreed Bike Wheels Fold Automatically | |
A UK Designer has come up with a full-sized wheel that can be completely folded. Duncan Fitzsimmons' Crossbreed wheel doesn't have the poor-performance delivered by the tiny wheels on folding bikes and despite sounding pretty dangerous it actually works, as you can see in the video.

Read more...
<< Start
< Prev
1
2
3
4
5
6
7
8
9
10
Next >
End >>
Results 64 - 70 of 80