Mountain climbers scale some of the highest peaks in the world in pictures by photographer Jimmy Chin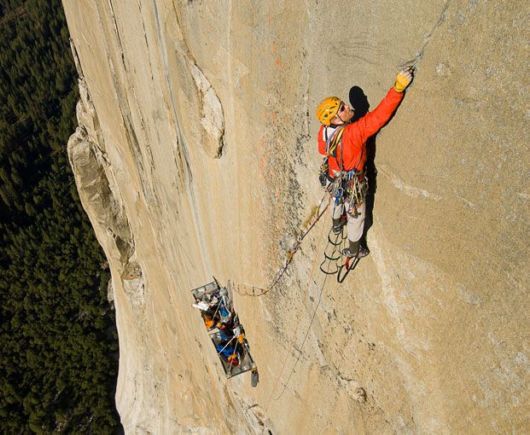 Here's a photographer who will go to great heights in his search for the ultimate picture. Jimmy Chin, probably the world's greatest adventure photographer, has travelled the world with highly-skilled mountain climbers, scaling huge peaks and even skiing down the face of Mount Everest
Conrad Anker reaches for his next gear placement, 2,500 feet off the ground on the Pacific Ocean Wall of El Capitain, Yosemite National Park, California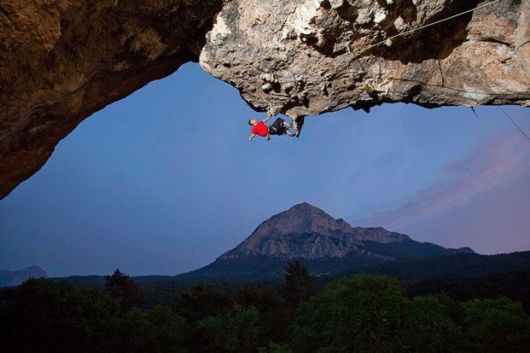 Jimmy has built up a portfolio that documents his work in some of the most inaccessible and extreme situations imaginable. Jimmy is the go-to man for adventurers and publications such as National Geographic and Outside Magazine
Yuji Hirayama climbs in Turkey in April 2009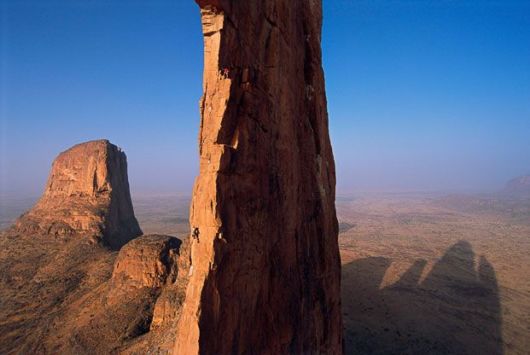 His travels have taken him to the tallest freestanding sandstone towers in the world, the Hand of Fatima in Mali, to the highest sheer cliff face on the globe. "The climbs up the Hand of Fatima which is 2,000 feet and Naga Parbat which is just over 15,000 feet were spectacular," said Jimmy. "The Hand of Fatima and the Kaga Tondo in Mali, is a personal favourite of mine. That shot sums up the bravery and tremendous ability of these climbers, who allowed me to join them and to experience the same dangers that they face"
Cedar Wright and Kevin Thaw climb the south buttress of Kaga Tondo on the Hand of Fatima in Mali on December 20, 2002.
To work with Steph Davis as she became the first woman to free climb El Capitan's Salathe Wall in Yosemite, was an honour and a privilege. "I am always concerned with finding the right spot and the right shot, so sometimes I forget to appreciate the skill of my fellow adventurers, but I am aware of how my life has been changed by my ability with a camera"
Steph Davis free climbs the Salathe Wall of El Capitain in Yosemite National Park, California, on November 4, 2005. Steph is the first and only woman to free climb the Salathe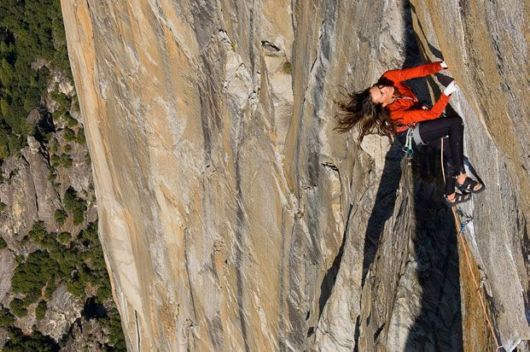 Steph Davis leading the crux "Boulder Pitch" on the Salathe Headwall in Yosemite National Park on November 4, 2005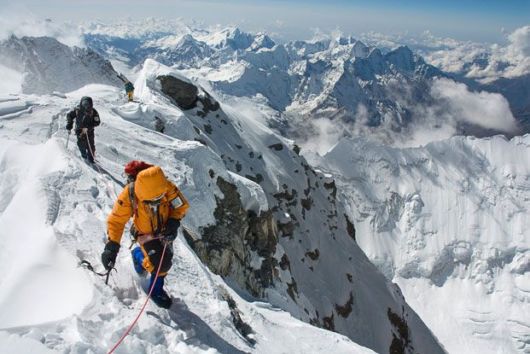 Of all his adventures though, his ascents of Everest stand out as his most physically demanding and rewarding. "You do wonder – when you are at 28,000 feet, the height that aeroplanes cruise at, when you are struggling to draw breath and every limb aches – why do I do this?"
Kit and Rob DesLauriers with Dave Hahn on the South Summit of Mount Everest on October 4, 2006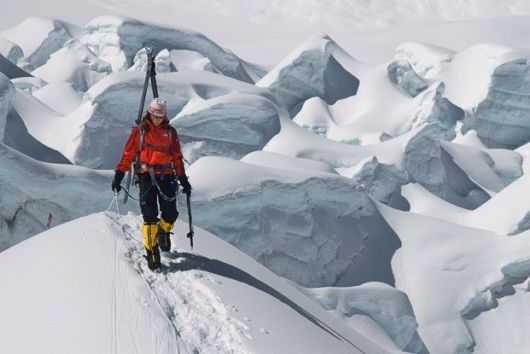 "But of course once you reach the summit and realise that there is nowhere you could stand taller on Earth, that's why I do it. On my 2006 expedition to Everest me, Kit and Rob DesLauries decided to speed up our descent of the mountain by skiing down its south east ridge. To say that was fun and frivolous is a bit of an understatement"
Kit DesLauriers hiking through the Khumbu Icefall of Mount Everest on September 18, 2006
Pushing himself hard in training between jaunts, Jimmy's life is a constant whirl of planning, travel and photography. "I lose anywhere up to 20 pounds on location with adventurers like Conrad Anker or Brady Robinson," said Jimmy. "So I need to replace that lost weight and muscle by training hard when I am back in the States between jobs. And as I get older it is far more important for me to be doing this and taking my conditioning seriously"
Jimmy Chin climbing the Pacific Ocean Wall in Yosemite Park, California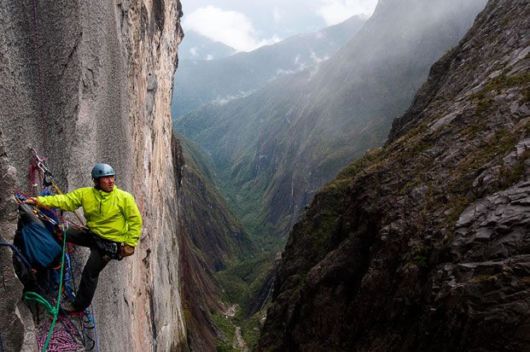 Jimmy Chin on Mount Kinabalu, a World Heritage Site in Borneo, on April 25, 2009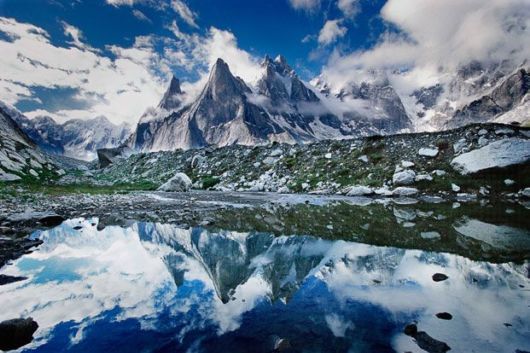 Granite towers reflected in a pool on the Karakoram Mountains in Charakusa Valley, Pakistan. This image was taken on August 10, 1999 during Jimmy's first major climbing expedition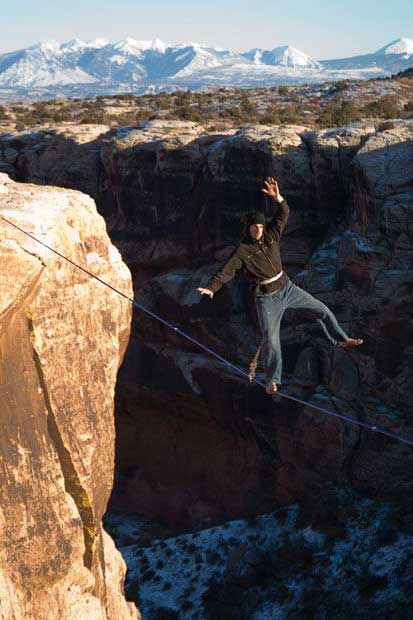 Dean Potter, one of the greatest high line walkers in the world, walks on a one-inch thick piece of webbing over a 500 foot deep chasm at Canyonlands National Park in Indian Creek, Utah, in January 2007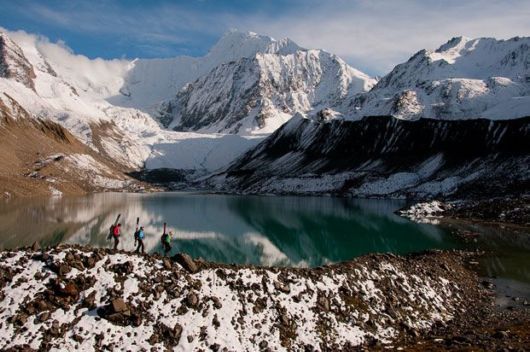 Kasha Rigby, Giulia Monego and Ingrid Backstrom approach Redommaine peak before their first ski descent in October 2009 during the Shangri La Expedition, in the Himalayas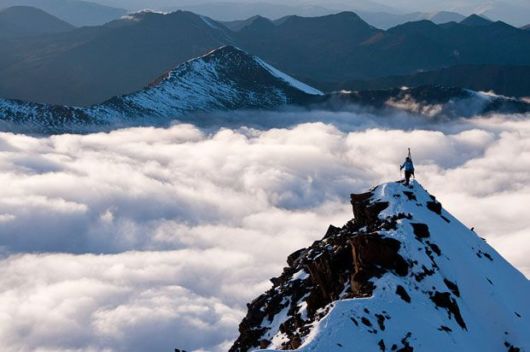 Kasha Rigby climbing Redommaine peak before the first ski descent in October 2009, during the Shangri La Expedition in the Himalayas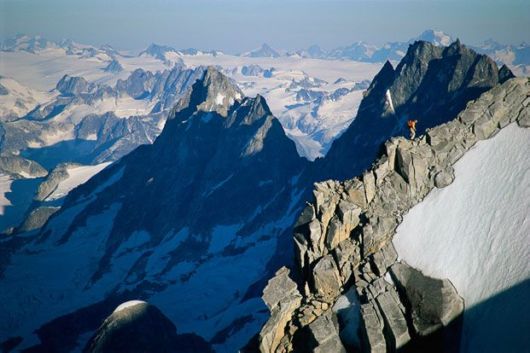 Conrad Anker traverses an alpine ridge deep in the Waddington Range on Mount Combatant, Coastal Range in British Columbia, Canada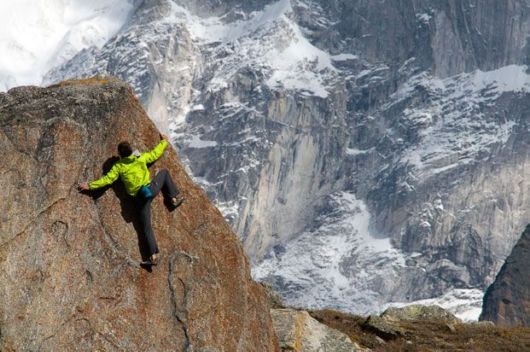 Renan Ozturk on Mount Meru in Garwahl Himalaya, India, on September 14, 2009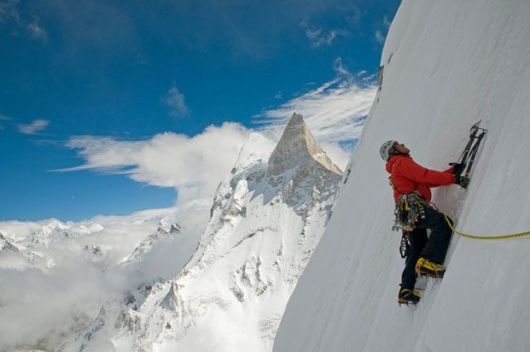 Jimmy Chin climbs Mount Meru in Garwahl Himalaya, India
Pictures from the peak of perfection: The man who climbs mountains in search of the ultimate photo
By Daily Mail Reporter
Last updated at 6:24 PM on 6th May 2011
For most of us, hauling yourself up some of the Earth's highest peaks would be enough to keep us occupied.
But for one mountaineer, the exertion he goes through to scale the heights is just a means to capturing some of the most stunning images of nature's peaks.
Robert Bosch, 57, has climbed to the summit of Everest, the icy Alps of Europe and even to the frozen desert wastes of Antarctica in pursuit of adventure and the perfect snap.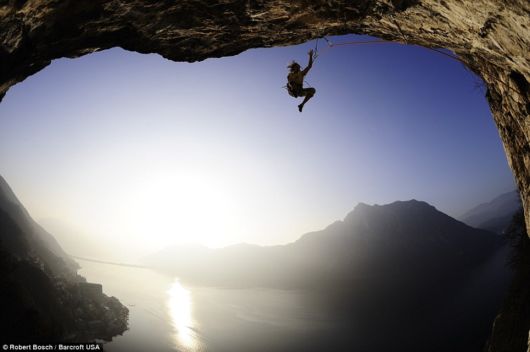 Clinging on: Climber Pesche Wuthrich swings for another handhold in the Alps on the border between Italy and Switzerland
Perilous: This image shows Swiss mountaineer Ueli Steck ice-climbing near Pontresina, Switzerland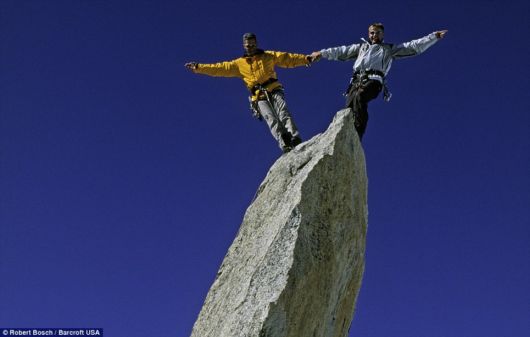 Balancing act: Two climbers perch on top of Salbitnadel in Uri, Switzerland, in another of Mr Bosch's stunning images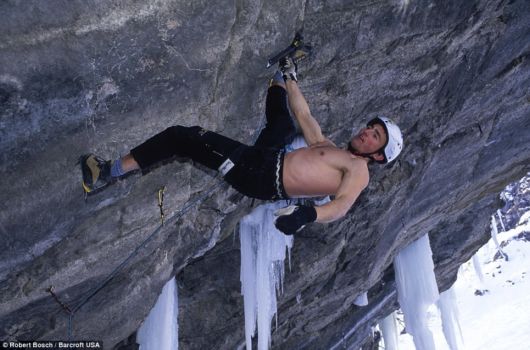 Perspective: Mr Bosch has spent nearly 40 years climbing the Earth's highest peaks to get his images
Perspective: Mr Bosch has spent nearly 40 years climbing the Earth's highest peaks to get his images
Working with some of the greats of European mountaineering, Mr Bosch's vertigo-inducing photography portrays the loneliness and grit that all climbers need to conquer the world's highest peaks.
He said: 'Climbing Mount Everest is relatively straightforward for an experienced climber.
'I had previously attempted to ascend the notoriously difficult west ridge route but that had defeated me.
'So in 2001 I succeeded climbing the north face, but I must tell you that to climb Everest up the commercially popular route is easy.
'Everyone travels to the top and thinks they can write a book about it, but the majority of these people are not mountaineers, they are relying ont he incredible work of the Sherpas of Nepal.'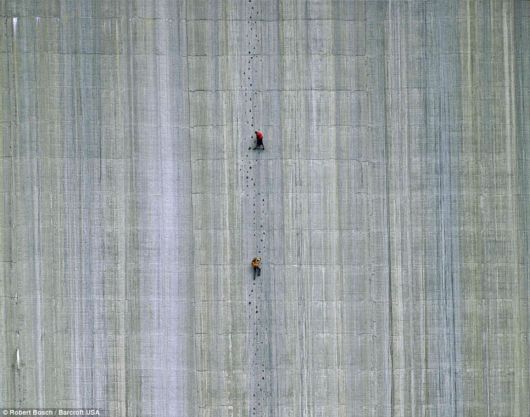 Give me a leg up: Climbers half way up the artificial wall on the Diga di Luzzone in Tessin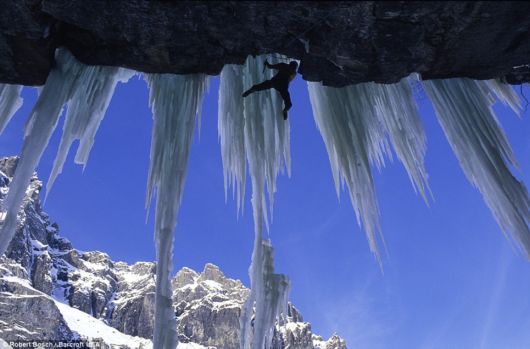 Staying cool: Ueli Steck ice axes in hand as he climbs near Oeschinen in Bern, Switzerland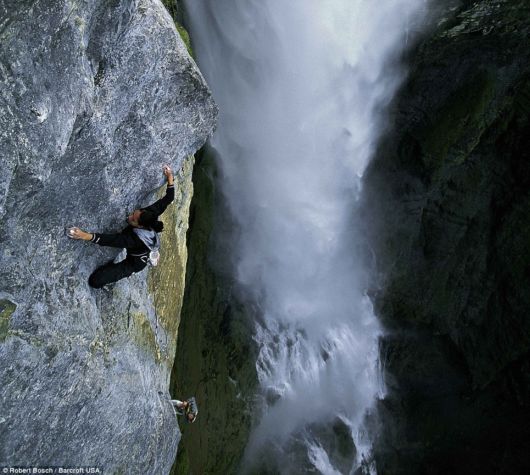 Don't look down: Annatina Schultz makes her way up The Fall on Klettern in Meringen, Switzerland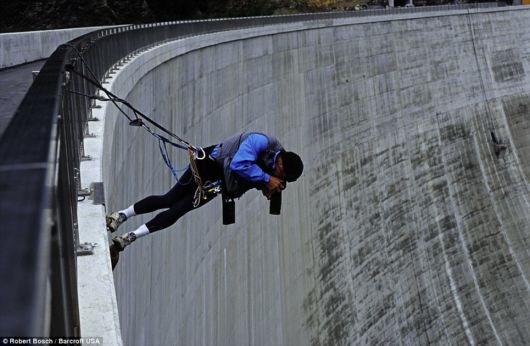 Eyes on the prize: Mr Bosch stands suspended at a 90 degree angle on the artificial wall in Tessin, Switzerland
Photographing the greats of the climbing world, including 34-year-old Ueli Steck, Mr Bosch has witnessed the skill needed in perilous climbs.
He said: 'Ueli is a wonderful climber, an exceptional mountaineer, we climb a lot together looking for that perfect shot that sums up the strength and balance and fitness that climbers need.
'His free climbing abilities are what most impresses me, he is a good friend and it is a pleasure to work with him.'
As an experienced climber, Mr Bosch – who lives near Zurich in Switzerland – has scaled more than 100 different peaks across the world.
He considered Cerro Torre in Argentina one of the hardest ascents, despite its relative unknown status.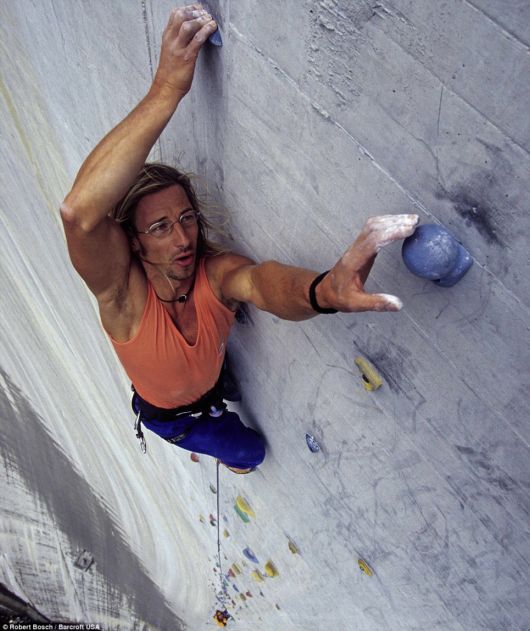 Nearly there: This close up was taken near the summit of the wall as Mr Bosch was suspended over the drop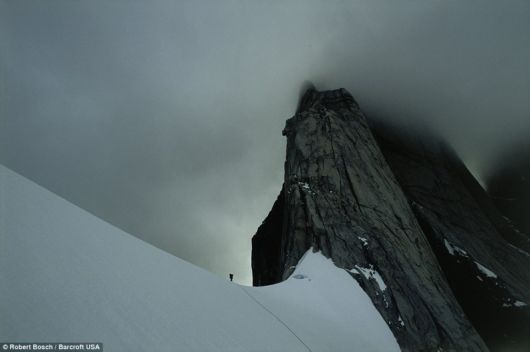 Bleak: The photographer counts Cerro Torre, in Patagonia, Argentina, as one of the toughest to climb
Scaling new heights: This image shows ice-climbing on the Godwin Austen Glacier in Pakistan with K2 in the background
Mr Bosch said: 'My passion was born when my parents would take me to visit the Alps when I was a boy.
'My main concern was climbing, but another interest of mine had always been photography and in my mid twenties I began to take pictures during my ascents and by the time I was 30 I had launched my own business concentrating on my climbing.
'I was working in the Swiss Alps on my photography, hanging from a rope and using my crampons digging into the rock face to balance myself.
'Unfortunately I had a momentary lapse of balance and I turned 180 degress upside down to face a sheer 3,000ft drop.
'My heart skipped and luckily for me my rope held and I managed to right myself, but that incident haunts me every day because I came so close to falling down head first.'