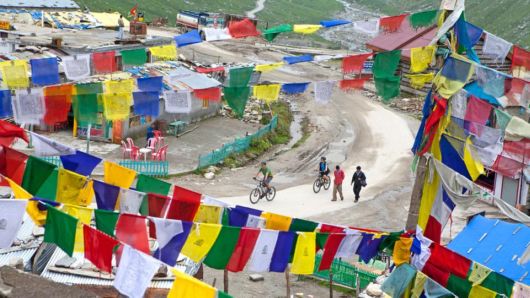 A road carved through mountains
Carved through the Himalaya mountain range in 1987 and opened to foreign travellers in 1989, the 500km highway between the towns of Manali and Leh in northwest India has become a premier mountain challenge for intrepid cyclists, presenting one of the highest and most starkly beautiful rides in the world. Blanketed by snow for most of the year, the road is accessible for just three or four months ? around June to September ? when makeshift villages, such as the prayer flag-strung Marhi, 50km north of Manali, materialise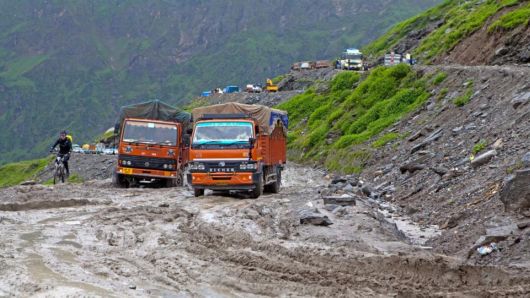 The route, which takes cyclists seven to 10 days to complete, crosses five Himalayan passes between Manali and Leh, ranging in altitude from 3,978m to 5,350m. The first and lowest is Rohtang La, a name that translates as ?Pile of Corpses?, in reference to the number of early travellers who died from the cold and bleak conditions. Typically, the climb from Marhi to Rohtang La is through deep mud, caused by snow melt and monsoon rains, creating kilometres-long traffic jams in which a bicycle can prove to be the most efficient vehicle.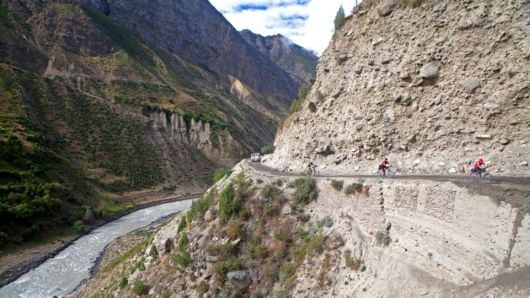 The monsoonal greenery of the Himachal Pradesh foothills ends at Rohtang La, from where the highway enters the barren Chandra Valley. Cut into steep and, at times, unstable slopes, the highway is in constant flux. It is prone to landslides, and sections of the road are destroyed each year by the brutal winter conditions.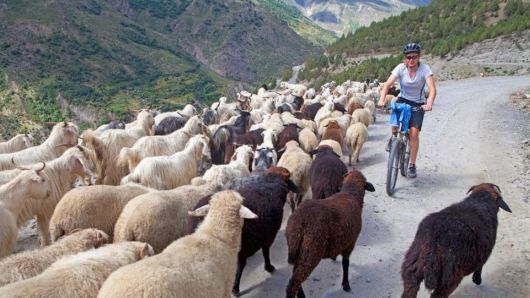 As part of the through road into the disputed region of Kashmir, the highway has great military significance. While it sees plenty of army traffic, much of the time it is delightfully quiet, with farmers herding goats and sheep along the road between villages and grazing grounds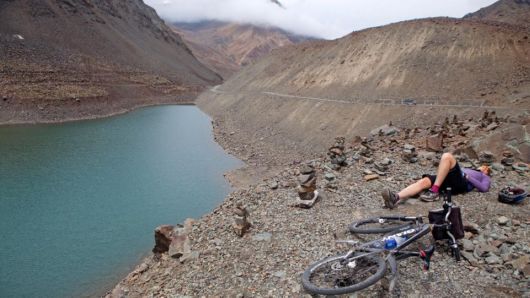 Cycling from Manali to Leh involves climbs totalling around 8,000m ? almost the equivalent of scaling Mount Everest from sea level ? and atop barren Baralacha La the road officially crosses the Himalayan range. The ascent to this pass from the village of Patseo is long but gradual, climbing 1,200m in 32km. At almost 4,900m above sea level, every gain is hard earned with the effort of pedalling and even breathing difficult and painful. Here a cyclist rests above a small lake near the crest of the pass.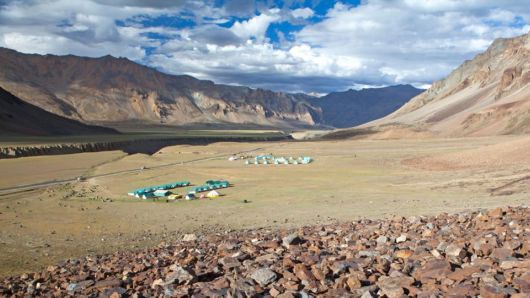 Towns are few along the highway, and most cycling groups set up rest camps on riverbanks or among the villages each night. On the plain before the village of Sarchu, a row of open-to-the-public, semi-permanent seasonal camps lines a wind-scoured gorge at the foot of rust-coloured peaks.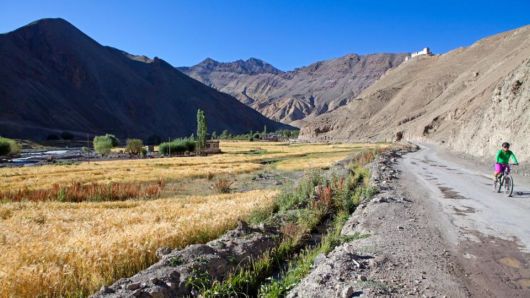 From its highest pass ? 5,350m Taglang La ? the highway plunges into the Indus Valley amid typical Ladakhi scenes of mud homes and green barley fields laid out beneath Buddhist monasteries that seem to balance atop serrated mountain ridges.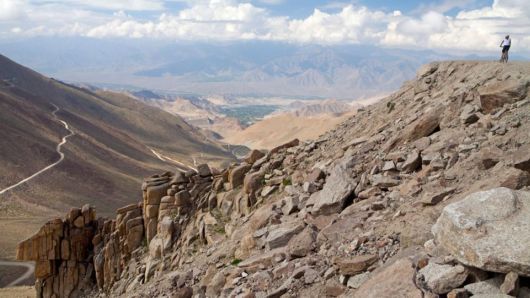 Once in Leh, many adventurous cyclists are tempted into another day of riding to Khardung La, a pass 40km from the city that is touted as the ?highest motorable road in the world?. Here a cyclist nears the pass, which is claimed to be 5,602m above sea level, though GPS surveys in recent years have suggested it may be as low as 5,359m. Even at a minimum, however, Khardung La is a 1,800m climb from the city