We conquered the Shark's Fin! American climbers become world's first to summit 20,700ft Himalayan peak after 11-day trek

Shark's Fin on India's Mount Meru is a near vertical climb for only the bravest of explorers

Dozens of professional climbers have been defeated by the lethal summit

Trio slept in hanging tents thousands of feet above the ground

Three American climbers have become the first in the world to conquer the Shark's Fin – a lethal 20,000ft pinnacle.
The dare-devil trio of Conrad Anker, Jimmy Chin and Renan Ozturk spent 11 days scaling up the jagged near vertical point on Meru Central in the Himalayas.
Dubbed one of the hardest climbs in the world, dozens of professional climbers had been defeated by the tricky summit – with one breaking both legs during an attempt. But the American climbers successfully negotiated the 20,700ft climb – sleeping in a hanging tent thousands of feet above the ground.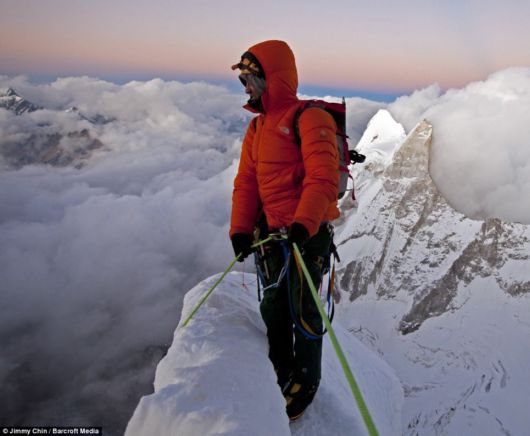 Renan Ozturk contemplates the long descent after making the summit on Mount Meru, India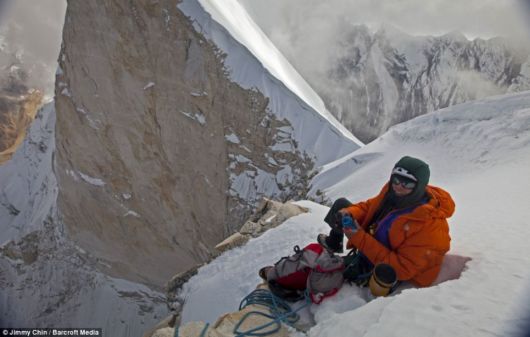 Conrad Anker celebrates with a cup of coffee on the summit after 11 days of climbing in India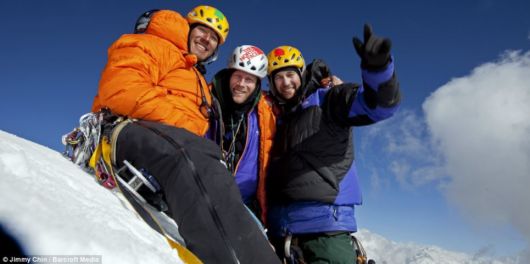 Jimmy Chin, Conrad Anker and Renan Ozturk celebrating the summit and their ascent of the Shark's Fin after days of climbing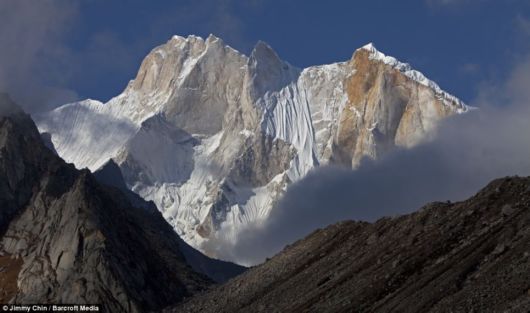 A view of Mount Meru as seen from Tapovon Basecamp on Mount Meru, India. The Shark's Fin is the central pillar in the formation and the part of the mountain most obviously shaped like a shark's fin
The climb was Conrad Anker's third attempt to find a route up Shark's Fin, and the second attempt for both Jimmy Chin and Renan Ozturk. Combining their three attempts, he trio has accumulated thirty-plus days on the mountain.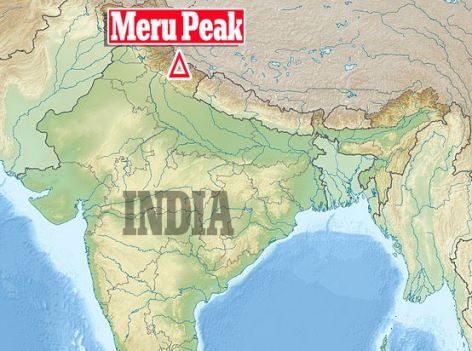 Meru Peak is located in the Himalayas in Nepal, a mountain with a lethal 20,000ft pinnacle
Mr Anker first tried the ascent in 2003. HIs team turned back two-thirds of the way up as a result of deep, unconsolidated snow and a lack of proper equipment for the upper wall. The following year set a new highpoint on the Fin at 6100m, but descended after one of the team broke both his legs.
Anker made his second attempt with Chin and Ozturk in 2008.
The team was delayed on the climb for several days during a storm but later they progressed beyond the highpoint of Anker's 2003 attempt.
But the team food supply had run short as a result of the storm and on their nineteenth day they stopped about 150 metres below summit. Chin vowed never to return.
The following year a Slovenian team attempted the same route but the weather meant they were unable to acclimatise on practise routes first.
Nevertheless, they decided to press ahead.
After the two-day approach the team turned aback, citing a lack of proper equipment, poor acclimatization and their alpine-style approach as mistakes for an attempt on the Shark's Fin.
After an epic 22-day climb up a near-vertical Himalayan peak, an Australian couple in their 40s took just two minutes to "fly" back to base camp and smash the world record for the highest BASE jump in history.
Conrad Anker geared up and climbing out near the team's highest portaledge camp at over 20,000ft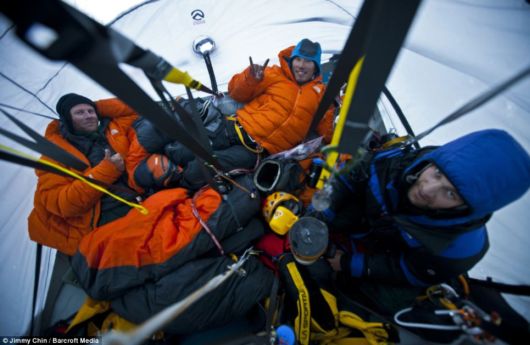 Resting in their fourth and highest portaledge camp at over 20,000ft, Conrad Anker, Jimmy Chin and Renan Ozturk taking a much needed break to melt water and eat before the big summit push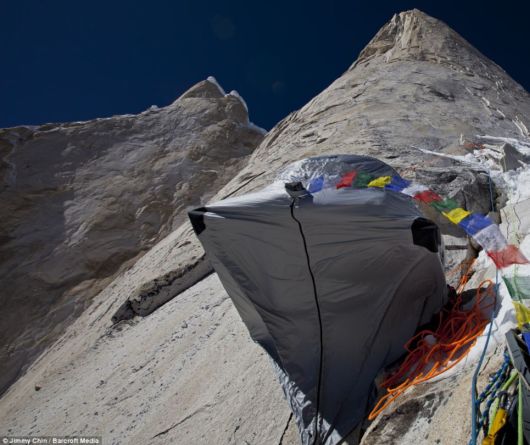 High camp on the Shark's Fin around 20,000ft on Day 09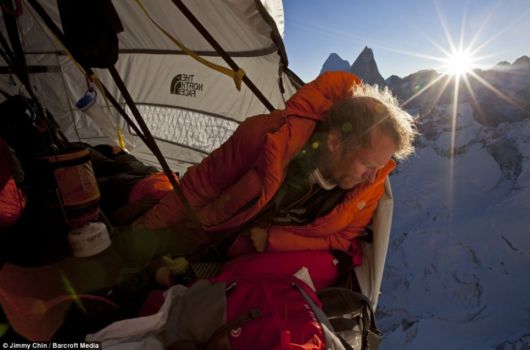 Conrad Anker looking out of the portaledge at over 20,000ft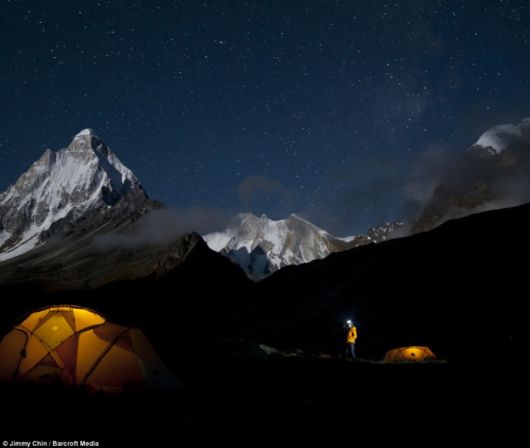 Renan Ozturk checking out the stars above basecamp, the night before the approach to the base of the route on Mount Meru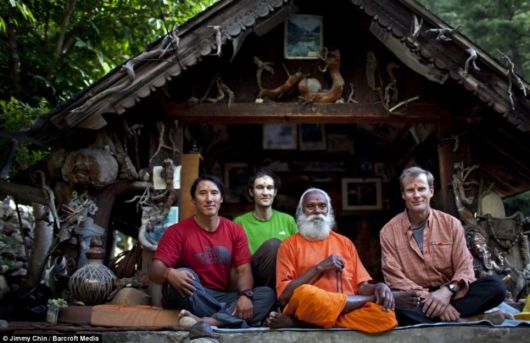 Jimmy Chin, Renan Ozturk and Conrad Anker with a Sirdar in Gangotri at the start of the expedition