Defying gravity: Meet the fearless performers who take on the 30ft Wall of Death… with no hands
Hands outstretched and with a defiant grin on his face, this performer entertains hundreds as he races around the 'Wall of Death' in India.
Racing along just feet from spectators and the floor on a rickety wooden 'bowl', daredevil performers defy the laws of gravity on motorbikes and in cars in Srinagar, Kashmir.
The dangerous stunts catapult the drivers into stardom at regular fairs in the northern region of India.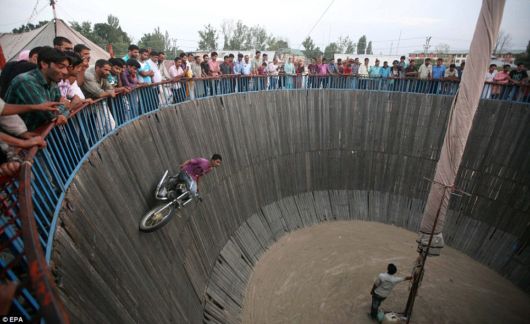 Death defying: A stuntman takes his hands off his motorbike as he races around the 'Wall of Death' at a fair in Srinagar, Kashmir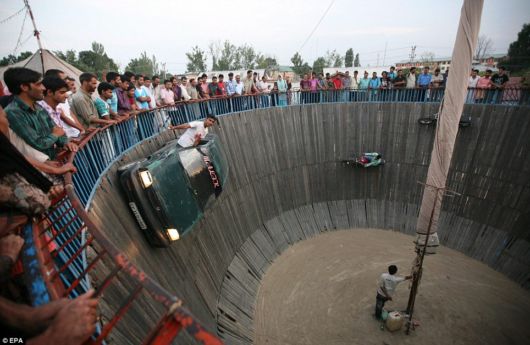 Playing to the crowd: This performer hangs out of his car as he speeds around the 30ft wooden wall
Using centrifugal force – or counter-centripetal to physicists – the cars and motorbikes are able to circle a 30ft vertical wall at high speed.
Traditionally the 'cylinder' in which the vehicles perform is made from wood, allowing for cheap repair but also making the feat that more dangerous due to the rickety nature of the track.
Huge crowds pack the top of the 'wall' to watch as performers climb out of car windows or take their hands off motorbike handlebars.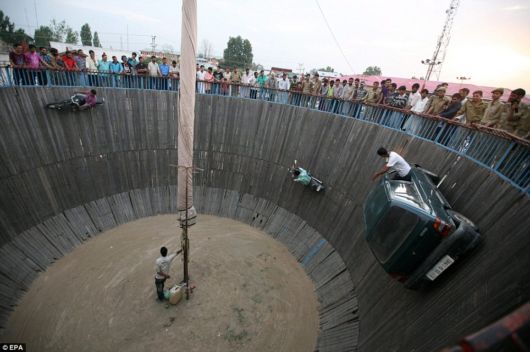 Celebrities: The performers become stars after wowing crowds with their gravity-defying abilities