What could possibly go wrong? The tourist trek thousands of feet up a Chinese mountain along wooden boards that were nailed together 700 years ago
These vertigo-inducing pictures show tourists navigating an extremely narrow and treacherous walkway along cliffs at a scenic mountain in China's Shaanxi Province.
The precipitous Chang Kong Cliff Road on Haushan mountain was built more than 700 years ago by hermits seeking ?immortals? they thought were living deep in the mountains.
The walkway is only a foot width wide and has been built clinging to the absolutely vertical cliff. One misstep would send pilgrims plunging thousands of feet down into the valley.
These days, anyone brave enough to navigate the path does have to wear a special safety harness.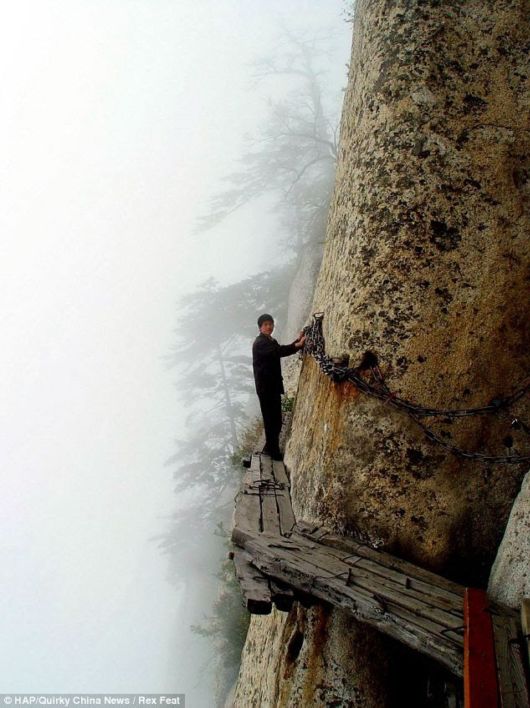 Perhaps its better not to see? A daredevil visitor to Huashan Mountain's Chang Kong Cliff Road walks the narrow pathway in a dense mist which obscures the background… and the lethal drop below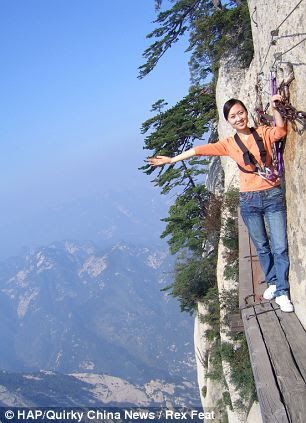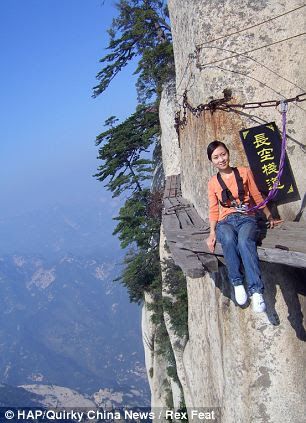 But what a view… A young woman poses for photographs along the walkway, which was built more than 700 years ago by hermits seeking ?immortals? they thought were living deep in the mountains

Look! No hands! A man trusts his life to the safety harness as he negotiates a section where the wooden walkway ends and the path continues cut out of the living rock of the mountain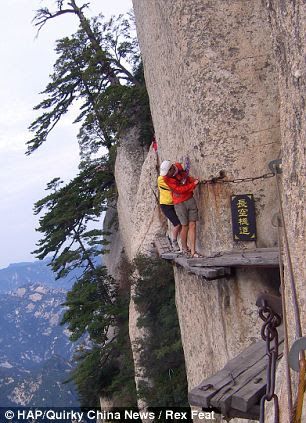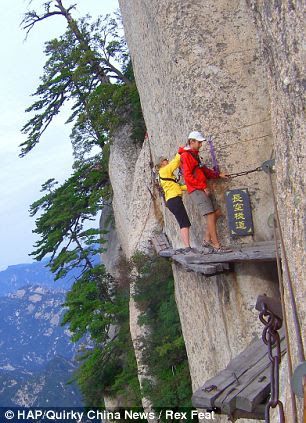 Don't look down! The man in the red jacket breaks the cardinal rule of moutaineering. But even if he is afraid, there's no turning back: to avoid precarious congestion the Chang Kong route is strictly one way
Thank goodness for those safety ropes: The walkway is only a foot width wide and has been built clinging to the absolutely vertical cliff. One misstep would send visitors plunging thousands of feet down into the valley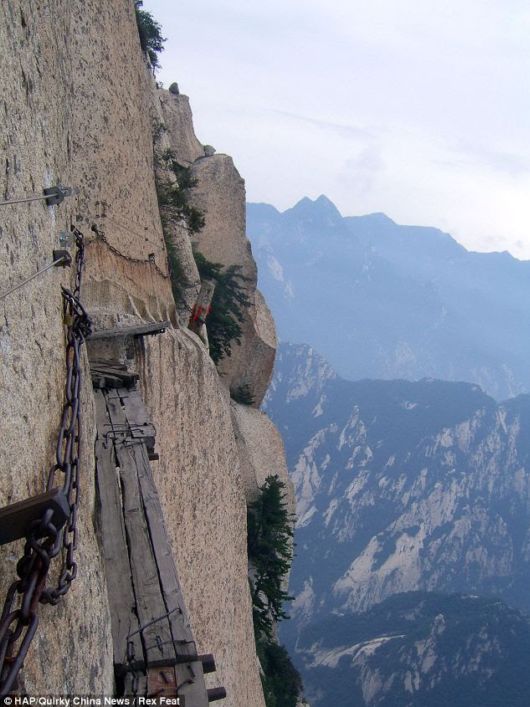 Breathtaking: Huashan Mountain is part of the Qin Ling Range that divides northern and southern Shaanxi, and also China. It is one of China's Five Great Mountains, and has a long history of religious significance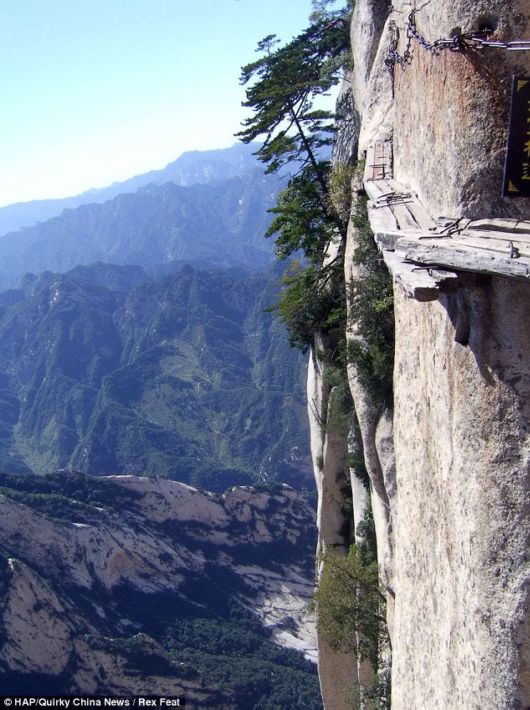 Ancient: The road was built during the Yuan dynasty by a person named He Yuan Xi and his students and took them 40 years to complete. It was built as a route to a more peaceful place to practice their religious beliefs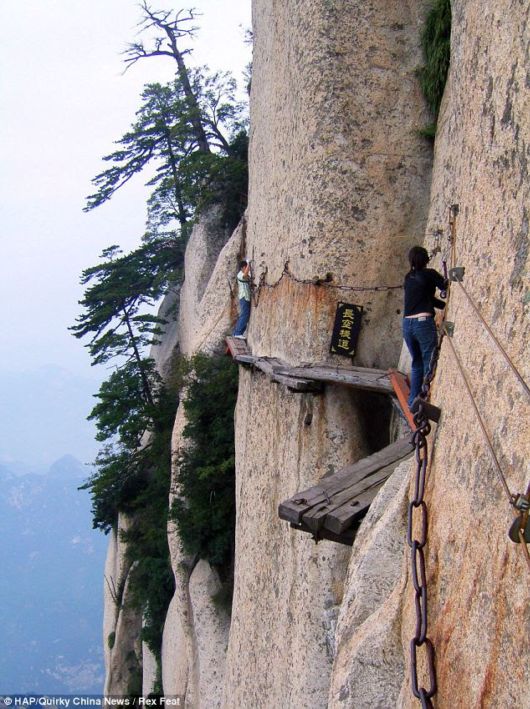 Vertigo-inducing: Tourists cling to the safety chains as they make their way along the Chang Kong route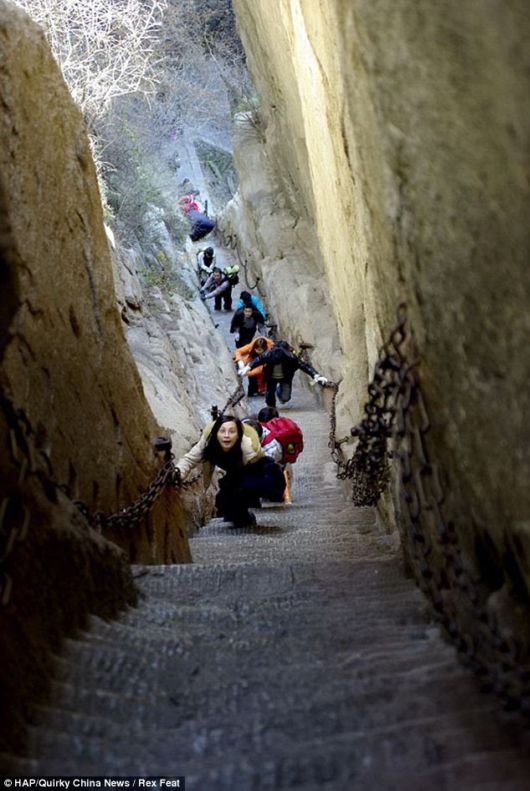 Tourists climb stairs to the narrow walkway: The route to conquer the peaks passes temples, shrines, pavilions, terraces, carvings, and statues interspersed between the granite paths and forested margins
Sacred place: Many visitors time their ascent to arrive at the peak to watch the spectacular sunrise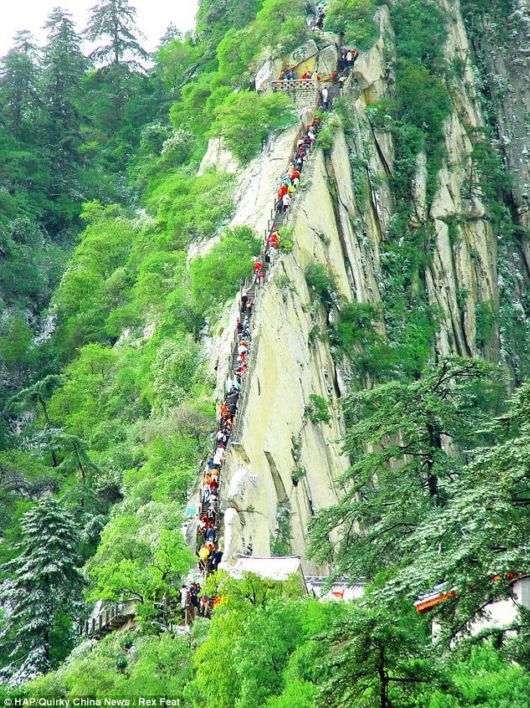 Danger: Tourists queue to make their way up the mountain. Despite the safety measures introduced by cutting deeper pathways and building up stone steps and wider paths, fatalities continue to occur on the mountain