Malavath Poorna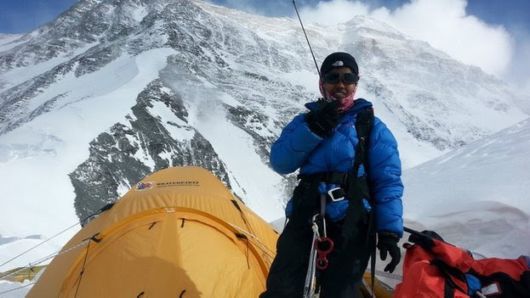 Malavath Poorna says she felt 'great' after reaching the summit
A 13-year-old Indian tribal schoolgirl who has become the youngest girl to climb Mount Everest has told the BBC in her first interview that she wants to be a role model for tribal children.
She hoisted the Indian flag at the summit and also left a photograph of Dalit leader BR Ambedkar there.
Officials says her achievement is even more impressive as she climbed the peak from the more difficult Tibetan side.
Most climbers attempt the 8,848-metre (29,029-ft) Everest from the Nepalese side, which is easier, but Nepal does not allow climbers under 16 years of age to scale the world's tallest mountain.
At 13 years and 11 months, Poorna is just a month older than the world's youngest Everest climber – American Jordan Romero ascended the peak in 2010 when he was 13 years and 10 months.
She did the climb with Shekhar Babu, an experienced mountaineer, her friend Anand Kumar, a 16 year-old-boy from a poor family like hers, and a group of sherpas.
Rare opportunity
"I was initially afraid, but the training I received helped me overcome my fear. I never thought of giving up," Malavath told the BBC, speaking on a satellite phone from Everest base camp on Wednesday morning.
"The aim of my expedition was to inspire young people and students from my kind of background. For a tribal like me, opportunities are very rare and I was looking for one opportunity where I could prove my calibre," she says.
The thing that bothered her the most during her climb was "eating packed food" and she says she sorely missed her mother's cooking, especially her fried chicken.
Poorna, whose both parents work as agricultural laborers in a small tribal village in the southern Indian state of Andhra Pradesh, make about 35,000 rupees ($595; £355) a year.
Encouraged by her parents and her teachers at the local school in her village, Poorna enrolled into a training programmed for outdoor activities. In preparation for her Everest climb, she trained in the mountains of Darjeeling and Ladakh.
Just three days after her arrival at Everest base camp on 15 April, a deadly avalanche on the Nepalese side of the mountain killed 16 sherpas, but Poorna says the tragedy did not deter her from scaling the peak.
Of the view from the top of the world, she says: "All around me were mountains. It was very beautiful."
Source – https://www.bbc.com/news/world-asia-india-27599570