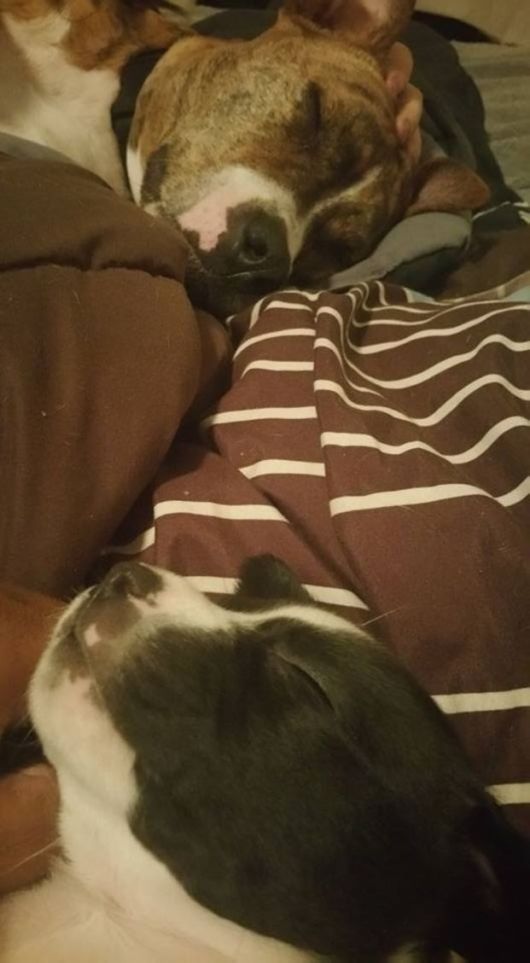 When Officer Marcus Montgomery was on duty and received a routine call to the Panhandle Animal Welfare Society (PAWS) he never could have imagined that he'd walk away with a new addition to his family, a tiny and very adorable pit bull.
Marcus was called to the animal shelter in order to deal with a situation involving a former employe when a supervisor turned up with an adorable pit bull. "When the supervisor brought him in, I just looked in his eyes as he yawned at me, and I told the supervisor, 'Don?t bring him in here, because I will take him home right now,'" Montgomery told BuzzFeed.
Despite his warnings however the little pup ended up in his arms and it was at this point that he learn't about the pups tragic past. Arriving one morning to the shelter staff had heard a noise coming from the back porch and upon investigating found the little guy abandoned in a box all by himself, left all night to endure the freezing temperatures.
"She brings me this lil guy, chill, no whining, no barking, just chill," Montgomery wrote on Imgur. The very next day the officer returned to the shelter and took the pit bull home as a present to his girlfriend and as you can see in the photos below, the little pup now named Kylo seems to be settling in perfectly.