Two rival male lions fight over a female in front a group of tourists travelling in the Masai Mara national park in Kenya. Photographer Olga Kirillova captured the drama on camera.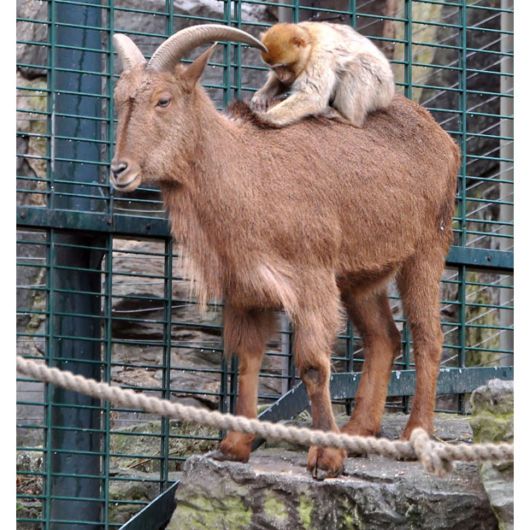 The picture was taken at the Schoenbrunn Zoo in Vienna by Romashchenko Elena, a maths teacher. She said: "I noticed how a little monkey was sat on the goat's back and was surprised the goat wasn't annoyed. The monkey started looking through the goat's fur with its hands. I presume it was eating any sort of ticks or fleas. Perhaps that's why the goat was happy to have the monkey on its back."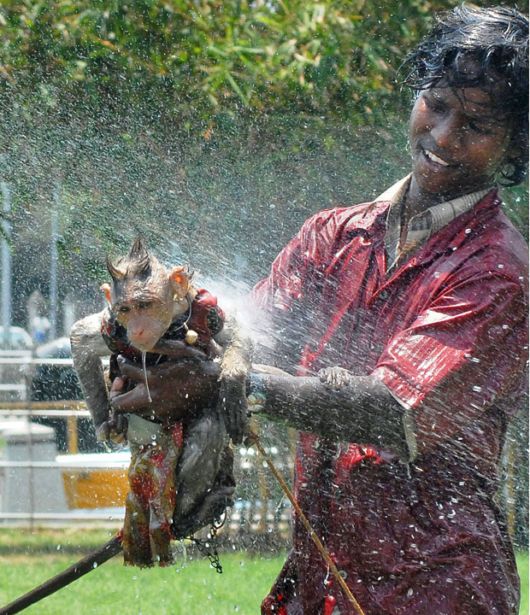 A man bathes his performing monkey in a water sprinkler of a roadside garden in Chennai, India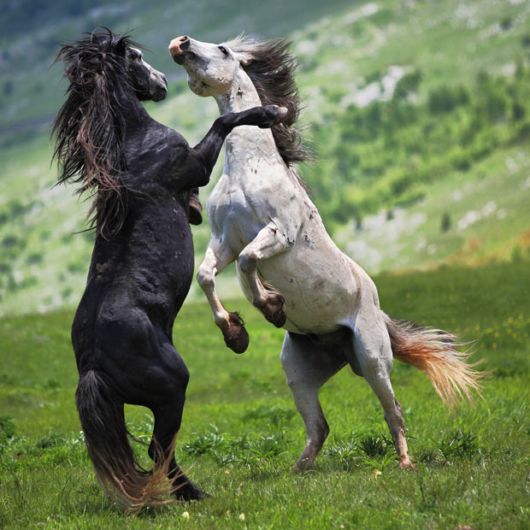 Amateur photographer Vedran Vidak has captured the fighting stallions of the Cincar mountains in Bosnia. They spend the winters hidden in the mountain valleys only reappearing again in the spring to fight for ascendancy on the grassy plains. Vedran has spent days tracking the beautiful stallions over the last few years to photograph them fighting for control of the herd.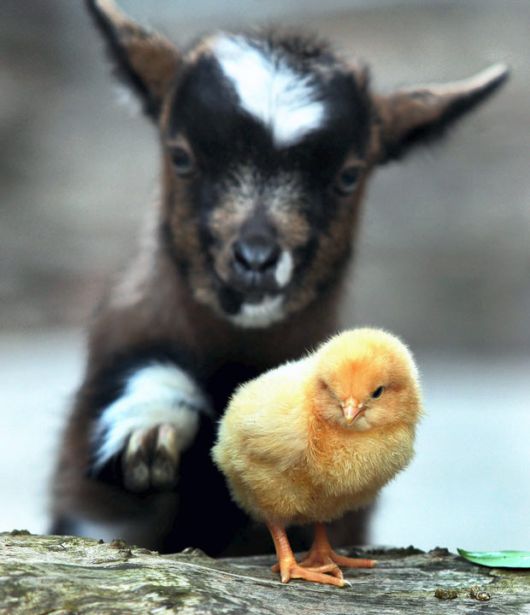 Spring has sprung: John the baby goat makes friends with Charlie the chick at Reddish Vale School Farm near Stockport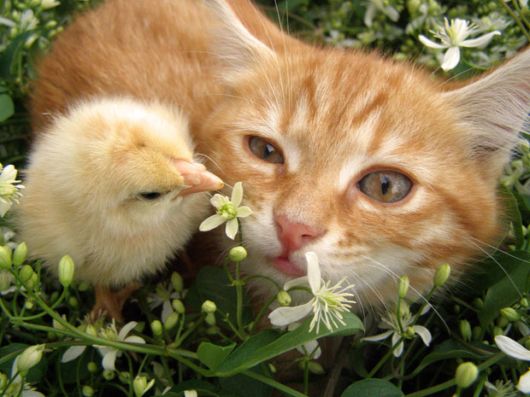 This newborn chick, who is just a few weeks old, has apparently struck up an unlikely friendship with a kitten who helps protect her from pesky vermin. Sergey Dmitriev, from Barnaul, Russia, said: "We want to help restore the ancient Pavlovskaya hens because they are a very rare breed. Sometimes they can get attacked by rats and mice who get into the coops and kill them. We usually have to protect them like they are our own children – but recently our pet cat Mikeal has protected them for us. He will follow them everywhere they go whenever we let them out to make sure they are safe."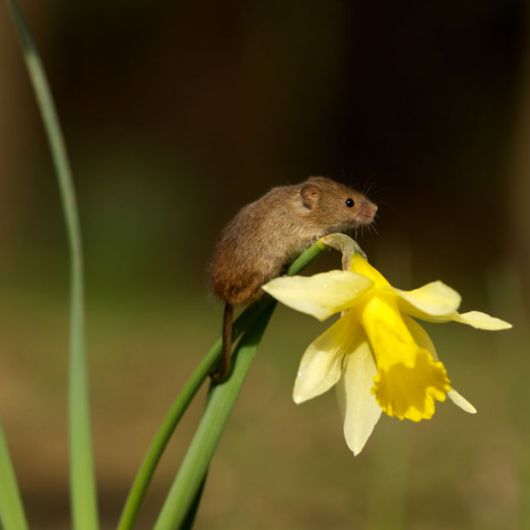 A harvest mouse seems to be enjoying the sunshine as it clambers up a daffodil. The picture was taken by amateur photographer Matt Binstead in Lingfield, Surrey.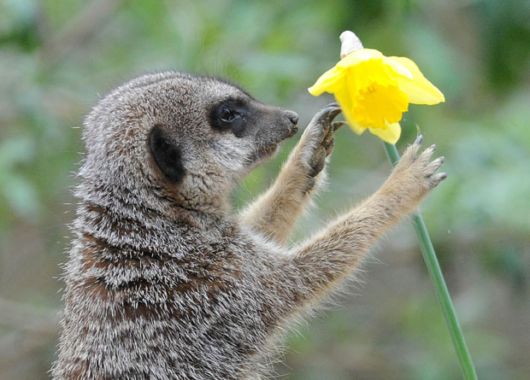 A meerkat investigates a daffodil at at Knowsley Safari Park, in Merseyside, Liverpool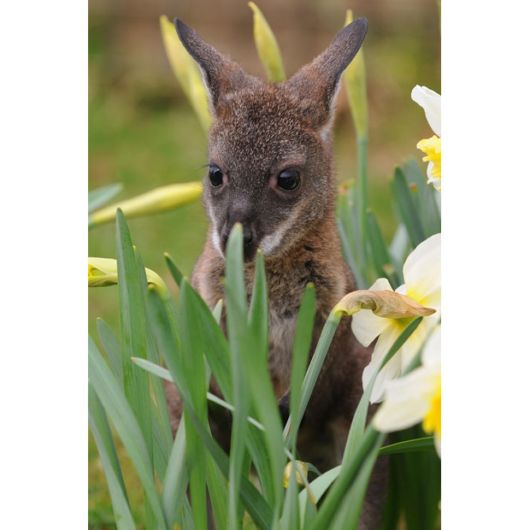 Wallaby joey Pip plays amongst the daffodils at ZSL Whipsnade Zoo, Dunstable, Bedfordshire. The orphaned wallaby is being hand-reared by a zoo keeper after being abandoned by her mother.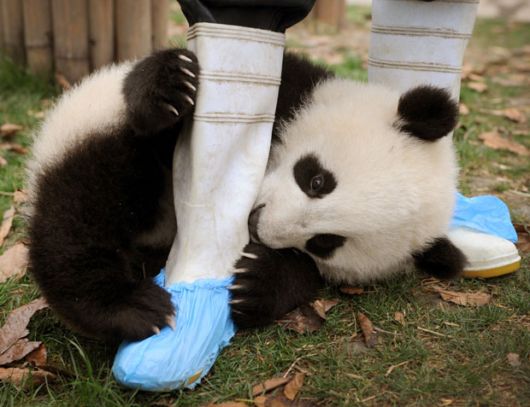 A giant panda cub plays with the boots of her feeder at the enclosure at the Giant Panda Research and Conservation Centre in Chengdu, in southwest China's Sichuan province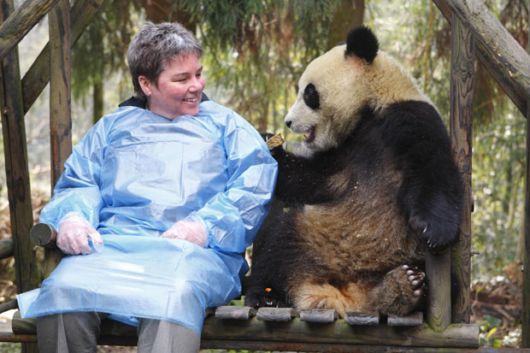 Alison MacLean of the Edinburgh Zoo meets a young Giant Panda at the Bifengxia Panda Centre near the city of Ya'an in Sichuan Province, China. A breeding pair of pandas, Tian Tian and Yang Guang, are being loaned to Edinburgh Zoo in an historic agreement between the Royal Zoological Society of Scotland and the Chinese Wildlife Conservation Society. The breeding pair will be the first Giant Pandas in the UK for 17 years and Alison will be their keeper. It is hoped that the pair will mate during the ten years they spend at Edinburgh. If they mate successfully, the cub will be returned to China once it reaches two years old. The panda in this picture is about 18 months old. Tian Tian translates as 'Sweet Honey' and Yang Guang as 'Sunshine'.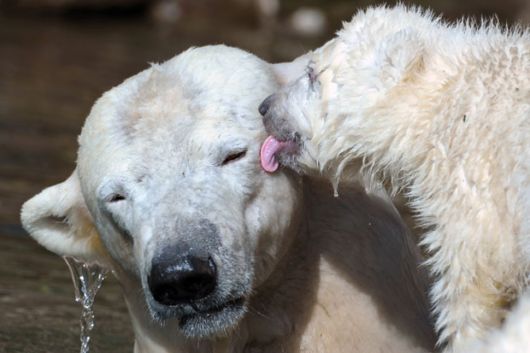 One of two polar bear cubs, namd Gregor and Aleut, licks its mother Vera at the Tiergarten zoo in Nuremberg, southern Germany…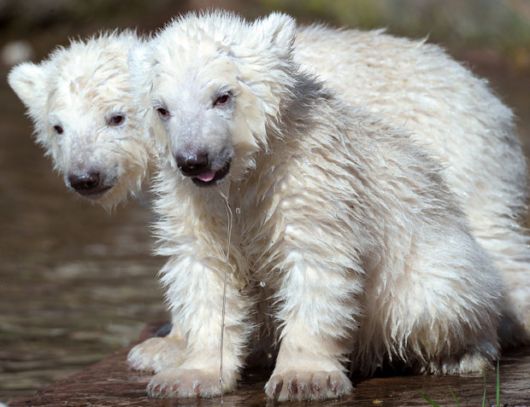 Two polar bear cubs Gregor and Aleut play at the Tiergarten zoo in Nuremberg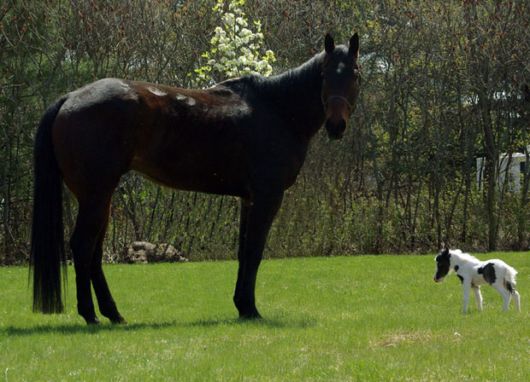 Einstein, the world's smallest stallion, stands next to Playboy the horse in Barnstead, New Hampshire, USA. Standing only 20 inches tall, Einstein will mark his first birthday with a book, 'A Friend for Einstein'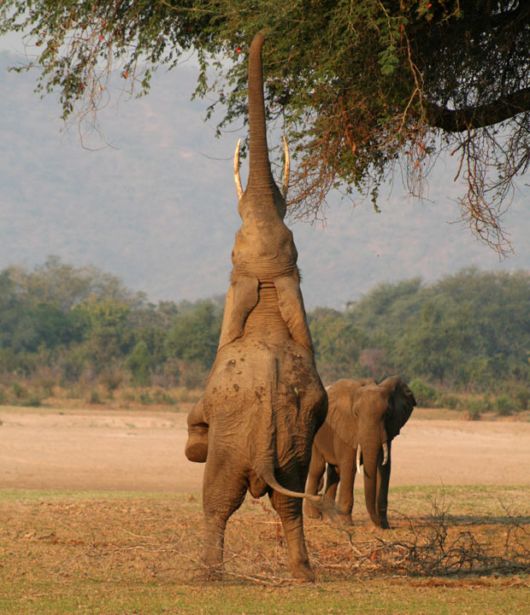 An elephant rears up on her hind legs to pluck some fruit from a tall tree. British photographer Stephen Blake captured the scene in Zambia.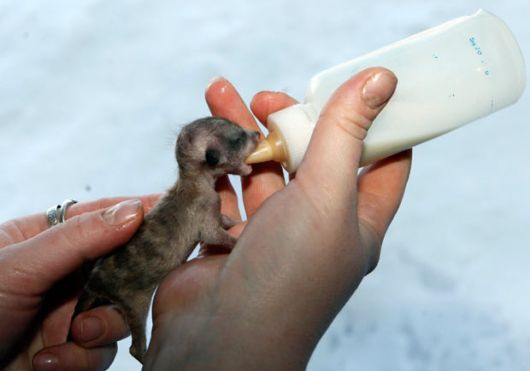 An employee bottle-feeds a one-week-old meerkat cub at the Royev Ruchey zoo in the Siberian city of Krasnoyarsk. The cub is one of a litter of three being hand-reared after they were rejected by their mother.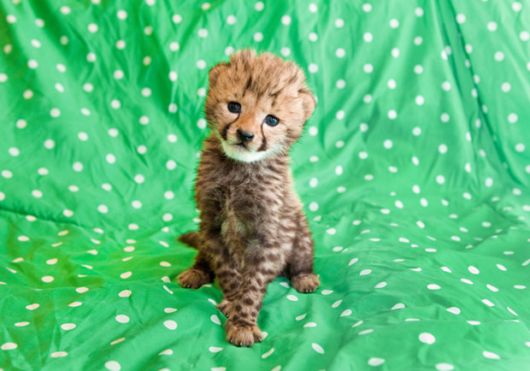 A new arrival at Busch Gardens Tampa – a baby cheetah – is pictured at the attraction in Florida, USA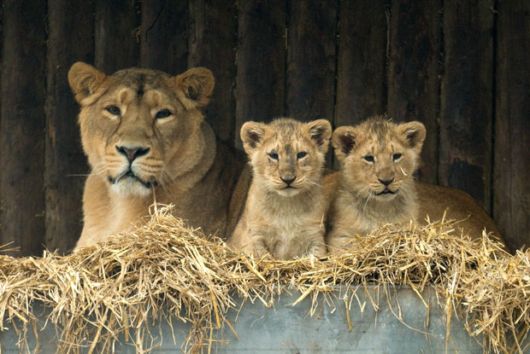 Two 13-week-old lion cubs sit with their mother Shiva at Bristol Zoo Gardens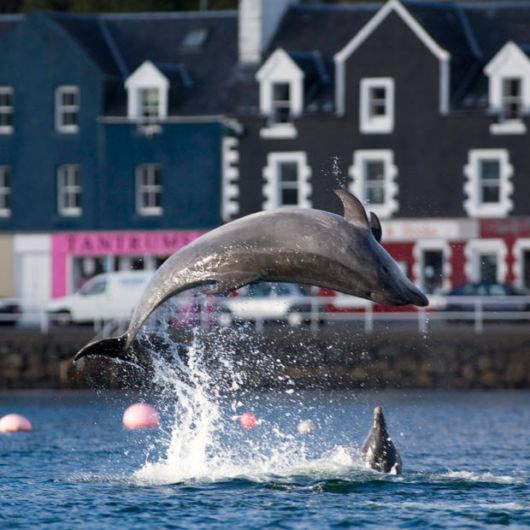 A bottlenose dolphin leaps for the first time in many months, welcoming spring to Tobermory Bay on the Isle of Mull in the Inner Hebrides, Scotland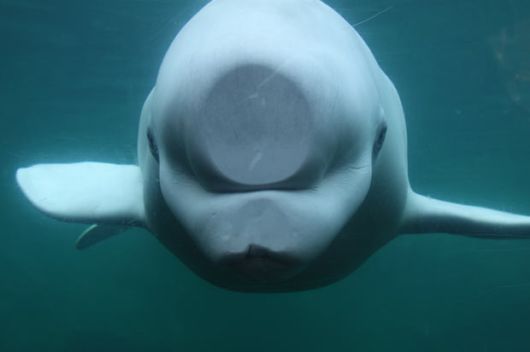 An inquisitive beluga whale ends up with a squashed nose as it tries to get closer to visitors at an aquarium. The curious creature swam straight at the glass when he spotted people watching him from the other side, flattening his nose and chin as he struggled to get a better look. The sight was captured by photographer Nicole Perkins at an aquarium in Connecticut, USA.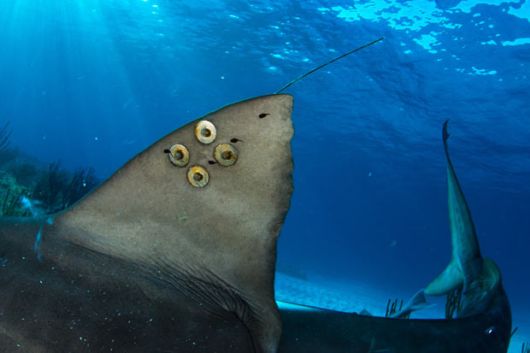 A tiger shark with a satellite tag on its dorsal fin swims in the Caribbean. Shark researcher Dr Neil Hammerschlag and his team are able to carry out this delicate work in just five minutes to ensure safety for his team and the shark. Since May last year they have tagged and tracked a total of 25 tiger sharks and 25 other sharks, including the endangered hammerhead and bull sharks at a cost of $200,000 (122,000). Their research will provide a greater understanding of shark migration, breeding and conservation.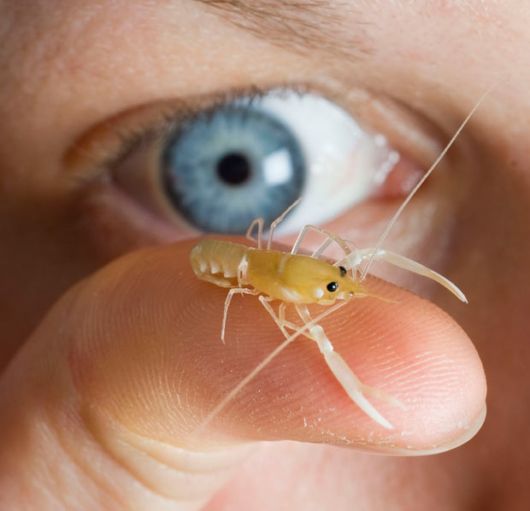 Senior Technician Carly Daniels studies a three-month-old lobster that is ready for release. A new scheme to repopulate the seas of Britain with thousands of young lobsters has put out an appeal for divers to come forward to help release the tiny creatures.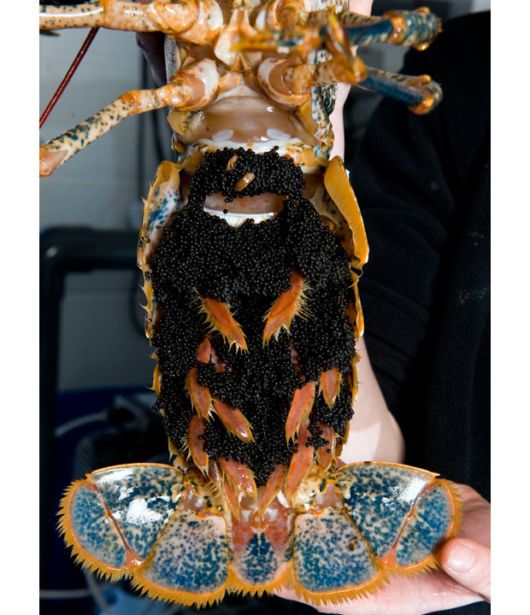 Senior Technician Carly Daniels holds a female lobster carrying thousands of eggs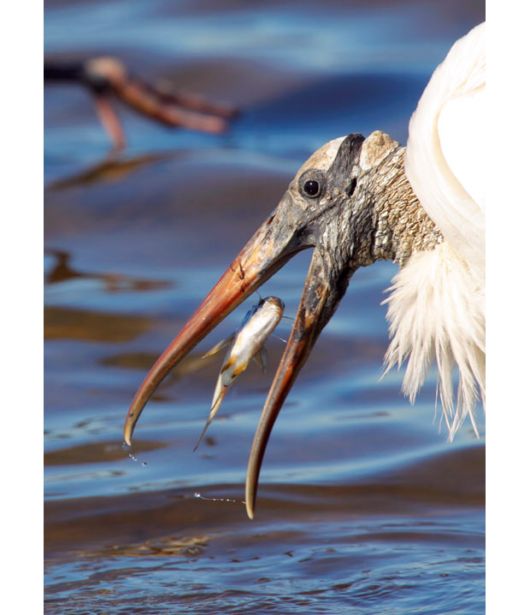 A stork flips a fish around in its beak to make it easier to swallow. Bruce Robinson photographed the bird feeding in the Merritt Island National Wildlife Refuge near Cape Canaveral, Florida.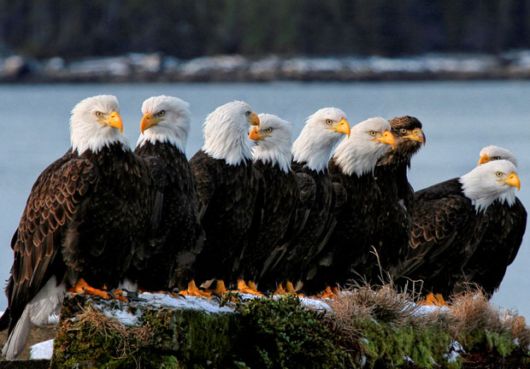 Not quite old enough to have shed the feathers of his youth, the one brown-headed bald eagle stands out among his family. The juvenile bird looks the odd-one-out as he nestles among the group. Photographer Pam Mullins snapped this shot near her home in Prince Rupert, British Columbia, Canada.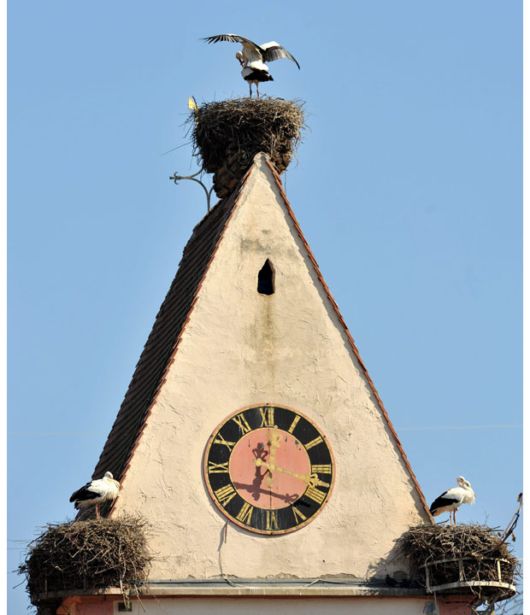 Three stork nests are pictured on the church tower in Kandern-Holzen, Germany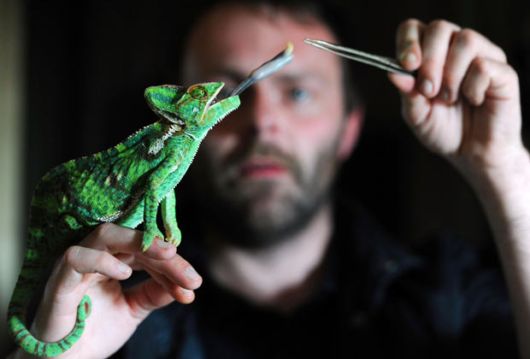 Steven Sykes feeds an 18-month-old Yemen Chameleon called Karma, the latest arrival at the Kirkley Hall zoological gardens in Northumberland, which will open to the public for the first time this May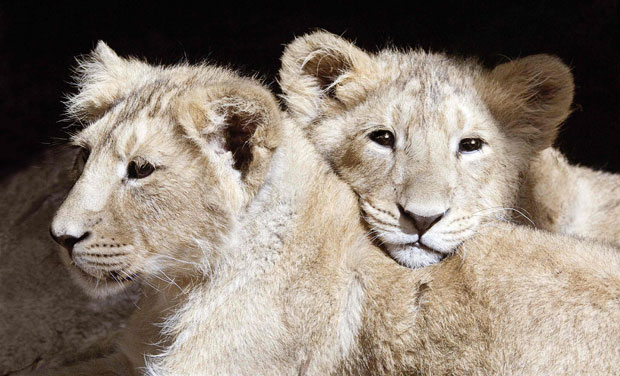 Bristol Zoo?s twin Asiatic lion cubs are six months old and growing up quickly. The cubs were born on Christmas Eve to first time mum, Shiva, and dad Kamal. Their birth is a conservation breeding success for these critically endangered animals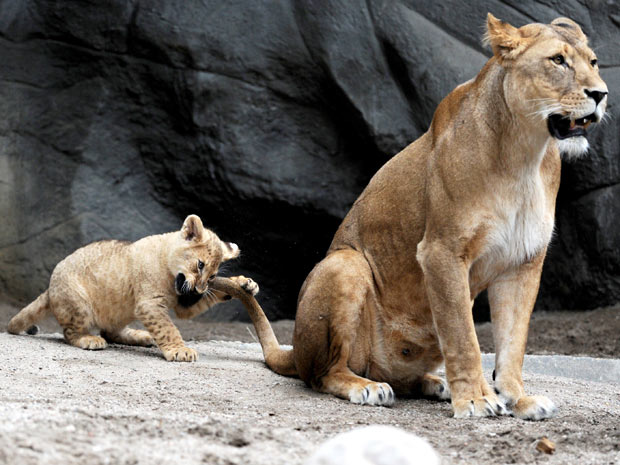 A lion cub plays with its mother's tail at the Hagenbeck zoo in the northern German city of Hamburg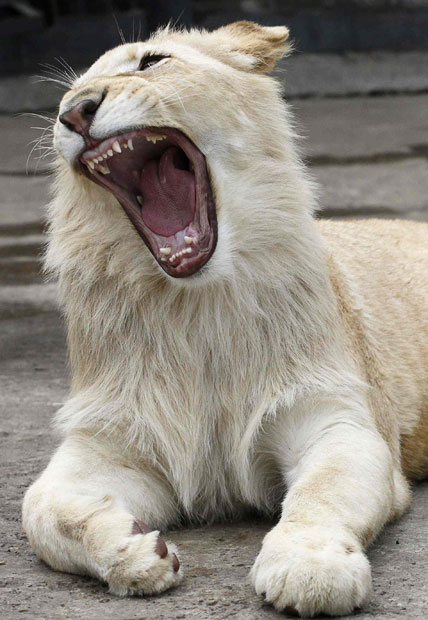 One-year-old African white lion cub Almaz rests inside its enclosure at the Royev Ruchey zoo in Russia's Siberian city of Krasnoyarsk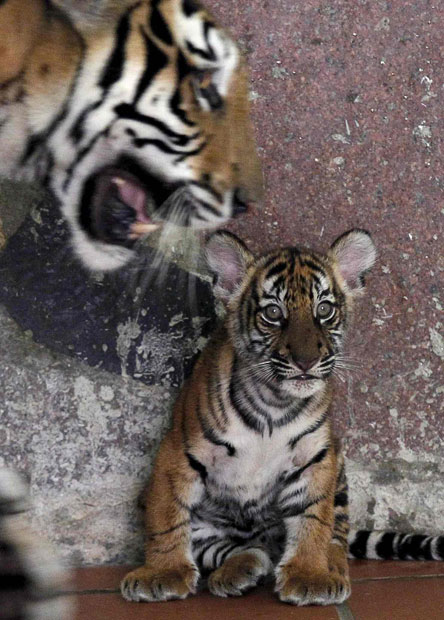 An Indochinese tiger cub sits next to its mother, Mi, in their enclosure at Hanoi Zoo. Mi gave birth to four cubs on April 2, 2011, becoming the first tiger at Hanoi zoo to breed in captivity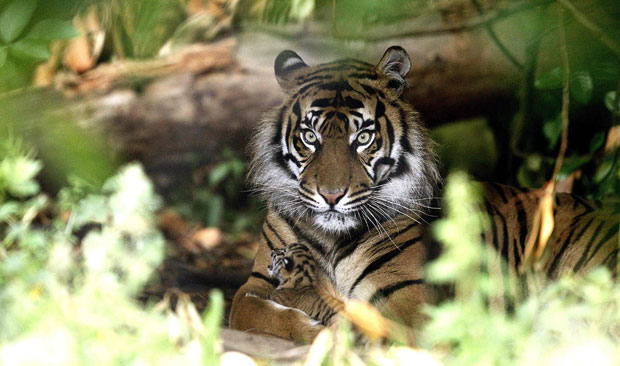 Sumatran tiger Kirana looks after her three-day-old cub at Chester Zoo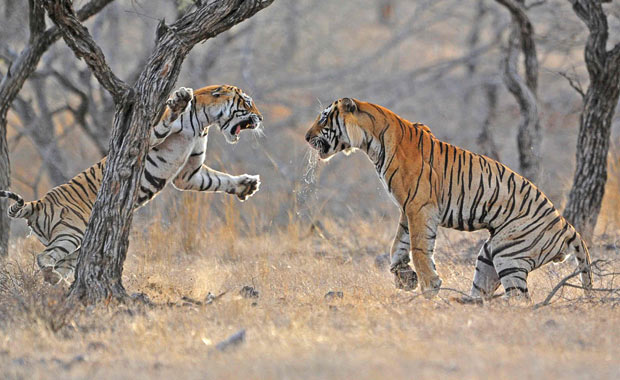 An old tigress (L) is confronted by a younger stronger tiger over a sambar deer kill in Ranthambhore National Park, Rajasthan, India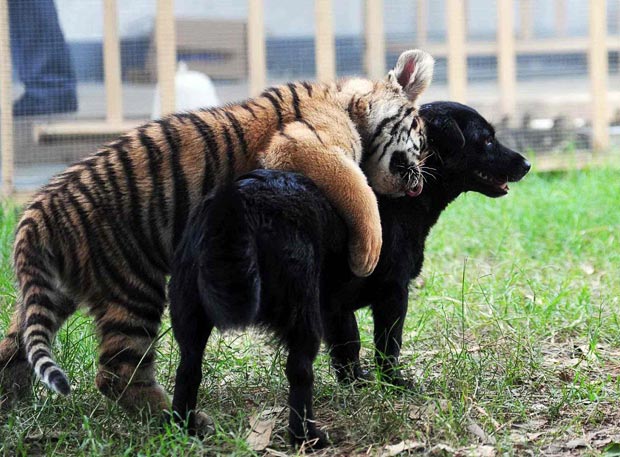 Two tiger cubs that have been nursed from birth by a surrogate dog mother are growing up fast. The two cubs, which are almost three months old, are currently being weaned onto solid food…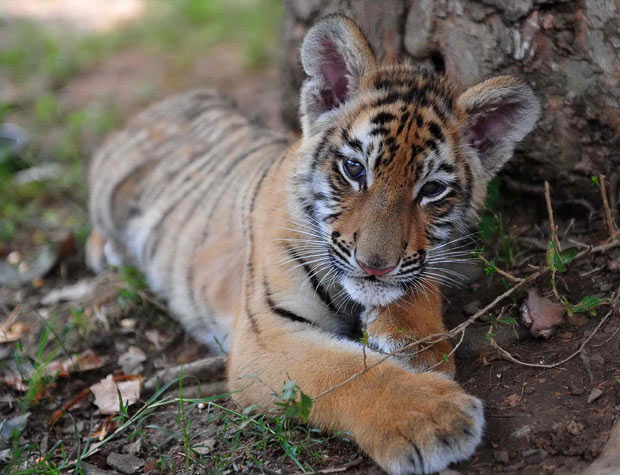 The pair were abandoned at birth by their mother after being born at Hefei Zoo in eastern China's Anhui Province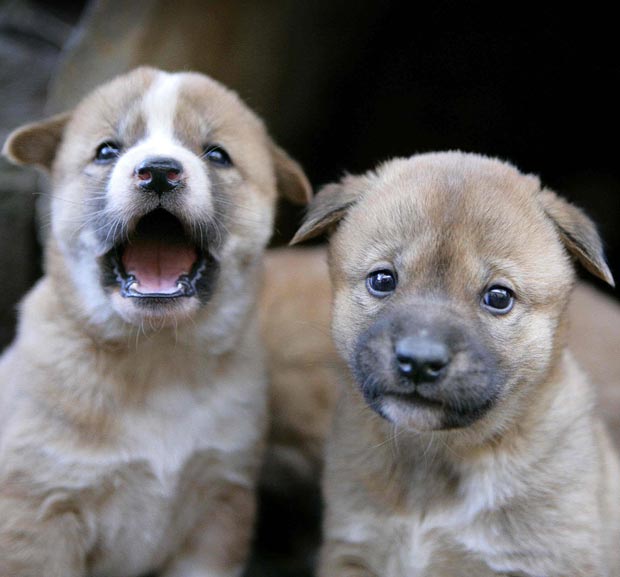 These are two of the seven dingo puppies born at Featherdale Wildlife Park in Sydney. The six girls and one boy born at a NSW wildlife park are almost ready to meet the public after learning the ropes from dad Ernie and mum Tia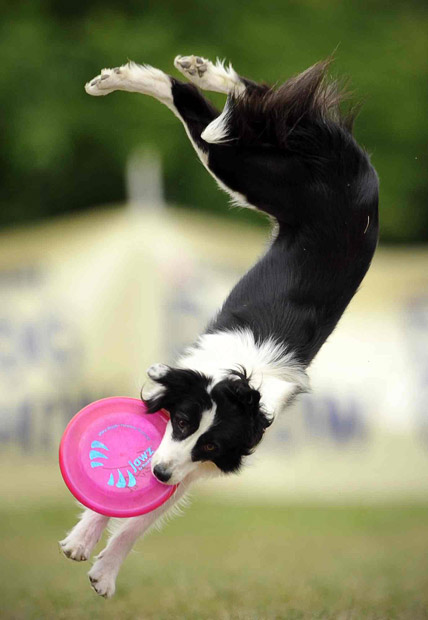 A border collie catches a Frisbee during the Skyhoundz Disc Dog European Championship competition in Budapest, Hungary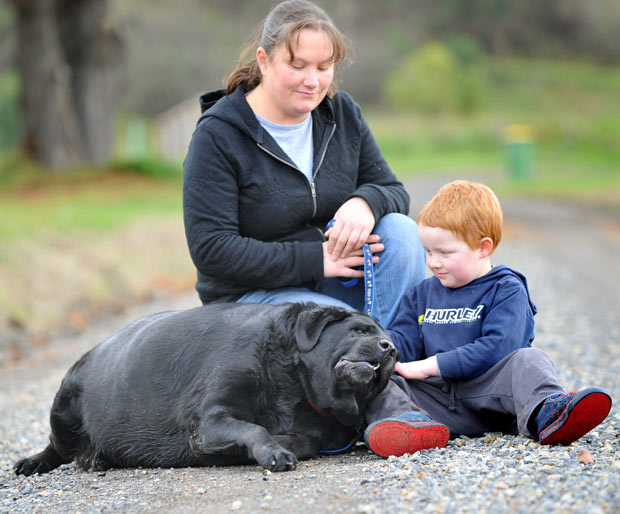 At 85kg, black Labrador Sampson is so overweight he cannot be safely exercised. His bulging blood-shot eyes are caused by fatty tissue around his head and high blood pressure. The dog, 42kg above his normal weight, is so fat and unfit that Animal Aid staff fear it will take him until Christmas to shed half his massive frame. Sampson has to be transported to a Melbourne shelter in the Animal Aid van for his weekly weigh-in because he can't comfortably fit on the back seat of a family sedan. "He's the size of a small heifer," Animal Aid veterinarian Amber Lavery said.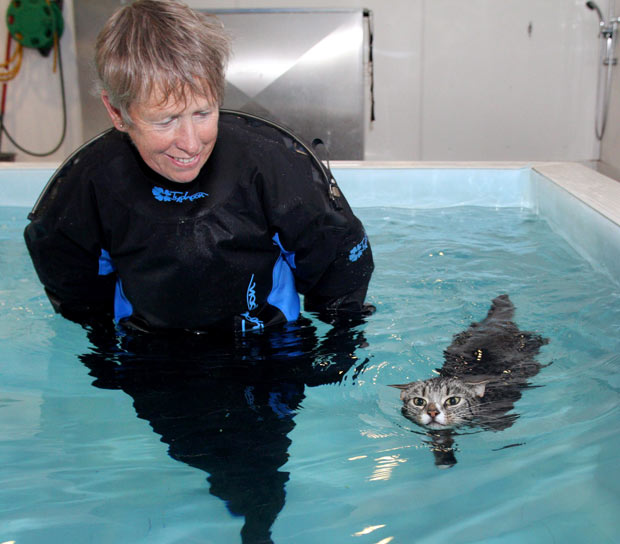 Ros Boisseau leads Mog the cat through a swimming session at Hawksland hydrotherapy pool, near Wadebridge, Cornwall. A cat that was left with both front legs completely paralysed following a horrific car accident is learning to walk again – by taking swimming lessons. Mog sustained horrific injuries and spent six weeks on a drip after a car smashed into him in a hit-and-run incident in February. A local vet suggested that hydrotherapy classes – usually for water-loving dogs – could help relieve his pain and Mrs Ashworth decided to take him for a session. Mog initially "looked horrified" when he clapped eyes on the canine hydrotherapy pool – but took to it like a duck to water and began swimming lengths.
A bear cub hides behind farmer Tian Shougui's legs in Yukong village, Yibin city, Sichuan province, China. The farmer has been taking care of twin black bears at his house since he found them on his farm in April. One is male, the other is female. The twins have fully recovered with the loving care from their adoptive "mother" Tian. "I just want to raise them up to some 10 to 15 kg and then I will let them go free," said Tian.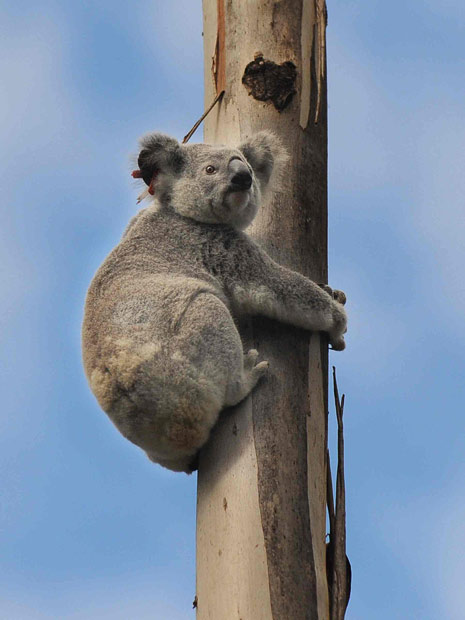 Frodo the female koala Joey after she was released back into the wild near Brisbane, Australia. Frodo was nursed back into health after suffering a fractured skull and internal injuries from 15 shotgun pellets found lodged in her body in November 2010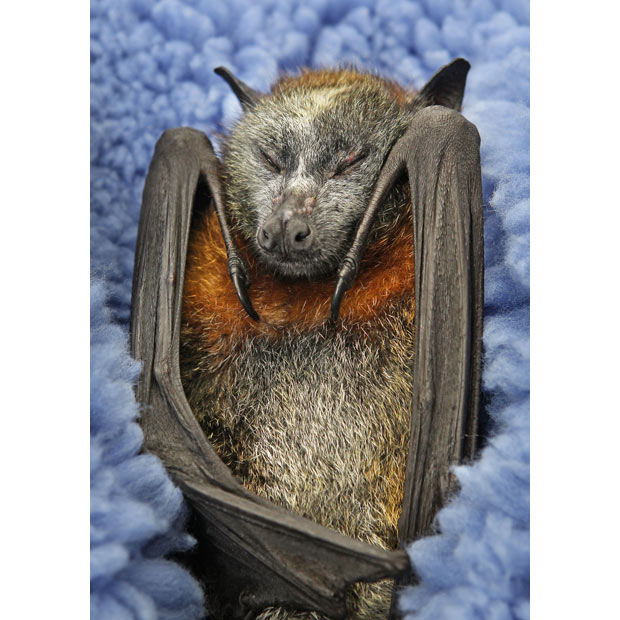 Luna the Grey-headed Flying Fox keeps warm during the cold winter weather at Healesville Sanctuary in Victoria, Australia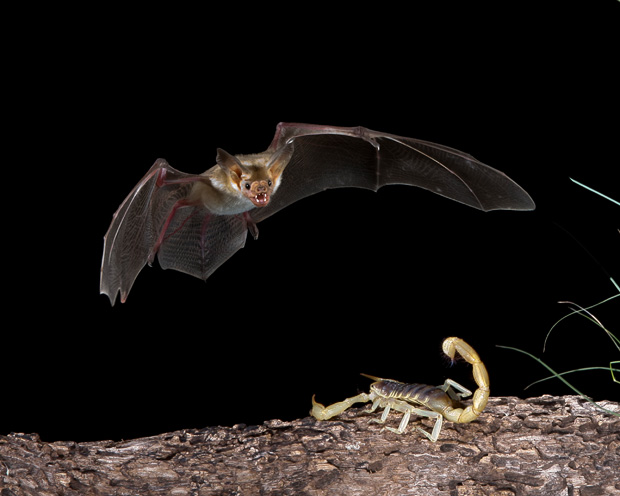 Photographer Tom Whetten spends hours setting up his camera and lights to capture bats hunting. But he says it would take much longer if he didn't spend time meticulously watching the movement of his subjects and understanding how they think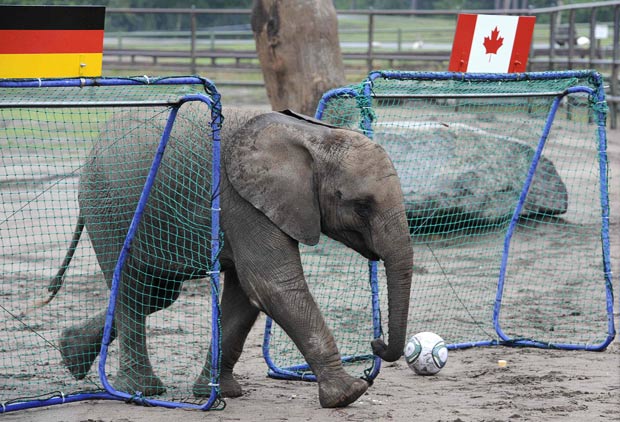 Nelly the elephant kicks a football during an event to predict the result of the Women's World Cup football match between Germany and Canada, at the safari park in Hodenhagen, Lower-Saxony. The 'elephant oracle' predicted a German victory by 1-0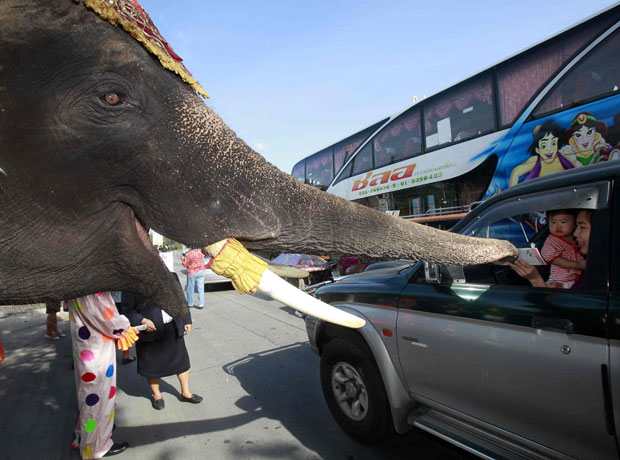 An elephant distributes a pamphlet to a Thai woman during a promotional event for the general election in Auytthaya province in Auytthaya province, 70 km (44 miles) north of Bangkok June 21, 2011. Thais will go to the polls on July 3 for a general election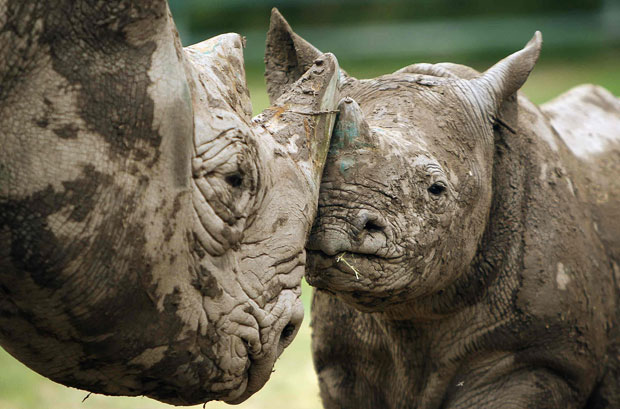 A six-month-old black rhino calf stands with its mother in its enclosure at Lympne Wild Animal Park in Hythe, Kent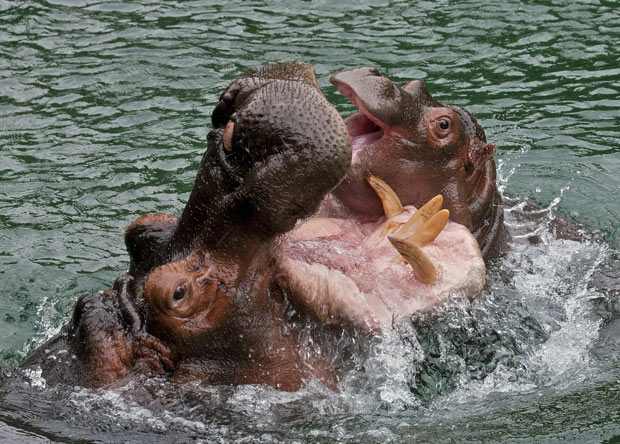 Funani, a 26-year-old hippo, and her calf, six-month-old Adhama, swim and wrestle with each other San Diego Zoo, America. Keepers are preparing to weigh the calf for the first time next week. Adhama, whose name means "honour" or "glory" in Swahili, is the fourth calf for Funani.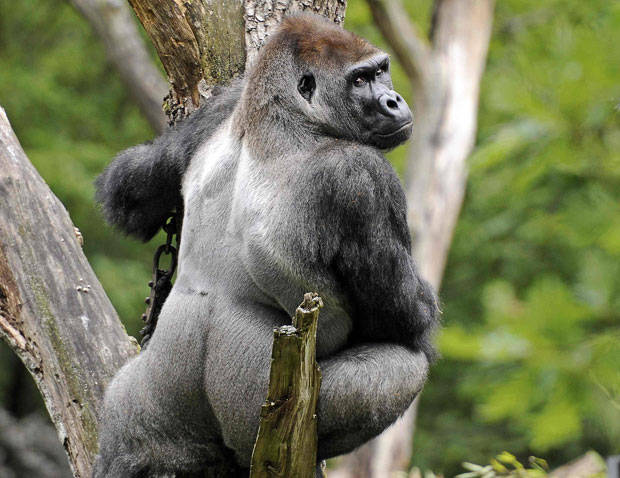 Vimoto the gorilla climbs a tree in his enclosure at the zoo in Wuppertal, Germany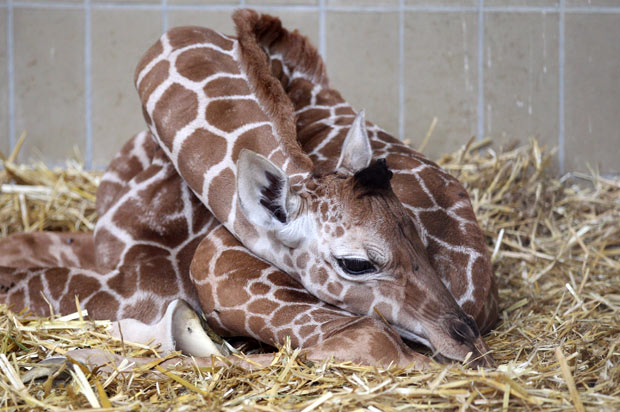 A giraffe calf, born on June 19, rests inside its enclosure at the zoo in Muenster, Germany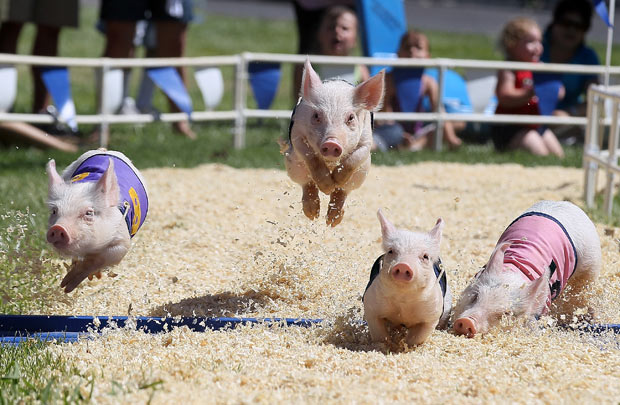 Pigs run round the track during a race at the Alameda County Fair in Pleasanton, California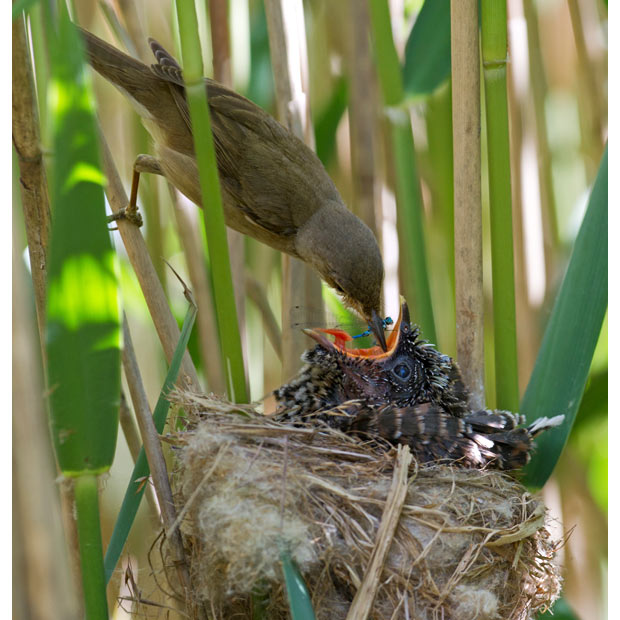 A tiny reed warbler feeds an enormous cuckoo chick, thinking it is one of its own babies. The family was captured on camera by wildlife photographer David Tipling near Thetford, Norfolk. He said: "Cuckoos have the ability to lay eggs that closely resemble the coloration of other birds. Once this young cuckoo hatched he would have pushed the other eggs out of the nest and started demanding food. These reed warblers appeared to think the chick was their own – it was just their instinct to look feed it. The cuckoo was three times the size of them but they didn't seem to notice."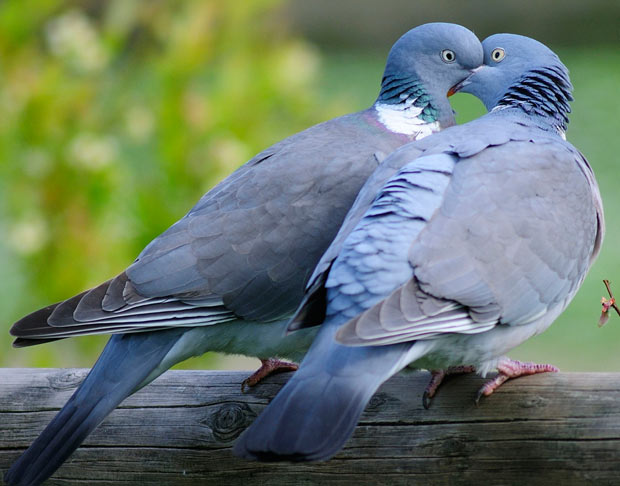 These amorous wood pigeons get lovey dovey as one gives the other a peck on the beak. The love birds have an involved mating ritual, and the male even slaps the female about the head and body with his wings. Wildlife photographer Colin Varndell snapped the pair at Slimbridge Wildfowl and Wetland Trust in Gloucestershire.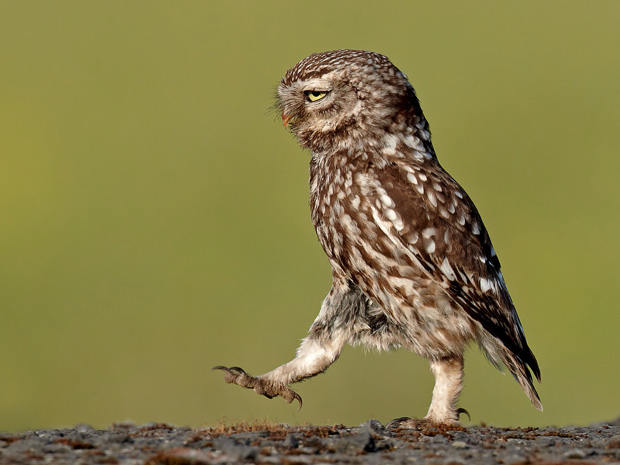 Hedgehog rescuer, Steve Whalley, from Fulwood, feeds milk to a baby hedgehog.aaaaaaaaaa He is looking for people to sponsor the rescued prickly creatures