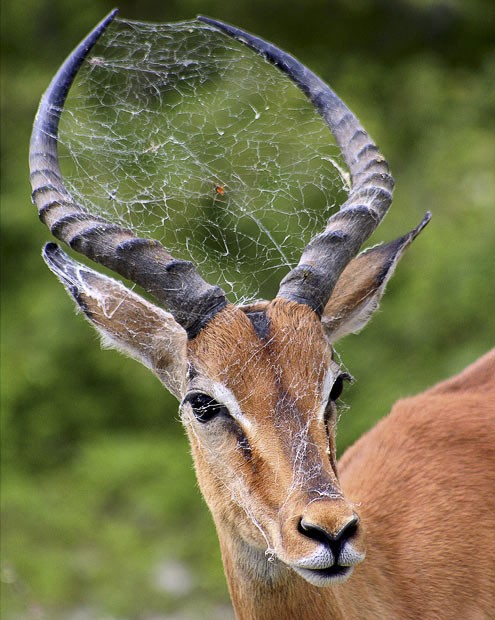 An impala strolls around blissfully unaware it has become a home for a contented spider. Kruger National Park, South Africa. ( Note the spider's web in between it's horns)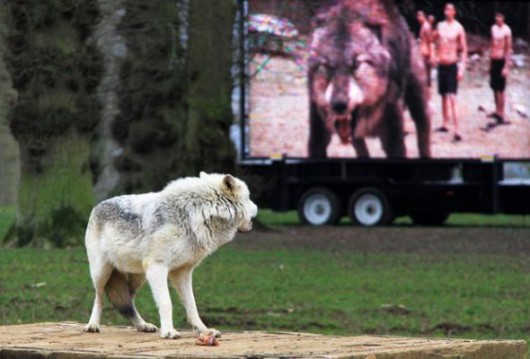 A Canadian wolf at Longleat Safari Park in Wiltshire reacts during the a showing of the newly-released DVD The Twilight Saga: New Moon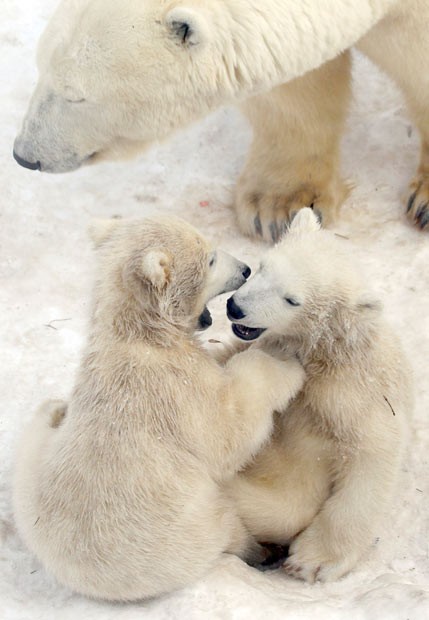 Twin six-month-old polar bear cubs play next to their mother Uslada at the city zoo in St Petersburg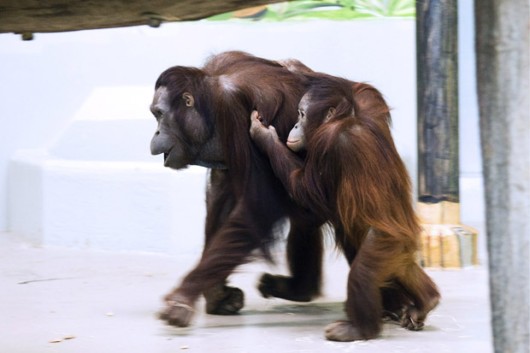 Sabatini, a female Bornean orang-utan, and her offspring Gusa familiarise themselves with their new enclosure in Nyiregyhaza Animal Park in Hungary
A keeper examines nine-month-old female elephant, Rani at Hagenbeck zoo in Hamburg, Germany. Rani was born in July 2009 and is currently 1.33 metres tall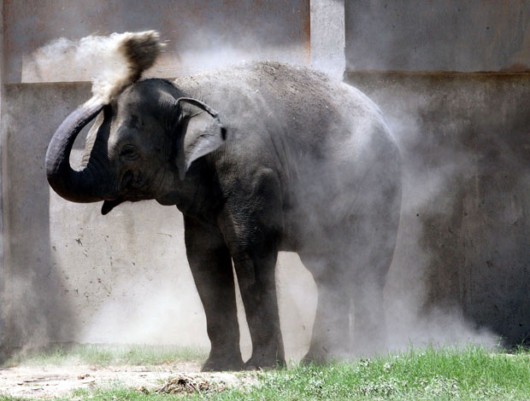 A baby elephant plays with sand on a hot summer day at Alipur Zoo in Calcutta, India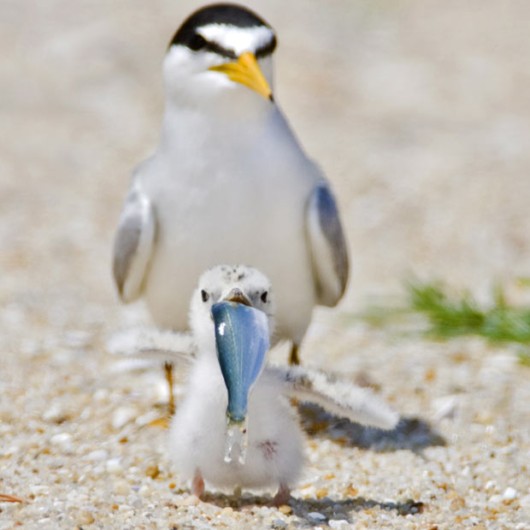 This tiny tern chick bit off more than he could chew after trying to swallow his enormous fish supper in one gulp…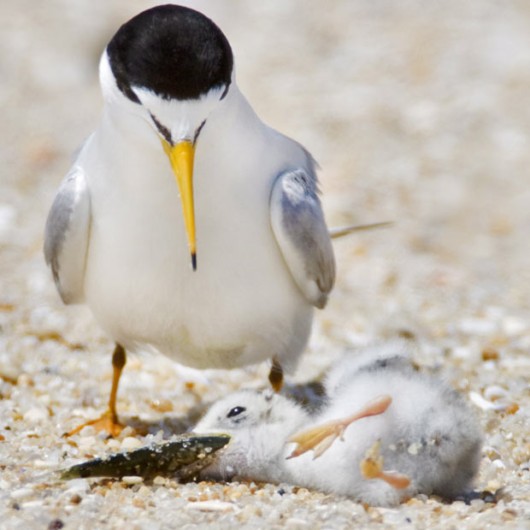 …But his eyes were too big for his little stomach and as he struggled to swallow the enormous bluefish he toppled over under its weight.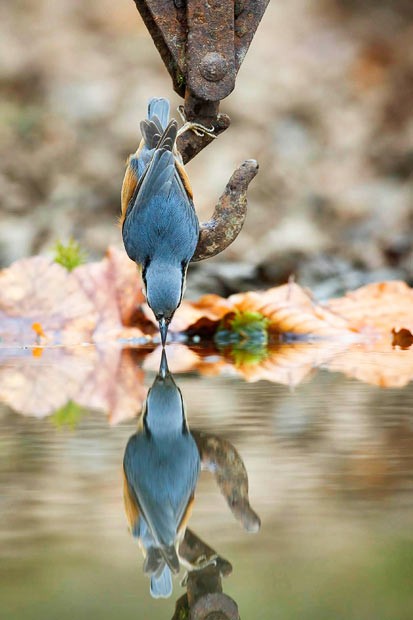 A Nuthatch is relected in a pool of still water at a private woodland in Hanbury, Worcestershire. Photographer Mark Hancox waited for a month in a specially built hide just yards from the pool for the opportunity to get the perfect shot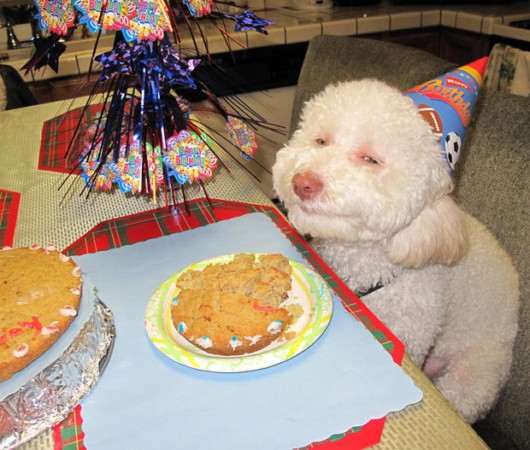 Riley the smiling dog enjoys his birthday cake in San Jose, America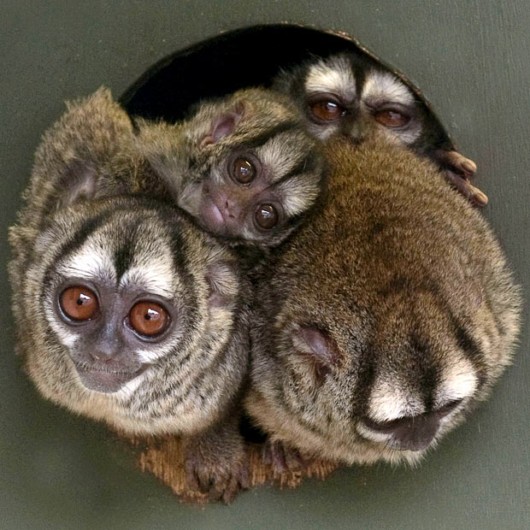 Parent night monkeys with their babies at Marwell Wildlife, Winchester, Hampshire. Also known as Douroucoulis, or Owl monkeys, these primates are the only truly nocturnal monkeys. They are widely distributed in the forests of Central and South America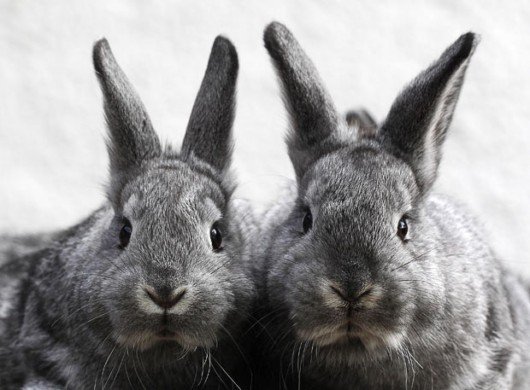 Eight-week-old Chinchilla rabbits are pictured at a rabbit farm in Moosburg north of Munich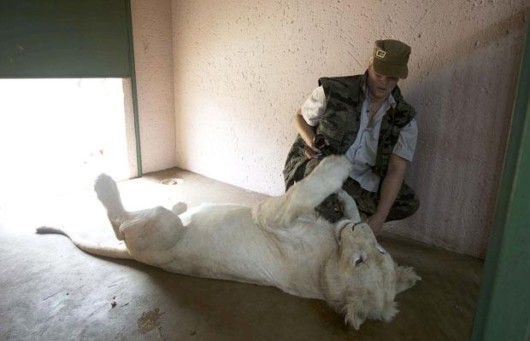 Jenny Schmidt plays with a white lion in its enclosure at the Mystic Monkeys and Feathers Wildlife Park in Rust de Winter, Limpopo Province, South Africa
Black-headed spider monkey baby 'Azusa' snaps at a video camera at the zoo in Wuppertal, western Germany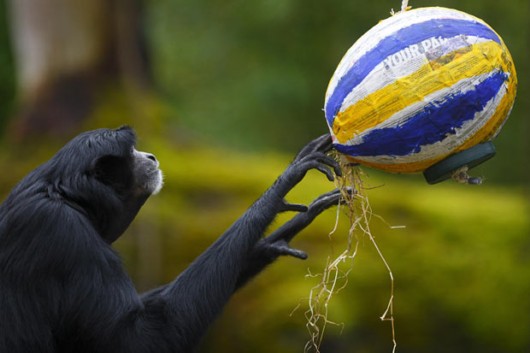 At Marwell Wildlife Park near Winchester in the UK, a Siamang gibbon examines an Easter-themed treat: papier mache eggs containing tasty treats of banana, grapes, crickets and grubs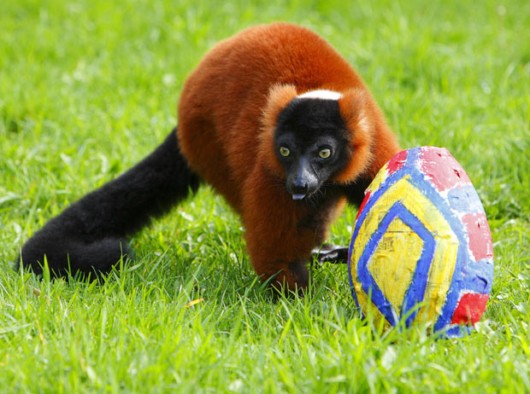 A lemur at Marwell examines its Easter egg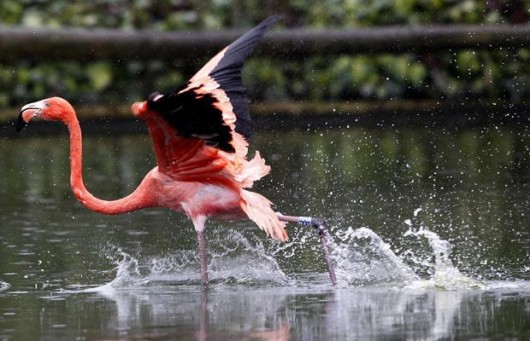 A Caribbean Flamingo runs across a pond at Chester Zoo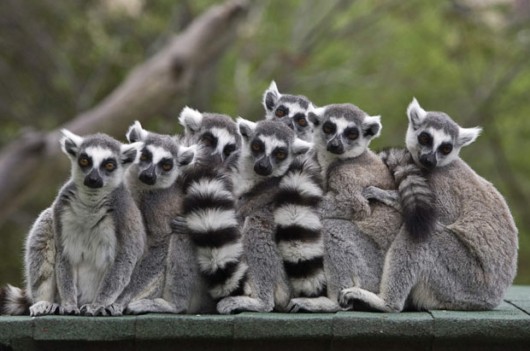 Ring-tailed lemurs stand together at the Haifa zoo in northern Israel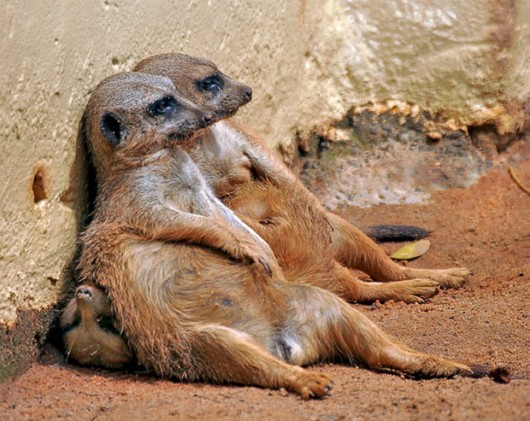 This cheeky pair spotted a fellow meerkat dozing – and thought it was the perfect chance to secure themselves a comfortable backrest. (Look at lower left corner)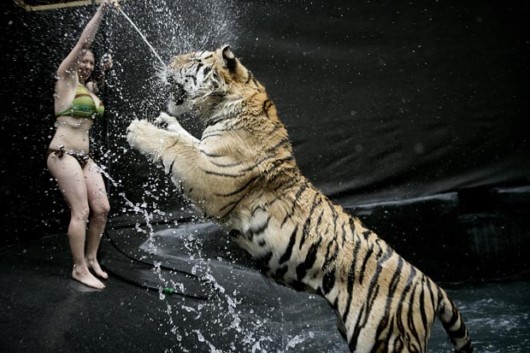 Fearless Ragani Ferrante plays and sprays a tiger in the crocodile pool at Myrtle Beach Safari, South Carolina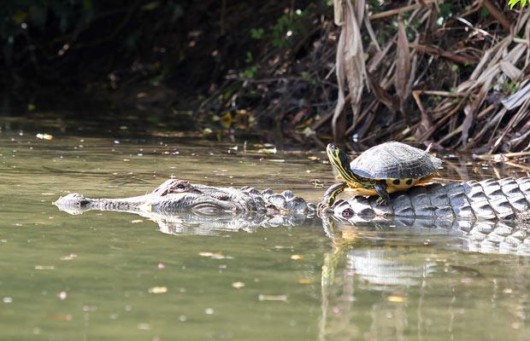 Georgia the alligator and Myrtle the turtle go for a swim in Myrtle Beach, South Carolina. Nine-year-old Georgia and 15-year old Myrtle dislay one of nature's unlikeliest friendships. Allowing Myrtle to ride on her back, Georgia goes against all her natural tendencies to make a snack out of Myrtle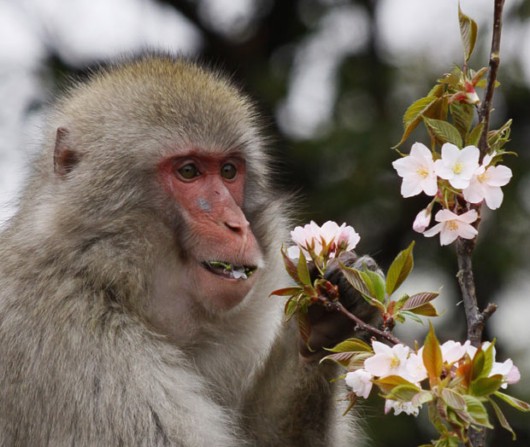 A Japanese macaque eats cherry blossom at Tokyo's Ueno zoo
A female Barbary lion snarls in her enclosure at Port Lympne Wild Animal Park in Kent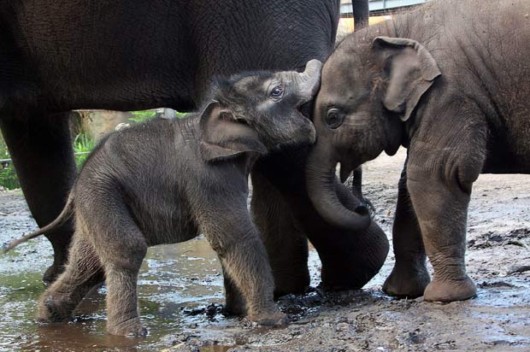 Three week old Asian elephant calf Pathi Harn (left) playing in the mud wallow with his older cousin, eight month old Luk Chai at Taronga Zoo, Sydney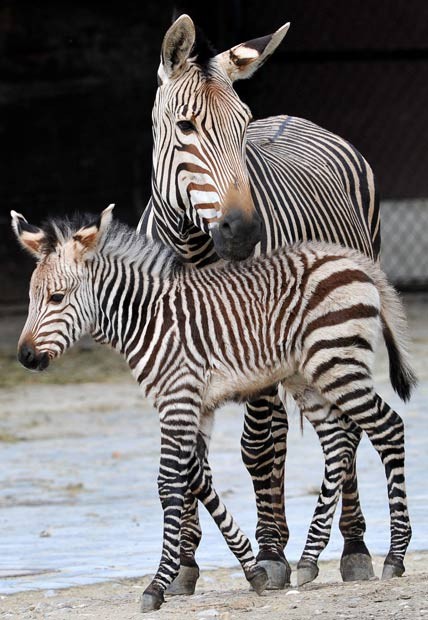 Zebra offspring Kanisha frolicks around its enclosure for the first time at Hellabrunn zoo in Munich, Germany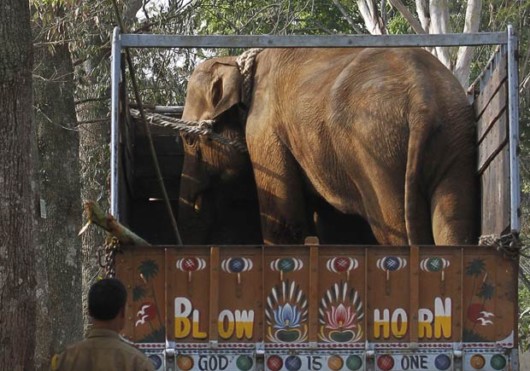 An elephant named Lakshman stands tied in a truck to be transported to a wildlife sanctuary, at the Assam State Zoological Park in Gauhati, India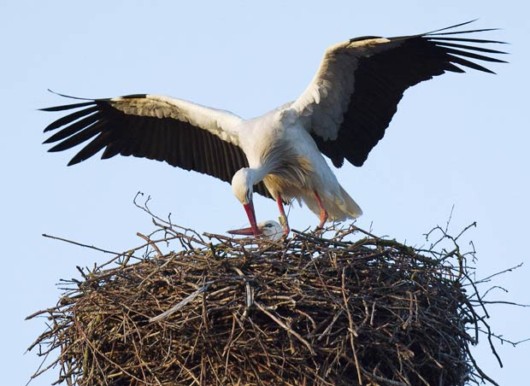 A male stork feeds his mate in their nest on the roof of a house in the town of Wijk Bij Duurstede in central Netherlands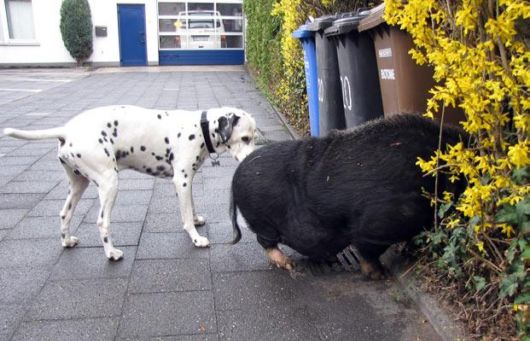 Spot the dalmatian gave his owner Heinrich Lehrer a shock when he spotted something rustling around in the bushes in Ratingen, Germany – and chased out this 50 kilo porker. Lehrer said: "I thought it was a wild pig and I know they can be really dangerous so I was terrified. A Rattingen police spokesman said: "We quickly realised this animal was a pet – it was actually a potbellied pig – not a wild boar"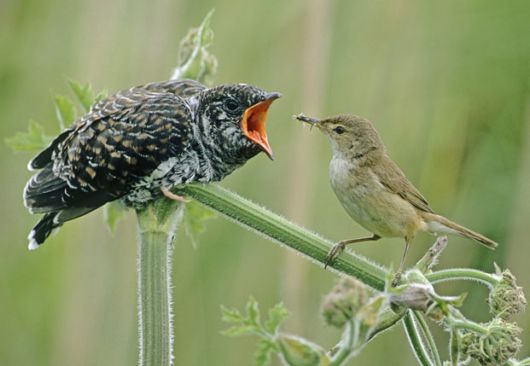 A reed warbler feeds a cuckoo chick which it has raised as its own. Female cuckoos lay their eggs in another bird's nest and then leave them to hatch and be brought up by smaller birds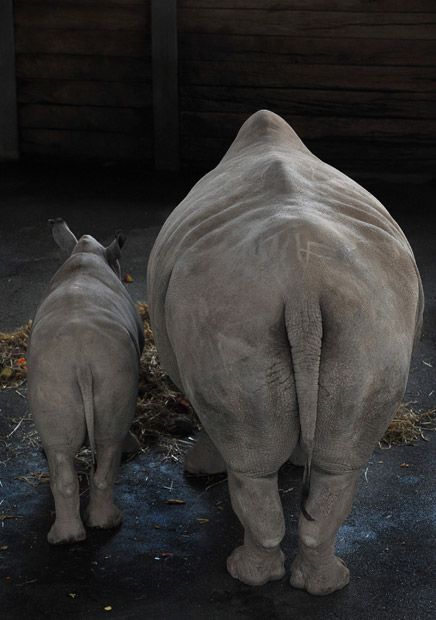 Little rhinoceros bull Jammbo keeps close to mother Numbi at the zoo in Erfurt, Germany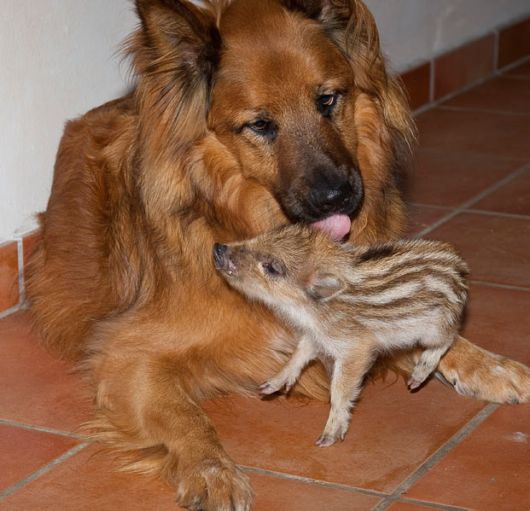 Laska the dog plays with two-week-old Alice, one of two abandoned baby wild boars found by the Hecker family in the forests near Hamburg, Germany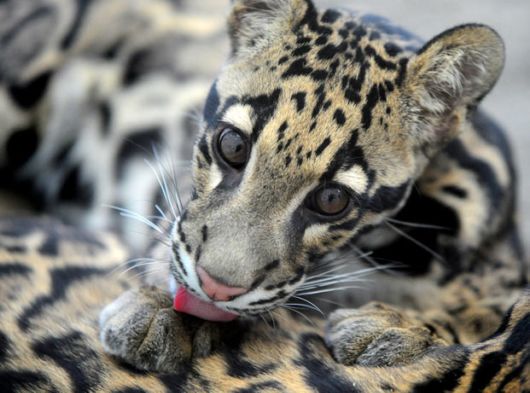 Nah Fun, a nine-month-old clouded leopard, grooms his mate Chai Li in the Asia Day Room at the Point Defiance Zoo & Aquarium in Tacoma, Washington, USA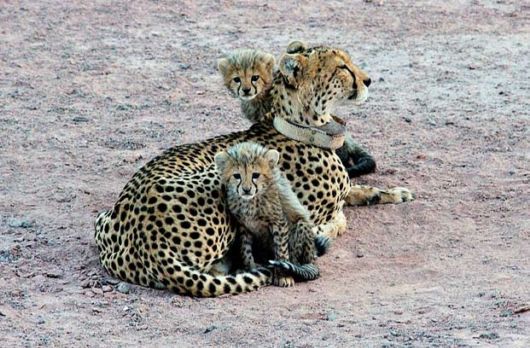 Two of the four cheetah cubs, the first to be born wild in the UAE for 38 years, are pictured at the Sir Bani Yas Island Wildlife Park near Abu Dhabi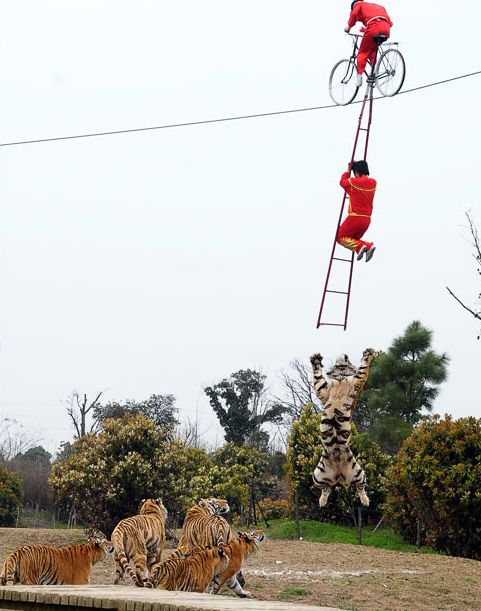 A tiger jumps at a performer on a 130-metre-long tightrope some nine metres above the tiger enclosure at a zoo in Changzhou in east China's Jiangsu province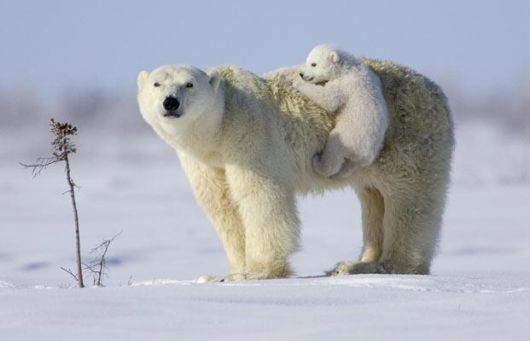 A polar bear cub clings to the side of its mum like velcro as she takes a stroll across a snow-covered tundra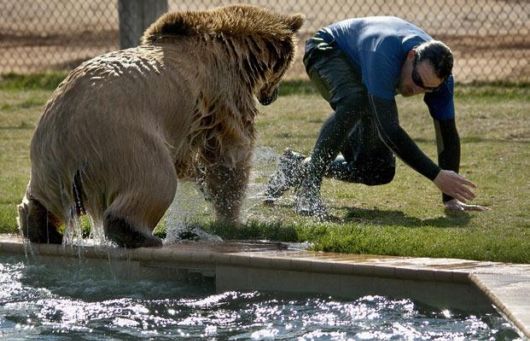 With a grizzly bear hot on his heels this man appears to be seconds away from becoming lunch. But he is actually a zoo keeper playing a game of chase at the Out of Africa Wildlife Park in Arizona, USA.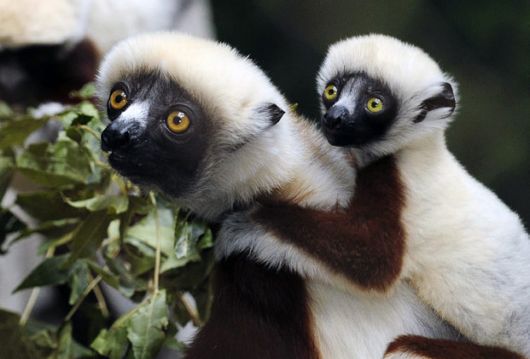 One of the newest arrivals to Bronx Zoo, Ares, the new baby Coquerel's sifaka, clings to his mother's back as they spring from tree to tree in the zoo's Madagascar enclosure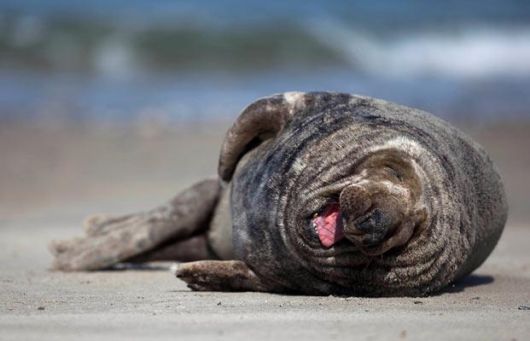 A seal enjoys the sun at the beach of the island Helgoland, northern Germany.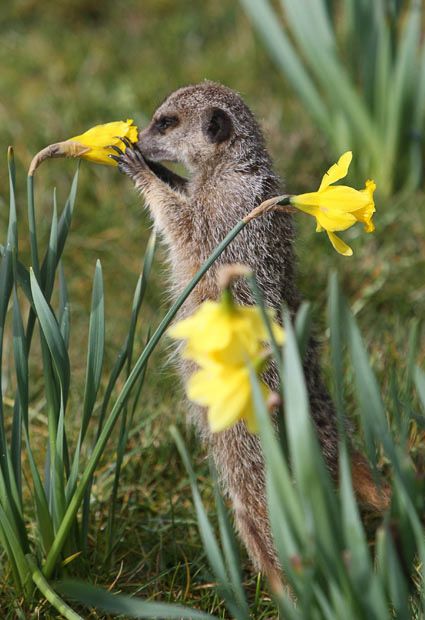 A young hand-reared meerkat sniffs a Spring daffodil at Axe Valley Bird and Animal Park in Axminster, Devon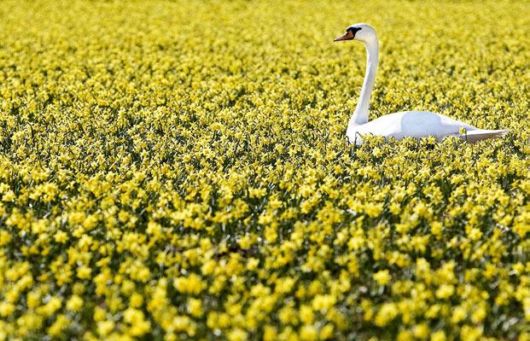 A swan walks through a field of daffodils in Schagerbrug in northwestern Netherlands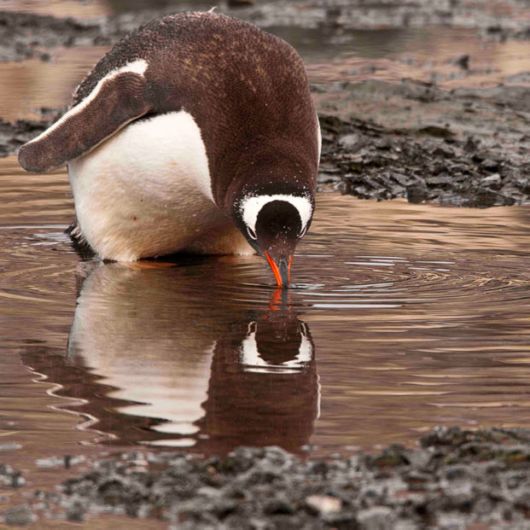 A Gentoo penguin is seemingly transfixed by his own reflection in a puddle on on Gourdin Island in the Antarctic. The image was captured by PR Consultancy Managing Director Edward Dixon in February as he toured the region with the non-profit Ocean Geographic Society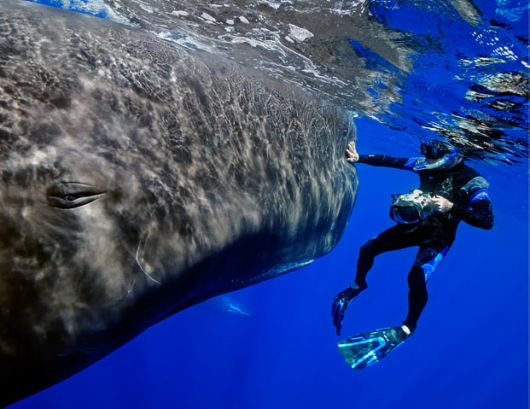 A snorkeller strokes a sperm whale off the island of Dominica in the Caribbean. The picture was taken by Dr Peter G Allinson, from Florida, who says: "When they interact with us they approach us very closely, rolling over again and again, trying to get us to rub their abdomens and bodies"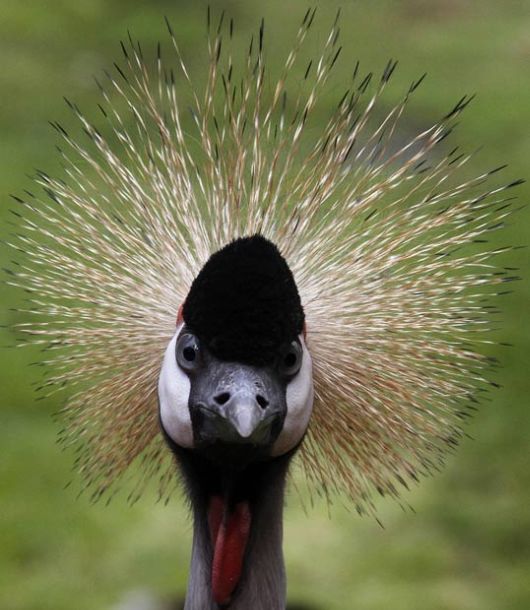 A black crowned crane from East Africa looks into the camera as it parades in the Bird Park in Walsrode, northern Germany
A pug looks up after a brief hail storm in Clarence, a suburb of Buffalo, New York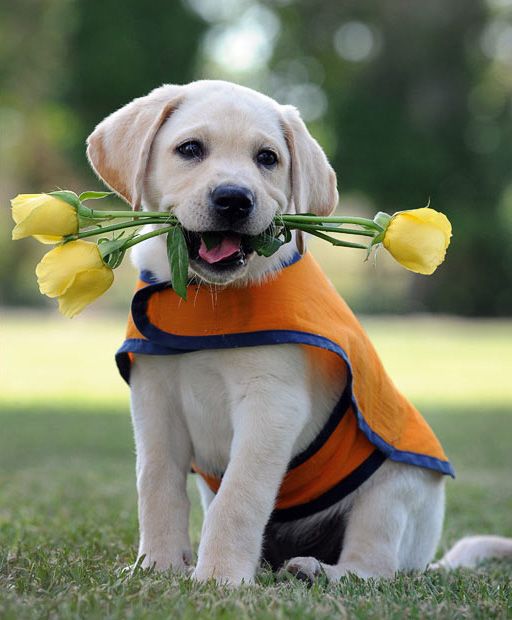 A Labrador puppy holds a rose in its mouth at the Guide Dogs Breeding and Training Centre in Brisbane. To commemorate Guide Dogs Queensland's 50th Anniversary, a new rose, the Brindabella Gold, has been developed and will be unveiled at the Brisbane Gardening Australia Expo, with sale proceeds to help turn more puppies into guide dogs