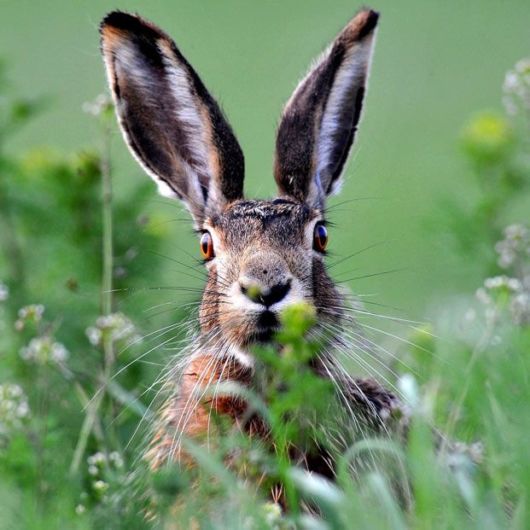 A brown hare (Lepus europaeus) pricks up its ears in a field in Hegyeshalom, west of Budapest, Hungary (Does he know that it is Easter?)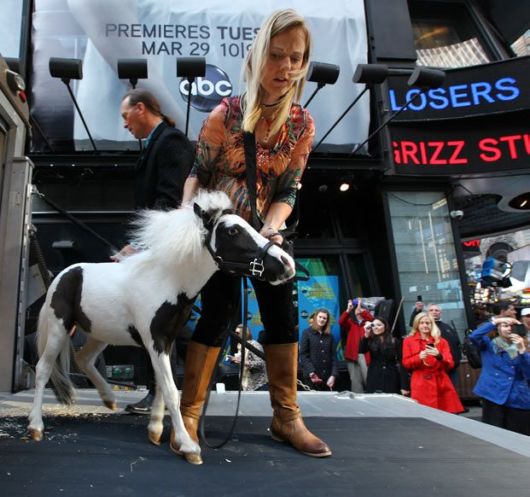 Einstein, the world's smallest horse, visits Good Morning America in Times Square, New York, with owner Charlie Cantrell and Dr Rachel Wagner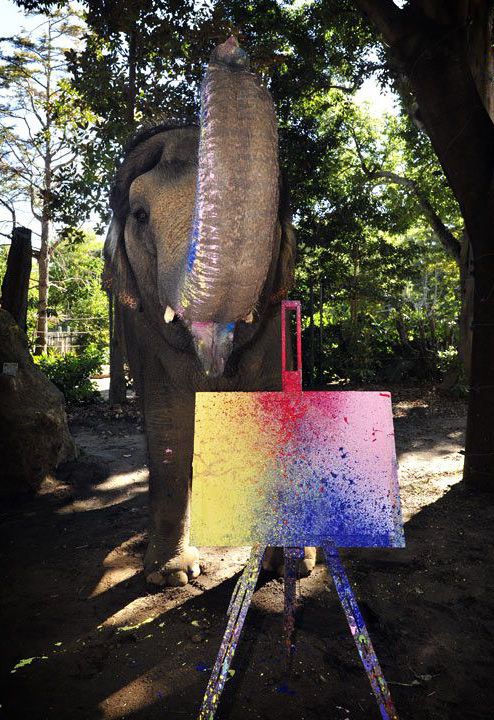 Elephants are trying their trunks at painting. Part of the Perth Zoo's April school holiday programme includes an art demonstration with a difference using elephants as artists. Using their trunks, the spraypainting pachyderms create unique works from vegetable and water-based paint.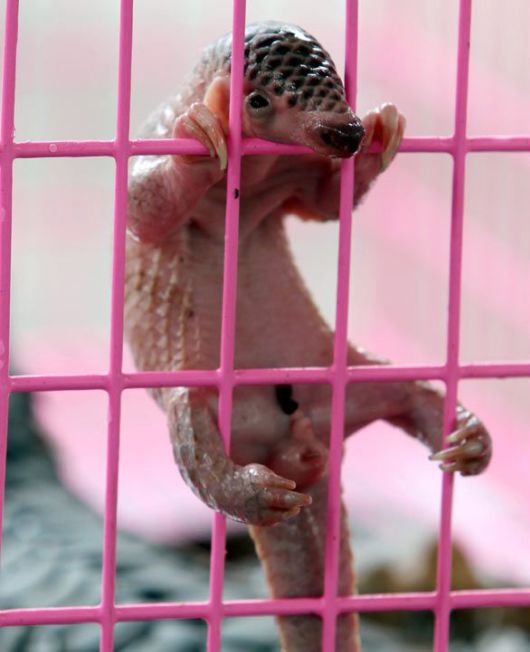 A confiscated smuggled baby pangolin looks out from a cage after it was born shortly prior a press conference in Bangkok. Thai customs seized 173 pangolins, which are listed as endangered species in CITES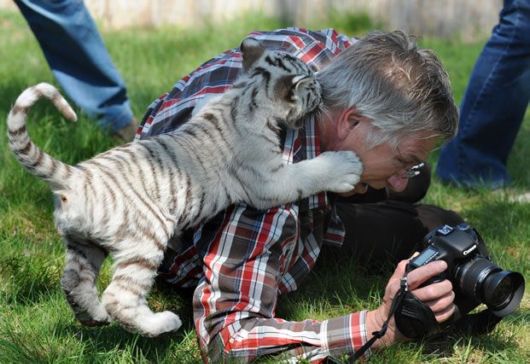 A white tiger cub playfully attacks a photographer at a zoo in Schloss Holte-Stukenbrock, Germany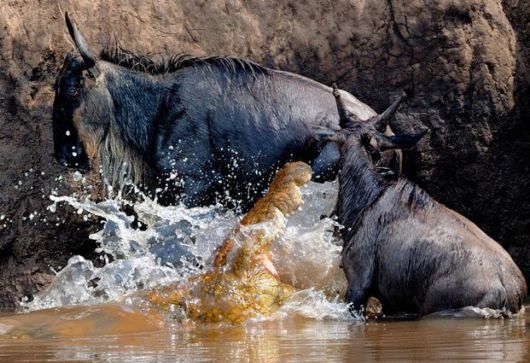 A crocodile emerges from the water and ambushes a herd of wildebeest as they venture into the stream in their search for new pastures. Photographer Paolo Torchio captured the attack while on safari in Maasai Mara national park, Kenya…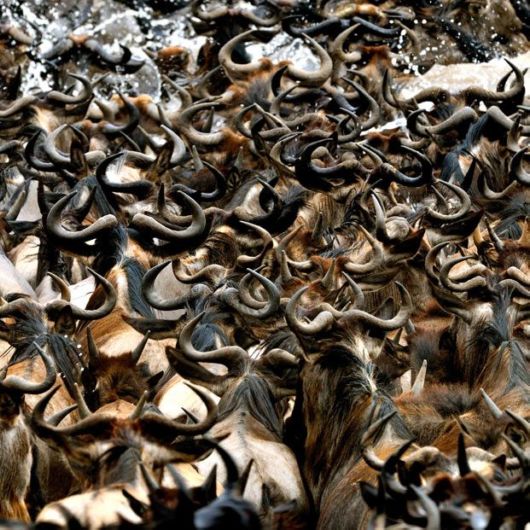 The migration is a famous annual event in which the wildebeest also have to contend with lions waiting for them on the other side. On this occasion it was the scaly predator who claimed victory over the wildebeest, killing four of them.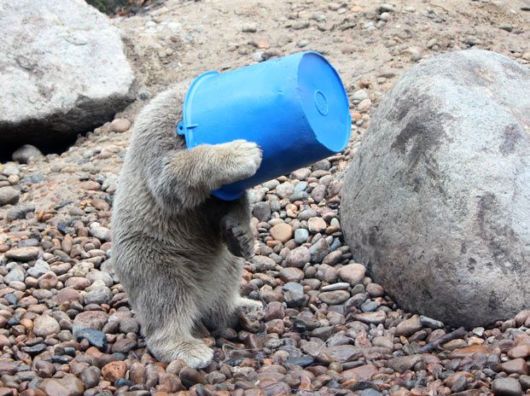 Augo the polar bear playing with his blue bucket at Aalborg Zoo, Denmark. The four-month-old cub has taken to wearing the plastic pail as a hat in his enclosure. He pokes his head in the container and attempts to stand on two legs, before, inevitably, falling over, all with caring mother Malik looking on.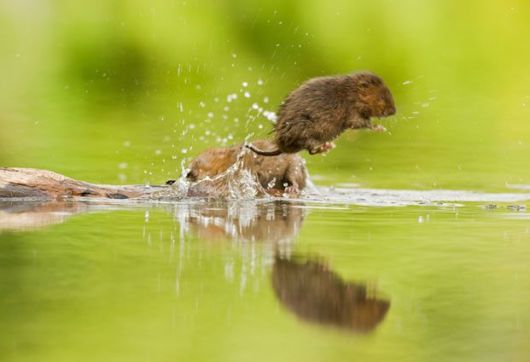 A water vole jumps from a rock into the water. Photographer Terry Whittaker has documented water voles for nine years. Conservationists are trying to boost their numbers in the British countryside.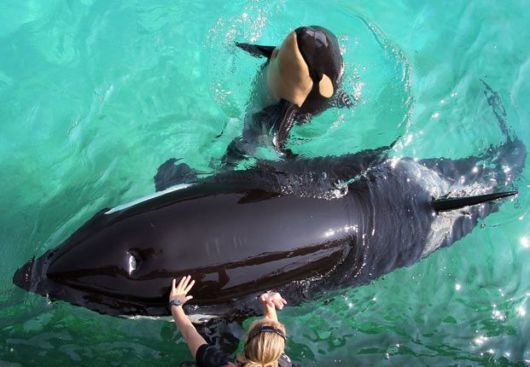 A trainer plays with a female orca named Wikie and her one-month-old calf at Marineland in the French Riviera city of Antibes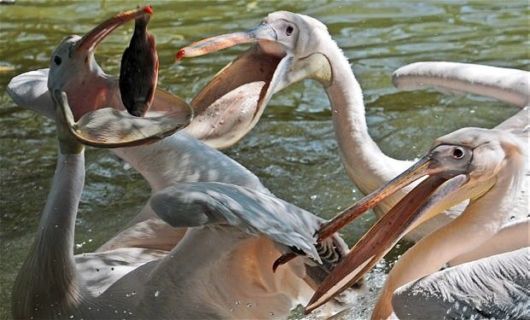 A group of pelicans battle for the fish during feeding time at the zoo in Mannheim, Germany.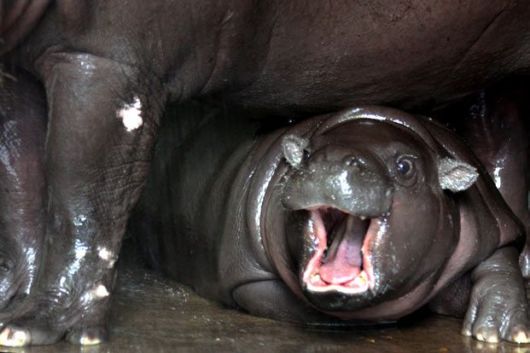 A newly born pigmy hippopotamus calf lies under its mother at the National Zoological Gardens at Dehiwala outside Colombo, Sri Lanka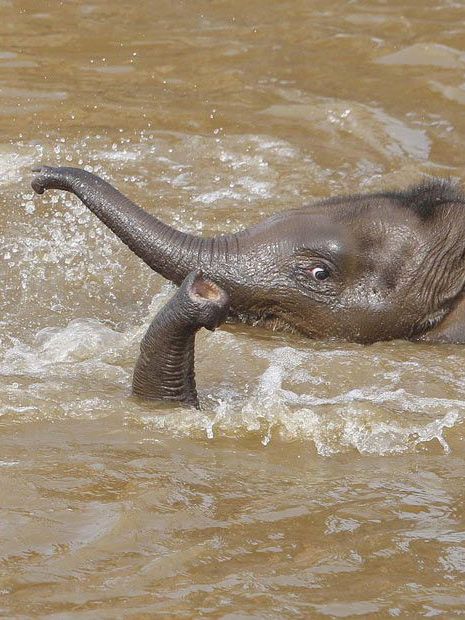 Elephants cool off in the hot weather at Chester Zoo.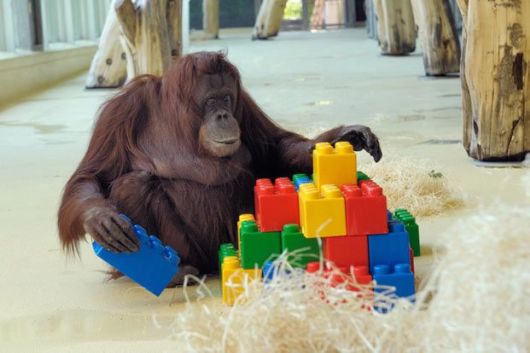 Nonja the artistic orangutan has been given oversized Lego blocks by her keepers to help her get over a creative block. The talented ape – who celebrated her 35th birthday this week at Austria's Schoenbrunn Zoo in Vienna – has tried painting and photography in the past. "Now we are trying to get her to think in three dimensions and this giant Lego is an introduction to sculpture," explained one keeper. Zoo director Dagmar Schratter added: "They were an early birthday present and she's having lots of fun with them." Previously Nonja has tried her hand at painting with her canvases fetching nearly £2,000 at auction.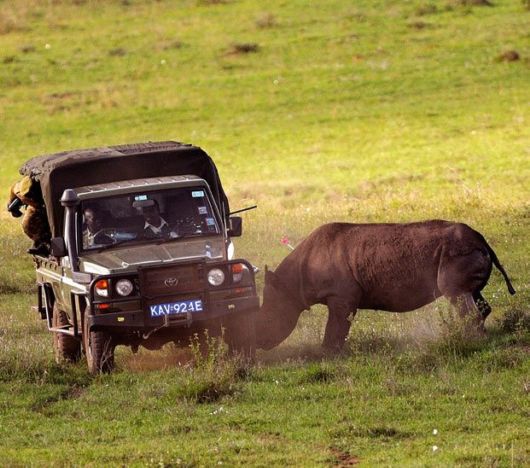 A rare black rhino confronts park rangers at the Nairobi National Park by ramming their 4×4 jeep. Photographer Paolo Torchio witnessed the incident from a safe distance. The injured animal charged at the jeep just as the vet managed to shoot a dart at the animal before leaving the scene. The rangers later returned to the sedated animal where it was treated.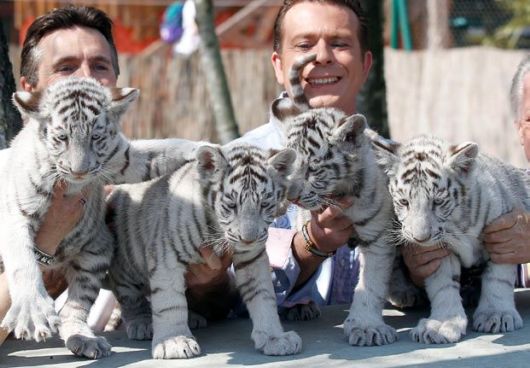 Four white Bengal tiger cubs are held by zoo keepers at the Safari-Park Stukenbrock in Schloss Holte-Stukenbrock, Germany. The rare cubs were born on Valentine's day.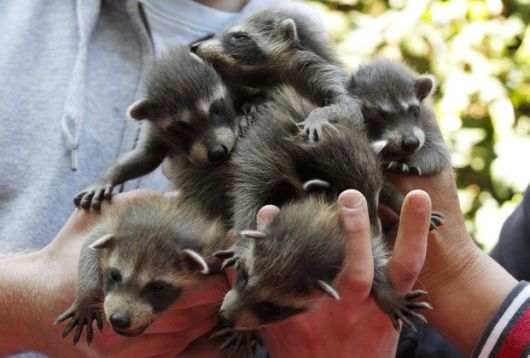 Police found six two-week-old raccoons in a fireplace in a house in Frankfurt, Germany. The baby raccoons are pictured at a breeding station in Frankfurt.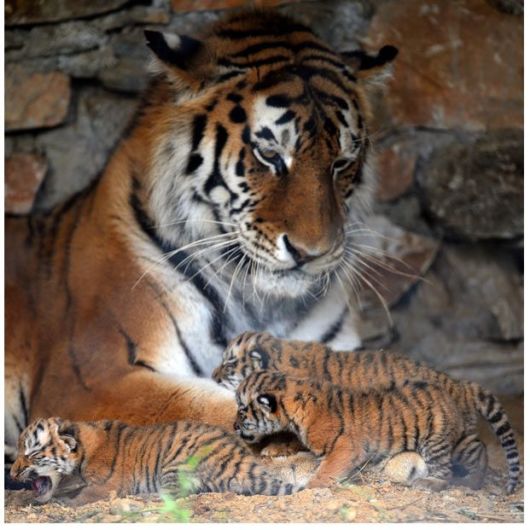 Three newly-born Siberian tigers crawl near their mother in the zoo in Skopje, Macedonia. One of baby tigers has been named Putin.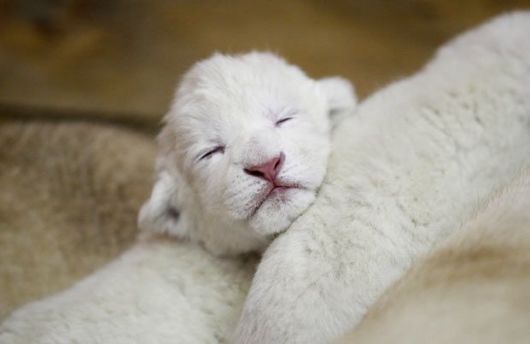 A three-day-old white lion cub sleeps in Belgrade Zoo, Serbia.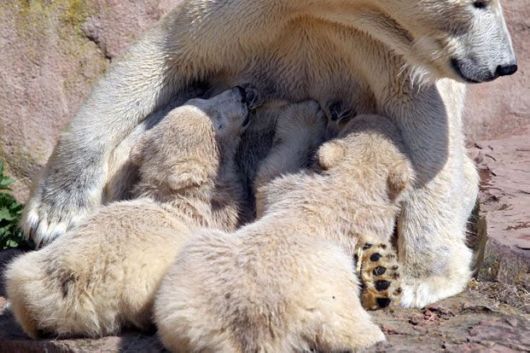 Polar bear twins Aleut and Gregor are fed by their mother Vera at the animal park in Nuremberg, Germany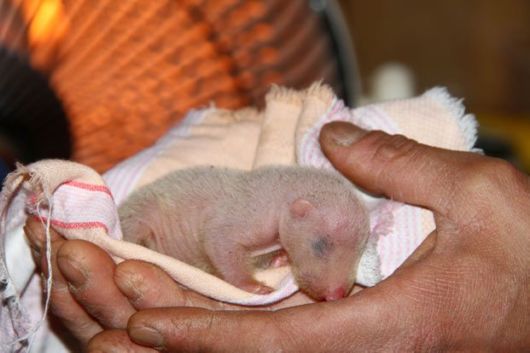 Staff at a nature reserve in China are hand-rearing two newborn black bear cubs after they were abandoned by their mother. Director Yang Jingyuan said: "Mother bears usually have a strong protection sense and they don't abandon their babies. It's possible that the mother bear was scared away or abandoned the two cubs as they are too weak."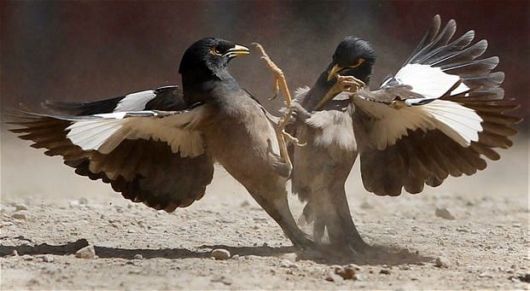 Two birds fight near the village of Jelawar in the Arghandab Valley north of Kandahar, Afghanistan
Two bald eagles fight over territory where salmon spawn at the Nooksack River in Washington. Photographer Ray Morris has captured the stunning aerobatic manoeuvres of the birds of prey tussling over salmon-rich territory. His amazing shots show eagles being almost forced onto their backs as attackers gain an aerial advantage…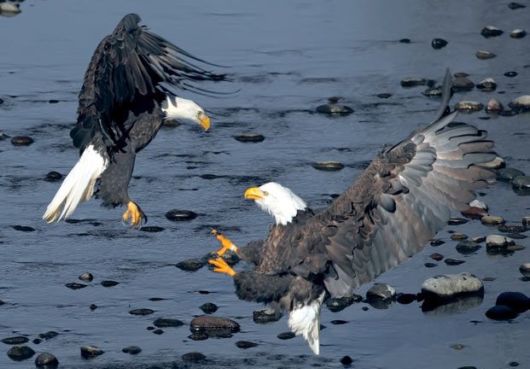 Ray says: "I am lucky because the Nooksack is a river local to me. A run of chum salmon come to spawn and eagles feed on the spawned out salmon, which makes for an amazing spectacle. When the eagles come to feed it can be a very frenzied scene. They will fight with the other birds, feed, take off and then return for more. It can be very hard to keep up with the action."
A newborn confiscated baby pangolin clings onto its mother inside a cage during a press conference in Bangkok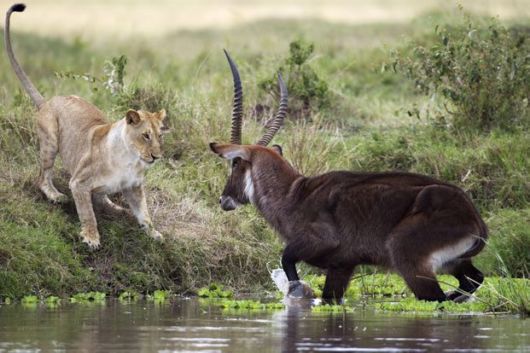 A lion managed to go hungry after the waterbuck it had cornered managed to give it the slip. The missed opportunity can be blamed on the lion's scaredy-cat attitude. After stumbling across the male waterbuck knee-deep in a lake in the Maasai Mara National Reserve, Kenya, the lion spent a few perplexed moments studying its potential prey. Finally deciding to make a move, the lion extended a tentative paw towards the large horned creature…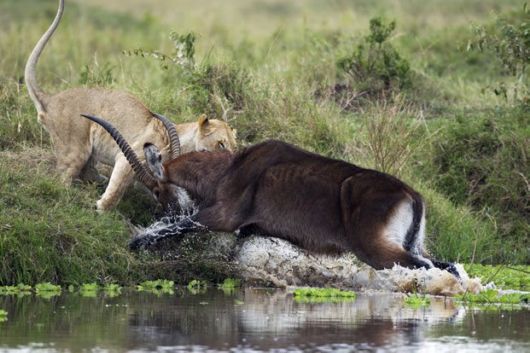 The waterbuck responded by lowering its horns and waving them menacingly in front of the startled big cat. Just to make sure it had got the message, the waterbuck then charged the lion headfirst. With the fearsome horns coming towards it the lion clearly decided it wasn't that hungry, and bolted.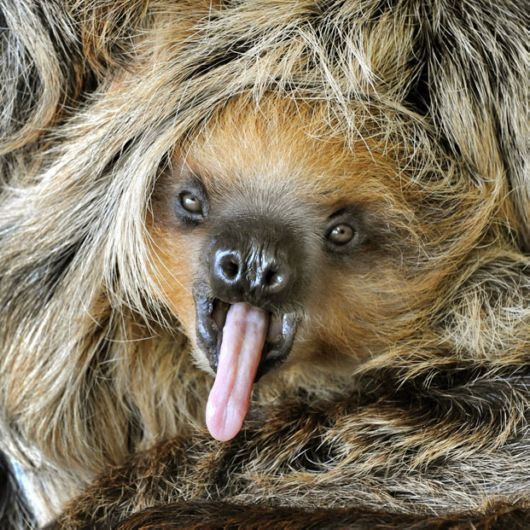 Eight-month-old baby sloth Camillo sticks out his tongue as he yawns at the zoo in Halle, eastern Germany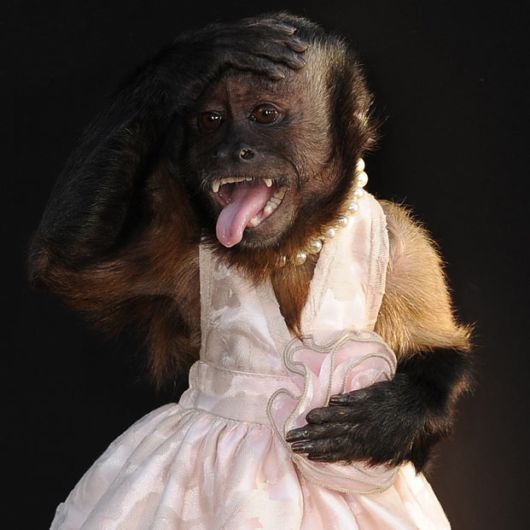 Crystal the monkey – wearing a dress and sticking out her tongue – arrives on the red carpet for the premiere of the film, "The Hangover Part II", at Grauman's Chinese Theatre in Hollywood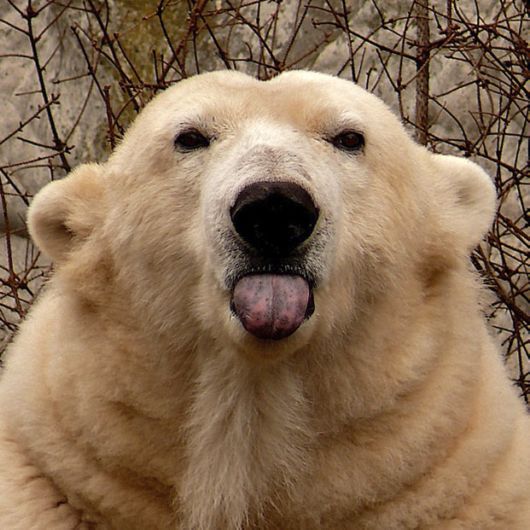 A cheeky polar bear sticks out her tongue at Amsterdam Zoo. Photographer Lars van de Goor said: "I was taking pictures of the animals and noticed this polar bear. I spent half an hour running from left to right, repositioning myself time and time again to get myself into the right position. Then she finally looked straight into my camera and stuck her tongue out."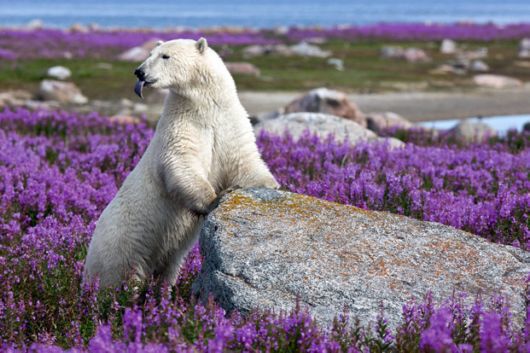 This polar bear looks as if it has taken a wrong turning as it roams an Arctic landscape covered in beautiful fireweed flowers instead of snow. The pictures were captured in Hudon Bay, Canada, by keen photographer Michael Poliza, 53, who couldn't believe his eyes when he saw the lonely white figure strolling through the purple flowers.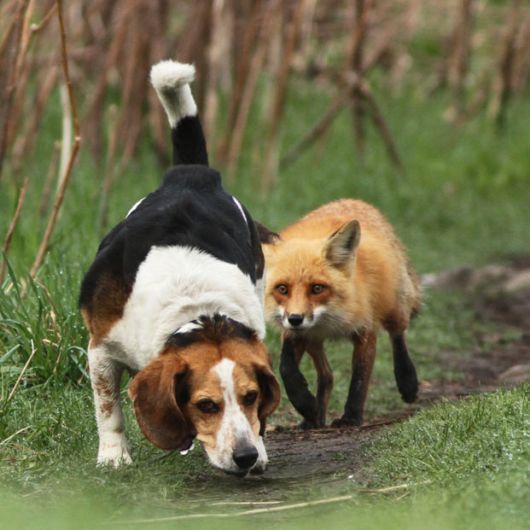 He's behind you! Meet the world's worst hunting dog. This beagle failed to spot the fox behind him. The dog had strayed too close to a den containing four fox cubs, but their protective parents stood their ground. Naturalist and photographer Mircea Costina captured the scene in a forest north of Montreal, Canada.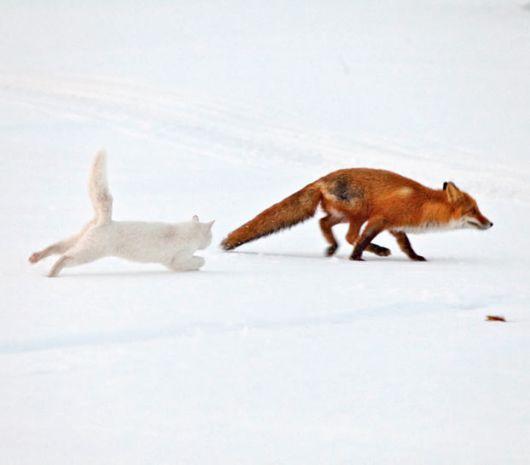 A white cat called Sioma chases a fox away at a nature reserve guard post on the Kamchatka peninsula in far-eastern Russia. The fox approached the guard post warily and the pair circled each other for a while before the fox decided it had met its match and slunk off. Sergey Krasnoshchokov, who took the pictures, said: "Sioma has a strong character. I found that out the moment I tried to pat him and he started to bite me and hiss. Sioma has done some good things. Now there are no mice at the house at the guard post."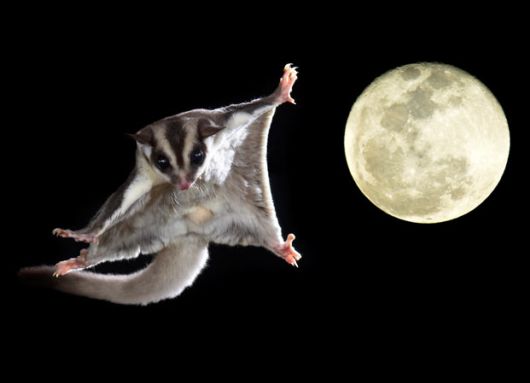 A sugar glider flings itself from a branch with the full moon behind it. Husband and wife duo Mary Ann and Joe McDonald from Pennsylvania in the US photographed the gliding marsupials – native to Australia – in their back garden. The couple erected a 15ft post and left a mixture of nuts at the bottom to coax the sugar gliders to leap down past the camera lens in order to capture them in flight.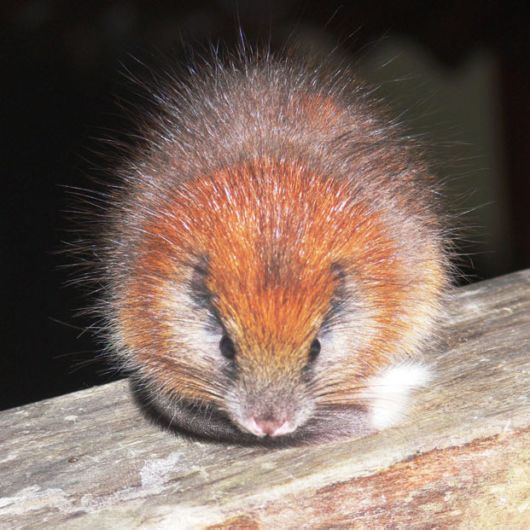 This picture provided by ProAves Foundation shows a red-crested tree rat (Santamartamys rufodorsalis) that was seen at the El Dorado natural reserve in the Santa Martas Snowy Mountain Range, Colombia. The rodent was 'rediscovered' in the north of Colombia by a group of scientists, 113 years after its last sighting.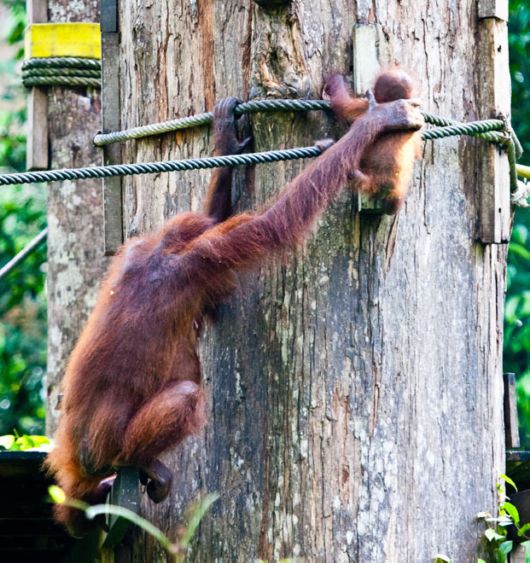 Mother orangutan Britt snatches back her ten-month-old baby Charlie on a feeding platform at the Orangutan Rehabilitation Centre in Sepilok in Borneo, Malaysia. Just like a curious toddler this young orangutan wandered too far from mum before she reeled him back in. Sepilok cares for around 100 orangutans in an unfenced jungle reserve. All have been rescued from loss of habitat or after becoming orphans though the logging and palm oil industries ravaging Borneo's forests.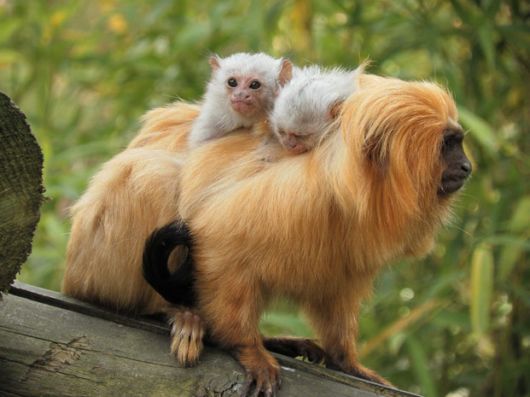 A male golden lion tamarin at Colchester Zoo has taken the unusual step of babysitting for the other primates that he shares his enclosure with. The tamarin, named Tom, has taken on the role of babysitter for two silvery marmoset youngsters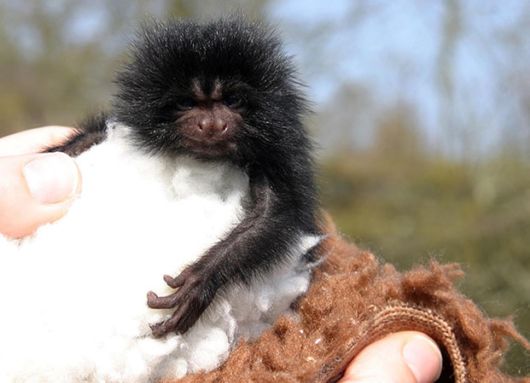 This critically-endangered baby black lion tamarin is the first to have been bred outside Brazil for eight years – after being delivered by Caesarean section. The male infant, born at Durrell wildlife park in Jersey, has been named Francisco after the head of the veterinary department who delivered him.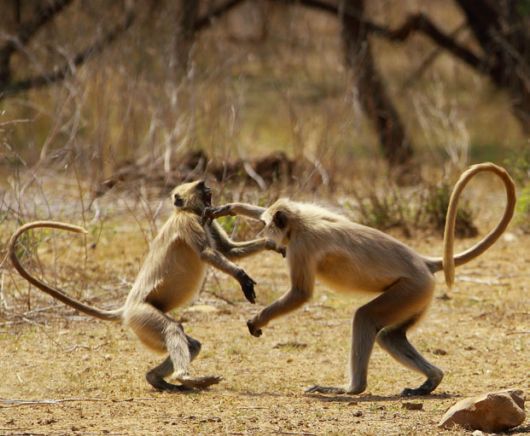 Two Langur Monkeys come to blows at a waterhole in Sariska National Park, Rajasthan, India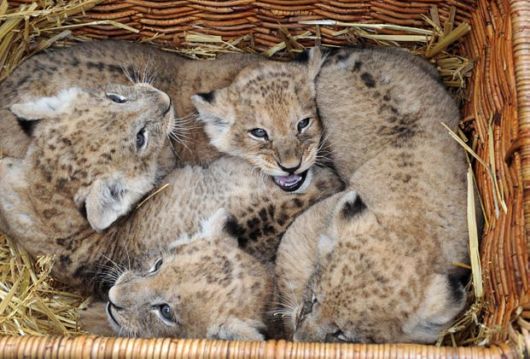 These four lion cubs were born seven weeks ago at Hagenbeck Zoo in Hamburg. The male lions have been named Batou and Bandele and the females Naledi and Sakina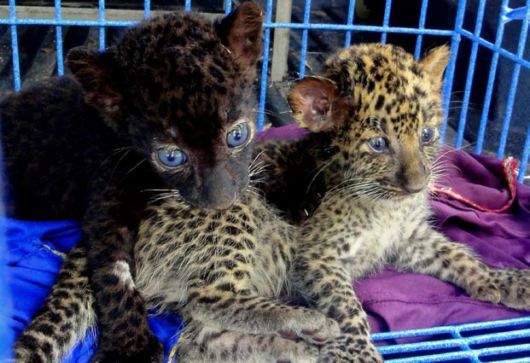 A panther and leopard cub were found in the luggage of Noor Mahmood as he prepared to fly from Bangkok's Suvarnabhumi Airport to Dubai. Also found in his luggage were a Asiatic black bear cub and two monkeys, all of which were still alive. Officers from the Royal Thai Police are confident Noor Mahmood will be prosecuted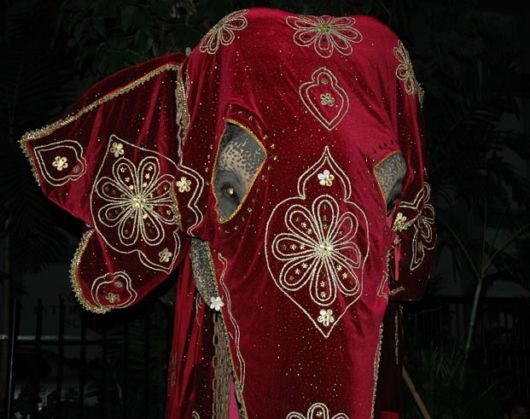 An Asian elephant is dressed up for the Buddhist festival of Vesak in Colombo, Sri Lanka. This year is the 2600th year in the Buddhist era of the Supreme Enlightenment of the Buddha and there are celebrations taking place around the world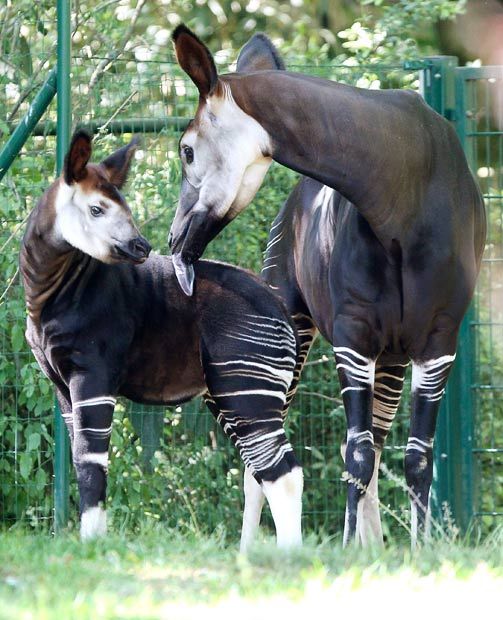 Maiko, a three-month-old baby okapi, stands next to its mother Lomela during its first public appearance at Frankfurt Zoo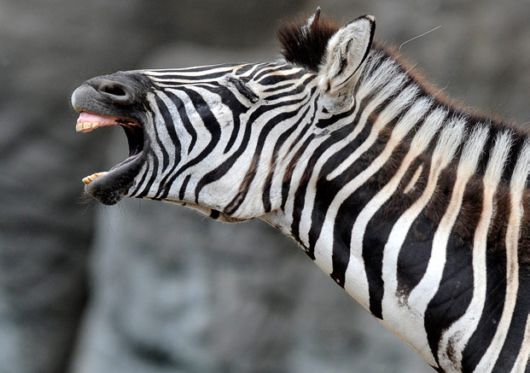 A braying zebra in its enclosure at Hagenbecks zoo in Hamburg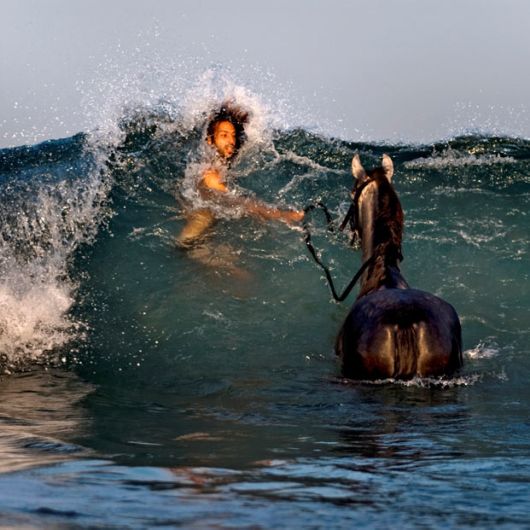 Here's a seahorse with a difference. Waves crash around a farm worker as he takes his horse for some exercise in the sea. The pair were given a shock when the usually calm water suddenly surged into a giant wave and engulfed them. Photographer Shlomi Nissim captured the moment as he walked along the shore. Shlomi, from Herzeliya, Israel, took the photo on a nearby beach.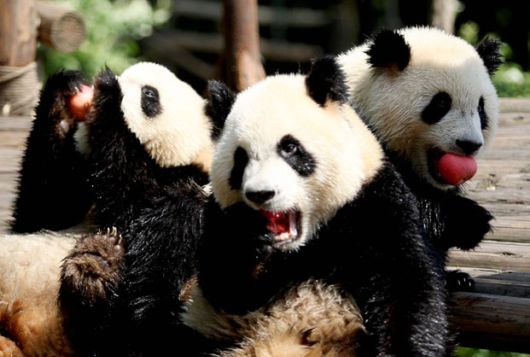 Pandas try to keep cool in the summer heat in Chengdu, Sichuan province, China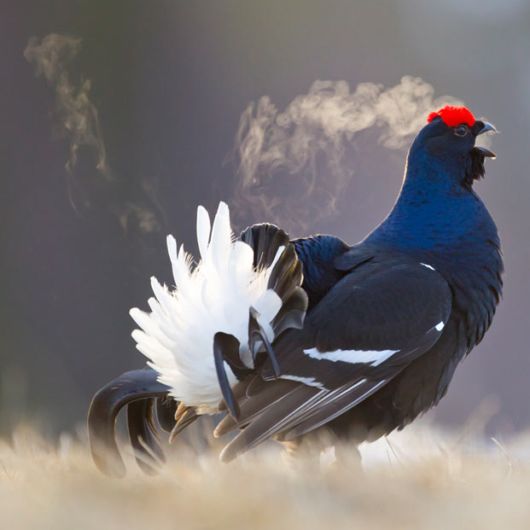 A black grouse lets off steam after a ferocious battle with a love rival. The feisty bird was hot under the collar after brawling with other males in a bid to win the affections of a female. British photographer Oliver Smart snapped the sight in Kuusamo, Finland.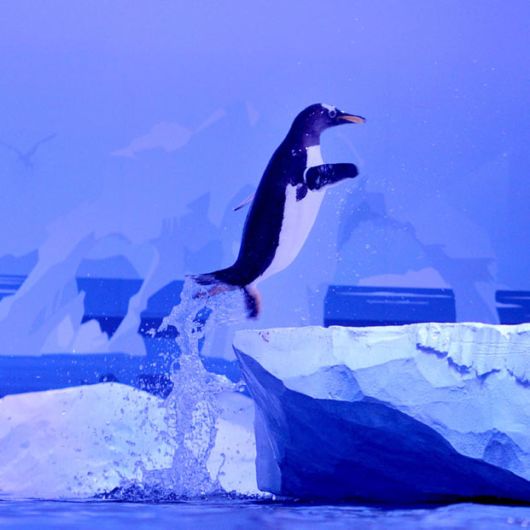 A gentoo penguin exits the water at a new display at the Sea Life London Aquarium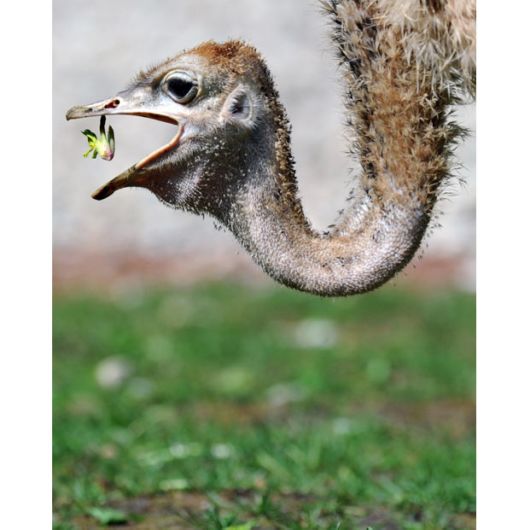 A young ostrich eats in its enclosure at the zoo in Hanover, central Germany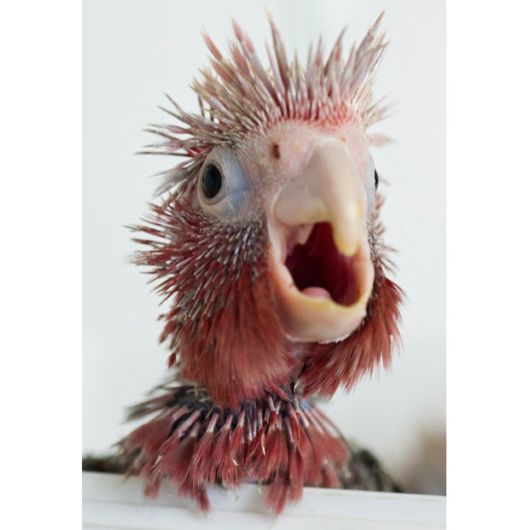 A newborn Galah, or rose-breasted cockatoo, looks out of a box in Gross Schauen, Germany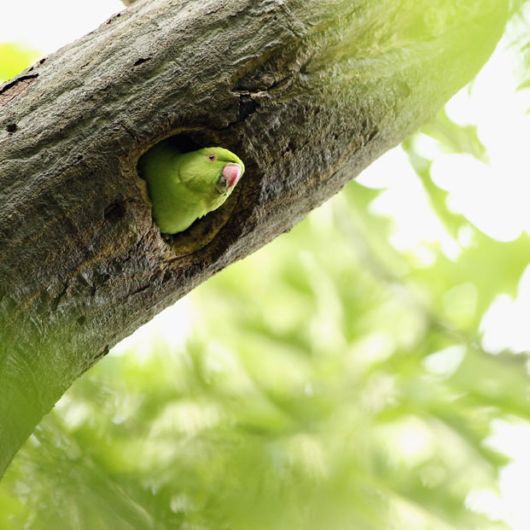 A rose ringed parakeet looks out of its nest in a tree in Hyde Park, London. Numbers of the non-native birds have grown to an estimated 32,000 in the South East of England alone. It is believed that the birds originally populated the area after being released as unwanted pets.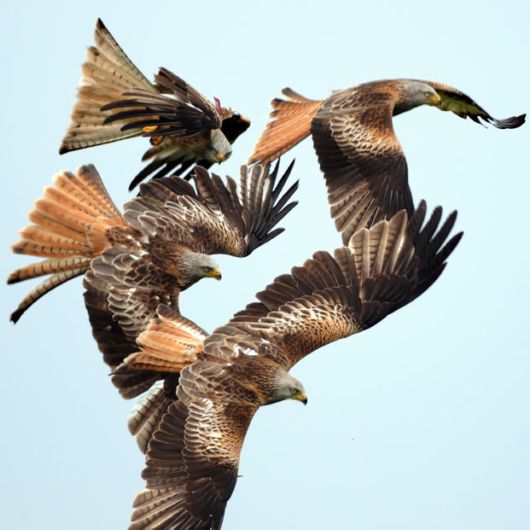 The red kite was once on the brink of extinction, but now the bird of prey is once again soaring over the British countryside. Part time nature photographer Gareth Scanlon captured the birds play-fighting in mid-air from his back garden in Brynnamman in Carmarthenshire, Wales…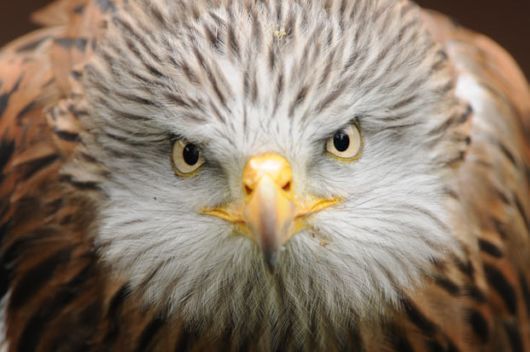 …Kites were once considered a pest in Great Britain and by the 18th Century humans had wiped them out in England and Scotland. Only in Wales did they cling on to life – with a few breeding pairs surviving in remote parts of mid-Wales by the late 1970s. The success story of the Welsh red kites rests on the survival of one female that lived in Wales during that period. Today, all 600 breeding pairs that now live in Wales are descended from this single bird. Red kites in England and Scotland have been reintroduced from Germany, France and Spain, with an estimated 700 breeding pairs of red kites in England and 130 pairs in Scotland.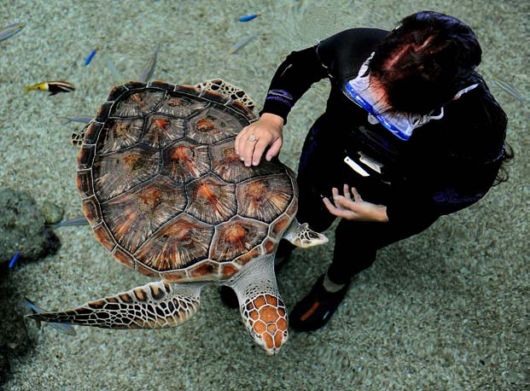 Two-year-old green sea turtle Sea Biscuit, with her front left flipper missing, swims past senior aquarist Marina Tsamoulos at Oceanworld Manly, north of Sydney. Sea Biscuit was rescued by Oceanworld staff in 2009 and was so badly injured when washed ashore that she lost her front left flipper. She has been handraised by Tsamoulos and has learnt to dive and swim with her remaining three flippers. World Turtle Day will be celebrated on May 23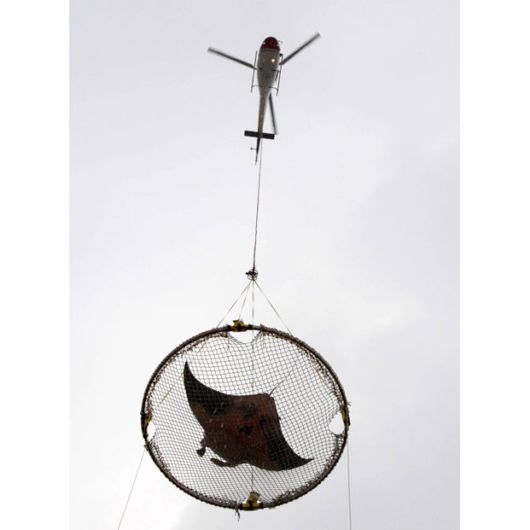 A 650-pound manta ray named Apollo is transferred from Atlantis Paradise Island Resort in Nassau, Bahamas, back into the Atlantic Ocean as part of their release and research programme. Apollo was equipped with a satellite tracking device that will gather information of the types of habitats it frequents and the depth and temperature ranges it experiences.