Gorilla Doctors: saving endangered mountain gorillas in Africa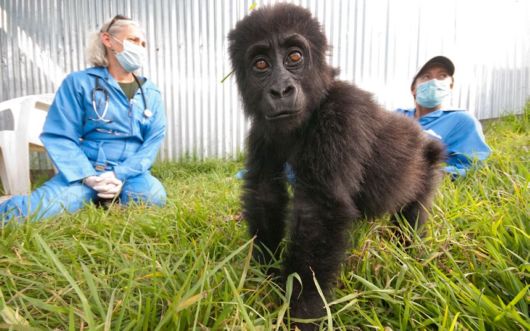 When zoologist Dian Fossey was murdered in 1985 there were just 250 mountain gorillas left in Africa's Virunga mountains. But thanks in part to the Gorilla Doctors she inspired, their numbers have doubled.
A young orphaned gorilla with Dawn Zimmerman (left) and another gorilla doctor in a sanctuary in Rwanda
Picture: Molly Feltner/Gorilla Doctors/Barcroft Media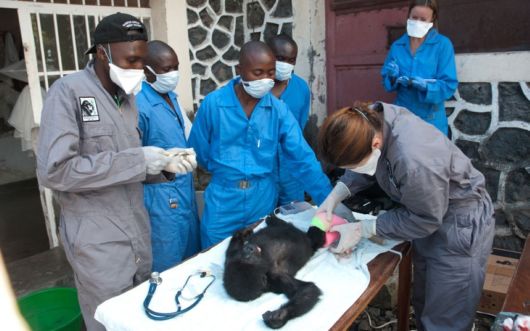 The multi-national group operates in the heart of the jungle, treating maimed and critically ill gorillas. They also are responsible for the medical treatment and quarantine of poached orphans, with as many as eight gorillas in the Interim Quarantine Facility for moderate term.
Dr Magdalena Braum (far right) and Dr Eddy Kambale (far left) remove a bullet from the leg of an orphan Grauer's gorilla confiscated from poachers in Congo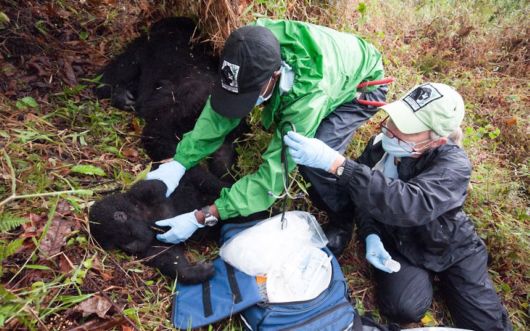 The Gorilla Doctors were formed in 1986 as the Virunga Veterinary Centre at the request of Dr Fossey – whose story inspired the Oscar-nominated film Gorillas in the Mist. It now employs 16 vets and operates in the Democratic Republic of Congo, Rwanda and Uganda.
Gorilla Doctor Dawn Zimmerman treats a darted baby gorilla in Rwanda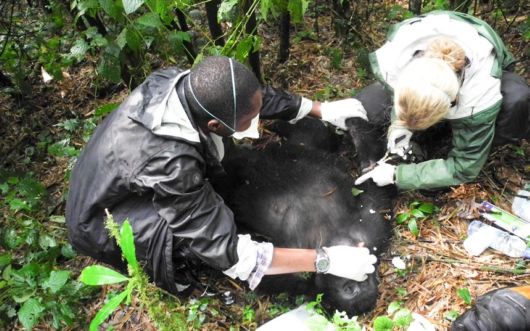 The doctors swoop in to rescue the gentle giants when they are trapped in poachers' snares or exposed to deadly human viruses. They dart the animals with antibiotics or drug them and operate on the jungle floor.
Gorilla Doctors Eddy Kambale and Dawn Zimmerman remove a snare from a Grauer's gorilla in Kahuzi-Biega National Park in Congo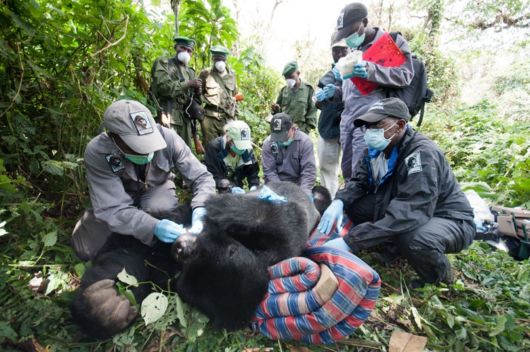 In total they have carried out more than 150 medical interventions on wild gorillas and adopted more than 20 orphans. Many of the confiscated orphans are suffering from dehydration, mental distress and wounds, and need 24-hour care.
Gorilla doctors treat an adult mountain gorilla as part of the Village of Hope project in Rwanda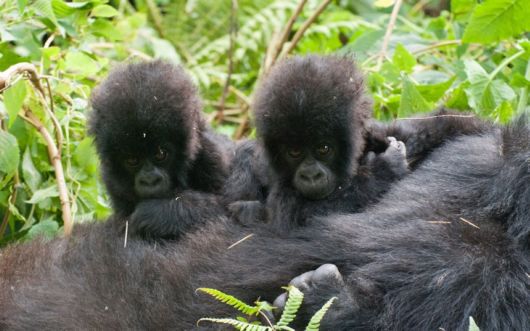 The last four years have seen the vets and scientists employ increasingly advanced techniques, which they hope will help all critically endangered species, not just gorillas.
Young gorilla twins rest on their mother's lap in the Virunga mountains in Congo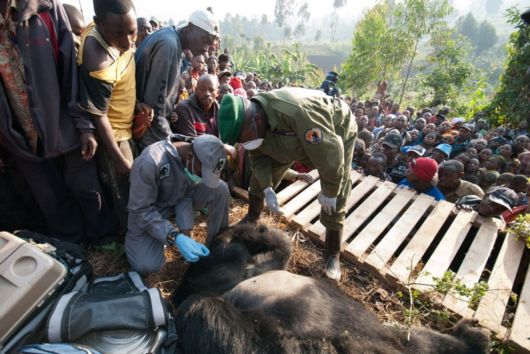 They use the 'one health' approach to conserving the species. This is a belief that the health of one species is inextricably linked to that of its entire ecosystem – including humans and other animal species. This is important as disease is often spread by villagers, who, earning an average of less than a pound a day, delve into the forest for resources such as water and bamboo, as well as to hunt bush meat.
Villagers watch the Gorilla Doctors treating an adult mountain gorilla as part of the Village of Hope project in Rwanda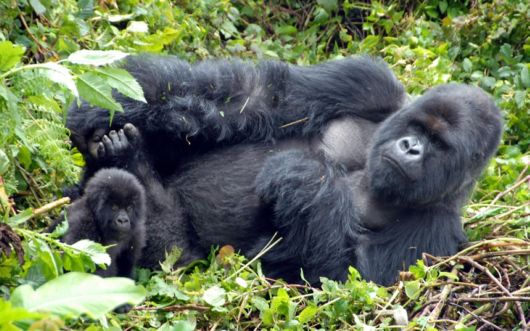 The region is also a magnet for thousands of eco-tourists – some of whom get 'too close' to the gorillas. The common cold could potentially kill the animals, which share 98.5 per cent of its genes with humans. But it is two-way traffic and some of the mountain gorillas, which can weigh 30 stone, also wander out of the jungle and into villages "out of interest."
An adult mountain gorilla cares for a baby in the Virunga mountains in Congo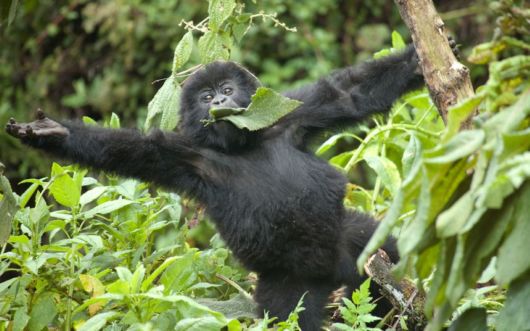 The region the Gorilla Doctors operate in is one of the most turbulent in the world and has been marred by genocide and war. In the past six months the team have been unable to monitor the gorillas because M23 rebels, locked in a battle with Congolese government forces, have taken over much of the Virunga National Park. They cannot say if any gorillas have been killed in crossfire or hunted for meat during this period. However, the Gorilla Doctors believe most of the fighters see the financial and altruistic benefits of protecting the gorillas, and will not harm them indiscriminately.
A young gorilla hangs on to a branch in Congo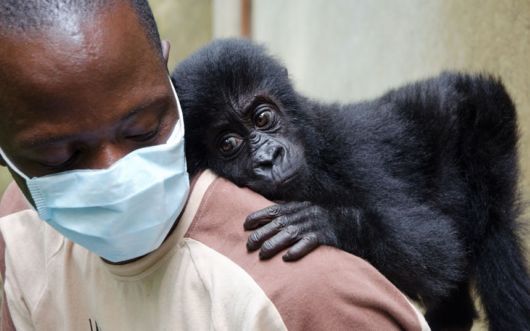 For the past 13 years the Gorilla Doctors have been led by Dr Mike Cranfield. Aside from increasing the gorilla populations, his proudest achievement is seeing talented African vets 'blossoming' and becoming independent.
Isangi the baby gorilla clings to Dr Martin Kabuyaya of the Gorilla Doctors at Virunga National Parks Senkwekwe Centre for orphan gorillas, in Rumangabo, Congo