One GIANT cat nap: Incredible shot of a pride of lions basking in the Serengeti sun (but shhh, don't wake them!)
A pride of lions could barely look more content as they stretch out in sun next to their favourite watering hole.
The incredible picture, taken in the Serengeti desert, shows a pride known as the Vumbis resting on a kopje, or rocky outcrop, near their favourite water hole. Lions use kopjes as outlooks from where they can scan the plains for signs of potential prey.
Photographer Michael Nichols, spent two years of living alongside the Vumbis to capture these remarkable and intimate pictures. He his team used an array of technology including infrared cameras and remote controlled robots to capture the images.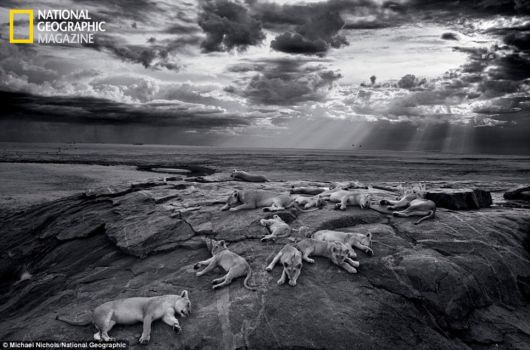 Sleeping lions: The Vumbis look peaceful as they rest looking on a kopje, or rocky outcrop, near their favourite water hole. Lions use kopjes as outlooks on the plains
In one stunning black and white close up, a male lion gives a regal stare while in another lion cubs climb over a zebra kill. Several shots capture the pride enjoying time together embracing one another, demonstrating a tight-knit family unit.
The images are from 'The Serengeti Lion' and can be found on National Geographic's website here.
Unlike other big cats such as tigers and leopards, lions are truly sociable creatures, preferring to live in prides and coalitions, the size and dynamics of which are determined by an intricate balance of evolutionary costs and benefits.
Experts have a number of theories to try and explain this anomaly. Some argue it is necessary for hunting large prey such as wildebeest while others say it facilitates the defence of young cubs.
The Serengeti National Park, which encompasses 5,700 square miles of grassy plains and woodlands, is one of the best places for zoologists to study lions' behaviour.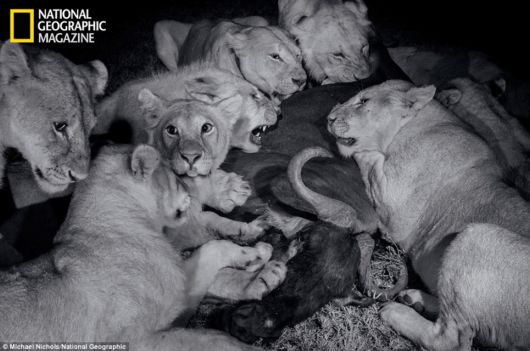 Technology: The two-year project involved the use of an array of cameras and robots to get these intimate close-ups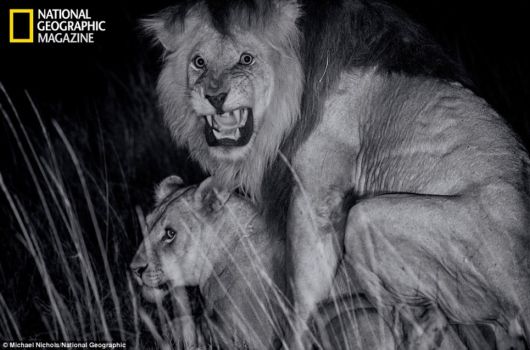 A male lion gives of a fearsome roar in this infrared camera image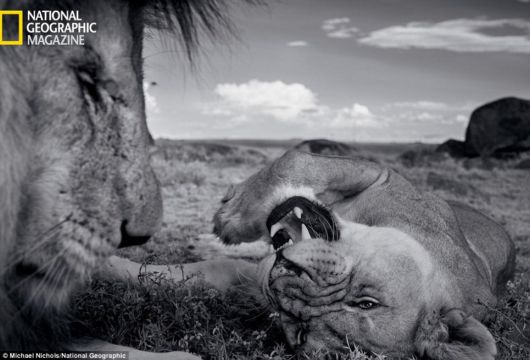 Sociable: Unlike other big cats, lions prefer to live in prides and form coalitions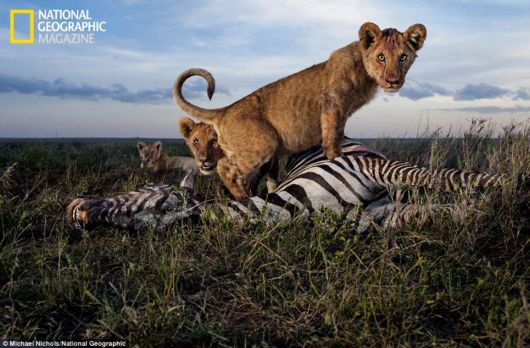 Natural environment: A lion cub pauses as it prepares to enjoy a zebra kill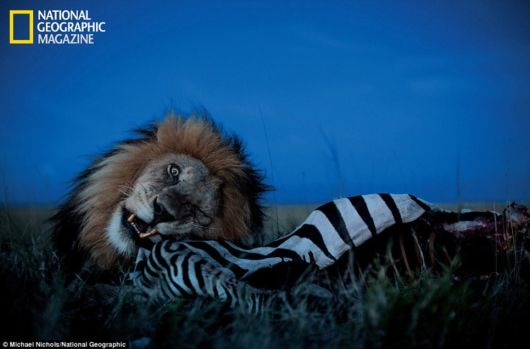 Stunning: A male lion tucks into a zebra kill with a perfect blue skyline in the backdrop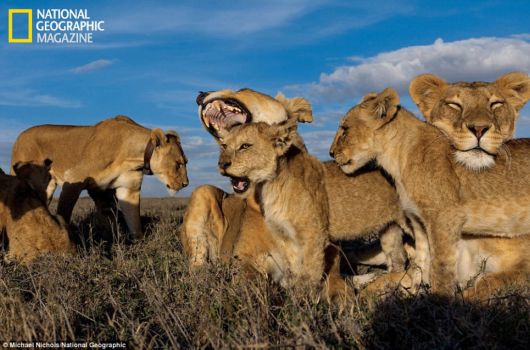 Trust: Photographer Michael Nichols spent two years living alongside a pride of lions in the Serengeti to get these shots