The common unique thoughts one would think off is a high rise, a levitated airport, or the pyramids of Giza. No one will ever imagine that there are balconies that would mind boggle ones imagination. Here is a list of the 10 Awesome Balconies.
1) Swimming pool balcony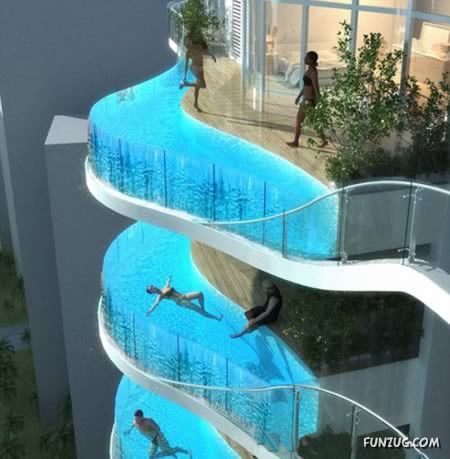 These unique swimming pool balconies are a part of the skyscrapers located in Mumbai. The 37 storey skyscrapers are known as Aquaria Grande. This exceptional design has swimming pools enclosed in glass instead of balconies. It is the outcome of a collaboration between James Law, a Hong Kong based architect and Wadhwa Group, an Indian real estate company.
2) Underground balcony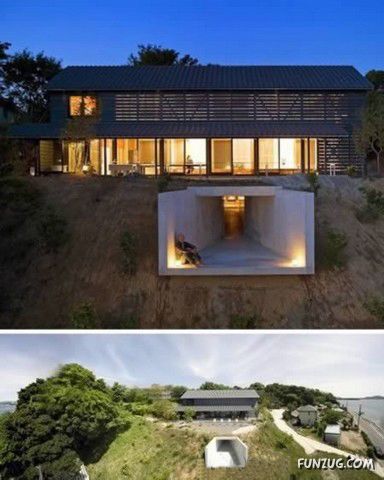 If you thought that all balconies are supposed to be above the ground, then think again. In Japan, a very chic home called Sukiya House contains a distinctive underground tunnel that also serves as a balcony. It has been designed by architect Yukiharu Suzuki.
3) Willis Tower balcony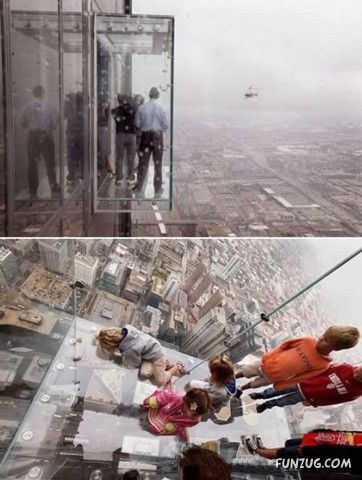 These four glass-box viewing balconies are part of the Sears Tower in Chicago, the tallest building in America. They are placed at a height of 1,353 feet above the ground and extend four feet from the building?s Skydeck. If you?re not afraid of heights then this is the place for you to be as it offers splendid views of Chicago. They make the visitors feel like they?re floating above the city.
4) VM House?s balconies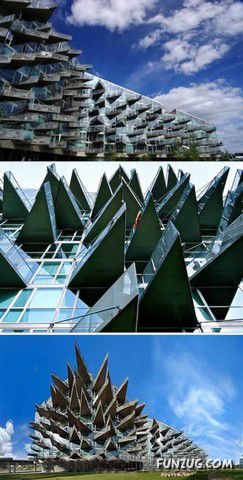 These balconies have been designed more for functional reasons rather than aesthetic ones. They are located in VM House, an apartment house that consists of two buildings. They are in the shape of letters ?V? and ?M? which seem to hug each other. They appear like the spikes of a hedgehog as they jut out from the fascia of the apartment. What makes this house especially striking is that the interior is visible from the outside due to the glass curtain wall covering the front of the apartment. These balconies were designed to let in ample sunlight into each home and to give an opportunity for maximum communication with people in the neighboring apartments.
5) Block balconies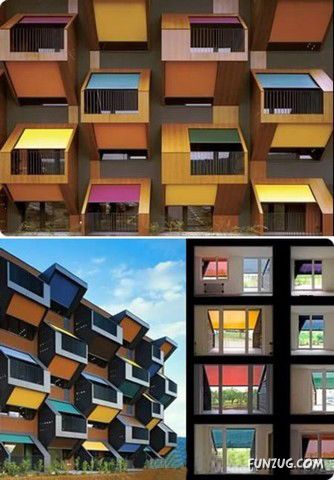 Located in Izola on the Slovenian coast, this housing block offers authentic and affordable options for you to live. It has been designed to target young families and each of the two apartment buildings contains 30 flats of varying sizes ranging from studios to three-bedroom flats. These unique trapezoidal-shaped balconies allow for more spacious areas taking into account the limited area of each unit. They also offer direct views of the sea. The team of Ofis Arhitekti won a national design competition for their apartment design.
6) Teacup balcony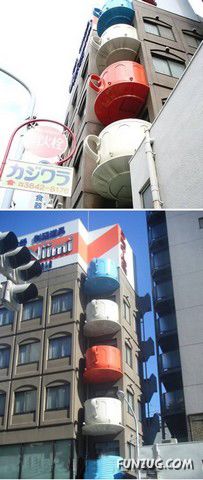 Ever had the wild notion of wanting to sit in a teacup? Well then this is your chance. These attention-grabbing balconies were part of a promotional strategy to market the range of teas produced by Niimi.
7) Car balcony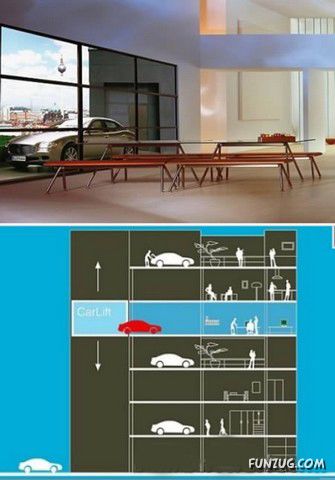 A private, safe and convenient parking space is a rare thing. German architects Manfred Dick and Johannes Kauka have come up with a concept that includes privacy, convenience, safety as well as an added luxury of a car elevator that lifts the car to the respective apartment. This concept involves a simple procedure of driving to the car elevator, pressing the button and reaching your swanky penthouse. The advantages entail unloading your groceries, having the car right in front of you, and protection from kidnapping.
8) Hammock Portable balcony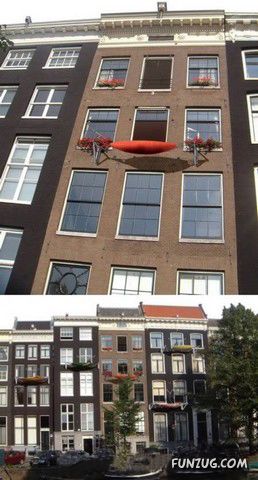 This is an ideal solution if you want your own space and get a little fresh air in the process. Designed by G10 Design, the ?Hommokum? is an interesting type of hammock that clips onto the portico of your apartment. It has been specially designed for people in Amsterdam, known as ?Amsterdammers? as most of the houses here don?t have a balcony.
9) Noida?s Residential Project balcony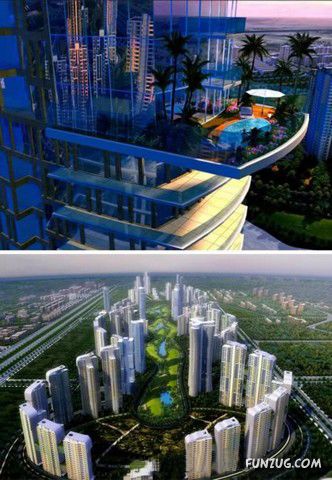 Noida, once a shadow of Delhi, today has grown into a commercial hub with a strong economic identity for itself. In order to cater to this large demand many luxurious and exclusive housing have sprung up around the city. One such project that stands out has a distinctive balcony. This 80m mid-rise residential project contains a park and a golf course.
10) Bloomframe balcony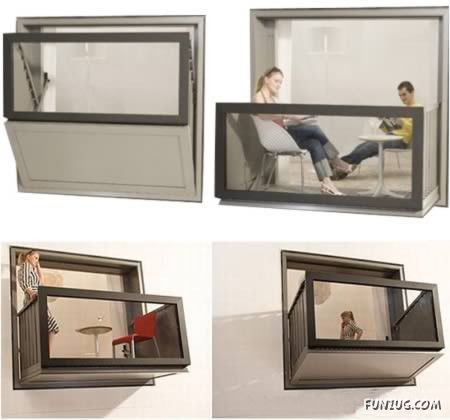 This bloomframe balcony made from steel, glass and aluminum is a novel window frame that can be transformed into a balcony. It has been designed by Hofman Dujardin Architects and manufactured by Hurks Geveltechniek. It has received the 2008 red dot design award in the product design category.