Like a giant turtle shell or inverted in the midst of the river Mur in Graz is a unique bridge-island that so called – Murinsel, Mur Island.
The Murinsel ? German, literally Mur island, in Graz, Austria, is actually not an island at all, but an artificial floating platform in the middle of the Mur river. This landmark of Graz was designed by New York artist Vito Acconci on the occasion of Graz becoming the 2003 European Capital of Culture.
The building is in the form of a giant sea shell and measures 47 m (154 ft) in length, about 350 people here who can spend time with children, spectate neighborhood, with this structure, they look totally different angle. Two footbridges connect it with both banks of the Mur. The center of the platform forms an amphitheatre. Below a twisted round dome there is a café and a playground.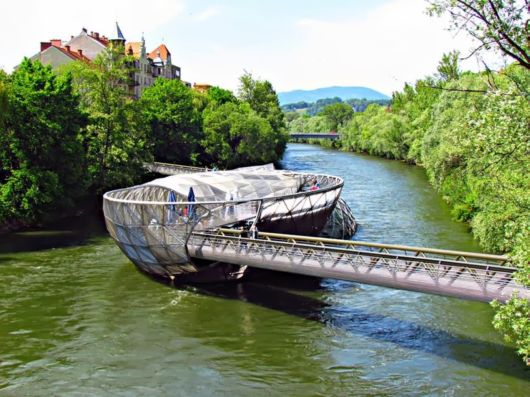 Island platform anchors secured to the bottom of the river resembles a sink with two uniform zones: open and closed. In one part of the shell-bridge, under glass, there is a cafe-bar in the other, under a clear sky – amphitheater. Between children's playground and a maze of ropes.
With two different coasts of the platform are metal ladders in the overall picture obtained bridge island. In the evening the lights gives an unusual sight, bridge island is revealed on the other hand, wrapped in a mysterious mystery. Bridge Murinzel became the new pride of the city. It was built temporarily for a period of celebration, but the locals have left him forever, as another cultural heritage of a new era.