Je?ted mountain-top hotel and television transmitter are integrated into one tower structure. The tower stands on the mountain of the same name Je?ted, which is the highest element of the Lu?ické hory, Lu?ické mountains massif in the northern part of the Czech Republic. The peak of the mountain 1012 m above sea level is approximately 6 kms from the centre of Liberec and forms a landmark in the wider vicinity. The monument is accessible by road and also by cable car from the foot of the mountain. Its design was developed during 1963-1966, construction itself took place from 1966-1973. The building's form of a revolving hyperboloid imaginatively combines the operation of a mountain-top hotel and a television transmitter in one.
The basic load-bearing element of the structure is a reinforced concrete core, consisting of two concentric tubes of varying height in diameters of 5m and 13m, on which individual floors are suspended on a steel structure, starting with the third storey above ground i.e. the second floor. On the outer perimeter of the first floor a glazed gallery opens out at a height of 1014 m above sea level, directly tied in to a spiral access ramp. An internal annulus of the first floor forms the entrance hall and reception to the hotel, which is dominated by a suspended staircase leading to an observation restaurant on the second floor.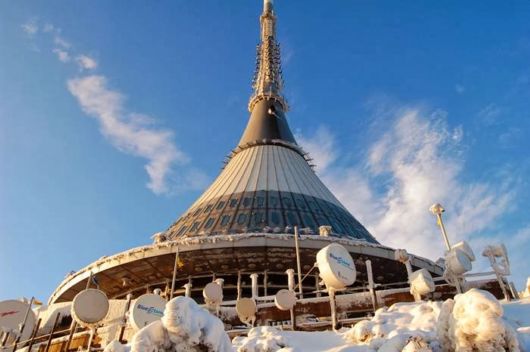 The next two floors, clad in aluminium, are used for accommodation: on the third floor are 14 hotel rooms for a total of 56 guests. On the fourth floor are rooms for employees of the transmitter and the hotel and two three-roomed flats. The area of the fifth to seventh floors is set aside for the aerials of the transmitting technology. There is a specially developed laminated cladding, against extreme weather conditions, in the shape of a revolving hyperboloid. On the seventh and eighth floors there is a tank for drinking water and battery-operated back-up power supply. The ninth floor contains the lift plant room. Above it a special pendulum is installed, whose movement absorbs the transverse oscillation of the tower. The tower's Architect is ing. arch. Karel Hubácek (*1924), who was awarded the prestigious Auguste Perret Prize for his design by the International Union of Architects in 1969.