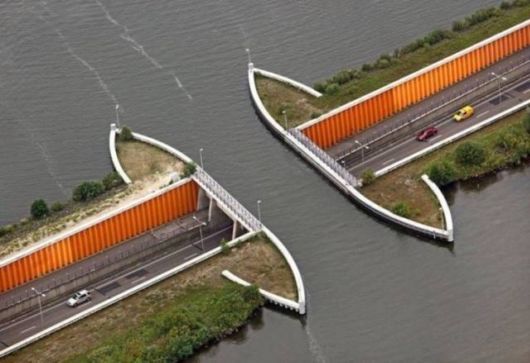 The Ringvaart (known in full as Ringvaart of the Haarlemmermeer Polder) is a canal in the province of North Holland, the Netherlands. The Ringvaart (Dutch meaning ?ring canal?) is a true circular canal surrounding the Haarlemmermeer polder and forms the boundary of the Haarlemmermeer municipality. Ringvaart is also the name of the dike bordering the canal.
Near Roelofarendsveen, the Ringvaart crosses the A4 Highway by means of an aqueduct. It was built in 1961, making it the oldest aqueduct in the Netherlands. In 2006, construction was completed of two new portions: on the east side for crossing new north-bound lanes for the expanded highway; and on the west side for the new HSL-Zuid high-speed railway. The new aqueduct is 1.8 kilometres (1.1 mi) long. Link
The Ringvaart is used for commercial and recreational boat traffic. A portion of it forms part of the sailroute from Hollands Diep to the IJsselmeer, passable for ships with masts over 6 meters (20 ft) tall.