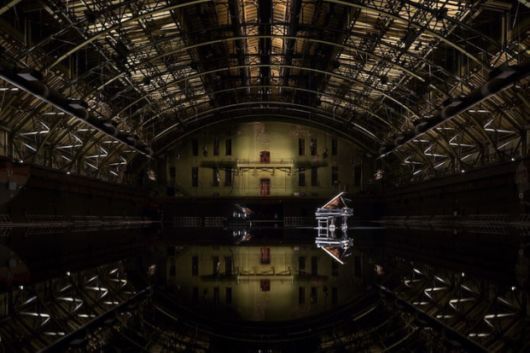 This is the Park Avenue Armory, a venue that is no stranger to hosting installations of epic proportions. This year artist Douglas Gordon has created an impressive 37,000 square-foot reflective lake inside the building. The installation is called tears become?streams become?, and features French pianist Hélène Grimaud playing ten songs all themed around water.
At the start of the performance the area is dry but as the performance goes in the reflective pool begins to flood, appearing as if it?s twice as deep as it actually is.
Art, music, and architecture converge in the latest work by Turner Prize-winning artist Douglas Gordon and acclaimed pianist Hélène Grimaud. This site-specific installation features an immense field of water that harnesses light, reflection, music, and sound to amplify and transform the Wade Thompson Drill Hall, encouraging viewers to acknowledge their surroundings and reexamine one of the most historic spaces in New York.?