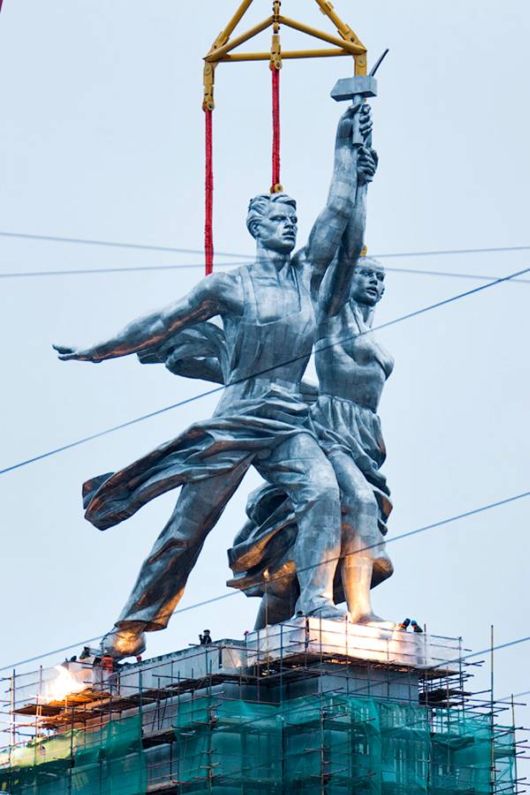 The famous sculpture has been installed onto its new pedestal on 28th November. It was originally created in 1937 by the soviet sculptor Vera Mukhina especially for the World Fair in Paris. This 25 meters high sculptural composition was to crown a huge Soviet pavilion at the bank of Siene River.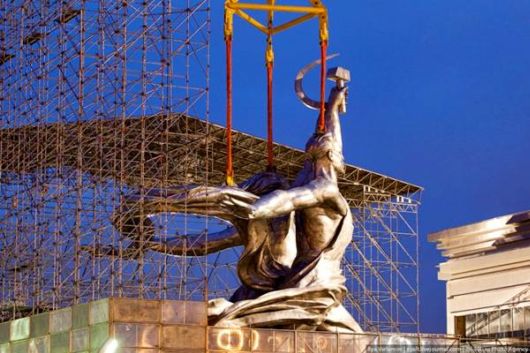 The sculpture is made of stainless chrome-nickel steel ? not a very typical material for sculptures even for extremely industrialized Soviet countries in the late 1930?s. But for the words of the author ?its reflecting grey would allow to single the monument out of the ambient space?.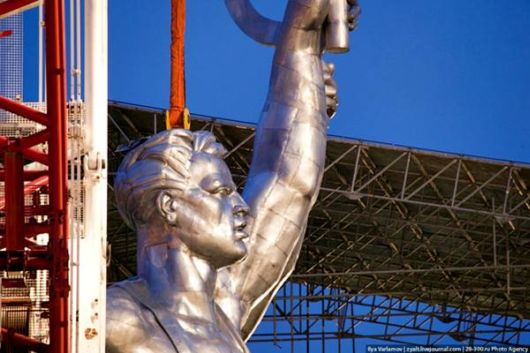 A young man holding a hammer and a lady with a sickle were to embody the masters of the Soviet land ? labor class and collective farming. The tools they hand form the hammer and sickle symbol ? state emblem of the Soviet Union. After the Paris World Fair finished the monument was tried be moved to Moscow but due to its enormous size was seriously damaged while being transported. In 1939 it was reconstructed in Moscow and installed at the Northern entrance to the All-USSR Agricultural Exhibition (now called All-Russia Exhibition Center). In 1979 the sculpture was restored.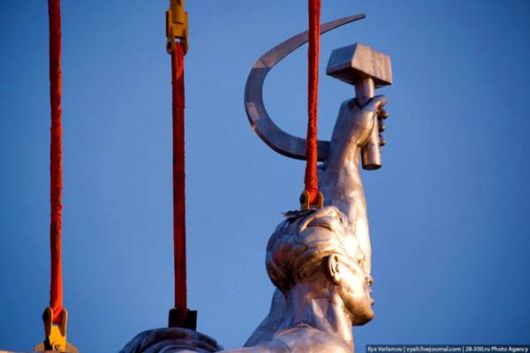 In 2003 Moscow was one of the favorite to accept Expo 2010 so it was decided to dismantle the monument for substantial reconstruction. It was taken in 40 pieces. It was planned to be returned to its place in 2005 but after Expo 2010 was awarded to Shanghai and due to the financial problems reconstruction works were delayed and the day of the sculpture?s return was postponed for several times.
Nobody knew the exact time when they are going to raise the monument, but there were some rumors a day before that it?ll be 8 a.m. They appeared to be truth and at 7.50 the huge sculpture began its way up. A unique crane that can cope with a nearly 200 tons weight was ordered especially for this event in Finland. There are only three of them in the world. The lift was very slow ? about 30 minutes. That gave enough time for gapers to stand open-mouthed and to use their cell phone cameras.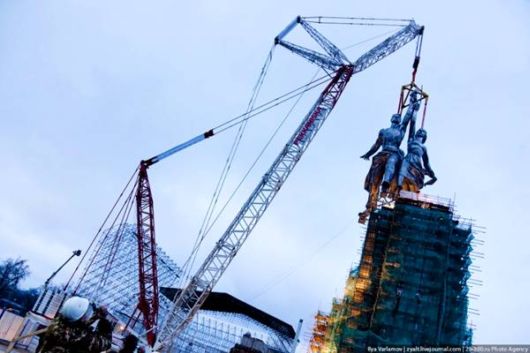 At last the statue was fastened at the top of a new exhibition pavilion ? an exact copy of that standing in Paris in 1937. It will accommodate Vera Mukhina Museum, a number of exhibition sites and a conference-hall. The facade of the building is not finished yet ? some decoration works are in progress. The modern restorers refused to use beautiful marble originally decorated the pavilion due to its high cost and susceptibility to low temperatures. They used granite instead ? stones of 12 different tints were ordered in Italy, Kazakhstan, Turkey and China.