President performs Anantha Sthapana Puja for world?s tallest
ISKCON Chandrodaya Mandir in Vrindavan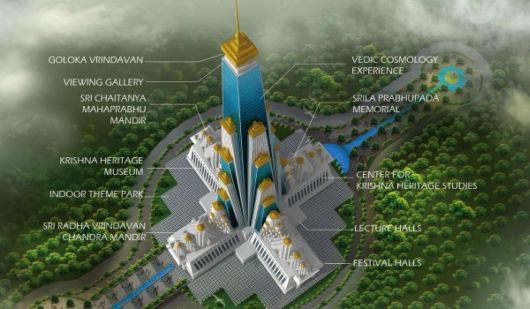 The President of India, Shri Pranab Mukherjee attended the Anantha Sthapana Puja at the Chandrodaya Mandir being established by ISKCON at Vrindavan today (November 16, 2014). across all humanity.
About the temple
Vrindavan Chandrodaya Mandir is the world?s tallest temple under-construction at Vrindavan, Mathura, India. At cost of INR300 crore (US$49 million) it will be one of the most expensively built temple in world by ISKCON. The temple has a footprint of about 5 acres and rises to a height of about 700 feet (213 meters or 70 floors) and a built-up area of 5,40,000 sq. ft. The temple is planned to be vibrant with festivals and religious activities throughout the year. A look-alike of the verdant forests of Vrindavan will be recreated around this magnificent temple. It will be spread over a sprawling 26 acres, it will consist of the twelve forests (dvadashakanana) of Braj, with varieties of lush vegetation, green pastures, elegant vistas of fruit bearing trees, flower laden creepers serenaded by bird songs, clear water lakes with lotuses and lilies and water falls that tumble from small artificial hillocks ? all recreated from descriptions in the SrimadBhagavatam and other source books of Lord Sri Krishna ? to transport the visitors to Krishna?s times in Vrindavan. The project is set in 62 acres of land and will includes 12 acres for parking and a helipad..
The structural design has been outsourced to a US-based company, TRC Worldwide Engineering Brentwood. Structural design advisor?s are from Civil Engineering Department IIT and Sanrachna Consultants, New Delhi. The lead architects are Ingenious Studio Pvt Ltd. Quintessence Design Studio will carry out landscaping for the whole temple area. HVAC (heating, ventilation, and air conditioning) will be installed by Gupta Consultants & Associates. All the electricals and wiring will be done with the help of WBG Consultants. The temple, with a traditional Nagra architecture at the entrance, will have elements of a glass façade that would stretch to the th floor.