7. Magnetic board from old metal graters
Until a few years ago, every kitchen had at least one flat grater that served us in almost every field of cooking. Today, graters are much more comfortable and have pushed the old flat ones to the back of the closet. But the next idea suggests that you get the graters back out, tie them together with some rope and turn them into a magnetic board with a particularly nostalgic look. You can display old photos on them, as well as use them for any other purpose.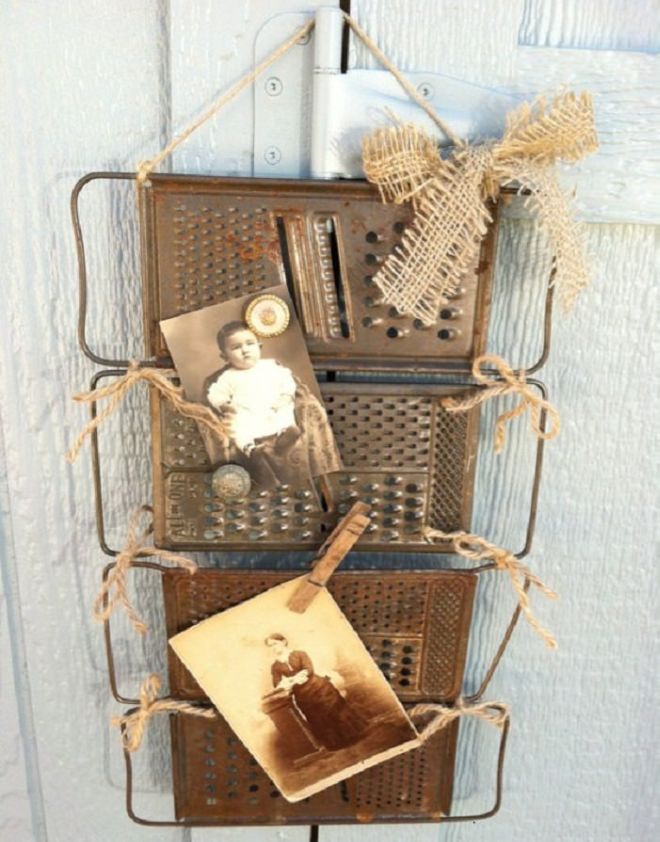 8. Tablet stand from a cutting board
In many kitchens electronic screens have begun to replace traditional cookbooks and recipes, making the tablet one of the most loyal helpers of many cooks. If you use one as well, you can turn an old unused cutting board as a stand for it, thus preserving some of the nostalgic look in this new high-tech environment as well. Choose your cutting board and gather your supplies: scrabble letter rack, wood wedges, and wood glue. Paint the pieces if you'd like and allow to dry. Once dry flue the scrabble letter rack to the front and the wooden wedges to the back (this is what will help the board stand.)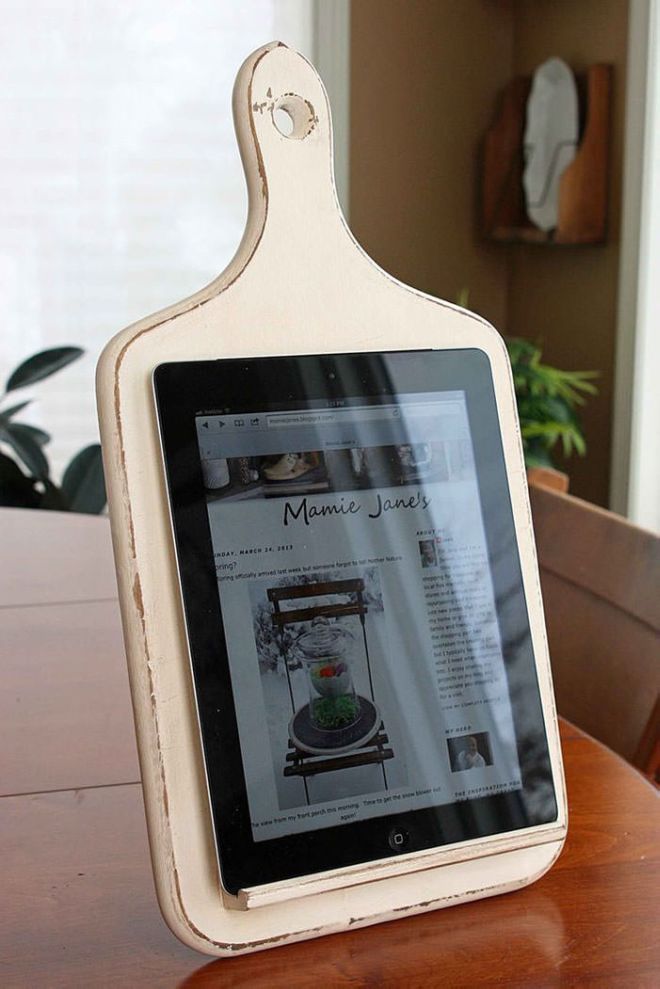 9. Rolling pin towel rack
An old rolling pin is just the right size for hanging our towels. Stick it at the end of your kitchen table or island, and you can use it a s a handy towel rack.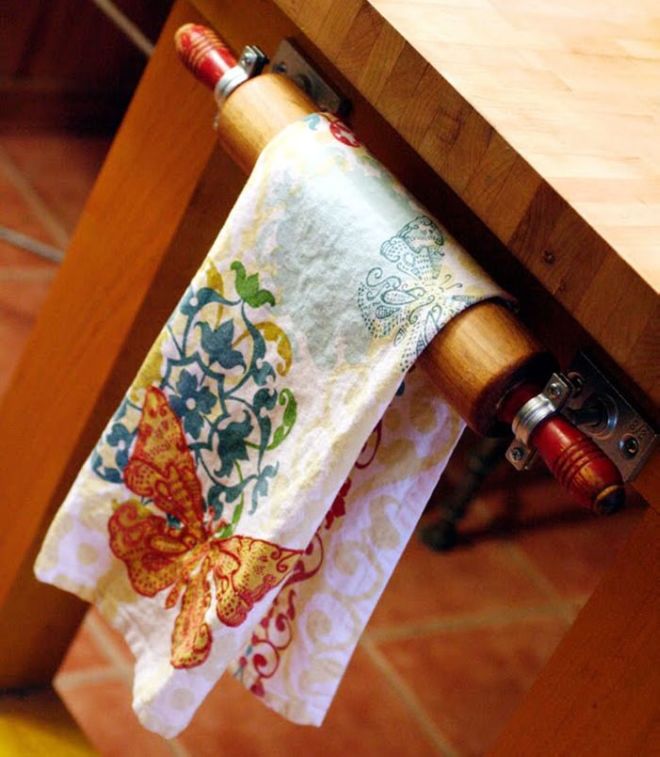 10. Candle holders from old funnels
If you're trying to put together a romantic dinner but can't remember where you last placed your candle holders, get out a few of your old funnels from the closet, turn them over and place a candle into each of their spouts.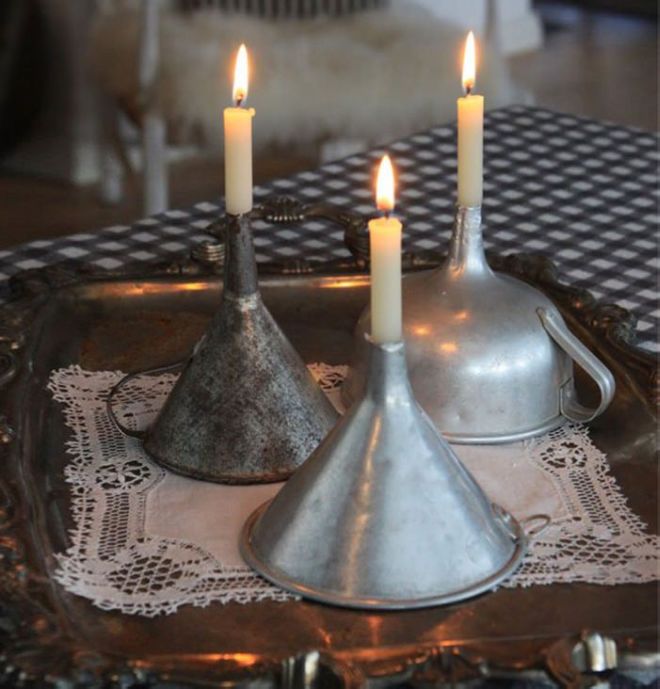 11. Ceramic pot-lid holders
We all know the saying "every pot has its lid," however we do occasionally find a pot-less lid. This creative idea will allow you to glue your old lonely lids onto wood or plastic boards of your choice, and use the holes and slots in them to turn them into holders of random items around your kitchen.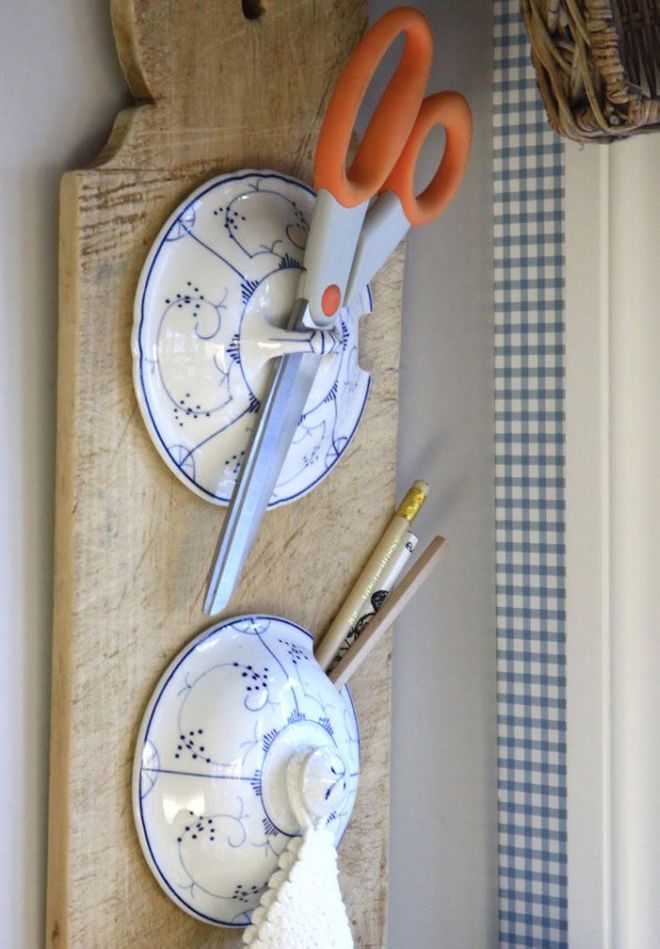 12. Grater earring holder
Every woman knows how frustrating it is to look for pairs of earrings in her jewelry box. Different jewelry racks don't always provide enough space for many pairs of earrings, but a standing grater can easily turn into the perfect earring rack. The small holes in it make it possible to insert any pair of earrings easily without fear of them falling off.