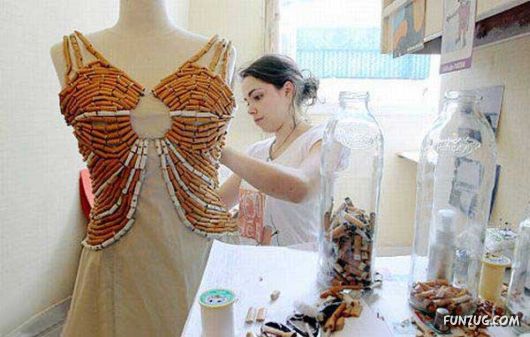 It appears, from the cigarette butt can make a lot of items – from packaging to clothing.
Portrait of Serge Gainsbourg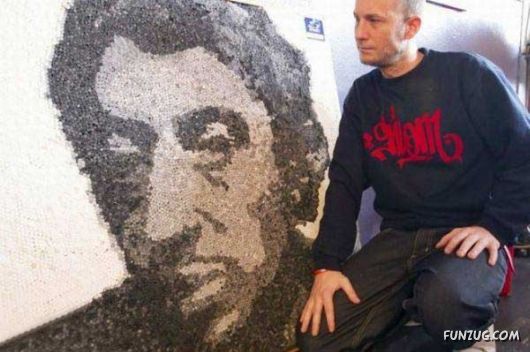 Swiss artist Street Kanst created a huge portrait of the French singer Serge Gainsbourg of the ordinary cigarette butts. Artist for three years collecting cigarette butts that littered the streets of the city, after which they found very interesting application. To create a portrait took 20,394 cigarette filters.
Carpet of Cigarette Butts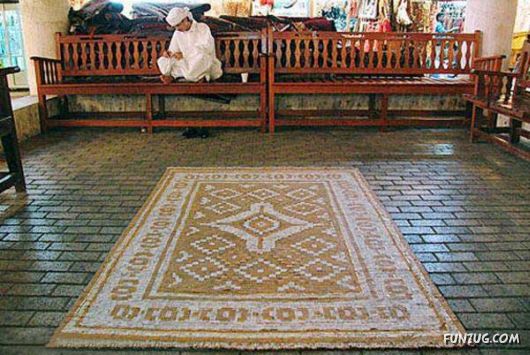 Another artist Jesus Bubu Negron set up his own team of cleaners and with their help collecting discarded on the street yellow and white cigarette filters. After some time, the artist was able to make a white-yellow carpet.
Clothes made of Cigarette Filters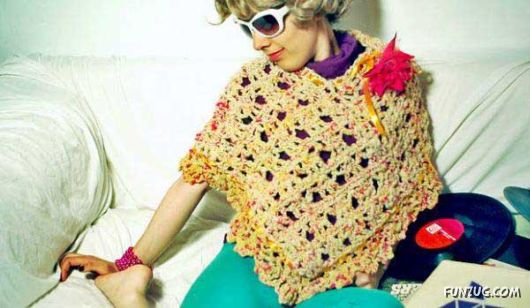 Chilean fashion designer Alexandra Guerrero has created several items of personal wardrobe of cigarette butts. To create sweaters, dresses, ponchos and hats took over 5,000 cigarette butts. The strength and durability of things created by the fashion designer is not inferior wool products.
Car Cigarette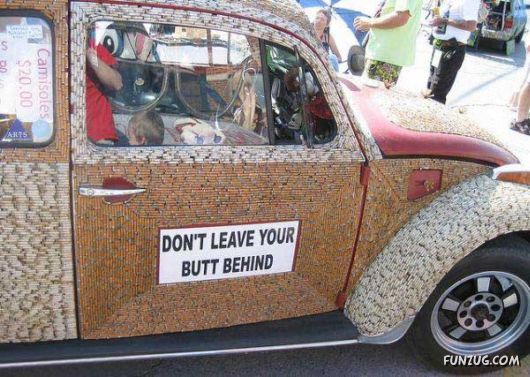 What's that, and the car is completely covered with cigarette butts, looks very interesting. It is hard to imagine that cigarette butts are able to replace the car body. As it turned out, siding butts is not much inferior in durability and metal can get to register the most eco-friendly cars.
The Coffin of Butts
Interesting looks and a coffin made entirely of cigarette butts. In the manufacture of 7-foot coffin, took more than 10,000 bulls. Coffin handles are made of cigars, in addition, the coffin has six sides. True, it's hard to say, many of the smokers would like to rest in such a symbolic coffin.
Cigarette Chair John Runnelsa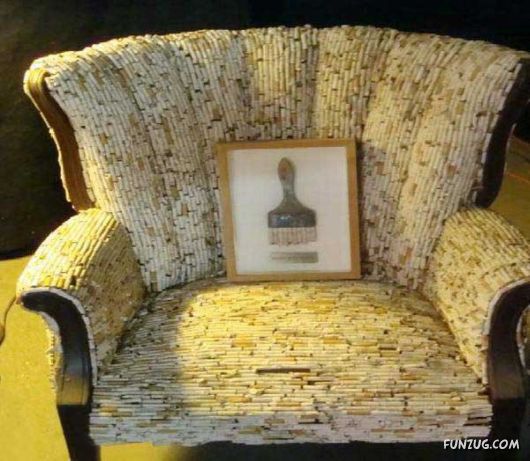 Of the thousands of cigarette filters designer John Runnels was able to make the most genuine chair, which is not only comfortable to sit, but also which is a pleasure to look at. This chair would be a very interesting addition to any living room.