I'm just off to water the . . . Artist creates whimsical garden-themed urinals for clients flush with cash and a taste for bathroom humor
San Francisco-based artist Clark Sorensen has been drawing his inspiration from nature – and from nature's call.
The sculptor and craftsman has attracted much international attention as one of the world's most creative manufactures of luxury urinals shaped like flowers and plants.
A graduate of the University of Utah with a bachelor?s degree in sculpture, Sorensen, 54, had spent years in costume design, illustration and computer animation.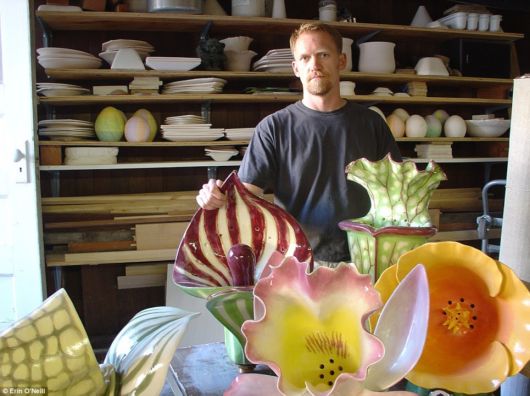 No 1 artist: Clark Sorensen specializes in high-fire, luxury porcelain urinals shaped like plants and flowers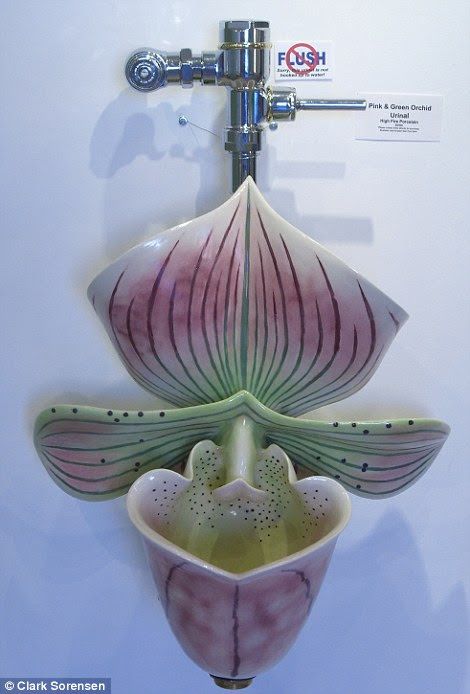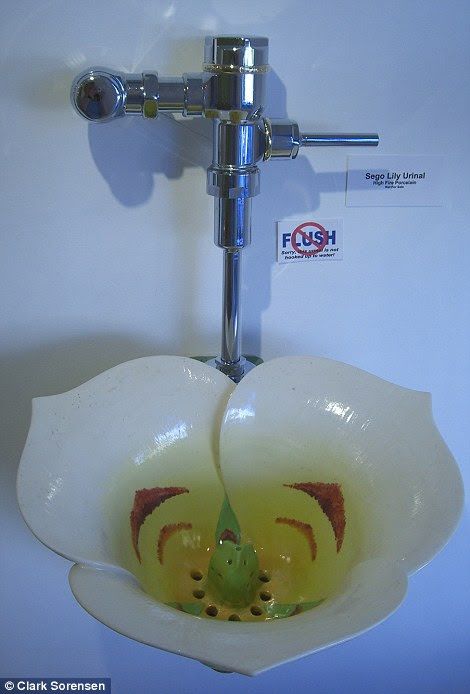 Inspired by nature: In 2002, Sorensen was standing in a men's room when he got the idea to transform the mundane, ugly urinal into an object of art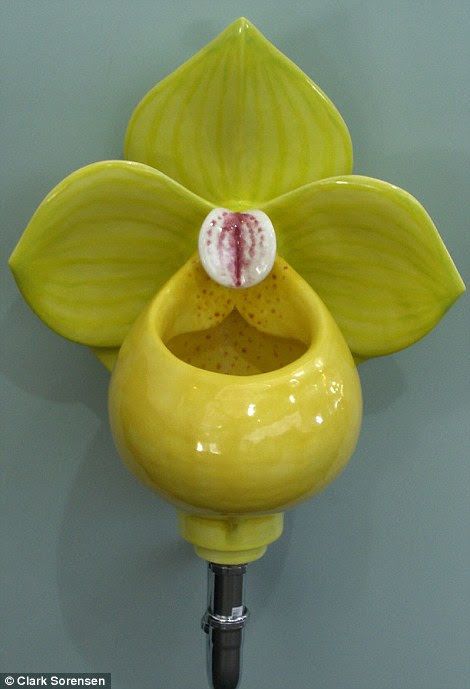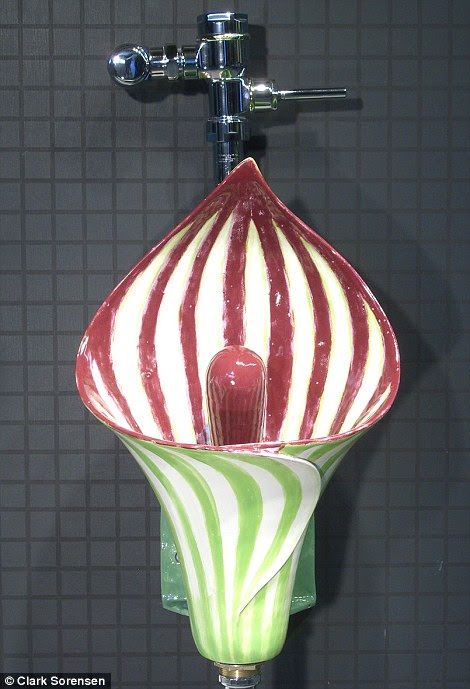 Flush with customers: Sorensen, who so far has created more than 50 unique urinals, can hardly keep up with the growing demand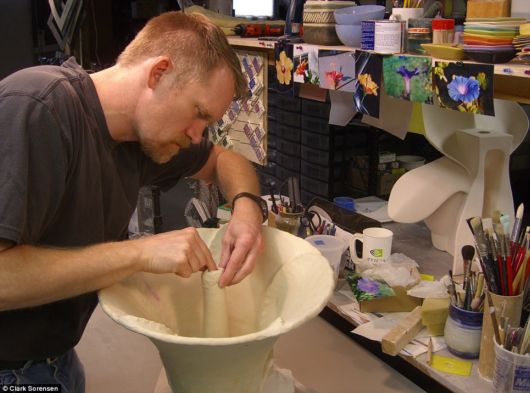 Labor of love: It takes Sorensen, 54, 3-8 months to shape each urinal out of clay, depending on the size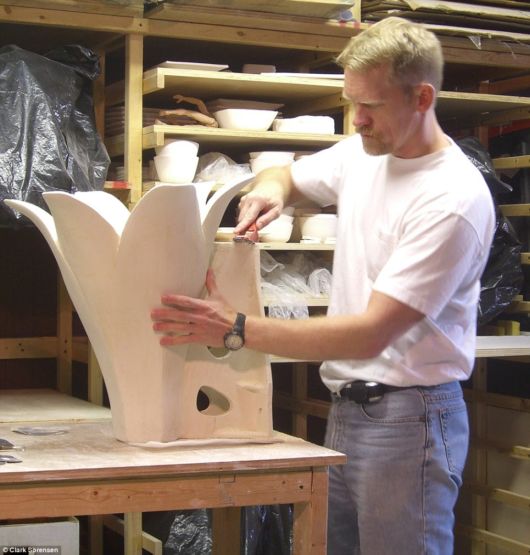 Fun fixture: The twice-fired floral urinals are fully functional, which is a good thing considering they go for anywhere between $6,000 and $20,000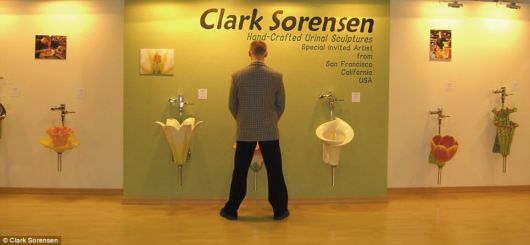 Test run: In his studio, Sorensen has a trio of plumbed urinals allowing customers to try them out before making a purchase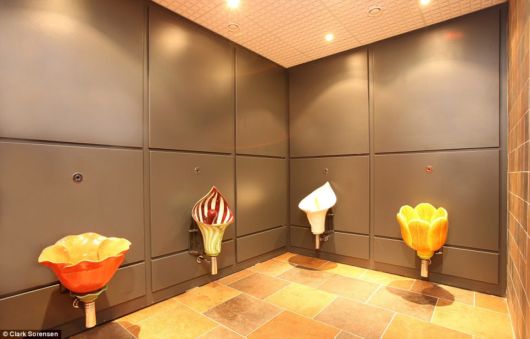 Creative space: Sorensen makes his fancy pissoirs in his basement studio in San Francisco's Mission District One day in 2002, the artist was in a men's room when he was struck by an idea to transform the mundane, boring urinal into a whimsical objet d'art and even a status symbol.
With journalists and curious visitors queuing up to take a peek at Sorensen?s porcelain sprays, his studio has been flush with business.
Sorensen?s fanciful daffodils, hibiscuses and orchids have been exhibited in galleries from Hungary to South Korea, while deep-pocketed homeowners and businesses have been willing to shell out anywhere between $6,000 to $20,000 on his functional artworks.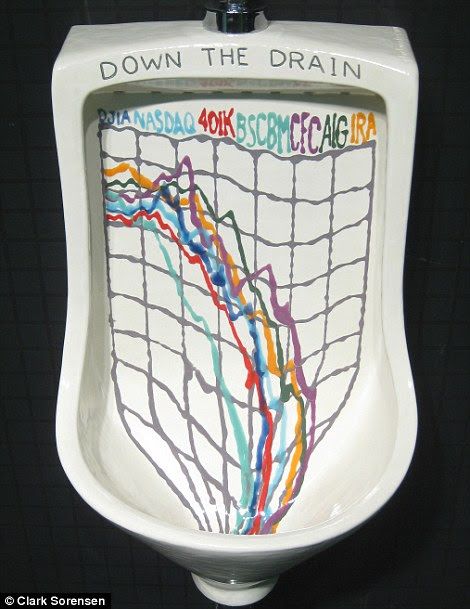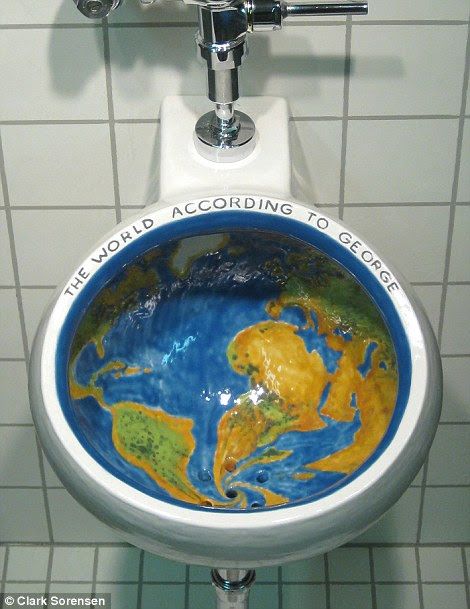 Stinging satire: In his artworks titled Down the Drain and The World According to George, Sorensen took President Bush to task for his economic (left) and environmental polices (right) In his artist statement, Sorensen explained: ?Because most people think of a urinal as being ugly or dirty, it is the perfect object to beautify. My pieces echo the classic conflicts between masculine and feminine, good and evil, soiled and chaste.?
Speaking to San Francisco Chronicle in his Mission District basement studio, Sorensen lamented that he is inundated with orders from all over the world and has been struggling to catch up with the growing demand.
Each flower-shaped bowl takes several months to sculpt out of clay. Once the model is ready, Sorensen bakes it twice in a 2,300-degree oven for two days, during which time the urinal can crack, forcing the artist to start from scratch.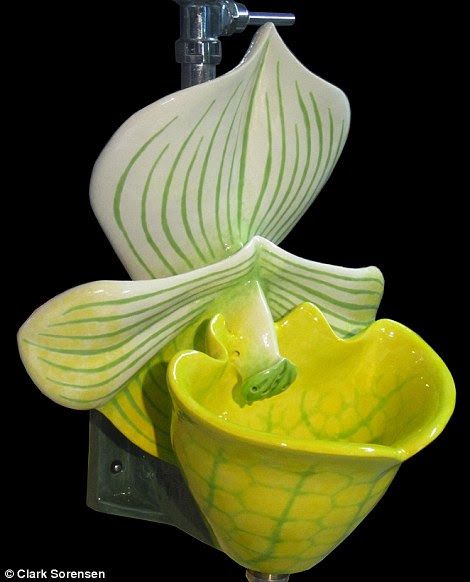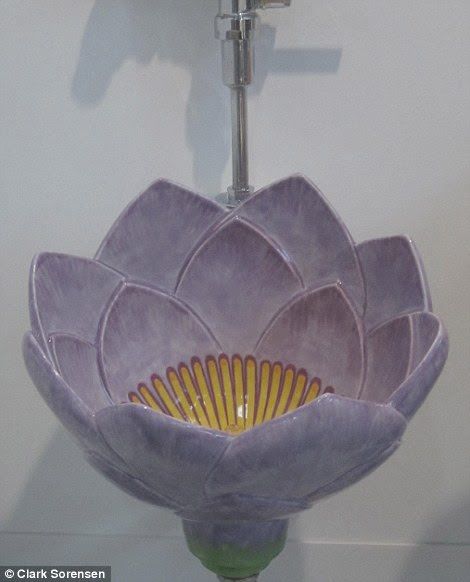 Blossoming business: The sculptor's clients include wealthy European and Asian businessmen with a sense of humor, as well as companies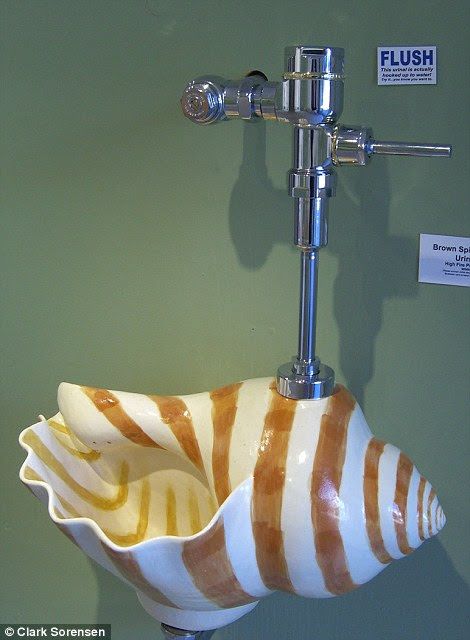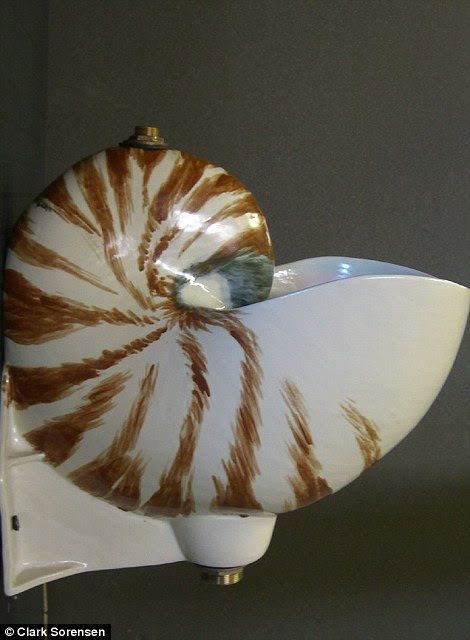 Porcelain thrones: The unique and functional creations have graced the rooms of many galleries, from Hungary to South Korea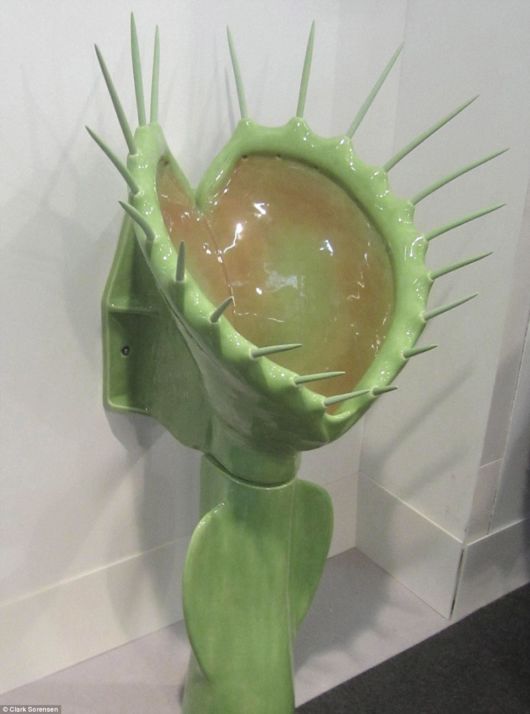 Ouch! This Venus Fly Trap urinal comes with a $11,500 price tag and a full set of spikes, but fortunately for its future users, they are made of silicone rubber While most of his artworks imitate plants or blooms, Sorensen has created a few novelty pieces, including a controversial urinal shaped like President George W. Bush in 2008.
Over the past decade, Sorensen and a pair of assistants have wrought about 50 fully-functional, one-of-a-kind urinals.
The artist boasted that his most popular design, the orchid, has no splash-back during use.
In his studio, the 54-year-old has three such urinals, all of them fully plumbed in case customers would like to take them for a test run before pulling out the checkbook.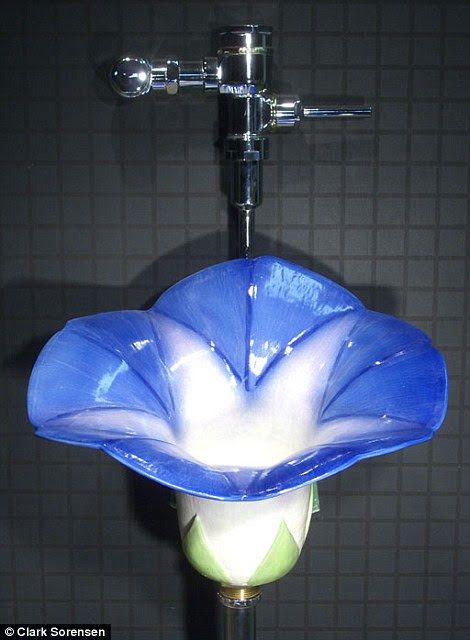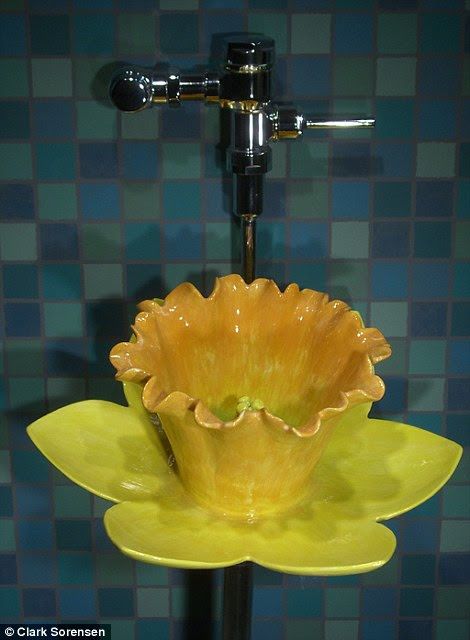 Flattering comparison: On an episode of HGTV's I Want That! Baths Sorensen was compared to famed painter Georgia O'Keefe, who is best known for her suggestive flower paintings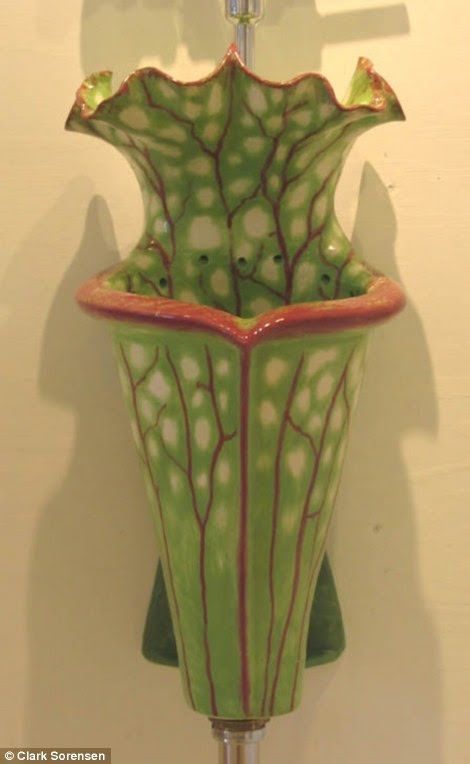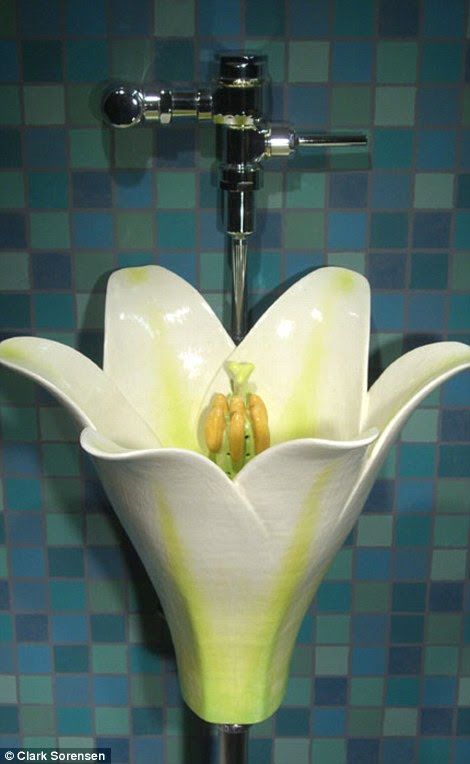 Career switch: Sorensen got into the lucrative business of floral urinal making after spending years in costume design and computer graphics