SANDS OF BEACHES
A sand castle is a type of sand sculpture resembling a miniature building, often a castle. The two basic building ingredients, sand and water, are available in abundance on a sandy beach, so most sand play takes place there, or in a sandpit. Tidal beaches generally have sand that limits height and structure because of the shape of the sand grains. Good sand sculpture sand is somewhat dirty, having silt and clay that helps lock the irregular shaped sand grains together.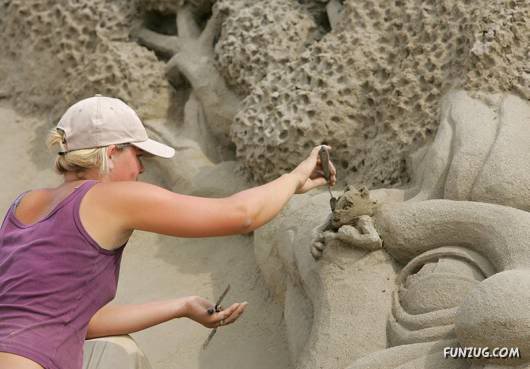 A variant on the sandcastle is the drip castle, made by mixing the sand with water and dripping it from a fist held above. Some refer to the technique as "dribbling." When the slurry of sand and water lands on existing sand structures, the effect is Gaudi-esque.
Sand castles are typically made by children, simply for the fun of it, but there are also sand sculpture contests for adults that involve large, complex constructions.
An example of extremely sophisticated sand art is the Buddhist mandala.