Graffiti meets sculpture in colorful figures that explode through the canvas
A French artist is blending graffiti, sculpture and traditional painting to create a series of stunning artworks that literally jump out of the canvas.
Marchal Mithouard, whose tag name is Shaka, uses a variety of everyday objects for his striking pieces which feature aggressive figures portrayed in stunning vibrant colours.
The technique, known as bas-relief, involves making certain elements of the work more prominent than others by either carving away material or adding new layers. It is not new having been used widely in Italy during the Renaissance and even earlier in other parts of the world.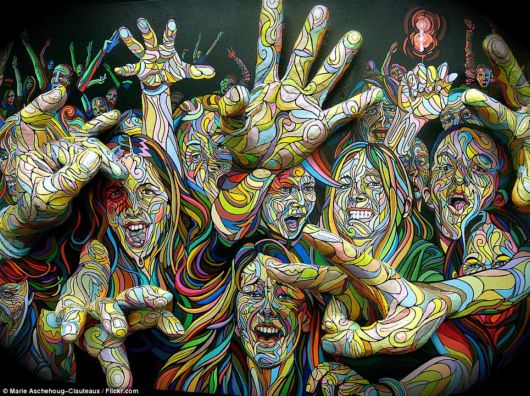 One of the incredible pieces by French artist Marchal Mithouard, who goes by the monicker Shaka, which blend graffiti with sculpture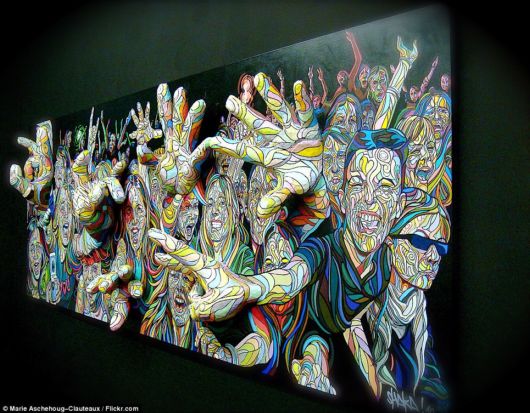 Mithouard, whose works appear to have an underlying theme of revolt and rebellion, has created art that literally jumps out of the canvas
However by incorporating street art techniques and using a vast array of bright and vivid colours, Mithouard has created something that is decisively 21st century.
Mithouard whose paintings have an underlying theme of revolt and rebellion says his foremost influences include Vincent van Gogh, Le Caravage and Expressionism.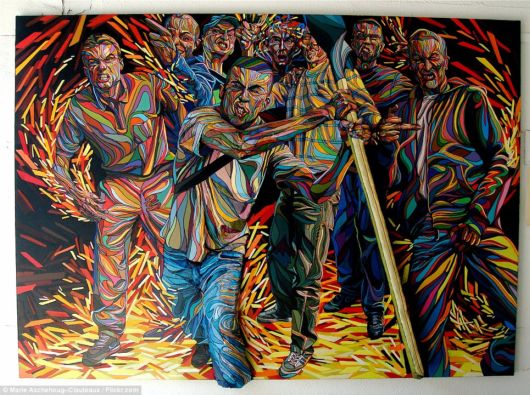 Wild bunch:
This snarling group of men, portrayed in vivid technicolour, appear to jump out of the canvas in another of Shaka's pieces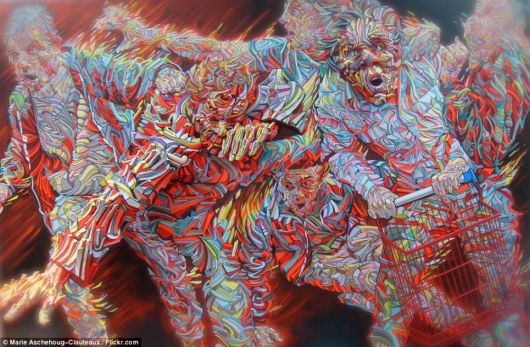 Trolley dash:
The aggressive human figures formed from a multitude of intertwined objects are partially inspired by the works of Caravaggio, Arcimboldo, and Van Gogh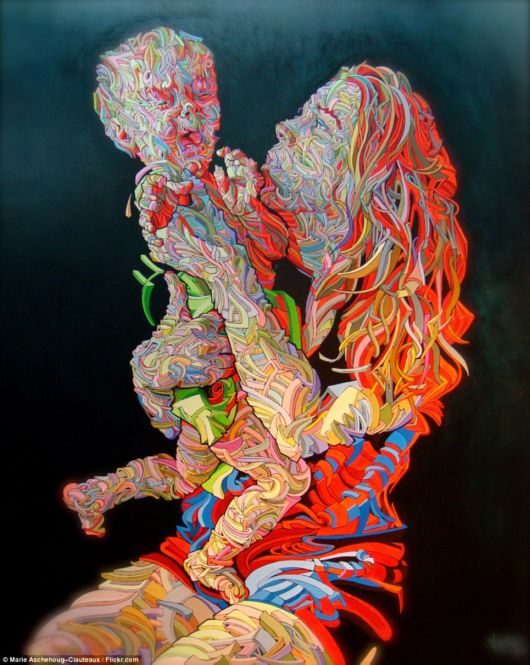 Mother and child:
The technique, known as bas-relief, involves making certain elements of the work more prominent than others either carving away material or adding new layers