The Most Creative Stools in the World!
Check out these amazing stools, from a tooth stool to crystal stools and even snake and puzzle stools!
The Tooth Stool

This best seller designed by Philippe Starck, was originally created for the Saint Martin's Lane Hotel in London.
Snake Bar Stool Concept

Designer Svilen Gamolov has announced his Snake Bar Stool concept. The stool is radically designed and resembles a hissing snake ready to strike at the challenge with a vicious and fatal poisonous bite.
Crystal Stools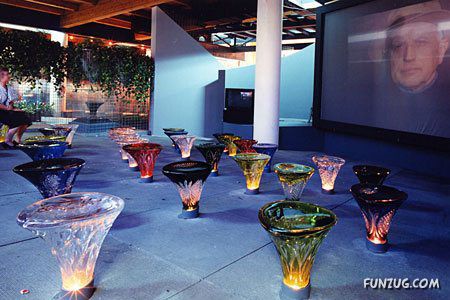 Stools made entirely of Val-Saint-Lambert Crystals!
3 Idiots Stools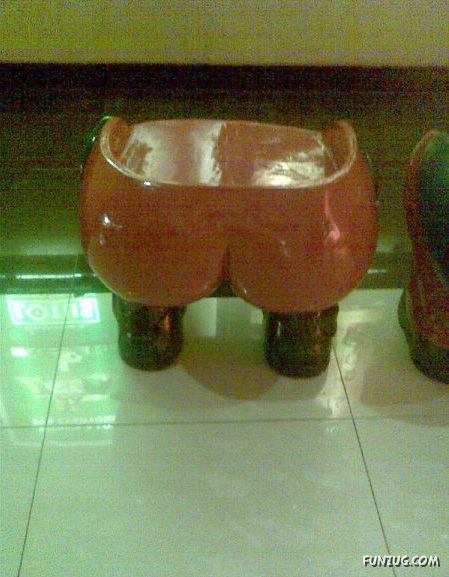 The funny stool used in the Indian Movie 3 Idiots.
iTamtam M1 iPod Docking Stool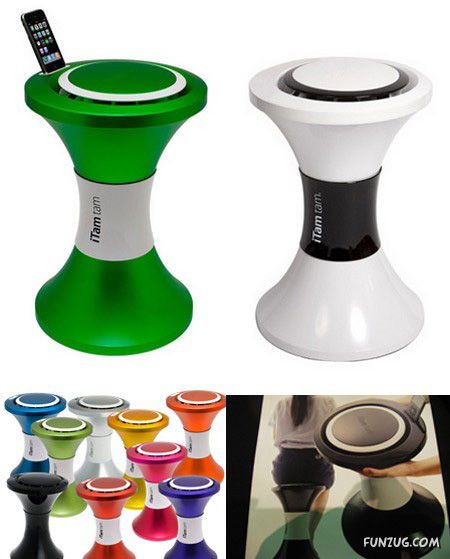 Introduced by Branex Design, a French base company at the CES 2010 in Las Vegas. Most iPod docks look great on a desk, nightstand or countertop. The iTamtam dock sits on the floor, and you sit on the dock. Odd, right? Inspired by a line of stools featured at the MoMA, the iTamtams are docks, stools and speaker systems all in one sleek package.
Hand Stool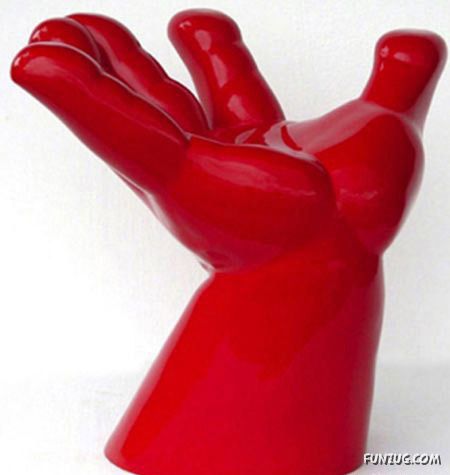 With this hand stool, the quirkiness and coolness is pretty handy. This stool in the shape of hand is made in hard-wearing ABS plastic. It could be used as a center piece in your living room or maybe even in your garden.
Bottle Top Bar Stool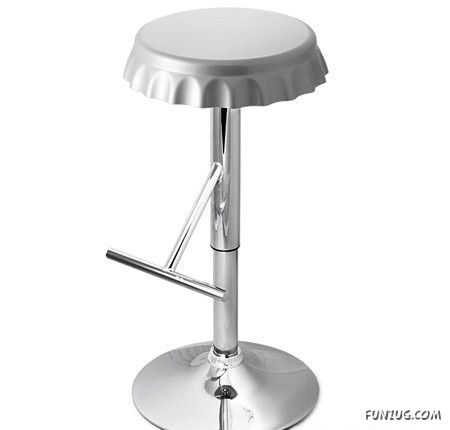 The Bottle Top Bar Stool presents itself as the obvious choice for comfortably placing your posterior! With an ABS plastic seat top shaped like a bottle cap, the Bottle Top Bar Stool certainly lives up to its name! Providing perfect comfort at your bar, this unique bar stool is great for domestic placement at your home bar, or in your kitchen.
Puzzle Stool

Easiest jigsaw puzzle in the world or genius seating arrangement? The Jigsaw Puzzle Stool by VivaTerra is as much of an enigma as you want it to be. Crafted from sustainably produced, plantation-grown sheesham wood, the stool can be enjoyed on its own or linked with one or more of its brethren to form a bench or a mini-table.
Acrylic Stool / Magazine Rack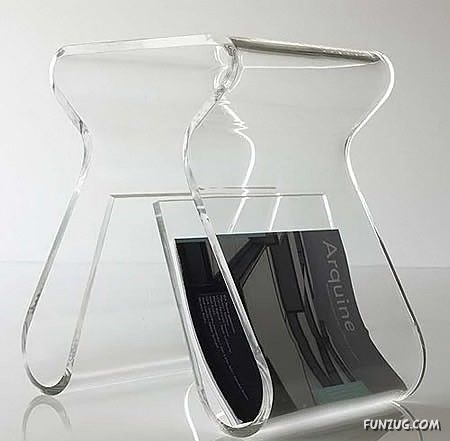 Designed by Karim Rashid (Born in Cairo, raised in Canada), he brings an inventive duality and a global sophistication to his Magino Stool and Magazine Holder. When the slots in the legs are employed to store magazines and other print material, the stool holds the publications with ease.
Headstand Stool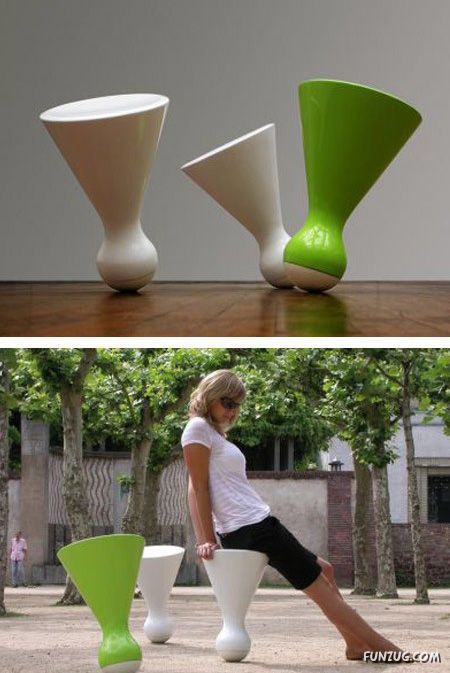 The stool "headstand" is based upon the principal of a skipjack and offers dynamic seating. Headstand turns the common ludo-pawn upside down in a surprising manner due to an unusual balance point.
Spring Stool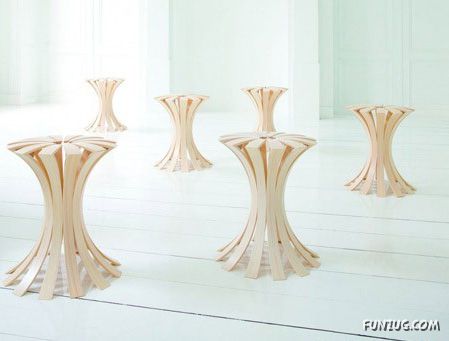 At ICFF 2010 in New York, the Belgian manufacturer Wildspirit exhibited the Spring Stool, designed by Dutch designer Erik Jansen.
Portable Stool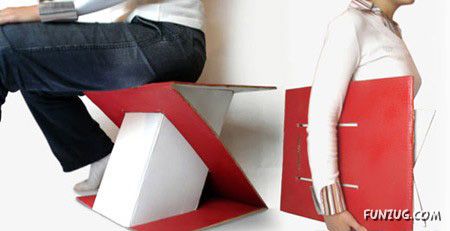 This creative stool was designed for everyone who likes traveling. It's made out of cardboard but it can easily hold a person up to 90Kg. It's very easy to fold and carry around. No glues and such chemicals are used to set up the stool. Take it anywhere, suitable to be used in concerts, camps, street, etc.
Splash Stool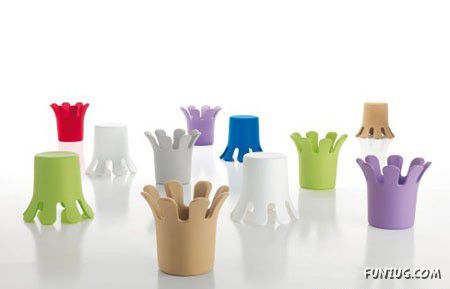 Martini Glass Bar Stool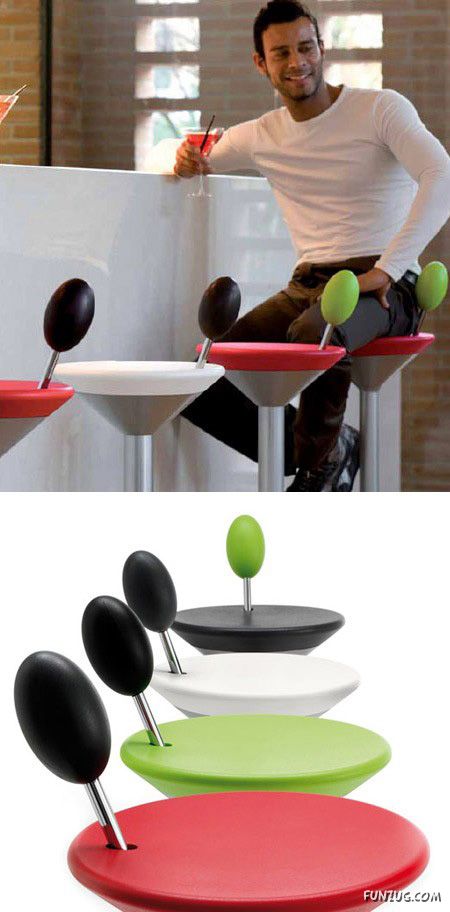 This beautiful bar stool features the freshest design we have seen in a very long time! This modern bar stool is made and imported from Italy for unmatched quality and design. The coolest bar stool around! Shaped like a martini glass, complete with an olive which serves as a backrest.
Banqueta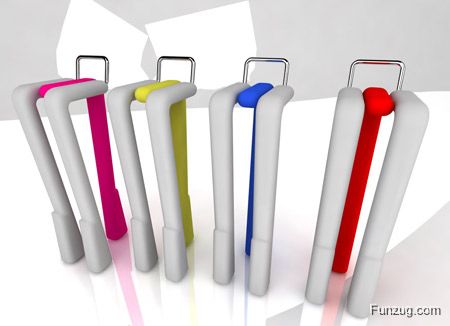 Banqueta – one piece seat, is a cool bar stool designed by the Argentinean Juan Pablo Sammartino.
Koncord' Stool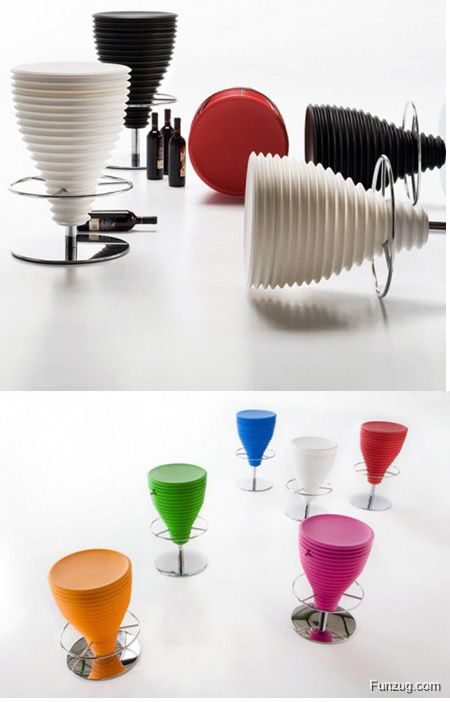 Modern stool designed by Karim Rashid for Italian company Slide.
Colorful and Trendy Bar Stools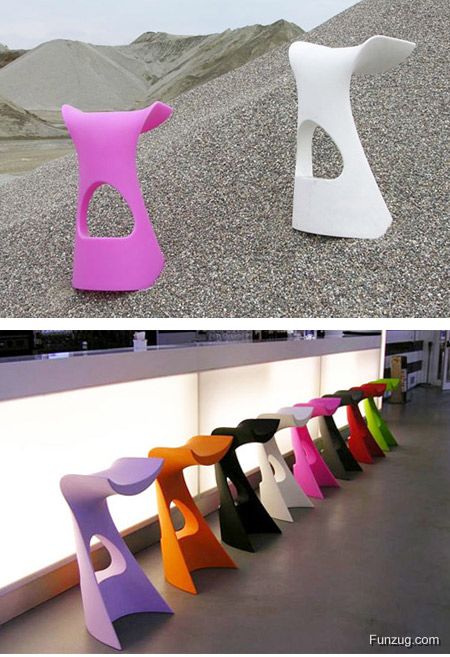 These modern bar stools designed by Ibebi are really interesting. You can choose from a variety of colors depending on your taste and mood: green, orange, pink, blue or maybe red.