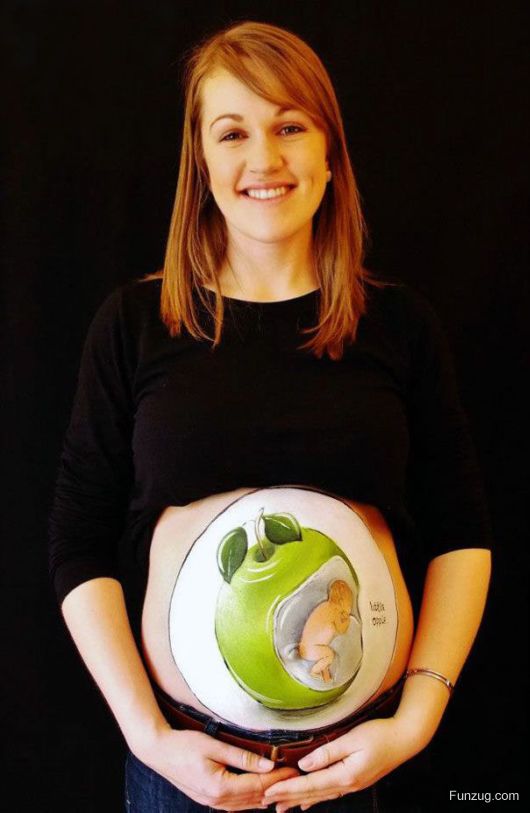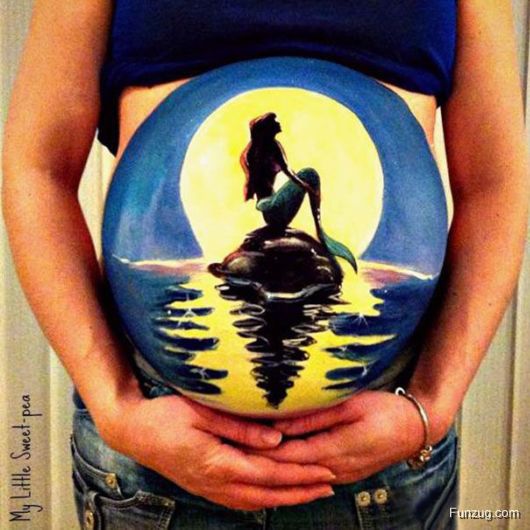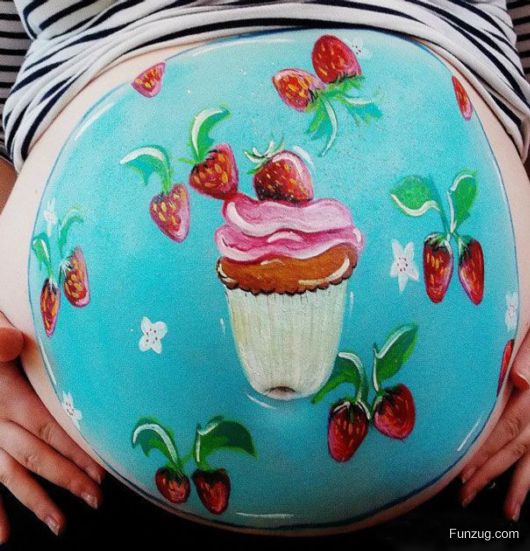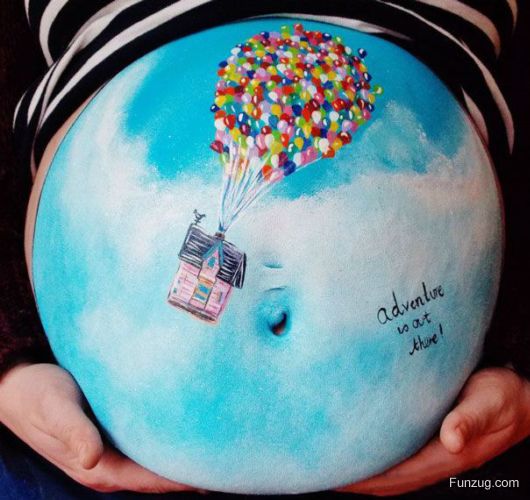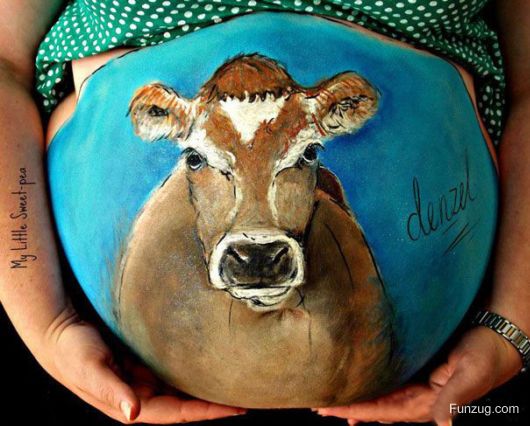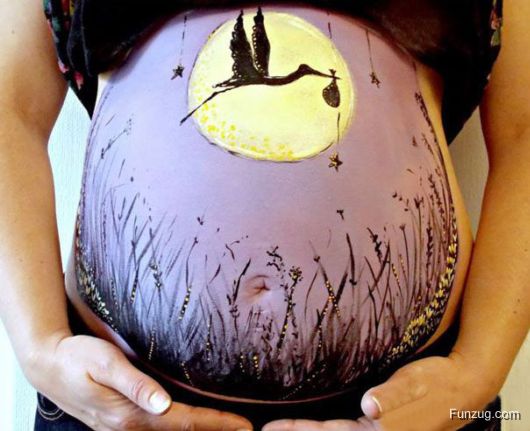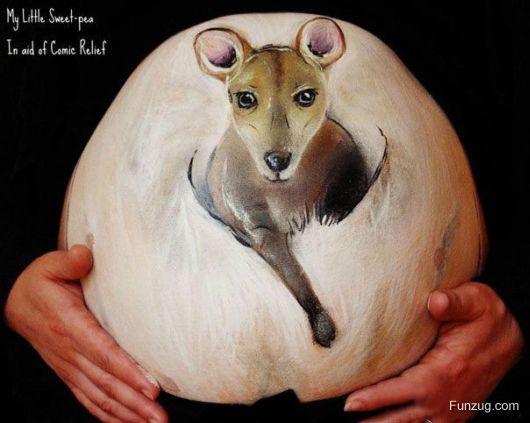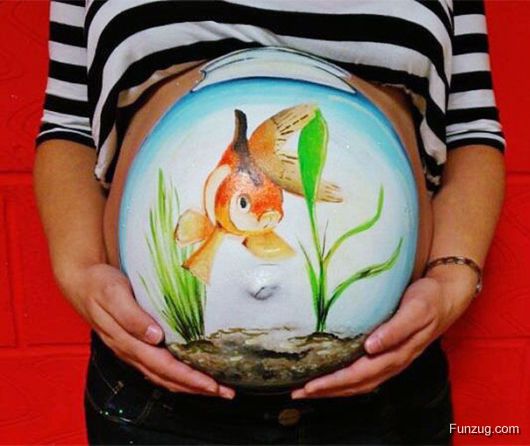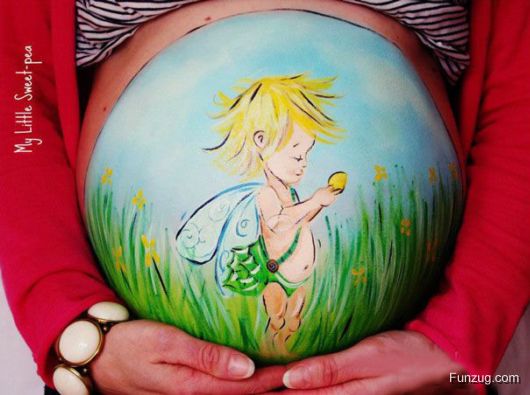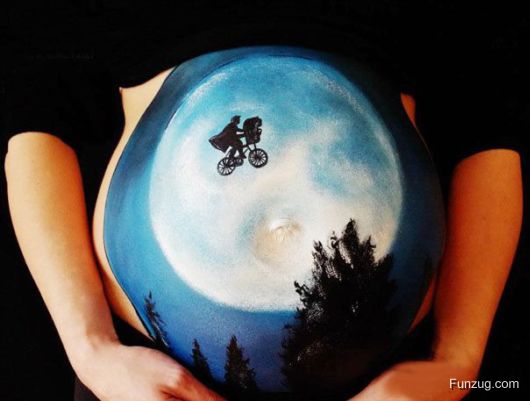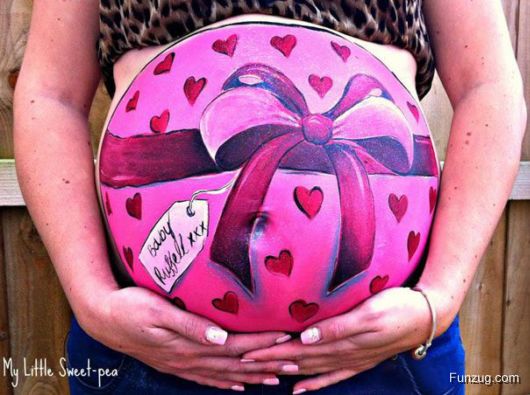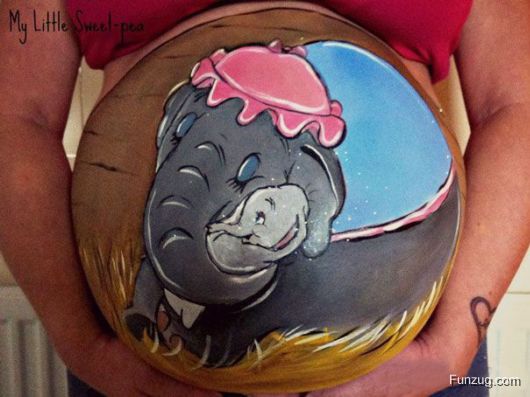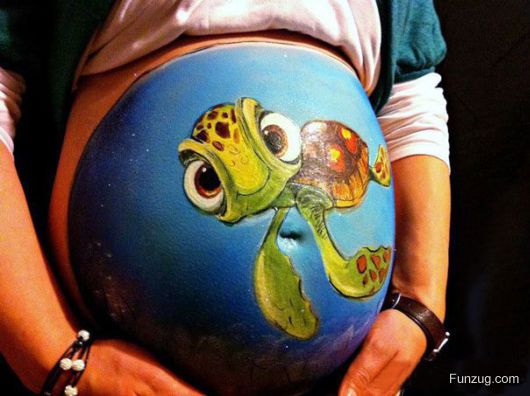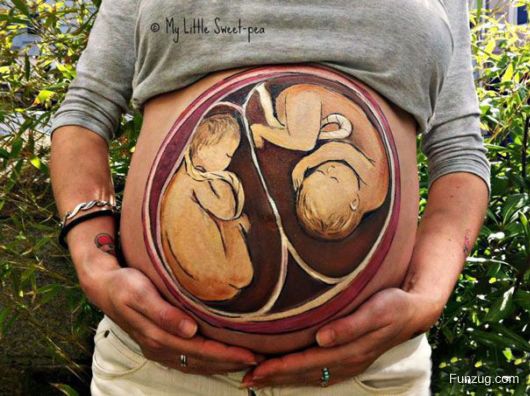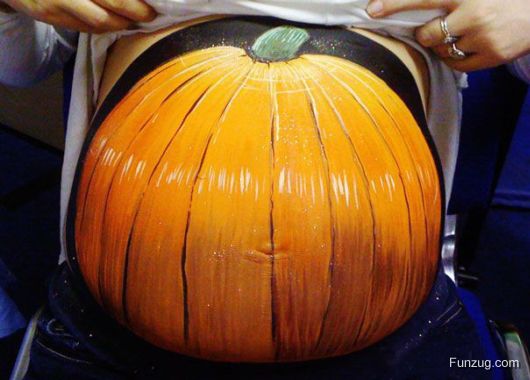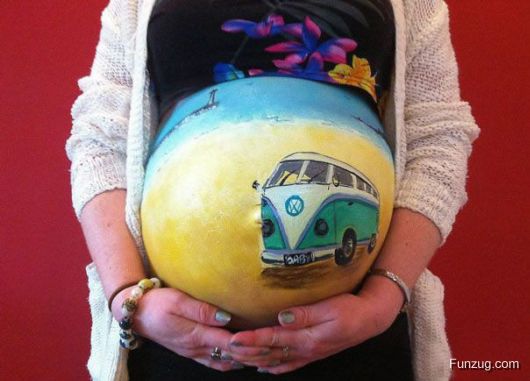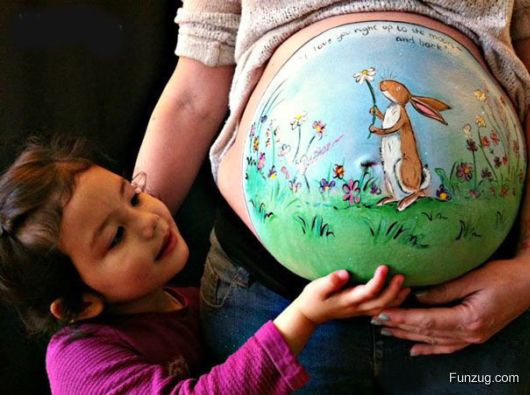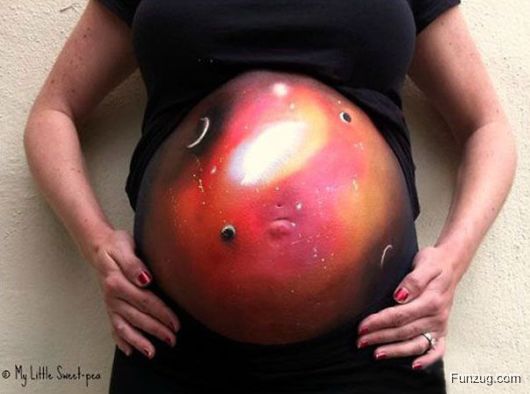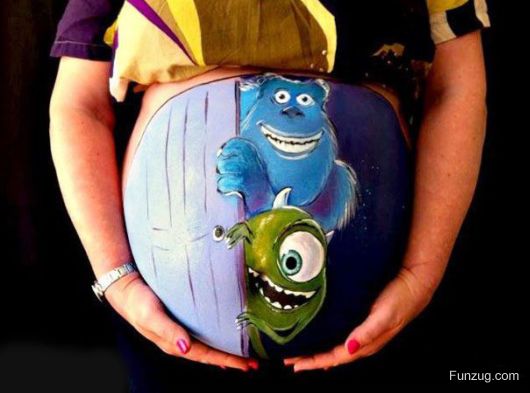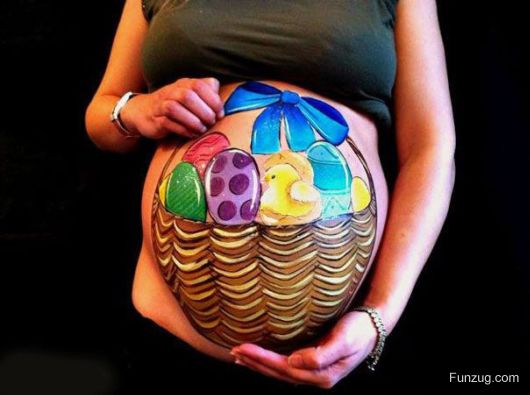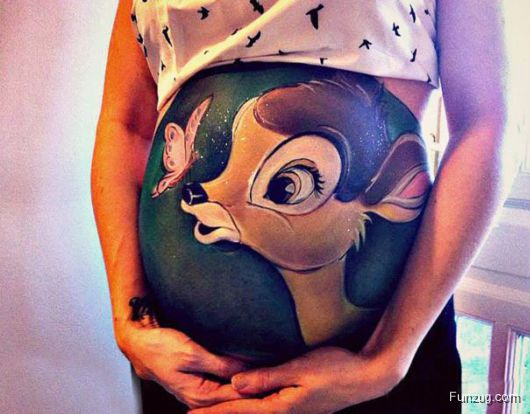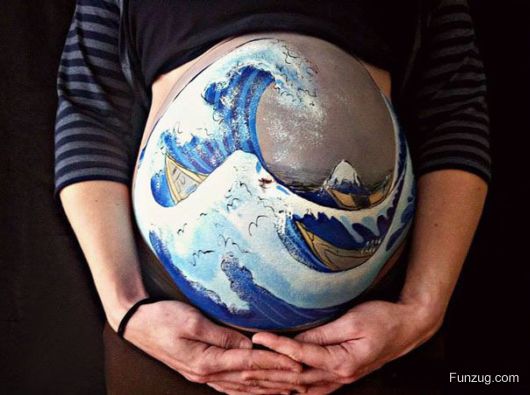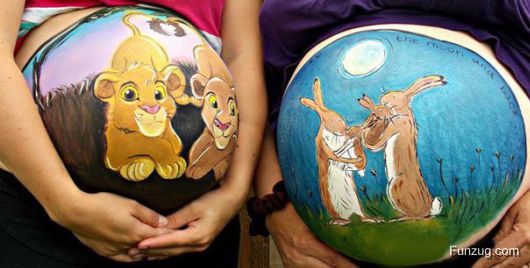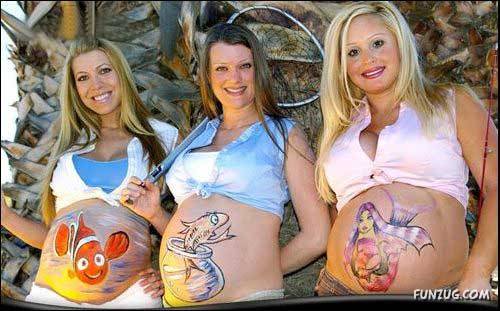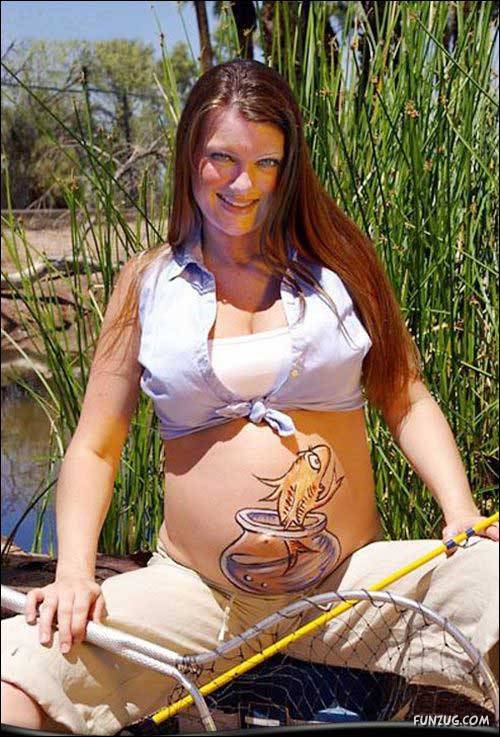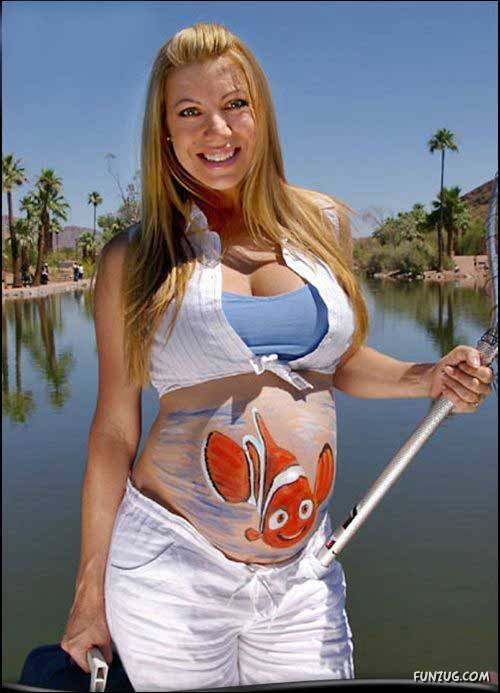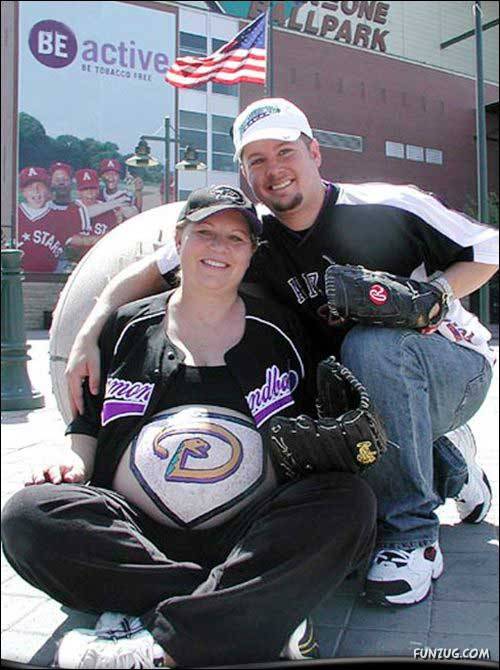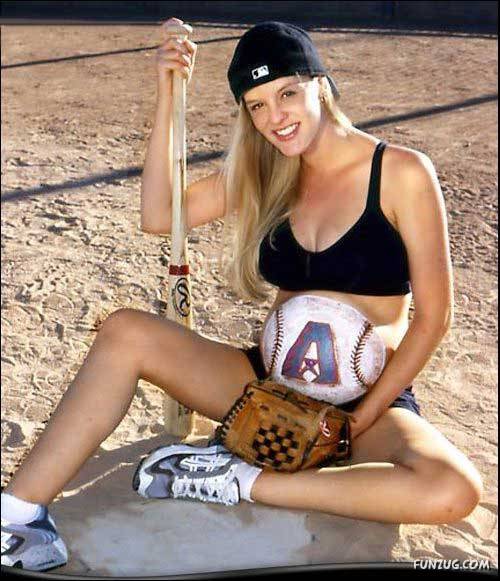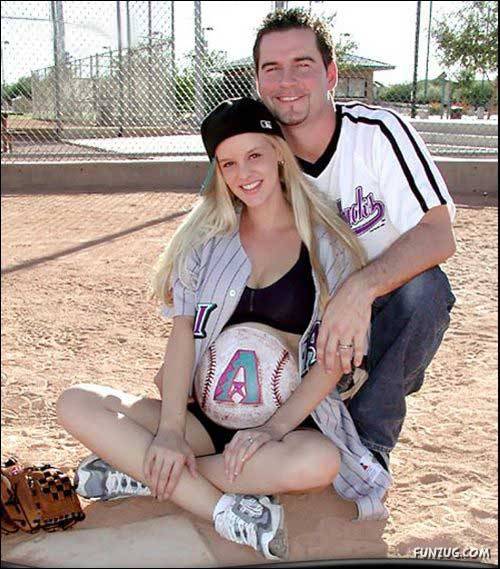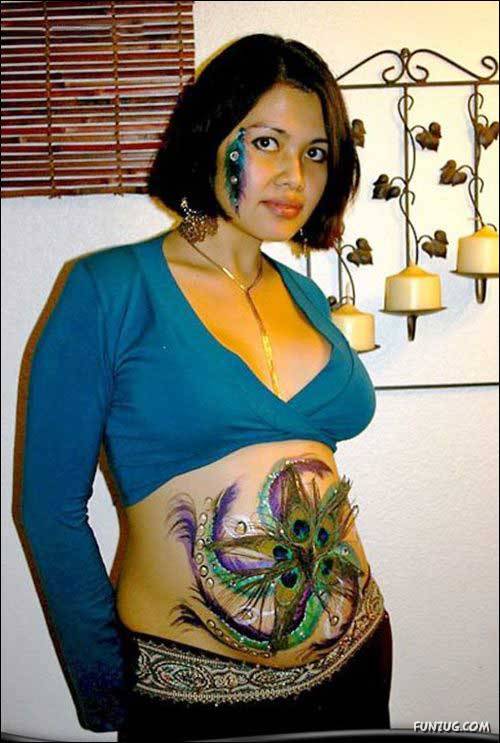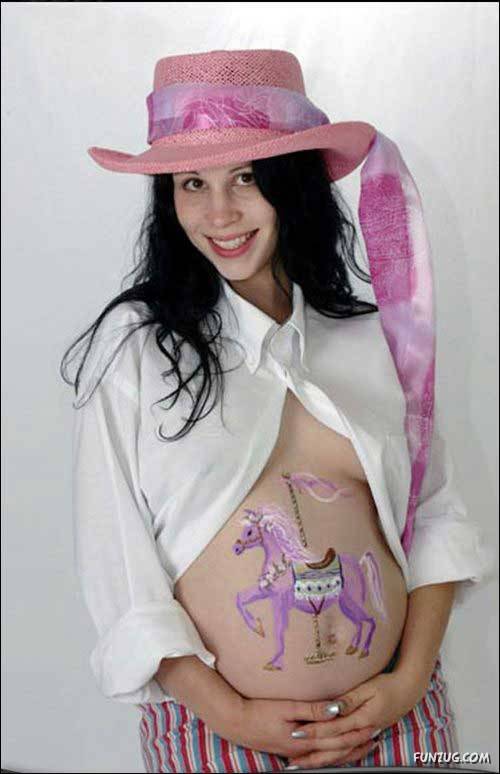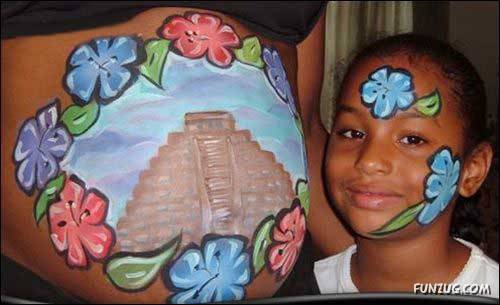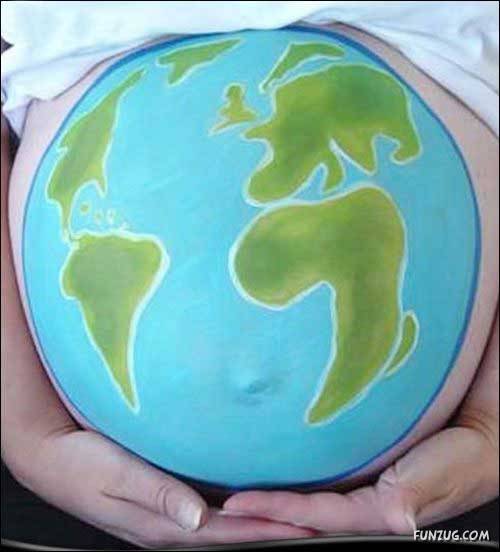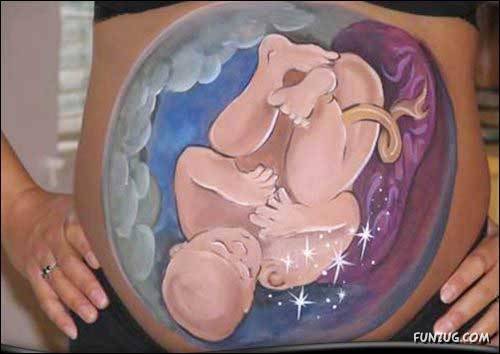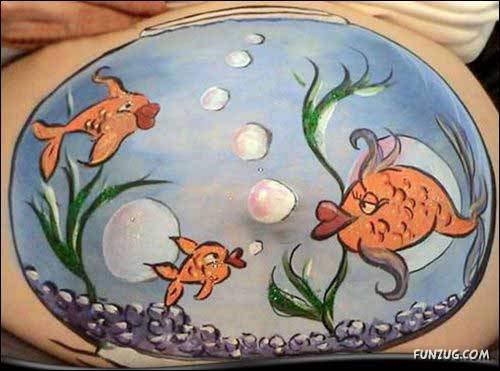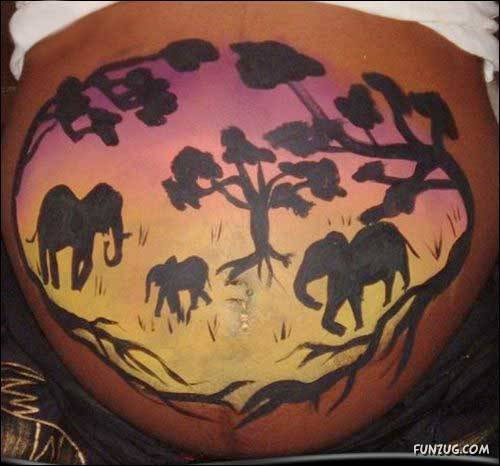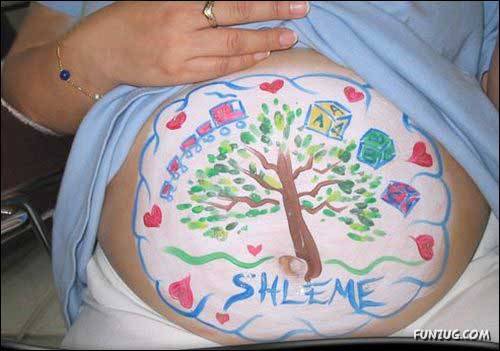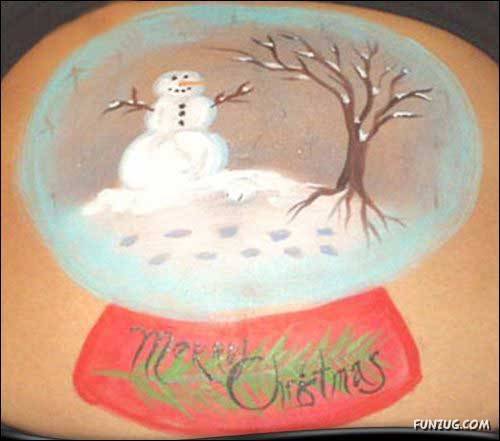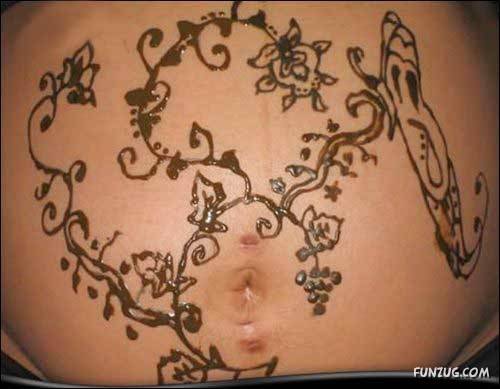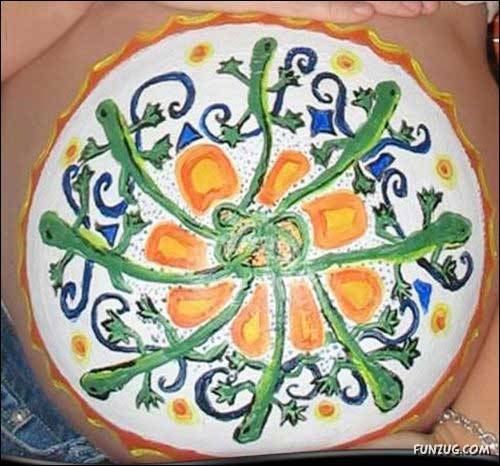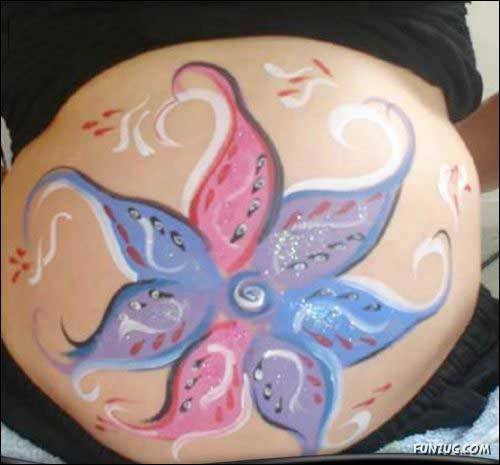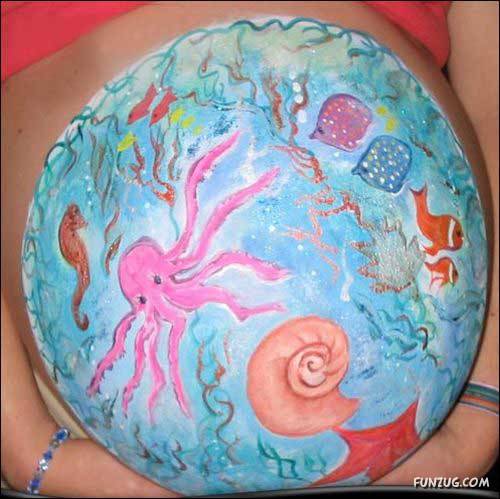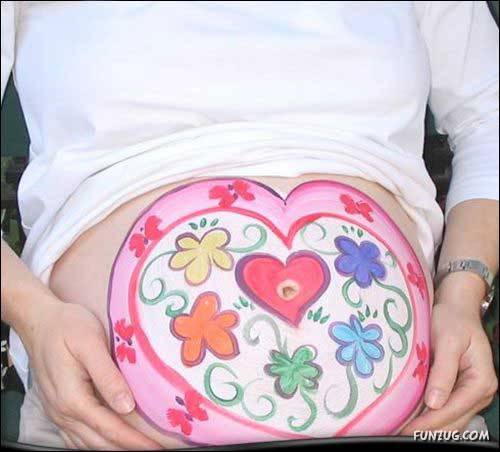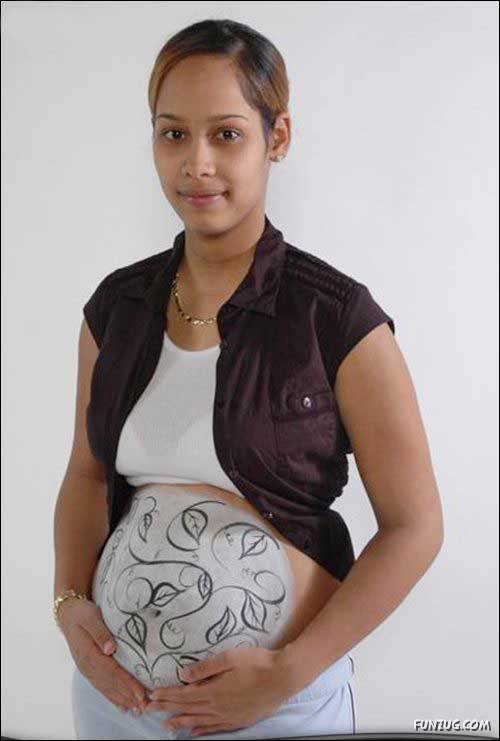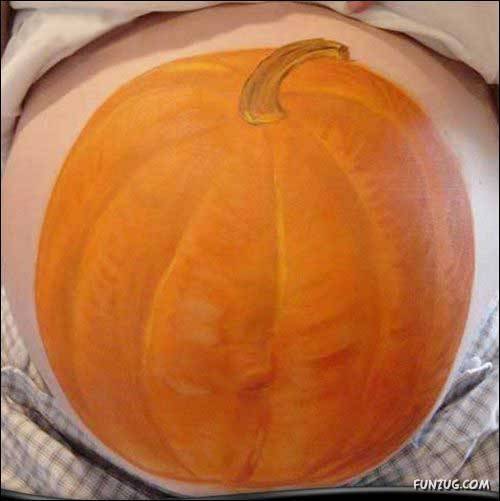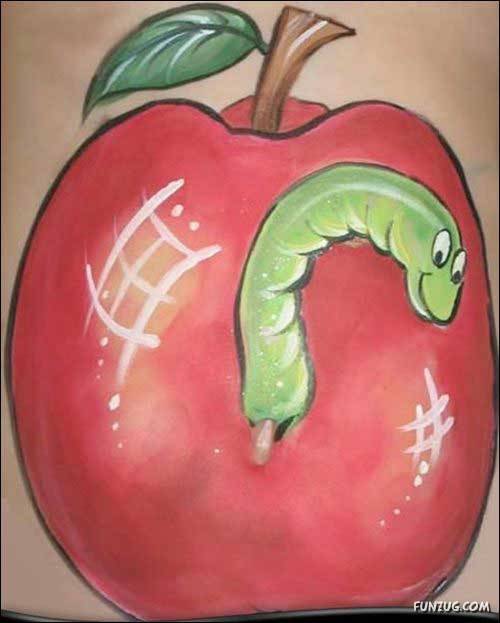 Jelly Belly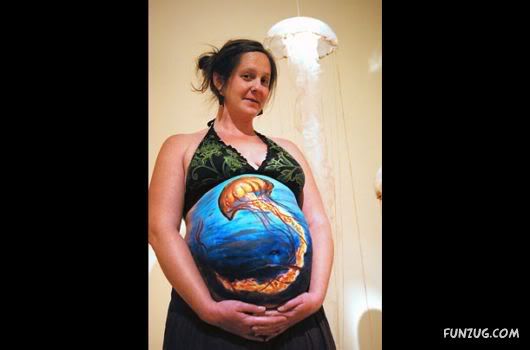 Phoenix-based artist Mark Greenawalt created this painting in front of a live audience as part of a jellyfish-themed gallery exhibition in Phoenix. Gallerygoers munched on jelly beans while a band played in the next room. Greenawalt charges $50 per painting for about an hour's work.
Good Horoscope

This design by New York?based artist RoByn Thompson incorporates the zodiac symbols of the mother, the father and their baby. Belly-painting is growing more popular as a baby-shower activity, Thompson says. The designs, done in FDA-approved water-based paint, wash off when the mother showers.
Diamondback Belly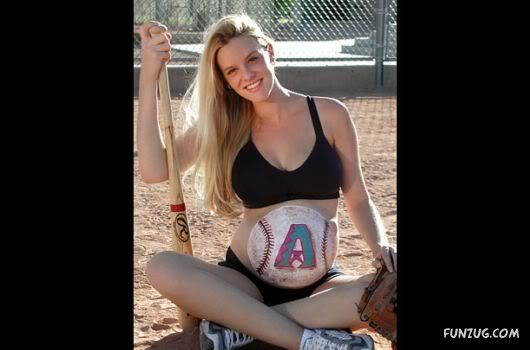 This model requested a baseball theme in honor of the baby boy she was carrying. "Painting the belly to look like a ball works really well," says Greenawalt. He painted this design at his home as the father looked on, and snapped this photo at home plate on a local baseball diamond.
And Tigger, Too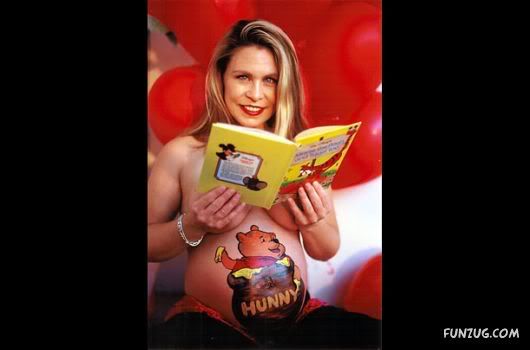 This belly painting was the first for Greenawalt, who has a day job as an electrical engineer. Greenawalt often creates designs inspired by the baby's bedroom décor.
Ring of Fire

This design by Thompson, a variation on an Arabic protection symbol, was inspired by a necklace belonging to the mom-to-be. "Protection symbols are common motifs for anything involving pregnancy or babies," Thompson says, adding that the flames symbolize strength, protection and purification..
Just Keep Swimming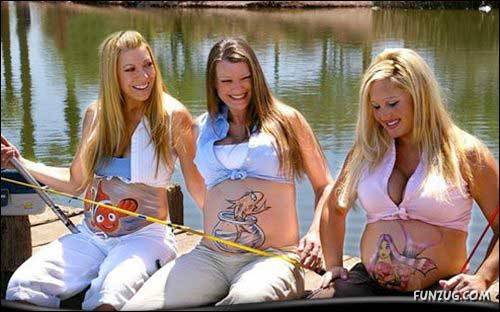 These best friends wanted to get coordinating designs. "We went through all kinds of things that come in threes," says Greenawalt. After rejecting building blocks and the Disney ducks Huey, Dewey and Louie, they settled on aquatic cartoon characters.
Round Two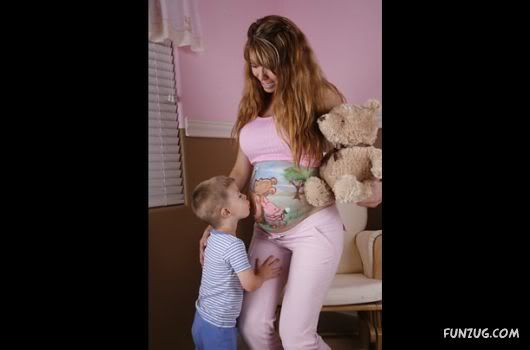 During her second pregnancy, the mother whose belly was decorated with Nemo in the previous slide came back for more. "She just had a blast the first time we did it," says Greenawalt. "She was talking to the little boy about his little sister who was coming."
Beach Babe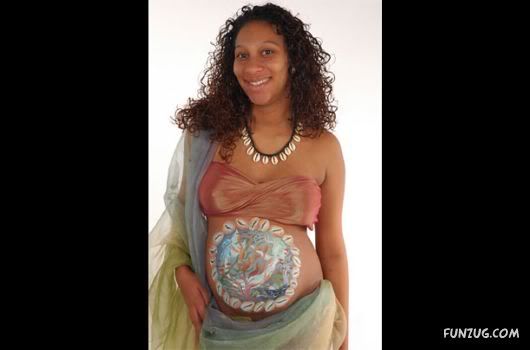 For this mother-to-be, Thompson created a design based on cowrie shells. "They're goddess symbols and fertility symbols," she says. Coming up with the design is a collaborative process based on e-mails and phone calls with her clients, Thompson says. Her one-of-a-kind paintings start at $200.
Coming Attractions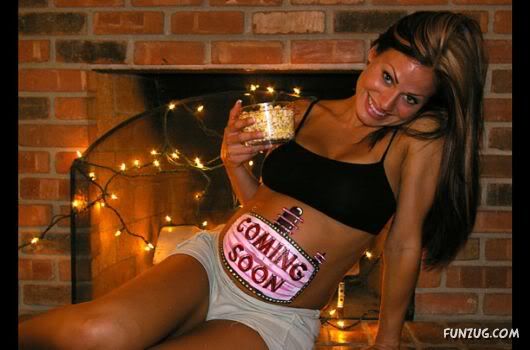 Greenawalt painted this design at the expectant mom's home while her three young children looked on. Because stencils are impractical on bulging bellies, he works freehand. Pregnancy is "a pretty special time in the woman's life," says Greenawalt, a father of two. "I like being part of it."
Rock 'n' Roll Baby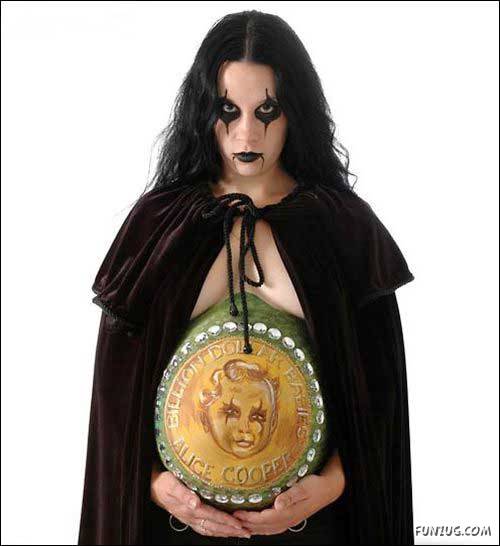 Greenawalt painted two different designs on this model. One was a carousel pony in pastel pinks and purples. The other, above, was inspired by the cover of rock group Alice Cooper's 1973 album Billion Dollar Babies. "Every other one is kind of a sweet, cute, happy time, and that was more of a shock value," says Greenawalt. She was totally into it.