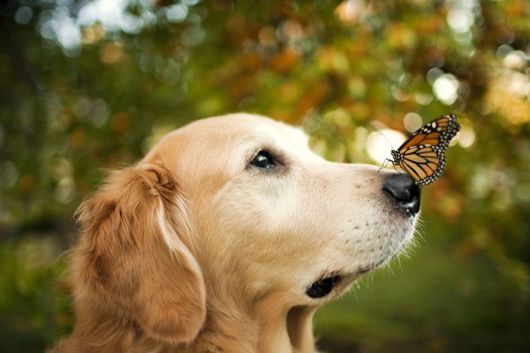 Candice Sedighan and her golden retriever Champ is what you can call a real dream team! 20-year-old photographer needs no other model when her dog has enough patience to sit still and pose even with a live butterfly on his nose. Candice got Champ from her dad back when she was 9, but it wasn't until the age of 13, when she got her first digital camera, that the retriever had a chance to unveil just how photogenic it really was.
"I really like to capture the true essence with dogs, which is that they're always so happy," she says. "The time Champ and I spend together, he's just always beaming with happiness and you can really see that through my photos," says Candice. And yes, every single picture radiates happiness and joy, and by seeing how enthusiastic Champ is, you can practically see the happiness on Candice's face as well.
Candice has already won several photography contests with the joyous pictures of Champ, some of the images were also released as greeting cards. Whether he poses as a pilot or a captain, wears a birthday cap or plays with soap bubbles, Champ makes you go "aww" with every picture. Don't you just love seeing something so genuine and natural?