Making a splash: Specialist swimming centre opens first pool just for babies
They may still be wet behind the ears, but these water babies are taking to swimming as if it were the most natural thing in the world.
Newborns are perfectly prepared for an aquatic environment from being in the womb, according to the owners of the adapted pool in west London.
Now, London Baby Swim is opening the UK's first purpose-built centre solely for the smallest swimmers from six weeks old, in Wandsworth, south London.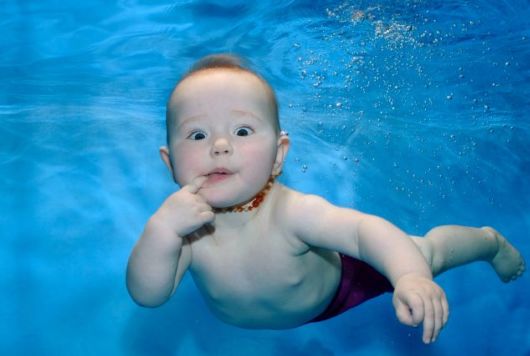 Water baby: A tentative swimmer takes his first strokes at London Baby Swim in Osterley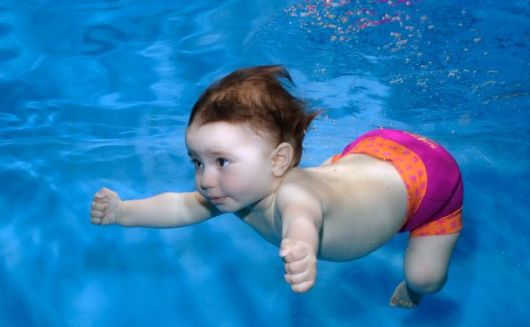 Embracing the waves: A happy child tries out some new moves at the west London centre
'Nine months in a water environment means babies are perfectly prepared to swim from birth,' said Phil Shaw, 51, joint operations director of the company along with Ana Torres, 36.
'Most parents sign their children up for baby swimming because they want them to be safe around water.
'Once they start a course, they start to discover the other hidden benefits.'
He said that very young children can gain vital skills for their development through swimming at an early age – so there is no longer any excuse for tears at bath-time.
'We are helping babies to make new brain connections and strengthen their learning through exercise and stimulation,' he said.
'Introducing babies to swimming early improves babies and children's development in many areas – physically, intellectually, language development, emotionally and socially.
'We are very proud to see not only how much the babies enjoy the classes but how they improve their abilities in the water.'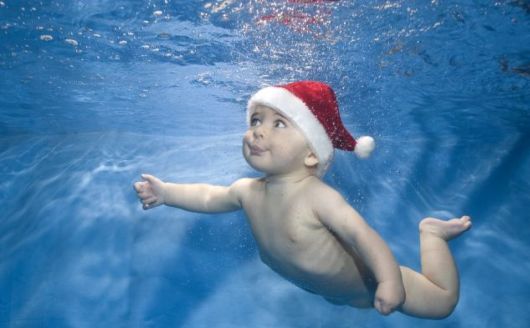 All I want for Christmas: A festive youngster enjoys the early gift of frolicking underwater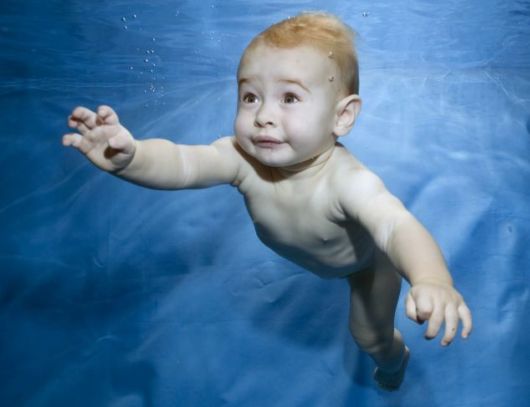 Learning the crawl: Another baby paddles happily in the heated pool
The specially designed 10,000 gallon pool will be heated to a comfortable 33c and the four-foot deep water will take classes of up to eight babies at a time.
They will learn turns, submersions and floating techniques before they can crawl – on land and in the water.
UV light is currently used at the Osterley centre to keep the water clean and reduce the amount of chlorine necessary, so the pool is kind to babies' sensitive skin.
Mr Shaw added: 'Babies have a natural ability for swimming, having a different reflex that makes them perfect candidates for swimming.
'Healthy babies are born with extremely sophisticated natural reflexes that protect them from any harm and are very important as they promote their survival.
'At London Baby Swim we work around these reflexes to turn them into deliberate actions.'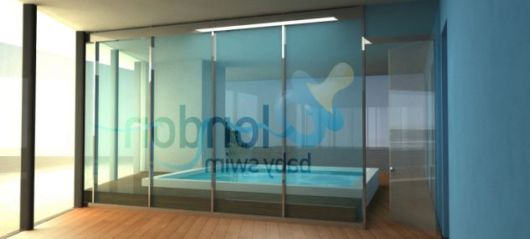 Dummy run: A computer-generated image of how the four-foot pool in Wandsworth will look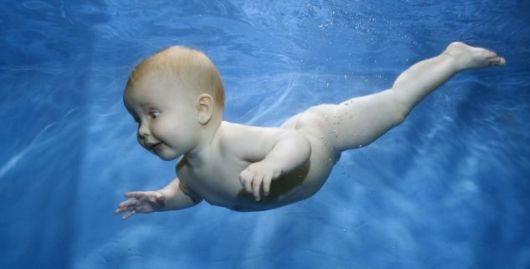 Taking the plunge: The first pool of its kind in the UK is bound to be a hit with adventurous babies and parents
He explained how babies' biological affinity for the water works. 'A babies' gag reflex is activated when water enters the mouth,' he said.
'Parts of the throat called the glottis and epiglottis close to prevent water from entering. This provides a watertight seal to the lungs while your baby is submerged.
'This is why you often see babies swimming with their mouths open.
'Babies also have what is called "the amphibian reflex". This is an involuntary movement of their arms, legs and torso, which helps us to introduce turns, rotations and kicking in our lessons.'
Instructors at London Baby Swim take a five-week induction course – which costs up to £114 – to ensure they know exactly how to look after babies in the pool.