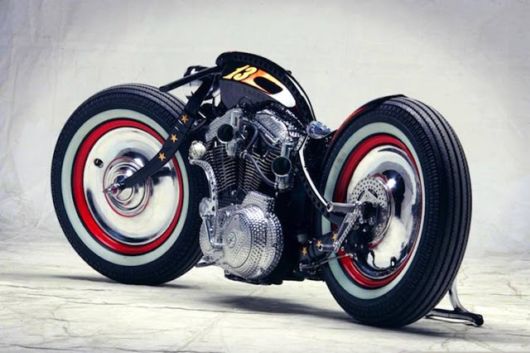 Wonderful Harley Davidson Sportster Custom by Art of Racer ?
Every now and then I like to go and feature a motorcycle that?s a little out of the ordinary, partly to keep everyone on their toes and partly because it?s kind of interesting to see what?s happening in other parts of the motorcycle world.
This bike is a Harley-Davidson Sportster custom by Art of Racer, it?s based on a 1991 Sportster though the only parts of the original bike are the engine, transmission and carburettor. That rather unique looking frame, modified springer front-end, suicide clutch, saddle, handlebars, rear fender and fuel tank are all custom creations.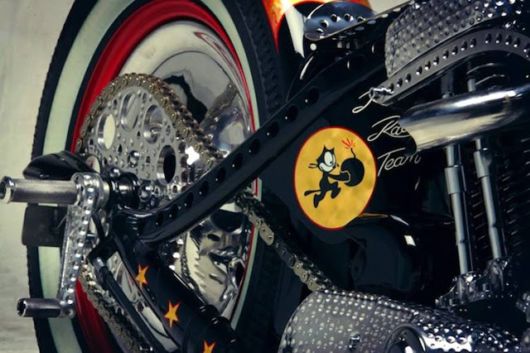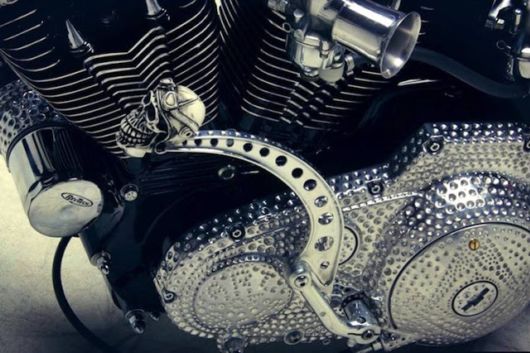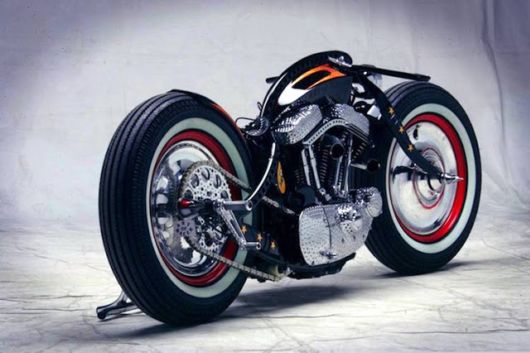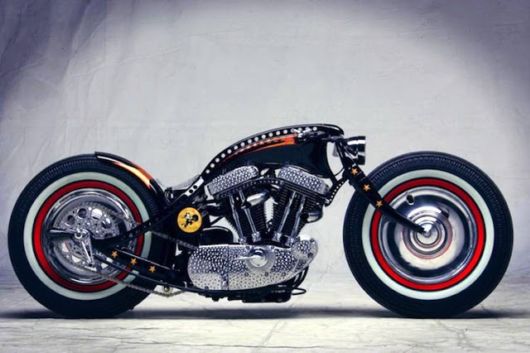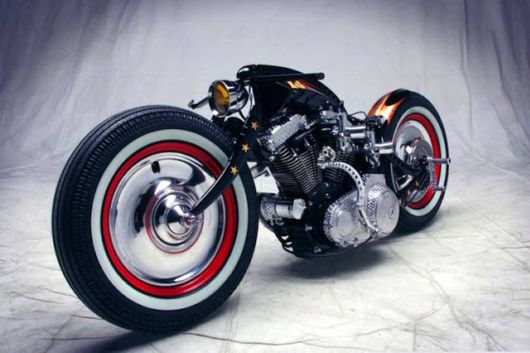 I?ve spent some time pouring over the pictures of that modified springer front-end and I can?t for the life of me figure out exactly how it works, or if it offers any suspension at all. I can?t see any obvious springs or any freedom for up-down movement, if you know how it works send us a comment on Twitter or Facebook and let us know.
The suicide clutch is one of those things I?ve never actually used, they look cool and everything but I have enough trouble finding neutral with both hands on the handlebars so I?m not entirely sure I?d be suited to anything that adds further complexity to changing up and down.
The look of the white wall tires sitting on red rims, mounted to chrome wheels is a look that works remarkably well, it has a 1950s hotrod feel to it and that?s almost never a bad thing. The dimple-drilling across the crankcase, gearbox and cylinder heads is an interesting touch ? I can barely fathom how long it must have taken to create that Stone Mason sign on the clutch cover.
You might be surprised to learn that this bike, dubbed ?Rock ?N Bike? is the brainchild of a French custom motorcycle builder named Cyril. He?s the proprietor of Art of Bike and has a number of other ?50s influenced customs on his website.