When it comes to supercars this golden Lamborghini Aventador might just take the top spot for its absolute no expense spared extravagance. Some might see it as a little over the top, others probably love it but one thing is for certain, no matter where it goes it gets a lot of attention.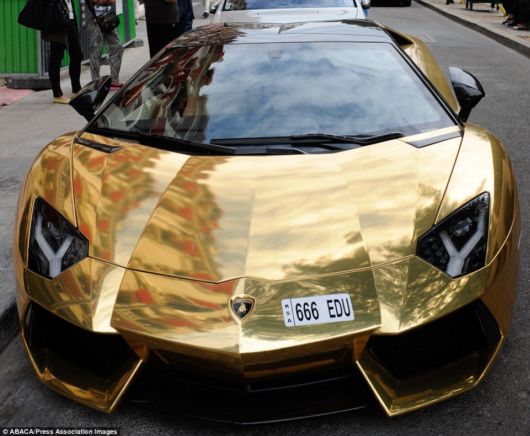 Spotted cruising around the streets of Paris, the car appears to be from Saudi Arabia which should come as no surprise.. In the photographs below the vehicle can be seen parked outside the Plaza Athenee palace hotel on the luxury Avenue Montaigne.
The vehicles are tailored made and designed to turn heads, and this gold-plated Lamborghini is no exception. A normal Aventador would set you back around £300,000, and for that you get a 6.5 litre V12 engine that produces a time bending 692 hp and a not so impressive 17 mpg. This model is the same car underneath and was created to celebrate the 50th birthday of Lamborghini.
On sale in Dubai last year for $7.5 million someone obviously couldn?t resist.