Tata Nano – The little car that might change the world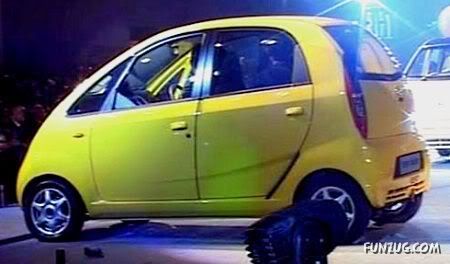 TECH SPECS
Length: 3.1 m
Width: 1.5 m
Height: 1.6 m
To seat: 4
Engine: 643cc, 2-cylinder, all-aluminum
Power: 33 BHP
Position: Engine, battery at rear end
Boot: In front
Fuel: Petrol
Fuel injection: MPFI
Fuel consumption: 20 kmpl
AC: Only in deluxe version
Music system: No
Passenger side mirror: No
Power steering: No
ABS/airbags: No
Price: $2500 at dealer + VAT + transport cost. Base version approximate on-road price: $3000
Tyres: Tubeless tyres
Body: All-steel
Safety features: Crumple zones, intrusion-resistant doors, seat belts, 2 A-Pillars
Suspension: Independent front and rear
The ultra-secret people's car for India – the Tata Nano – is here. How will this car change the way India, and the developing countries drive?
BY OUR AUTOMOBILE CORRESPONDENT
It will help India's huge two wheeler popular upgrade to a four-wheeler

Very affordable – priced a bit higher 2 125cc motorcycles in India

If popular, will clog roads in the cities

Establish a huge volume market that cannot be ignored by any large car manufacturer

40 patents by Tata Motors during development
Here are the pictures from the unveiling of the Tata Motors' small car to be sold at a price of US $ 2500 approx. (Rs. 1 lakh.). The Tata Nano was unveiled at the 9th Auto Expo in New Delhi, India.
The Nano is disruptive tech – make no mistake.
The world's car  manufacturers have expressed all shades of opinion in the run-up to the Tata Nano. Suzuki has said that it is impossible, VW said it is not what they want to do. DaimlerChrysler said they think it is an important market Tata is trying to tap.
There was no way Tata could design a car the conventional way. So went at it on a clean slate. And seems to have pulled it off. The rear engined car will have a small boot for luggage storage in the front. In the process of developing the Nano, Tata Motors has added 40 patents to its kitty.
This car, if it becomes a hit, will make every auto company change the way it works and look at the volume market. Not only in India, but in entire Asia and every third world country. Offering mobility for the masses is big business. The VW Beetle did that, and so did Henry Ford.
Measurements of the Nano
3.1 metre length
1.5 metre width
1.6 metre height
Environmental impact
In India, a car like this can crowd the streets, forcing the government to improve infrastructure – and as the evolution of the Western industrial society demonstrates, affordable cars can be a major force for change.But till that happens, this is a car that can seriously crowd the streets – and make life a bit tougher in the short-term.

})(jQuery);