Some interesting vehicles at this show.
If you're into custom cars, for sure you'll love these.
A few snaps from this year's Detroit Autorama:
'30 coupe; one of the dramatic vehicles parked up front to catch everyone's attention
as they walk in.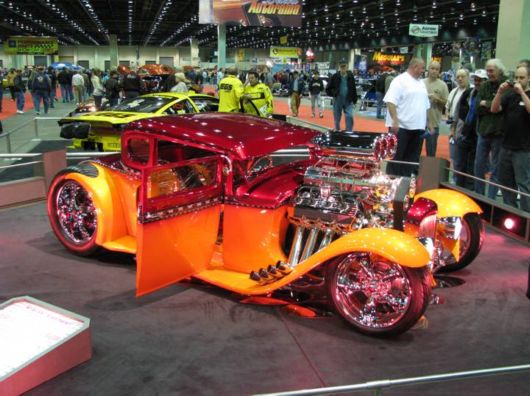 "Rocket ship" T-bird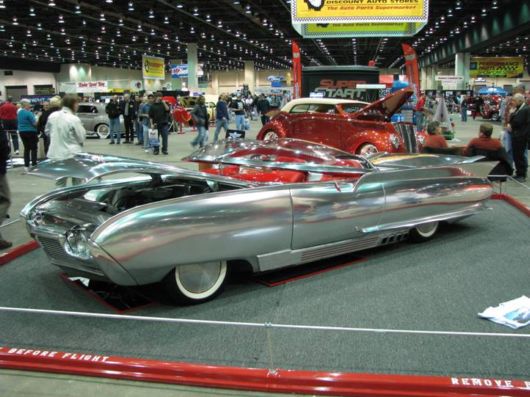 George Barris was brought in by the promoters with a few of his historic cars.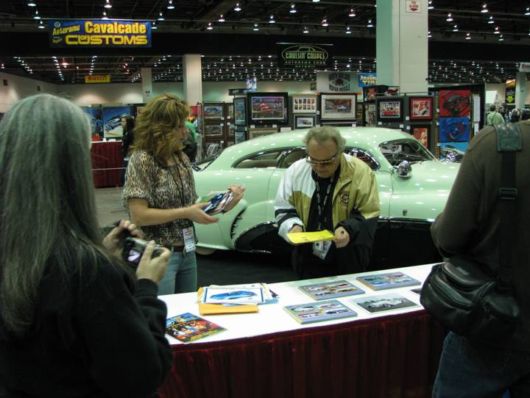 "Boondocker" Datsun pickup. Hey, it's all for the entertainment!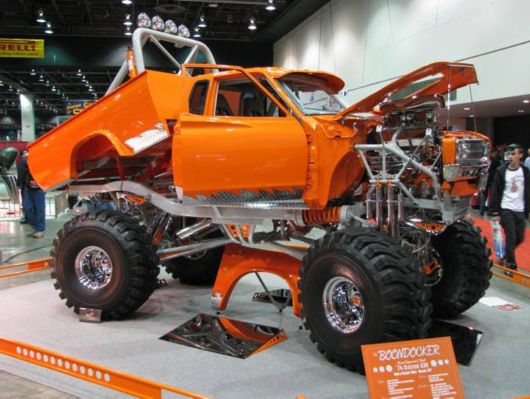 1933 Ford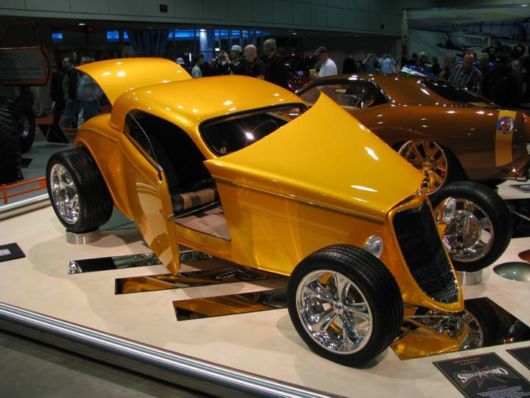 Chip Foose "P-32" roadster, using a Lincoln Zephyr engine. Very nicely detailed, typical of Foose,
but the exhaust outlets on the engine side panels are phony because the Zephyr V12 had only 4 exhaust ports on each side;
end ports serviced one cylinder each but the siamesed middle ports serviced 2 cylinders each, just like Ford V8s.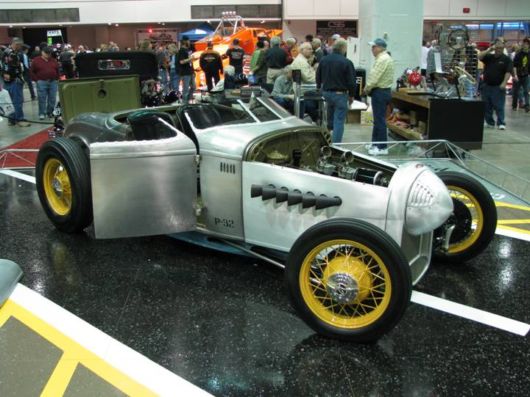 The promoters brought along a few "historic" rods; these are from the '60s.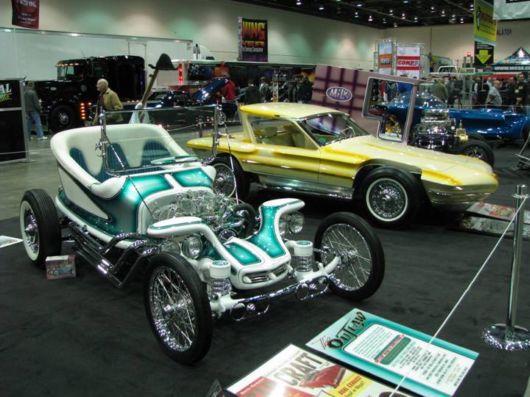 Tube frame chassis is blue. Suspension is by air over shock (you can see the air bladder at the top of the shocks).
Common hot-rod signature elements: supercharger on top of engine, topped by injector and enormous air scoop at/above windshield.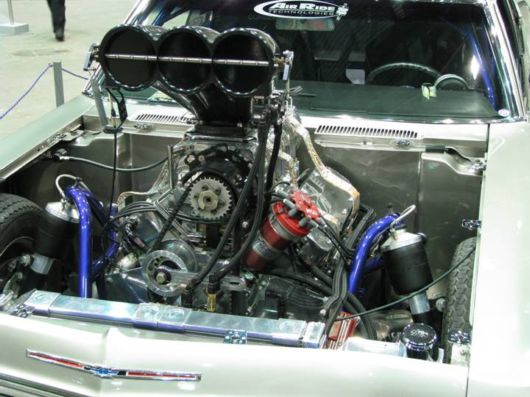 A very nice, clean, '32 roadster with a '33 in the background.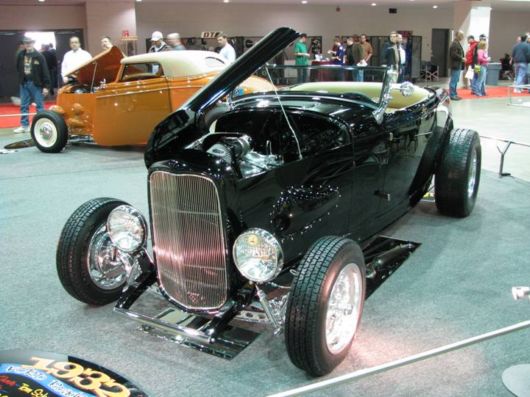 Henry J. station wagon I'm not sure if they made any or if this guy created one from a sedan.. Typical of the "tail dragger" genre.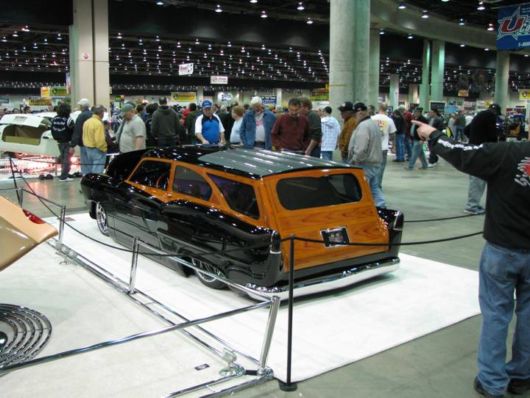 BMW Isetta with an engine swap.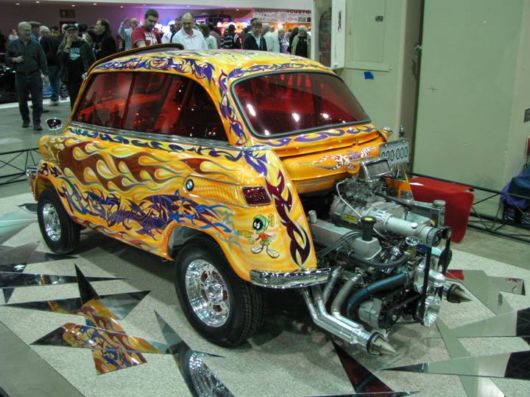 Classic Cadillac, inspired by Big Daddy Roth.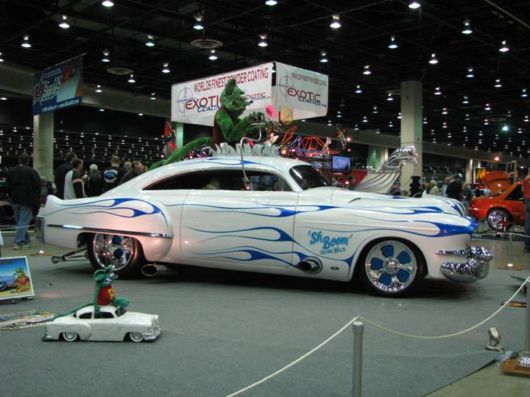 Oldsmobile with full "jack" treatment.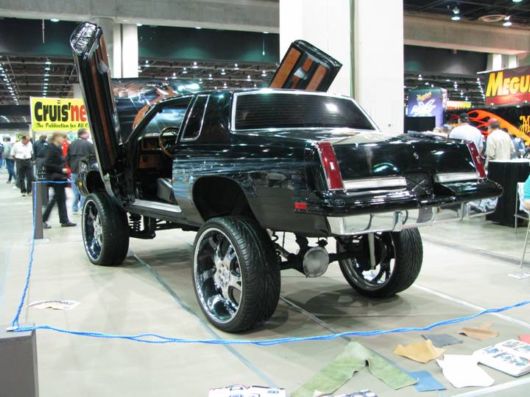 '37 Ford.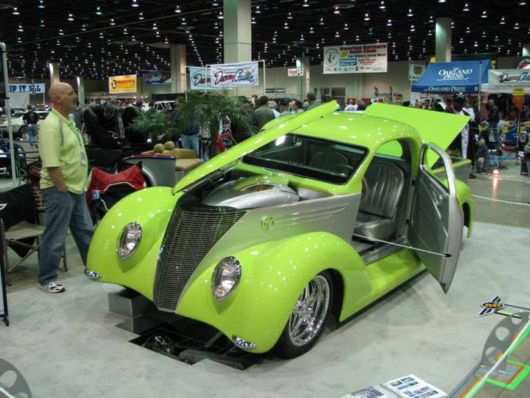 T-roadster with classic midget racer grille.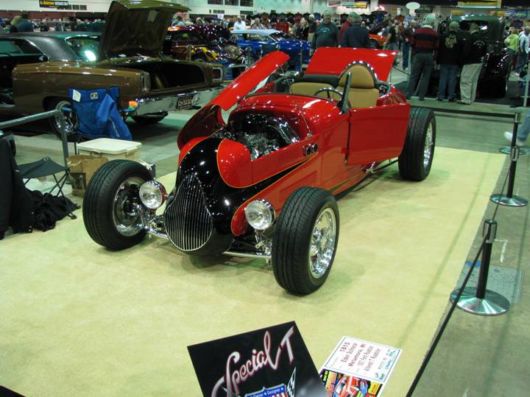 Art Deco "Decoliner" Lincoln Zephyr with styling cues like a Delahaye is designed to allow the similarly styled motorcycle to be swallowed in the back.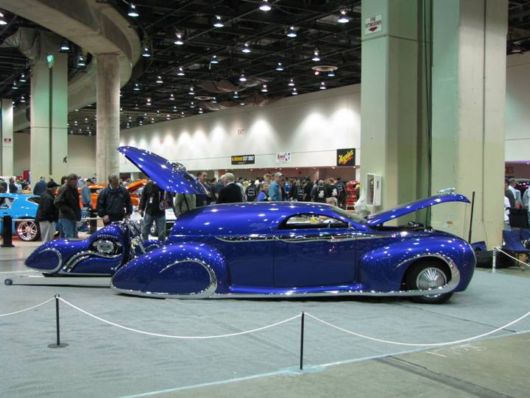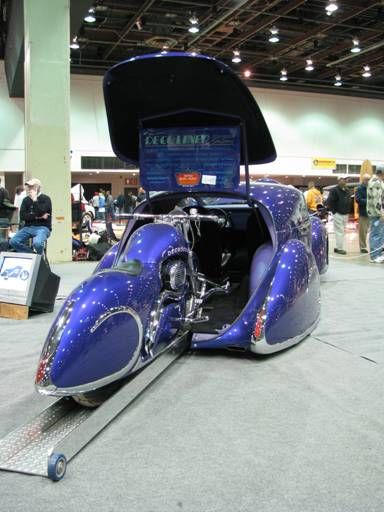 Very nice, clean, 1951 Mercury custom. I later learned the two women (behind the car in this view) in car-hop uniforms and platform pumps are twins.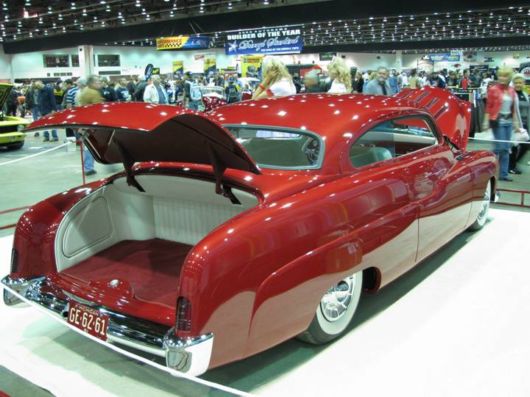 Replica of Barney Oldfield's Miller "golden submarine" race car, but a bit smaller scale and narrower.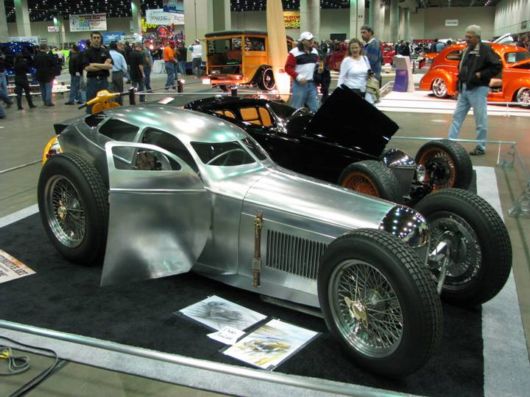 A '32; one of many very nice local cars brought by their owners.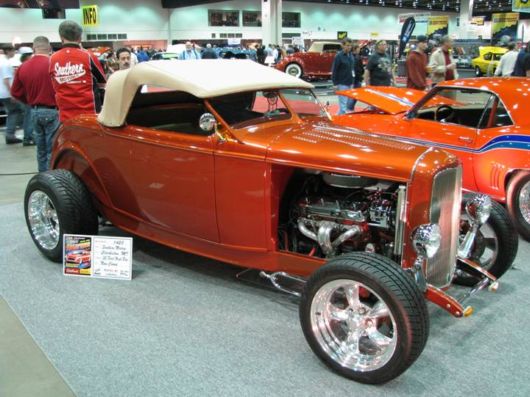 Ridler award-winning Willys (for best rod shown for first time in Detroit ).. Builder being interviewed for Meguiar's Cary Crazy TV.
One of the secrets of TV production: interviewer has back of shirt clothes-pinned so front fit will look best for TV.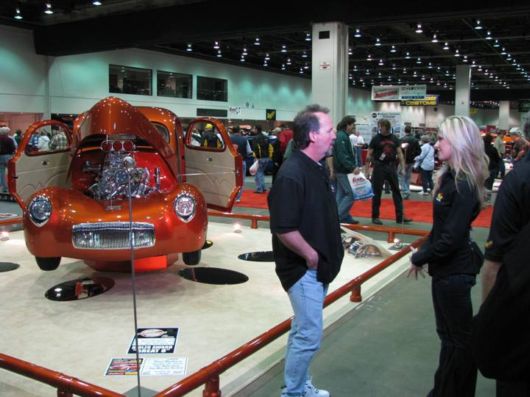 Cadillac that had enormous body length. Looked like a stock body shell, but nicely customized and painted 2-tone yellow.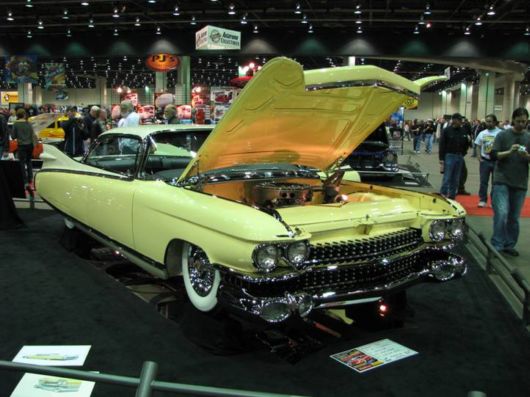 Buick Skylark concept car, brought from a museum in Flint , Michigan .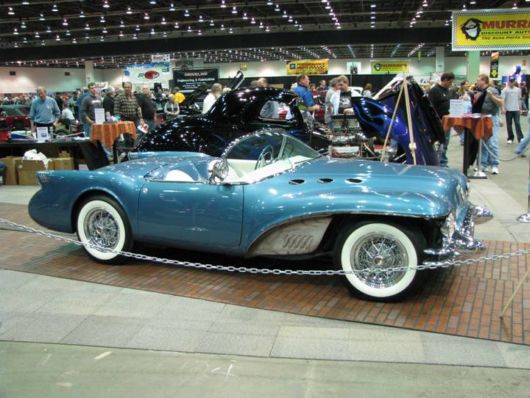 Modern Cadillac-based roadster designed by Wayne Cherry, past head of GM styling.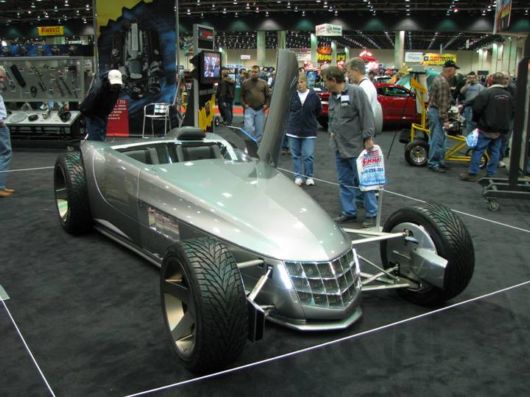 1956 Chrysler 300B, lowered with big wheels.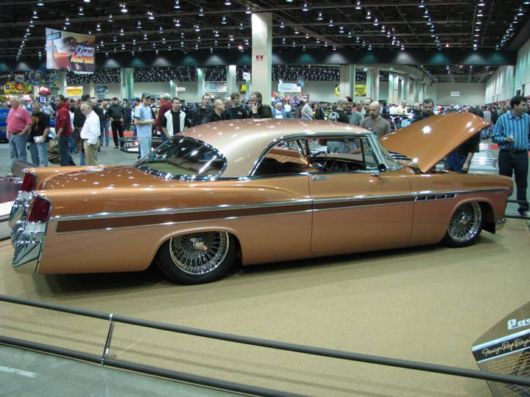 "Rat Rods" are in the basement. This is unusually well finished for the "rat" category, with a Jaguar engine, Ford T woody body, antique lights and fan, etc.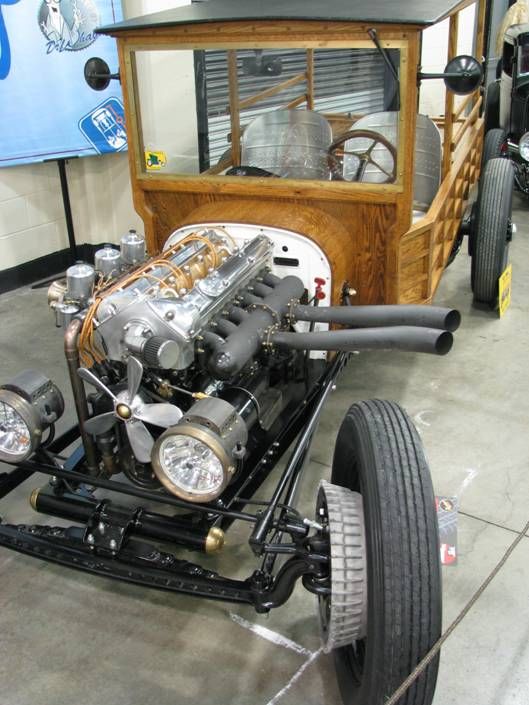 "Rat bike" with Triumph engine.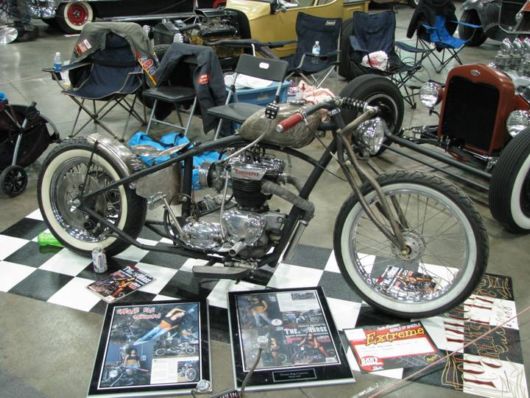 The air scoop on this one is perfect. Rat rods are made with great imagination.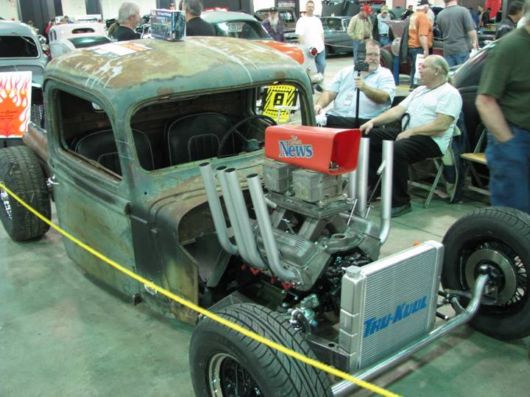 Rat roadster with nice, but smaller, air scoops and period-perfect ('50s) whitewalls.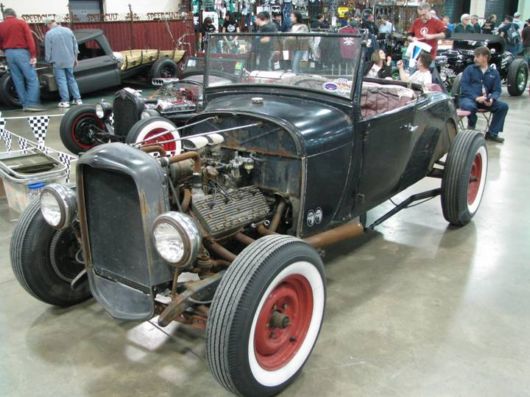 V-12 Lincoln Zephyr power. This was in the "rat" category, but very nicely done.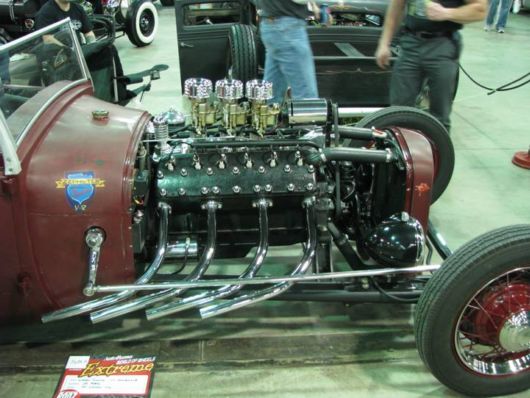 Nice taillight treatment ('56 Buick?) on this rat 4-door. Even the rope stanchions are nicely done.
A little difficult to see the big vertical exhaust stack up front in this view, but it's wired with a spark plug near the top of the tube,
presumably to ignite flames shooting high into the night sky.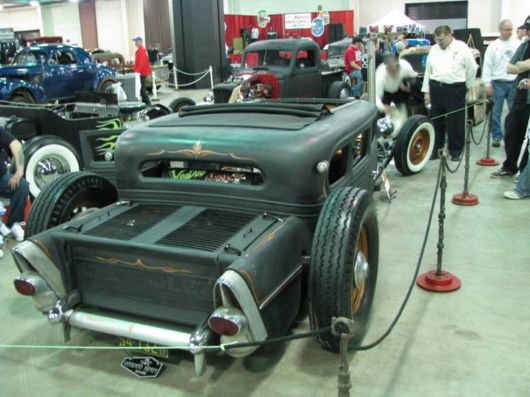 A few of the trophies.