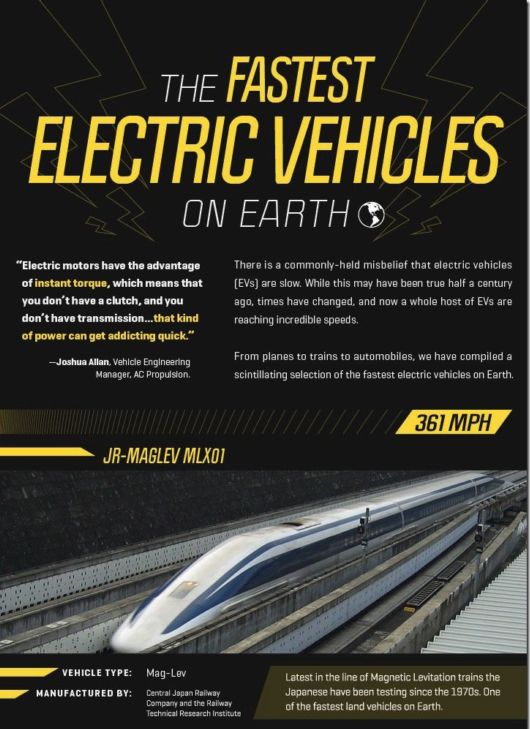 We're fans of all things cutting edge, and that most certainly includes the gadgets that get you from A to B. In the world of vehicles, the newest and freshest offerings are all electric.
New products from Tesla Motors, Elon Musk's Silicon Valley-based electric vehicle company, are always a hit. But Tesla's not the only company producing super speedy high-tech vehicles; in fact, cars are just the tip of the electric-vehicle iceberg.
Take, for example, the JR-Maglev MLX01, an experimental magnetic levitation train developed in Japan. It uses magnets to move and stay on track, and is capable of topping 360 mph. Meanwhile, France's Train a Grande Vitesse uses old-fashioned wheels, but also runs on electricity, and has traveled as fast as 357 mph.
The spiffy looking Tesla Roadster Sport can hit 125 mph, but that doesn't even place it in the top two of fastest electric cars. A pair of electric motorcycles – the Lawless OCC Rocket Bike and Mission R – would also dust it in a drag race. The Roadster Sport, however, has them all beat on looks.
The infographic below, which comes courtesy of the British website carloan4u.co.uk, gives us a rundown of all the world's fastest electric vehicles. Tesla is represented there, along with the aforementioned ?superbikes? and high-speed trains, but there are a few funky-looking suprises as well. Check out the full infographic for more; then let us know in the comments: Which futuristic vehicle would you most like to take for a spin?