1. French Toast and Bacon Cupcake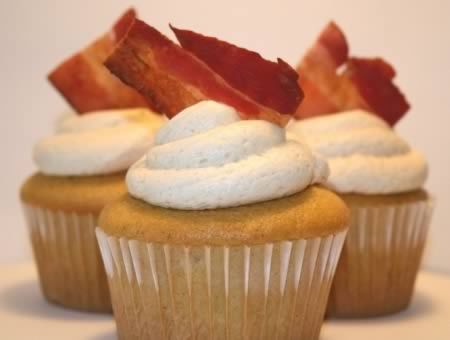 You've heard the expression, ?everything is better with bacon? ? well, who knew that this included cupcakes? Anthony Bourdain's show ?No Reservations? on the Travel Channel did an episode on Portland, Oregon. Voodoo Doughnut was a strange local shop that specialized in unique donuts, one being a maple cream stick with crisp bacon. This is where the idea of the French Toast and Bacon Cupcake was born. Savory and sweet work so well together, and since I already drown my bacon in maple syrup, why not? Cinnamon, nutmeg, and a bit more vanilla are the key extras in this yellow cake recipe that give it a French Toast feel. I should note, these cupcakes smell amazing while baking!
2. Game of Thrones Cupcakes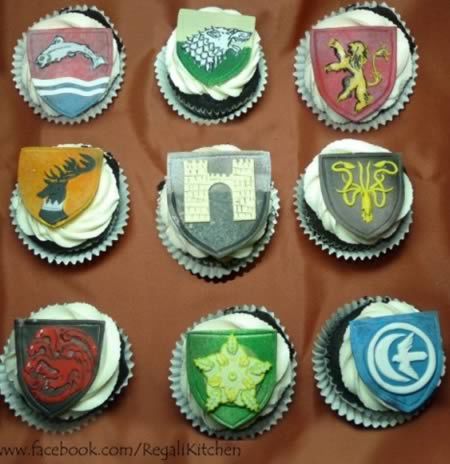 These cupcakes were made by chef JB Cada & Stephanie Santos of The Regali Kitchen in the Philippines. They consist of chocolate cake with caramel icing and edible toppers featuring insignias from the HBO series Game of Thrones.
3. Shark Attack Cupcakes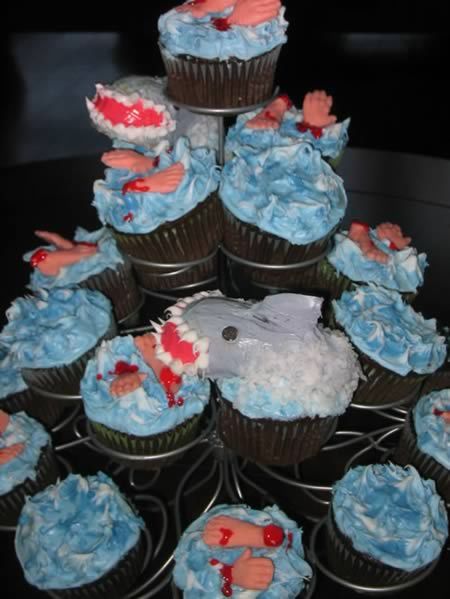 Moogie of Moogie & Pap blog made some cupcakes for a clubhouse poolside party to celebrate the end of summer. The cupcakes look positively yummy ? in a morbid sort of way!
4. Star Wars Cupcakes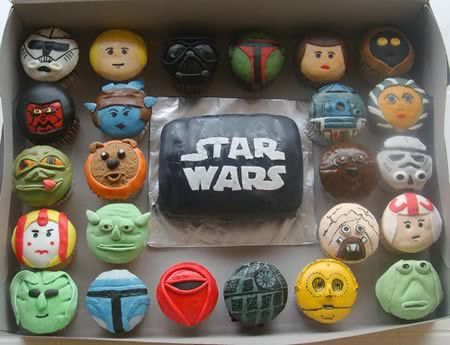 Star Wars Cupcake by Flickr user lclllc.
5. Brain Cupcakes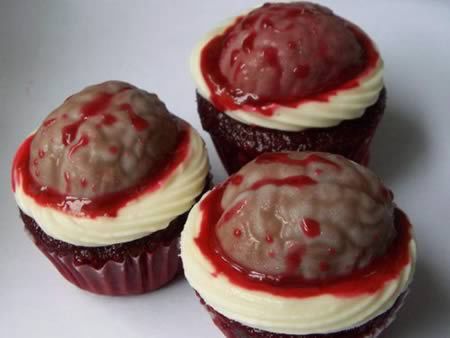 Looking for something delicious and creepy? Try these fantastic brain cupcakes. The flavor sounds blissful, combining chocolate brains, raspberry cake and cream cheese frosting. If only they posted the recipe…
6. PacMan Cupcakes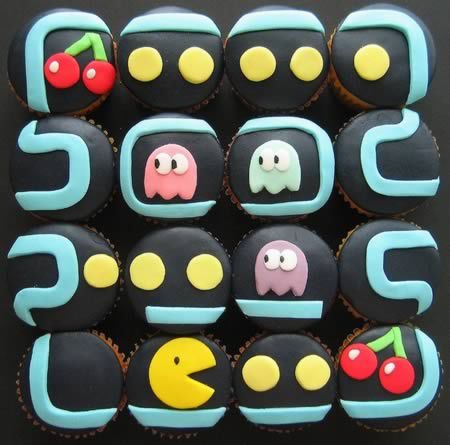 By Hello Naomi.
7. Mario Bro Cupcakes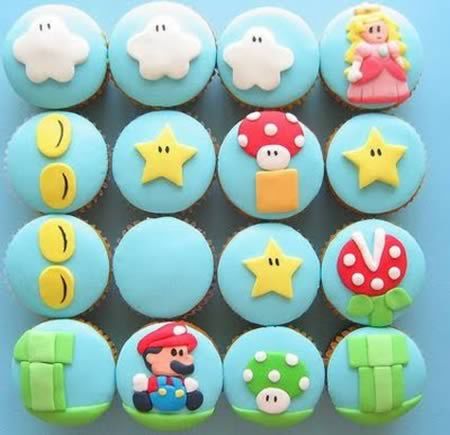 Also by Hello Naomi.
8. Popcorn Cupcakes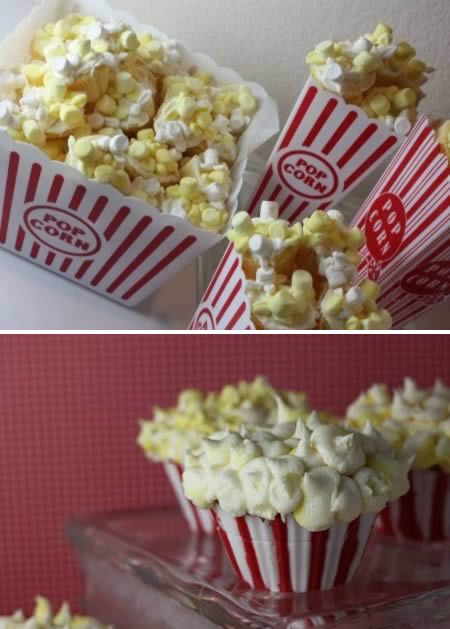 Check out these amazing cupcakes made to look like popcorn. There are cupcakes made to look like little sliders, and tons of other crazy cupcake creations on Smiley's Sweets blog.
9. iPhone Cupcakes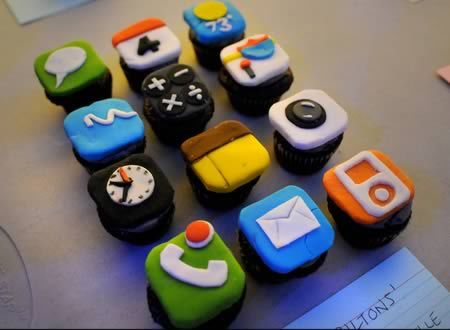 Nick and Danielle Bilton made these awesome iPhone App Cupcakes. They took first place at the NYC Cupcake Decorating Championships and Ignite NYC.
10. Food Cupcakes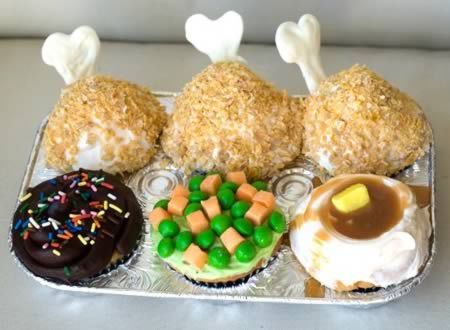 How about a piece of chicken?
11. Angry Bird Cupcakes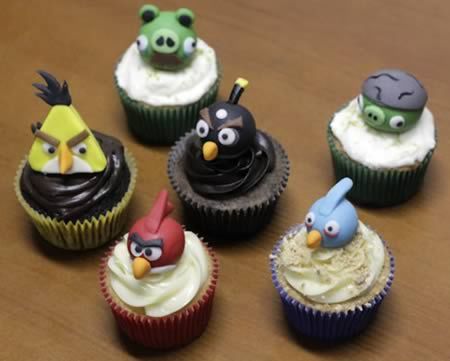 Sub-standard gaming-inspired confectionery got you angry? Don't get mad ? get these cute Angry Bird cupcakes instead! From the Brazilian baker Cupcake.Ito.
12. Burger Cupcake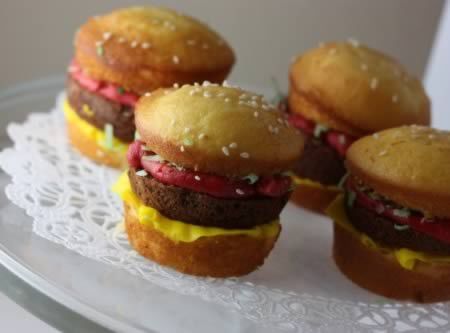 These mini-burgers, or sliders come from Smiley's Sweets and Creations.The buns are vanilla cupcakes, the burgers are bits of chocolate cupcake, lettuce is shredded coconut, and ketchup and mustard are red and yellow icing. A perfect celebration of the American Way of Life!