Kevin Cotter was devastated when his wife walked out after 12 years of marriage, taking all of her possessions. The only thing she left behind was her wedding dress. When he tried to get her to take that, too, she told him that he could do what he liked with it.
After leaving the dress on a top shelf in their home in Tucson, Arizona for months, that is exactly what he did. He used the dress to launch a blog project, My Ex-Wife's Wedding Dress , and became super popular.
So, we are giving you a list of 10 uses for an ex-wife's dress that we thought you must know about, just in case!
1. An outdoor kind of guy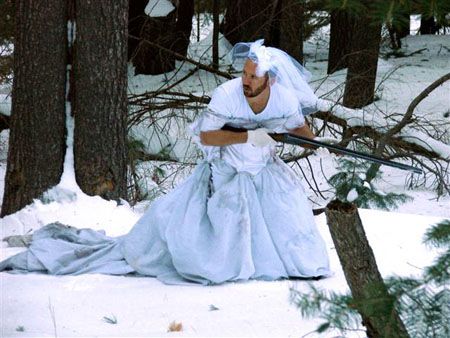 It gives a new meaning to the term shotgun wedding, or is it a shotgun divorce? It's excellent for going hunting, since one can never get enough snow camouflage!
2. Perfect for a costume party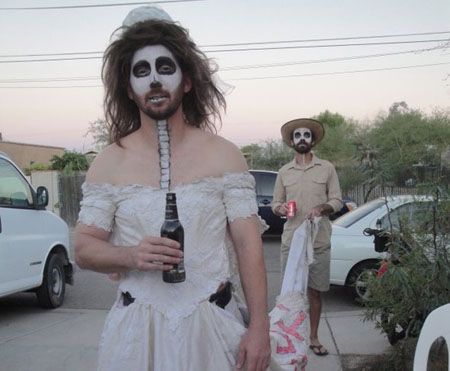 You could always go as a zombie bride to the Day of the Dead parade and be a hit with the crowd! Looking at this picture one can only imagine that if you have a big woman as an ex-wife, the dress will fit you perfectly!
3. I am your father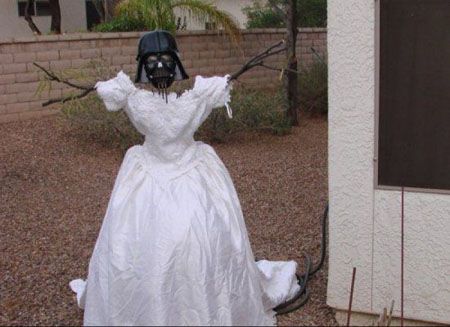 This one is actually a great idea. Who wouldn't be scare of that? If placed on the front porch, it will not only serve as a scarecrow but it'll also scare uninvited people. Imagine looking at that at night!
4. Friends that desperately need haircuts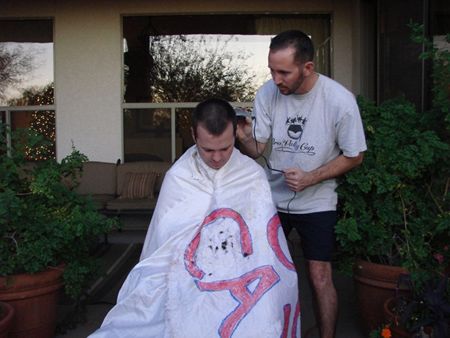 So
metimes when it's that time of the month, things are tight and you are short on cash, and you badly need a haircut, you could always use your ex- wife's dress as a barber's smock.
5. A special sports banner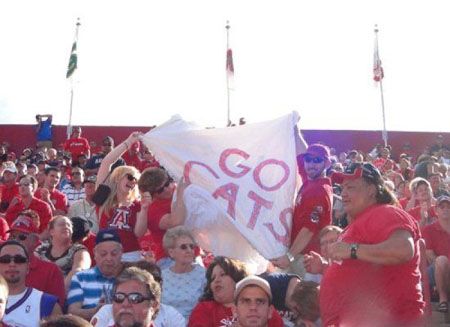 It takes some smooth talking to pull this one off. Security isn't usually cooperative with this kind of thing. However, in the end a wedding dress banner is a hit with the fans and brings extra luck to help win the game. Go Cats!
6. Use it as a compress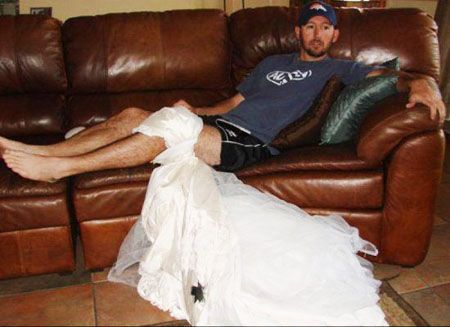 This is actually very useful when you have both ACLs replaced. An ex-wife's wedding dress could work excellently for icing one or both knees at the same time!
7. Making a fine meal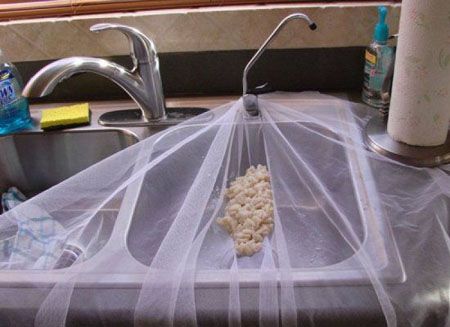 It's of vital importance to eat carbs in order to keep your strength up. When you don't have a pasta strainer at hand? you could use a veil! Who would have thought of that? It looks delicious!
8. The importance of dental health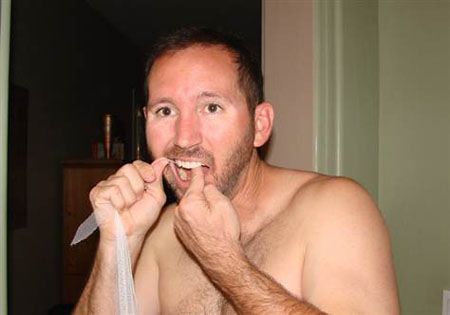 Of course, after you eat you have to make sure to clean your teeth. Don't forget to floss!
9. Rage reliever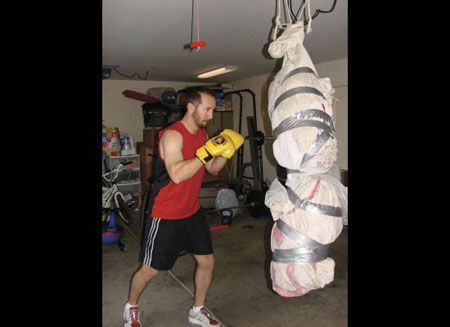 What better way to release all your rage and anger than to make yourself your own homemade punching bag? It's excellent to calm your nerves!
10. Always keep in touch with your inner self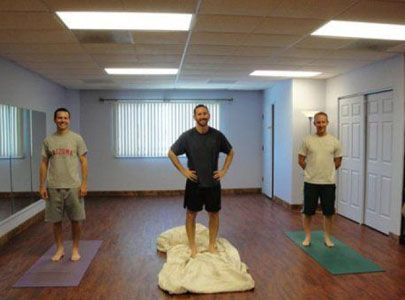 When you remember your ex-wife and all the anger comes back in a rush, and not even the punching bag is enough, it's super important to meditate and just chill. You're always in need of a yoga mat!