The ultimate thrill if you?ve a head for heights: Glass cage that hangs over the edge of 4km-high mountain in French Alps
Racing heartbeat, heavy breathing, nausea, trembling, chest pain, a sense of impending doom. These are the symptoms someone who's afraid of heights might be struck with if we brought them to this spot. Arrayed below and before him would be the snowy summits of the French Alps including, to the south, the mighty Mont Blanc – Europe's highest mountain. He might not want to look down, but if you were to direct his head that way he would see below his feet a sheer drop of 12,604ft. Just a thin sheet of reinforced glass stands between him and oblivion.
Not for acrophobics… The view from the Pas Dans Le Vide attraction at the summit of the Aiguille du Midi peak in the Mont Blanc Massif in the French Alps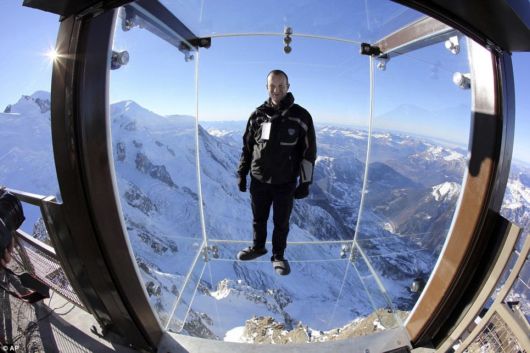 Inches from oblivion: : Mathieu Dechavanne, head of the Compagnie du Mont Blanc, which runs the new attraction, stands in the glass cage 12,604ft up the mountain
Intrepid: A reporter looks at the mountains through the windows of the cage during a press call to the site this week. The refurbished site opens to the public on Saturday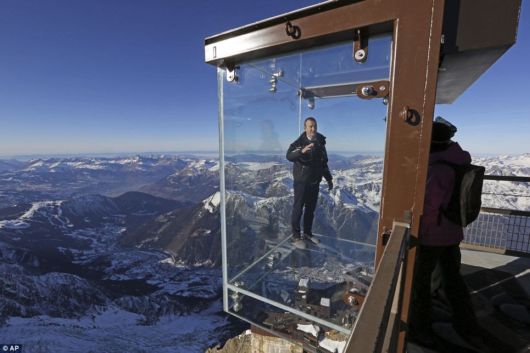 Breathtaking: Some of the other symptoms of a fear of heights include racing heartbeat, nausea, trembling, chest pain, a sense of impending doom These breathtaking panoramic photographs were taken in a glass cage at the top of the Aiguille du Midi peak, part of the Mont Blanc Massif range near Chamonix, south-east France. The snow-packed vista they capture shows the highest peaks in France, Italy and Switzerland, as well as the biggest glaciers on the continent. The new attraction, dubbed 'Pas Dans Le Vide' ('Step Into The Void'), is part of a refurbishment of the visitor centre at the summit of Aguille du Midi.