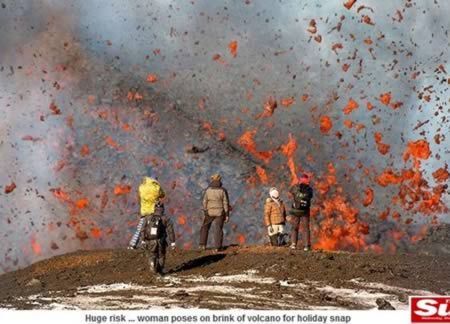 Most of us like to go somewhere warm for our holidays ? but balancing on the brink of an erupting volcano could result in far more than mere sunburn. This incredible picture shows the moment when one tourist edged towards a torrent of spewing lava, risking life and limb for a holiday snap. Unfazed, with his back to the bubbling crater, the man smiles easily, as if he was standing next to an ornamental fountain.
Photographer Denis Budkov caught the incident at the Plosky Tolbachik volcano in the far east of Russia.
NOTE: some sources claim it was a woman and some it was a man.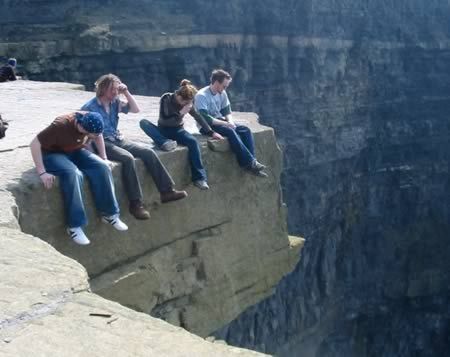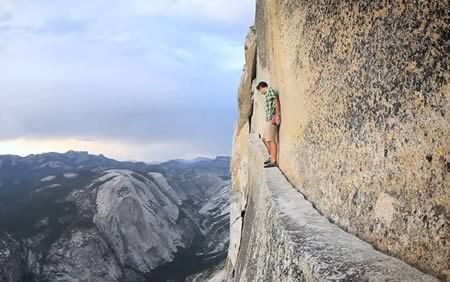 Alexander J. Honnold (born August 17, 1985) is an American rock climber best known for his free solo ascents of big walls . He has broken a number of speed records, most notably the only known solo climb (mostly free climbing, but using some points of aid) of the Yosemite Triple Crown, an 18 hour 50 minute link up of Mt. Watkins, The Nose, and the Regular Northwest Face of Half Dome.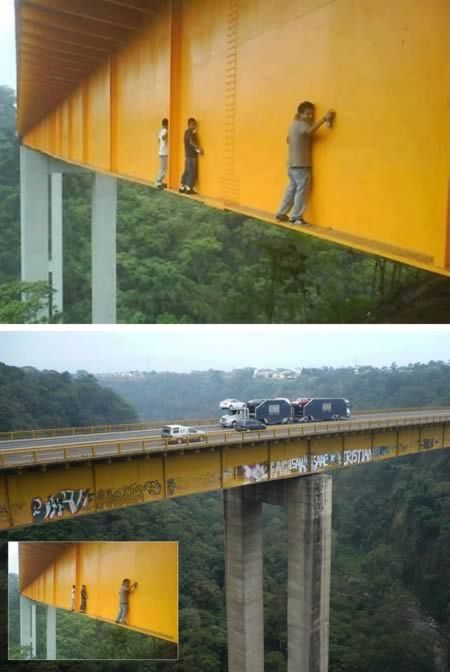 Located in Veracruz, the Metlac bridge rises 400 feet from the ground?making it Mexico's tallest bridge?and spans 300 feet. Risk taking local graffiti artists have thrown caution to the wind and taken to traversing the bridge's edges to get up. Impressive locations for sure, but is the danger worth it?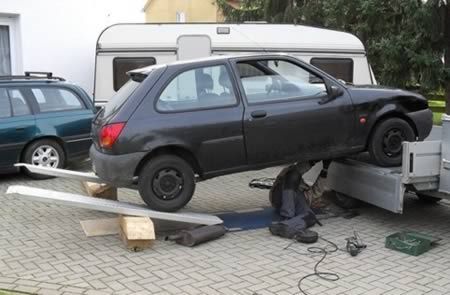 Good idea to fix the car, even better idea to get killed.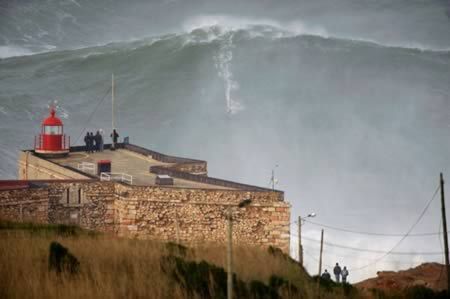 That's one big splash. Daredevil Garret McNamara of Hawaii claims to have ridden the highest wave ever caught by a surfer, a 30-metre monster off the coast of Nazaré, Portugal. His record is still to be confirmed, but if it's verified, McNamara will have smashed the previous record of 24 metres, which he set in the same spot in November 2011.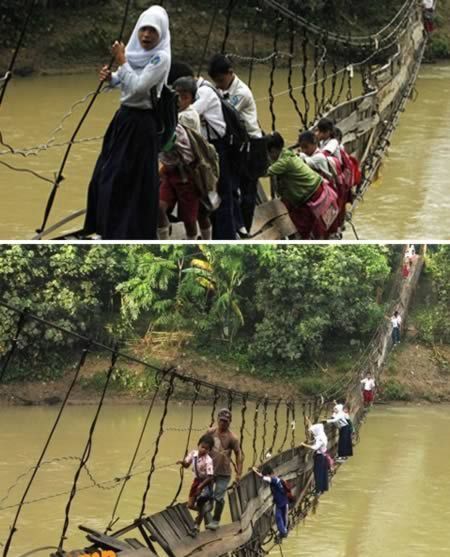 Indonesian students have to tightrope walk 30 feet above a flowing river to get to their class on time.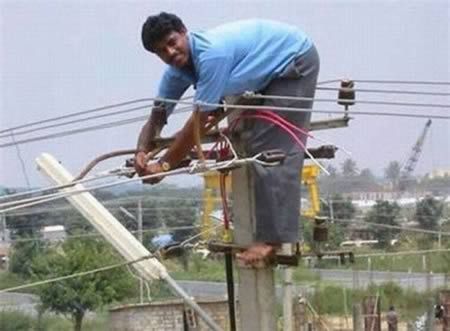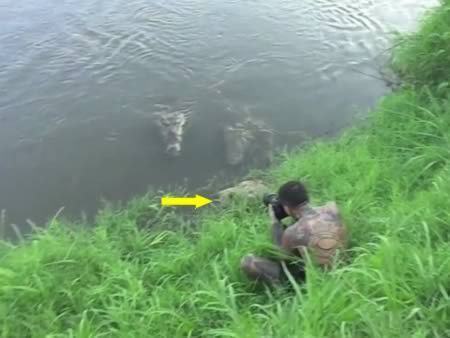 Here's a pro tip: if you ever find yourself with a strong desire to photograph crocodiles in their natural habitat, don't do it like the photographer in the video above (warning: it contains a bit of strong language).
It was shot by a man named David Clow on March 18, 2013 in Rio Tarcoles, Costa Rica. Clow's friend Antonio Ruiz was photographing crocodiles up close with his DSLR while others tossed chunks of meat into the water. The problem was that Ruiz positioned himself right on the edge of the river rather than at the relatively safe distance where everyone else was standing.
The location is named ?Crocodile Bridge,? so the water was teeming with crocs. After snapping some photographs of the creatures battling over the free food, Ruiz had an experience he will probably never forget. He just narrowly avoided a lunge by a hungry crocodile, coming inches from becoming its next meal.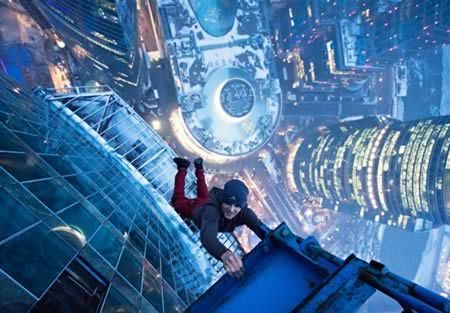 If you have a fear of heights, just turn off your monitor now. The Ukrainian daredevil, Mustang Wanted, has a few photos from his fearless life to share. Check out this shot of him hanging from a building with one hand.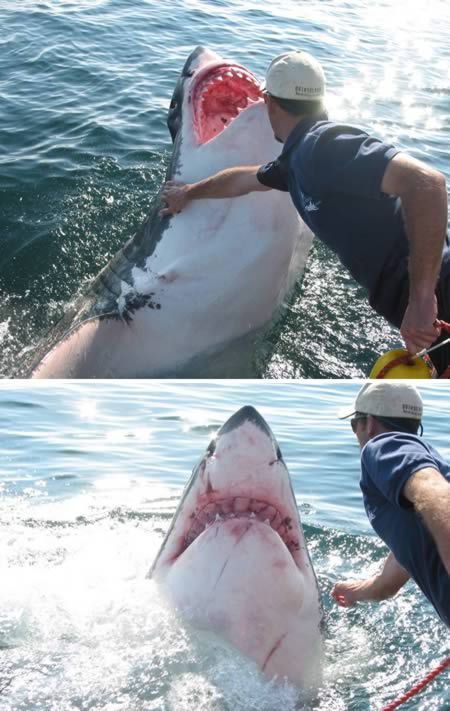 Mike Rutzen is an expert on the great white shark and an outspoken champion of shark conservation. His fame spread due to the images of his free diving exploits swimming with the animals without a cage. Mike has spent more time swimming cage-less with great whites than anyone else. He has since traveled the world lecturing on sharks and filming documentaries.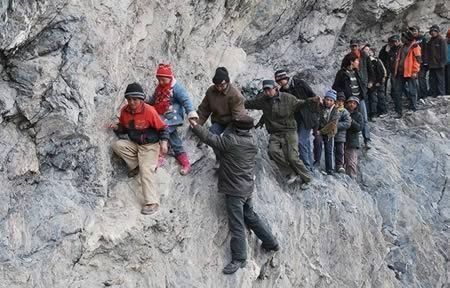 Students at this school in China have a harder time than most skipping class. Pupils in Pili – in the rugged northern Xinjiang Uygur region – have to cross a pass 1,500 ft. above a sheer drop down a precipice to get to their lessons. Guided by parents and staff, the youngsters scramble over the sloping rock face finding foot and handholds that would make even a goat think twice.