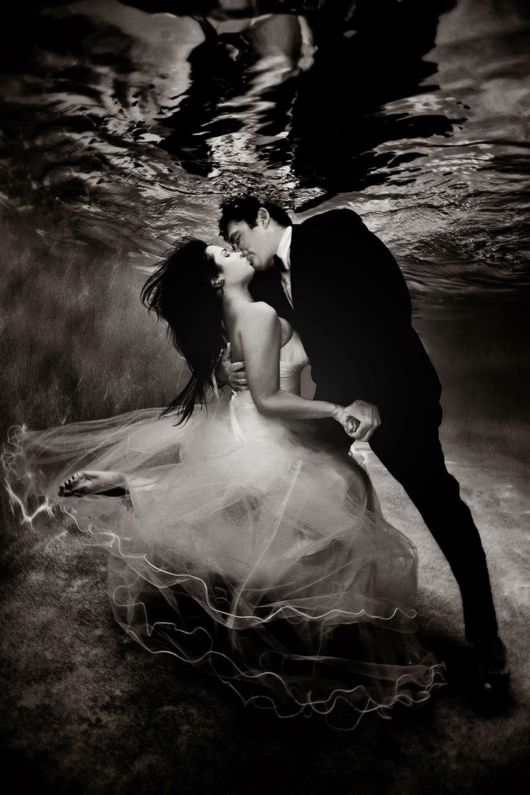 Forget what you knew about your typical wedding photos! I (Adam Opris) am breaking all the rules of traditional posing and bringing my brides and grooms underwater! By bringing them into the underwater realm, anything becomes possible. I incorporate the weightless environment underwater with bridal beauty and elegance to transform the brides into mermaids, and bring their wedding dresses to life!
I grew up in the ocean and have always admired underwater photos of reefs, fish, etc. After seeing great images of surfers diving underwater and other photos from around the world, I knew that I had to bring my clients underwater. After investing in an Ikelite housing, I read everything I could involving shooting underwater (even though all the articles involved photographing fish, the information was invaluable)! After a few test shoots and safety sessions, I captured a few children and pregnant women underwater. Since I am mainly a wedding photographer it was only natural for me to reach out to my brides! I figured let's get their wedding dresses out of the closet and create some art!
After my first bride was willing to take the plunge, I was immediately hooked on how beautiful a wedding dress could flow underwater. After a few pool sessions, I wanted to take it a step further. I found a group of divers willing to get into wedding dresses and tuxes and join me 30 feet underwater in the Florida Keys to shoot amongst the reefs! With an entire crew of safety divers and months of planning, we pulled off an array of bridal fashion in the depths of the ocean!