1. Underground Catwalk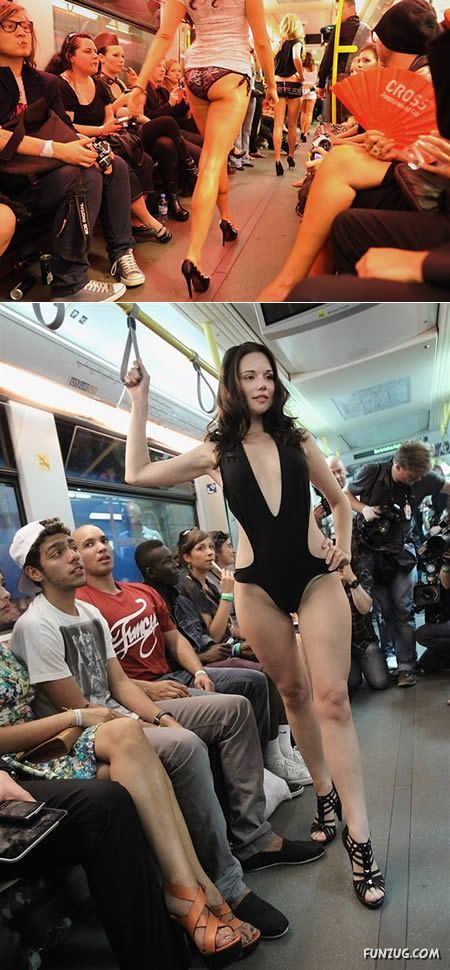 The Underground Catwalk, currently in its sixth year, has become an integral and popular part of the Berlin Fashion Week where models showcase designs from established brands and upcoming designers on an underground commuter train.
2. World's 2nd Longest Catwalk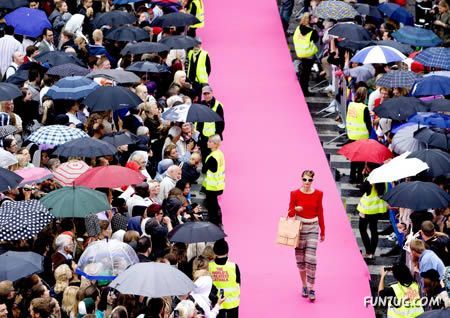 Recently, the Copenhagen fashion Week took the concept of the catwalk and pushed it to the extreme, making their runway models walk a bit more than usual for a fashion show and breaking a World Record in the process.
The Copenhagen fashion week saw a variety of shows and each fashion show presented something new and exciting. It was one show however that caught the spotlight as the main fashion show for the event was held on a catwalk that spanned 1,609 metres long. 250 models took part in this particular fashion show and helped break the record of the longest catwalk ever to be erected in Europe. The catwalk took up most of Stroget Street, a popular high end fashion street in Denmark. Danish supermodel Helena Christensen was at the top of her game as she kicked off the fashion show and walked elegantly down the long catwalk.
The fashion models strutted down the metre long bright pink catwalk with style and it is no secret that this fashion show was the famous highlight of fashion week which took the love of fashion to the streets of the city.
3. Underwater Fashion Show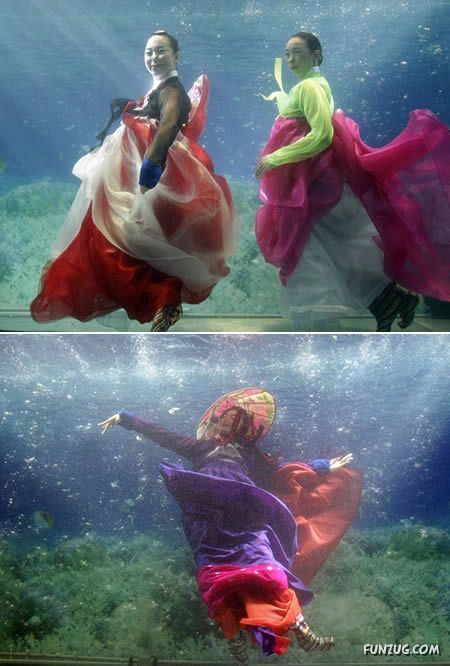 Models wearing traditional Korean Hanbock outfits designed by Park Sul-nyeo plunge into an aquarium as part of an unconventional fashion show in Seoul to mark the opening of a new department store.
4. Catwalk Runway on an Airport Runway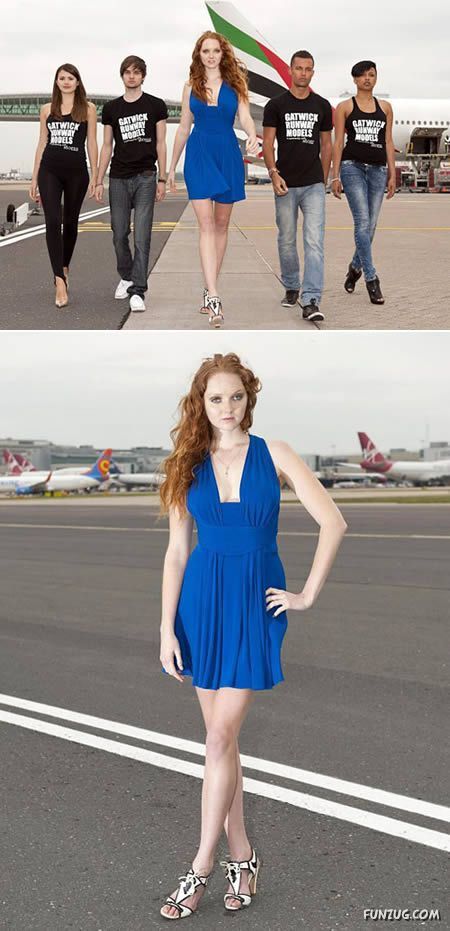 Storm Model Management wasn't concerned with flyaway hair when they turned Gatwick airport's runway into a fashion runway. Lily Cole has swapped catwalk runways for those at an airport – to launch a talent search which will see new modelling careers take off. The flame-haired star kick-started Gatwick Runway Models – a hunt for a boy and a girl to win a New Faces contract with prestigious model agency Storm. The winners could find themselves following in the footsteps of Kate Moss, who was spotted at JFK airport in the US by Storm Model Management founder Sarah Doukas, by joining the supermodel jet set.
5. Great Wall of China Catwalk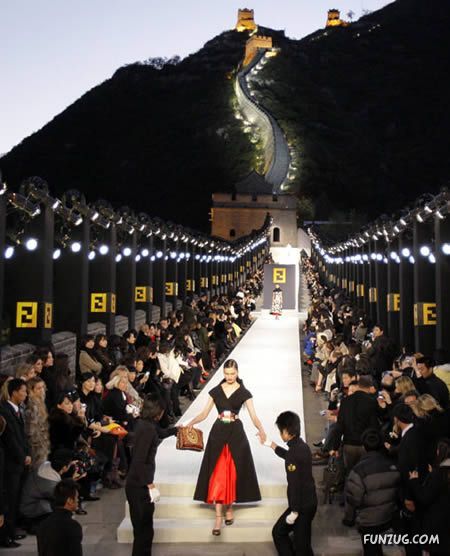 At well over 1,500 miles it must be the longest catwalk in history, but that didn't stop designer Karl Lagerfield staging a show for Fendi on the Great Wall of China in 2007. The show-stopping event was held on top of the ancient structure, with spotlights lighting up the models and casting the surrounding countryside into gloom. A section of the World Heritage Site was extended even further into the mountains around the capital Beijing to create the catwalk, with a backdrop of open sky.
6. Iceberg on a Catwalk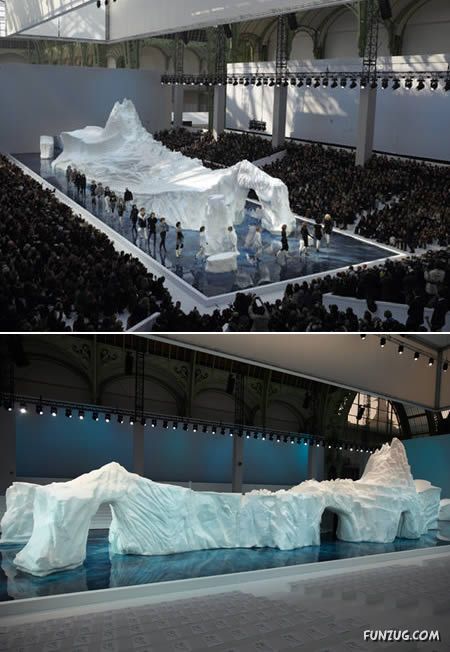 In 2010, Karl Lagerfeld and company imported a 265 ton iceberg from Sweden for the Chanel AW/2010-2011 catwalk presentation during Paris Fashion Week. During this spectacular and titanic show, models for the illustrious French brand walked through the melting ice water on the runway, presenting innovative knits and new designs.
7. Naked Fashion Show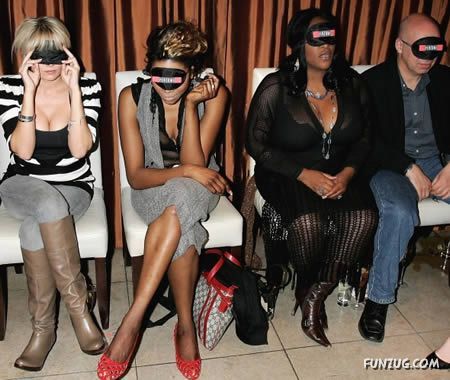 The 2006 Naked Fragrance Fashion Show hosted by Perfume Shop previewed nude models wearing nothing but fragrances. The audience was blindfolded so they wouldn't be distracted while they assessed each scent.
8. Burning Models on the Catwalk

Burning Models in a Fashion Show in 2008.
9. Bald and Bearded Models on the Catwalk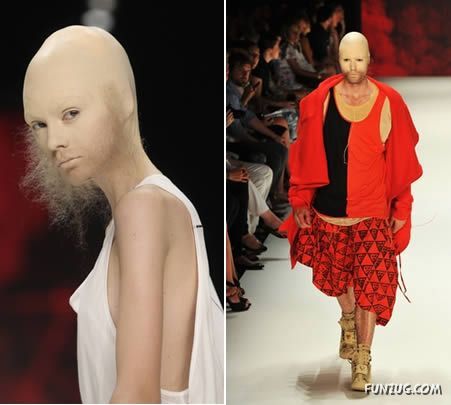 We've seen a lot of really crazy stuff on the runway — but Patrick Mohr's show at Mercedes-Benz Fashion Week in Berlin was beyond bizarre. With no hair on their heads — but plenty on their face — Mohr's models strutted their stuff while wearing some of the weirdest makeup we've ever seen.
10. Catwalk for Rats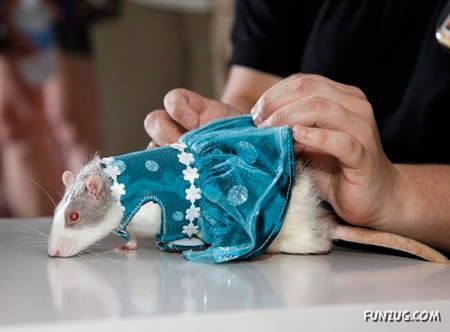 We may have featured a few weird things about Rats here in Oddee, but we haven't seen a rat fashion show before, especially one in NYC. These rats want to take a bite out of the big apple and leave people with a lasting impression. Dozens of furry rat lovers gathered together for the event at the world's First Fancy Rat Convention. Ada Nieves is also attending the show with her array of clothes that are created for rats and rat owners everywhere. Her creations are available as tuxes, wedding dresses, bridesmaids gowns, and other amazing rat apparel. They run about eighty dollars an outfit and include all the bells and whistles such as beads, feathers and other small tidbits.
Rats are a common pet these days and clothing makes them much more presentable to those not in love with rats then they would be otherwise.