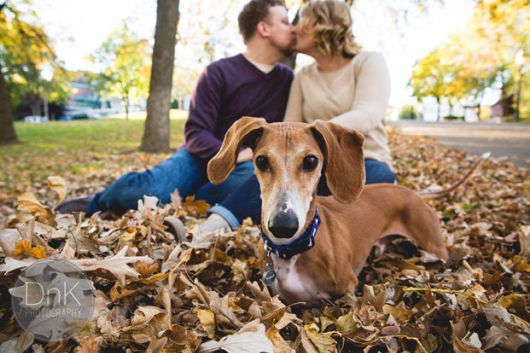 After Chris Kluthe popped the big question to Megan Determan the couple decided they would hire a photographer to remember this life changing moment but little did they know they were going to get photobombed by Determan?s adorable dachshund named Louie who clearly had other plans.
As photographer Karin Berdal started photographing the couple, Louie began playing in the autumn leaves. Berdal was warned that Louie loves playing in leaves but was taken back by just how much fun he was having. ?I was hoping for a fun photo of Louie playing in the foreground of the photo with the couple looking at him, but Louie launched himself right in front of the camera totally blocking Chris out of the photo,? Berdal writes.
Even if Louie did steal the show at least the couple will never forget the moment. We'll excuse Louie on the basis that he's so damn adorable!