7. Constipation
The seeds of guavas, either ingested whole or chewed, are excellent laxatives. In addition to the fruits' substantial amount of dietary fiber, guavas are advantageous for treating constipation. These two sources cleanse your intestines and excretory system and help your body retain water, helping you achieve healthy bowel movements. Frequently snacking on guavas, then, can be beneficial for proper digestion.
8. Colds and coughs
Drinking the juice of guavas and fresh guava fruit helps in fighting colds and coughs. The astringent quality can lessen mucus, disinfect the respiratory tract, throat, and lungs and reduce microbial activity. The substantial amounts of iron and vitamin C in guavas also help treat viral infections. It's advised to avoid eating overly ripe guavas when you have a cold or cough, as they can actually aggravate them.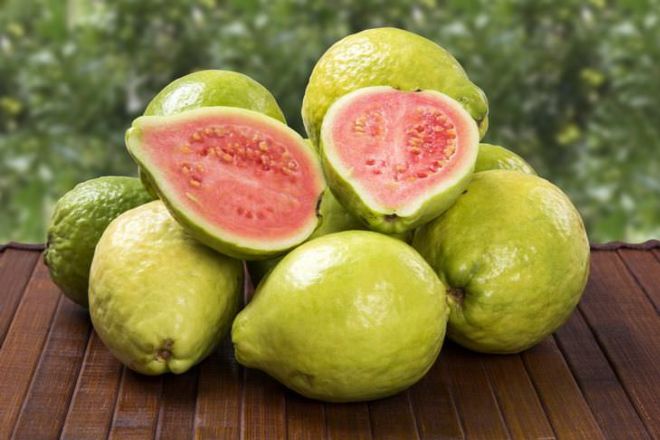 9. Eyesight
The considerable quantities of vitamin A in guavas are extremely beneficial for the health of your vision. This helps slow down macular degeneration, the growth of cataracts, and can even improve one's eyesight deterioration once it has begun.
10. Cancer prevention
Guava is also valuable in your diet as a preventative measure against cancerous growths and metastasis. The high levels of an antioxidant called lycopene has been shown to reduce the risk of prostate cancer and inhibit the growth of breast cancer cells. Guava leaf oil is another anti-proliferative extract from the guava plant that has proven effective in reducing cancer growth.
11. Skincare
Guavas are also fantastic at improving skin texture and keeping your skin looking fresh. Guavas are full of astringents, particularly in fresh fruit and the leaves of the plant. If you rinse your skin with a guava decoction, the fruit can tone and tighten areas of loose skin.
Eating the fruit also provides a rich source of vitamins A, B, C, as well as potassium, which are excellent antioxidants and detoxifiers. They can keep your skin glowing, prevent premature aging and wrinkles, and can speed up the healing process of wounds.