What Kind of Sofa is Right for Me?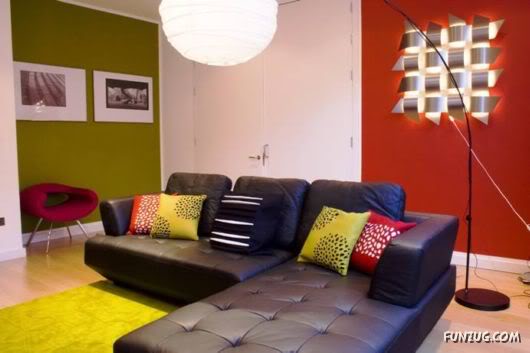 The sofa, or couch, is the basic seating piece in a living room, family room or den. Styles, sizes and shapes of sofas exist to suit every room, taste and budget. Finding the right sofa for you and your room takes just a little time and thought!
Sectional sofas are wonderful if you have a contemporary look in your home and enough space to handle a large couch. Good quality sectional sofas can be quite expensive, but they're a good value as you can get reclining features or even sofa-bed and coffee table features built right into the sectional.
If you have a one bedroom apartment and need a guest bed on occasion, a small sofa bed, futon or day bed for your living room would be a good choice. Sofa beds either flip down to form a bed or allow you to pull the folded mattress from under the seating area in an outward motion to unfold it to create the bed. Day beds, on the other hand, are already set up, but are only large enough for one person. Futons are similar to sofa beds, but many of them can be quite large and they can be easily opened to form queen-sized beds. Daybeds and futons work well for studio apartments where you need to sleep in your living room.
Chaise lounges and overstuffed couches are more creative types of sofas that can be dramatic and make a statement in the right decor. Many chaises are button-tufted and can look quite fancy. Overstuffed sofas with lots of throw pillows can create an inviting, comfortable space. Rattan sofas look perfect in a tropical decorating scheme.
As far as upholstery fabric is concerned, think about the wear and tear aspect of your sofa. You can cover it with an inexpensive cover to protect it from pets and/or kids. Leather and cut velvet upholstery materials wear quite well and micro-suede or micro-fiber is an attractive alternative to suede. A few inexpensive throw pillows you buy or make to accent your room decor can make even a small, second-hand sofa look great.
These steps will list what to look for when purchasing a quality sofa.
Step 1
Comfort is the most important aspect of a quality sofa. You should never purchase a sofa without sitting in it first. Keep in mind that the exact same sofa that has a sleeper option will sit differently than the sofa without. If you plan on laying on your sofa, make sure you lay on the one in the showroom to make sure it is comfortable in that position also.
Step 2
Look at the details of the upholstery or leather. Are the seams sewn well? Are the cushions upholstered on all sides? Does the pattern align at the seams? Does the back of the sofa look nice or does it seem like an afterthought? Are there a lot of loose threads hanging around? Is the "leather" sofa all leather or just leather in some parts? Is the fabric stain protected? Textured solid fabrics tend to show less stains than a non-textured solid.
Step 3
How is the frame constructed? It should be made with hardwood, not softwood. It should not make a creaking sound when you sit or move from side to side. Make sure the corners are braced with corner blocks. Lift the sofa by the arm to make sure it is not too light The heavier it is, the more wood framing it has.
Step 4
What type of springs are used? 8 way hand tied springs have been the industry standard of quality for many years, however other metal supports are now becoming high quality. Sit on the sofa and bounce a bit. You should feel the sofa push back a bit. With the cushions remove, press against the supports. You should not feel the metal (the metal should be covered in fabric and padding).
Step 5
What are the cushions made of? You can usually unzip the cushions to see for yourself. Are they just foam, or down wrapped foam? Down wrapped foam is considered higher quality. Usually a 3 cushion sofa is better than a 1 or 2 cushion sofa because the pillows will not sag in the middle as much. Also, when you want to seat 3 people on your sofa, nobody wants to sit in the cushion crack in the middle.
Step 6
Does the sofa come with a warranty? Is the warranty from the furniture store or the manufacturer? What does the warranty cover? Will they replace or fix your sofa if there is a problem? Will you get all of your money back including delivery if there is a problem?