Titanic survivor auctions relics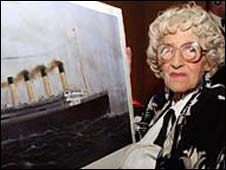 Miss Dean's father Bertram died when the Titanic sank
The last remaining survivor of the Titanic plans to sell mementoes from the ship to pay her nursing home fees.
Now 96, Millvina Dean was nine weeks old when the liner sank in the North Atlantic in 1912.
She hopes to raise £3,000 by selling items including a suitcase full of clothes given to her by the people of New York after her rescue.
The auction in Wiltshire will also feature compensation letters sent to her mother by the Titanic Relief Fund.
They explained that she would be awarded one pound, seven shillings and six pence per week.
Several rare prints of the Titanic – including one of it leaving the White Star dock in Southampton – will also go under the hammer.
I am selling it all now because I have to pay these nursing home fees
Millvina Dean
Last Titanic survivor
Miss Dean moved into a private nursing home in Ashurst, Hants, two years ago.
She told the Southern Daily Echo: "I was hoping to be here for two weeks after breaking my hip, but I developed an infection and have been here for two years. I am not able to live in my home any more.
"I am selling it all now because I have to pay these nursing home fees and am selling anything that I think might fetch some money."
The Dean family were emigrating to Kansas when the Titanic went down.
Miss Dean was placed in a sack and carried to safety along with her mother and brother.
But her father Bertram was one of more than 1,500 people who died.
The auction will take place at Henry Aldridge and Son auctioneers in Devizes, Wilts, on Saturday.
Andrew Aldridge said: "The suitcase is a very emotive and unusual item and epitomises what the people of New York did for the Titanic survivors.
"It also highlights what state the survivors were in when they got to New York. Many people lost everything down to the clothes they were standing in."
Miss Dean is the last survivor of the Titanic after Barbara Dainton, from Cornwall, died last year aged 96.