Most Expensive Cigar
Gurkha Black Dragon
Price: $1,150 each


Gurkha Cigars? Black Dragon cigars were introduced in 2006, according to cigar.com.
The cigars are hand-crafted in Honduras and come in a box made of carved
camel bone and brass. Gurkha Cigars produced only five chests of 100 cigars,
each chest priced at $115,000, and only one chest remains. A new and less
expensive version of the Black Dragon was released in 2007.
Most Expensive Champagne
Heidsieck Monopole Champagne 1907
Price: $35,000*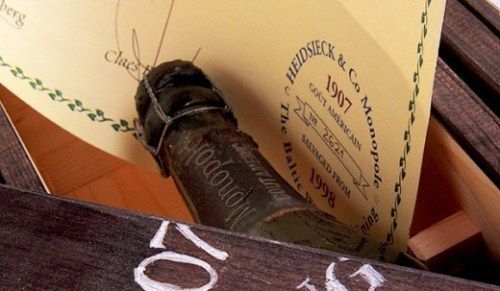 In 1997, a search team uncovered a ship that sank in the Baltic Sea containing
valuable cargo, including 2,000 bottles of Heidsieck Monopole Champagne.
The Ritz-Carlton Hotel in Moscow claimed 10 of the bottles and made them
available for sale in 2008. According to the hotel?s spokesperson,
Sergey Logvinov, the first bottle sold within the first month to a Russian collector.
A few bottles are still available for purchase.
*Converted from 880,000 rubles
Most Expensive Hotel Room
Royal Penthouse Suite, Hotel President Wilson in Geneva
Price: $65,000 per night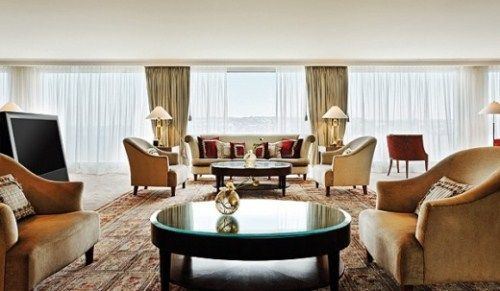 This palatial suite, which occupies an entire floor of the hotel and measures
18,083 square feet, has 10 rooms and seven bathrooms. It was renovated in
January 2009 to add a new private fitness area, according to a spokesperson.
Most Expensive Bicycle
Aurumania Gold Bike Crystal Edition
Price: $114,464*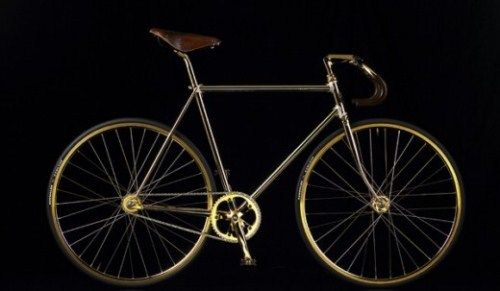 Scandinavian design company Aurumania made only 10 of these
hand-crafted, 24-carat gold-plated bicycles. Each is decorated with
600 Swarovski crystals. According to Chief Executive Bo Franch-Mærkedahl,
this bike was originally conceived as a show piece but quickly attracted
interest from buyers. The firm, founded in September 2008, has sold five
units to buyers in the U.K., Dubai, Russia, Italy, and most recently, Australia.
He adds that four of the clients also bought a matching gold-plated wall rack.
*Price converted from ?80,000
Most Expensive Golf Club
Long-Nose Putter Stamped ?A.D.,? attributed to Andrew Dickson
Price: $181,000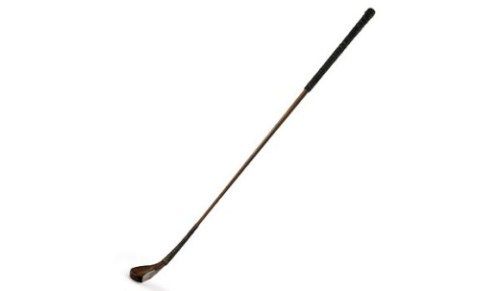 An ?A.D.? stamp on this circa 18th century, long-nose putter is attributed
to Andrew Dickson, the oldest known clubmaker to mark his clubs.
He is said to have served as a caddy to the Duke of York as a young
boy, according to Sotheby?s. This item was estimated to sell for
$200,000 to $300,000 but fetched $181,000 in a Sotheby?s auction
in New York in 2007.
Most Expensive Wine
Screaming Eagle Cabernet Sauvignon 1992
Price: $500,000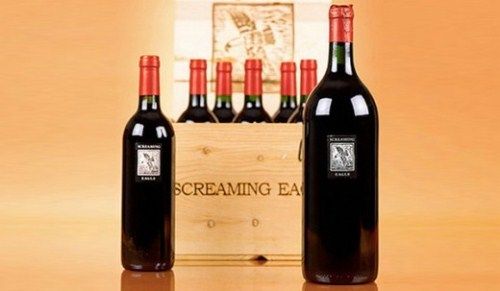 This sale is left off many lists because the proceeds went to charity,
but Screaming Eagle?s $500,000, six-liter bottle of cab holds the top
spot for the most expensive bottle of wine ever sold. It was purchased
at the Napa Valley Wine Auction in 2000 by Chase Bailey, a former
Cisco Systems executive, reported Time magazine.
Most Expensive Chess Set
Chess Set by Charles Hollander*
Price: $600,000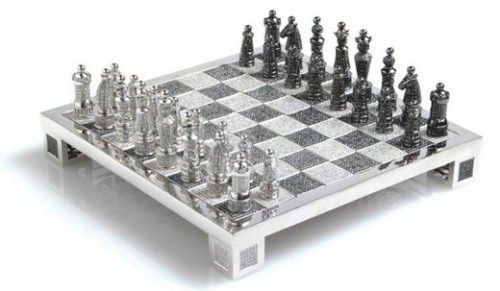 Jeweler Charles Hollander?s Royal Diamond Chess (shown in photo),
priced at half a million dollars, is often cited as the world?s most expensive,
but Hollander tells Bloomberg Businessweek that the first of his seven
chess sets, which made their debut about 10 years ago, quietly sold for
$600,000 just after launching. The set was studded with 320 carats of black
and white diamonds and two kilograms of 14 carat white gold. Hollander
says he presented the unnamed piece at the Basel Jewelry Show and sold
it within the first hour to a Russian collector. Hollander has made seven luxury
chess sets, all designed by Bernard Maquin, and has moved all but one.
Another set, called the Jewel Royale chess set, by U.K. jeweler Boodles,
was valued at $9.8 million but has not yet sold.
*No images of the set were taken before sale, according to Charles Hollander.
The image shown is of the Royal Diamond Chess.
Most Expensive Motorcycle
Dodge Tomahawk V10 Superbike
Price: $700,000
The Dodge Tomahawk, a 1,500-lb. motorcycle with four wheels, has a
Dodge Viper?s V10 engine and can go from zero to 60 mph in 2.5 seconds,
according to Edmunds.com. The top speed is estimated to be more than 300 mph.
The vehicle, which made its debut at the 2003 North American International
Auto Show in Detroit, was reportedly priced at $550,000, but a Dodge spokesperson
confirmed to Bloomberg Businessweek that two units were sold at an even higher $700,000.
Most Expensive Camera
Susse Freres daguerreotype camera
Price: $775,000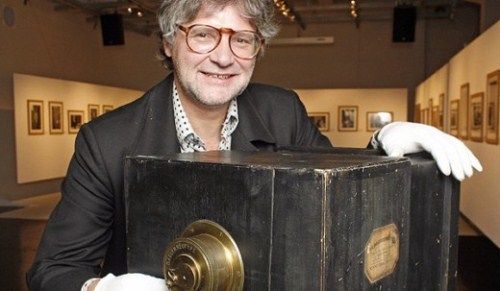 A daguerreotype camera designed by Frenchman Susse Freres that
dates back to 1839 sold at the WestLicht Auction in 2007 for ?576,000 ($775,000).
It was believed to be the oldest commercially manufactured camera in the world,
reported the Most Expensive Journal. Another daguerreotype camera will be
auctioned in May and is expected to fetch up to $950,000.
Most Expensive Speakers
Transmission Audio Ultimate System
Price: $2 million per pair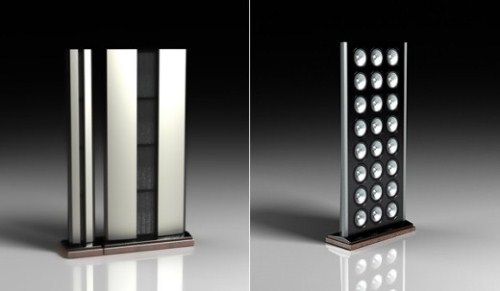 With a total of 12 units?four dipole subwoofers, two dipole mid-woofers,
four dipole medium-frequency and high-frequency ribbon panels, and two
dipole high-fidelity super ribbon panels?Transmission Audio?s Ultimate
speaker system is a hefty piece of equipment, spanning 37 feet and
weighing 5 metric tons. All units are made from aircraft aluminum and have
stands in polished red or black granite. The set was introduced in late 2009,
and so far two pairs have been preordered, says Bo Bengtsson, president of
Transmission Audio. None has yet been delivered, as the assembly time is
about six months.
Most Expensive Television
PrestigeHD Supreme Rose Edition by Stuart Hughes
Price: $2.3 million*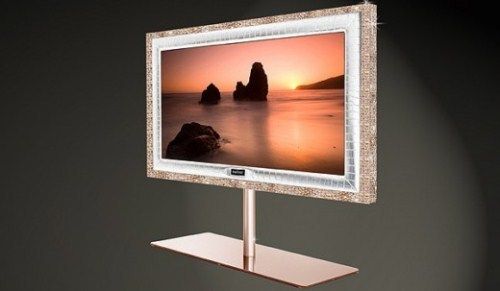 Swiss luxury television maker PrestigeHD asked Stuart Hughes of
Goldstriker International to design a spectacular piece for the company,
says Hughes. So he took a 55-inch PrestigeHD television and covered
it in 28 kilograms of 18-carat rose gold and 72 diamonds. Alligator skin
was hand sewn into the bezel. This limited edition TV, introduced just this
year, surpasses Hughes? £1 million television for PrestigeHD, which uses
22-carat yellow gold and 48 diamonds. PrestigeHD CEO Simon M. Troxler
says the company is close to closing its first contract for the Supreme
Rose Edition and ?we are very confident that the limited edition of only three
TVs will be sold out soon.?
*Price converted from £1.5 million
Most Expensive Guitar
Fender Stratocaster guitar
Price: $2.7 million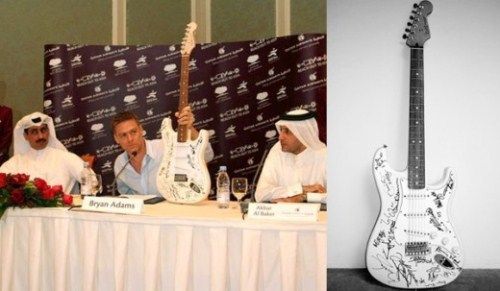 A group of the world?s renowned musicians signed this guitar, auctioned
in Qatar in 2005, to raise funds for tsunami victims, according to a press
release. Signatures include Mick Jagger, Keith Richards, Eric Clapton,
Brian May, Jimmy Page, David Gilmour, Jeff Beck, Pete Townsend,
Mark Knopfler, Ray Davis, Liam Gallagher, Ronnie Wood, Tony Iommi,
Angus & Malcolm Young, Paul McCartney, Sting, Ritchie Blackmore,
Def Leppard, and Bryan Adams. It was bought by Qatar?s royal family
earlier that year, donated back to the charity, and sold again for $2.7 million.
Most Expensive Cell Phone
iPhone 3GS Supreme Rose by Stuart Hughes
Price: $2.97 million*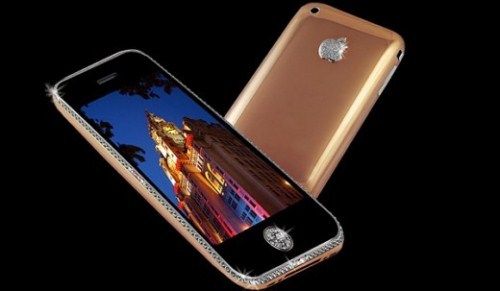 Stuart Hughes?who also designed the most expensive television?
made headlines in 2009 when he crafted a 22-carat gold iPhone
studded with 53 diamonds for an unnamed Australian businessman
for £1.92 million. More recently, he says, he was commissioned to
make an even pricier version of the phone in 18-carat rose gold with
hundreds of diamonds, including a single-cut, 7.1-carat diamond for
the main navigation button.
*Price converted from £1.93 million
Most Expensive Piano
Heintzman Crystal Piano
Price: $3.22 millio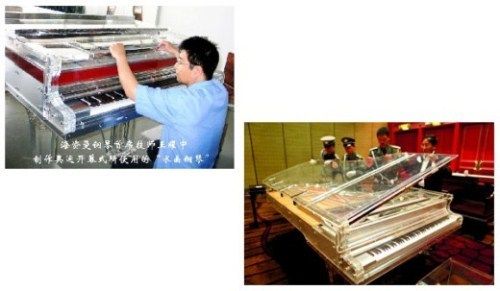 A nine-foot piano made by Heintzman Piano in Beijing was recently
purchased at auction by a private bidder for a record $3.22 million,
according to a company release.
Most Expensive Domain Name
Insure.com
Price: $16 million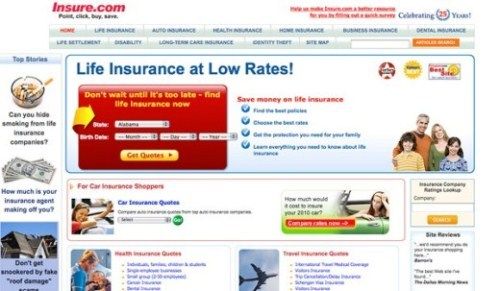 In 2009, California-based Internet marketing firm QuinStreet bought
insure.com for $16 million, setting a new record for the most expensive
domain name. It was previously held by ***.com, which sold in 2006 for
more than $12 million, reported the Guardian.
Most Expensive Ring
Chopard Blue Diamond Ring
Price: $16.26 million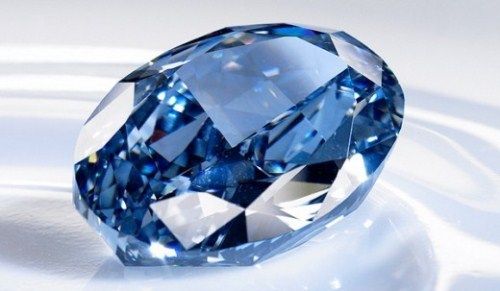 The centerpiece of Chopard Blue Diamond Ring is a 9-carat blue
diamond (in photo) with diamond shoulders. The 18-carat white gold
band is paved with diamonds. It sold overseas in 2007 to a fancy colour
diamond collector, reportedly for $16,260,000, but a Chopard spokesperson
says the estimated value of the ring today is $18,561,310.
Most Expensive Car
1954-55 Mercedes-Benz W196
Price: $24 million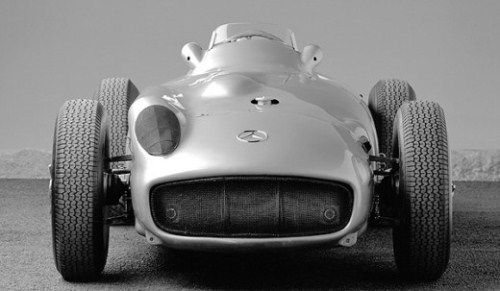 Think a brand-new $1.7 million Bugatti Veyron is expensive?
Try the Mercedes-Benz W196, which won the Grand Prix in 1954 and 1955,
and sold at auction in 1990 for a staggering $24 million. According to
the U.K.?s Times Online Times Online, Mercedes donated the car to
the National Motor Museum at Beaulieu in the 1980s, which later sold
it for £1.5million to finance a museum renovation. It was again sold in
1990 to a French industrialist for $24 million but changed hands once
more to a German industrialist for less than half that sum.
*The image shows a model of the W196.
Most Expensive Watch
Haute Joaillerie Watch from Chopard
Price: $25 million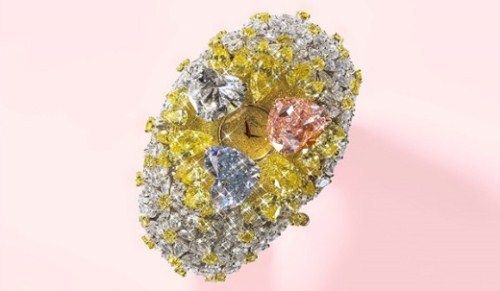 Chopard?s colorful, glittery timepiece sold in early 2000 for a reported $25 million.
The watch has 201 carats of pink, blue, and white diamonds, including a
15-carat, heart-shaped pink diamond, a 12-carat, heart-shaped blue
diamond, and an 11-carat, heart-shaped white diamond. The hearts
spring open to expose the yellow diamond-studded watch face. The
bracelet has 163 carats of white and yellow pear-shaped diamonds.
Most Expensive Drawing
Raphael?s Head of a Muse
Price: $47.9 million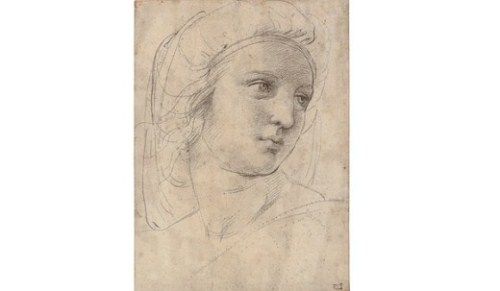 The most expensive work on paper was sold at auction in December 2009
by Christie?s London. Raphael?s Head of a Muse, a black chalk drawing on paper,
sold for $47,941,095, handily beating the estimate, which ranged from $19.7 million
to $26.3 million.
Most Expensive Sculpture
L?Homme qui marche I (Walking Man I), Alberto Giacometti (1961)
Price: $104.3 million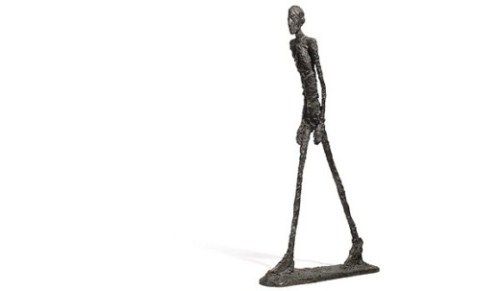 After only eight minutes of bidding at a Sotheby?s auction in London in
February, this life-size bronze sculpture sold for three times its asking price
to an anonymous telephone bidder, reported the Daily Telegraph. The work not
only set a record price for a Giacometti; it is also the most expensive piece
of art ever to sell at auction. The previous record was held by Picasso?s Boy
with a Pipe, a painting that sold for $104 million.
Most Expensive Painting
Number 5, 1948, Jackson Pollock (1948)
Price: $140 million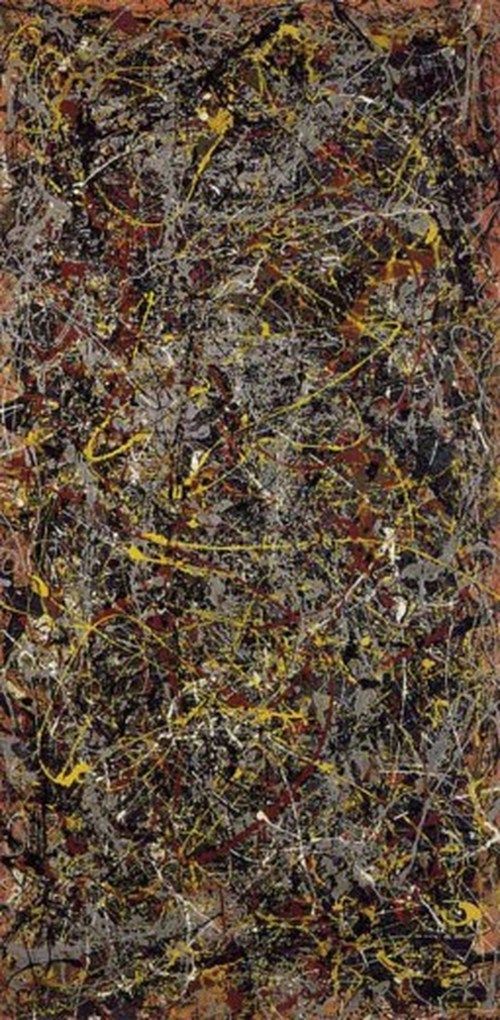 Billionaire record and film producer David Geffen reportedly sold the
4-ft. by 8-ft. painting to financier David Martínez in 2006, although neither
commented on the deal, according to an article in The New York Times.
Most Expensive Private Jet
Boeing 747-8 VIP
Price: $295 million*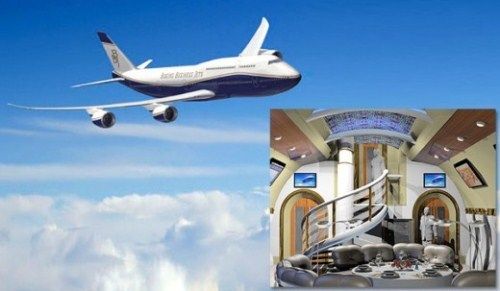 This jet, which has 4,786 square feet of cabin space, is the newest member
of the 747 family and replaces the 747-400. Boeing has sold seven
747-8 VIPs since May 2006 and will start delivering them next year.
While the interior is intended to look less like a plane and more like home,
Boeing does not furnish the jets?customers must hire interior designers,
which can easily add millions of dollars in additional cost, says Boeing
spokesman Bernard Choi. He says the jet probably will not enter service
until after 2012, because the interior has to be put in.
*Price does not include the interior.
Most Expensive House
Antilla
Price: $1 billion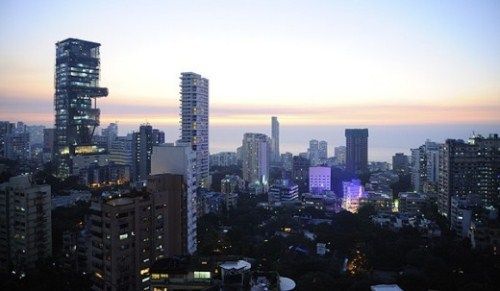 According to a February report by Property Magazine Property Magazine ,
the most expensive house in the world, named Antilla (in picture above at left),
is in downtown Mumbai, India, and will be the residence of Reliance
Industries Chairman Mukesh Ambani. The 27-story, 570-foot-tall tower
has a helipad, a health club, and a six-floor garage that can hold 168 cars.
Each level has gardens. It will be serviced by a staff of 600 people.
Some reports list the price of the house at $2 billion. The architecture
and design firms working on this project, Perkins+Will and Hirsch Bedner Associates,
declined comment.
Most Expensive Yacht
Eclipse
Price: $1.2 billion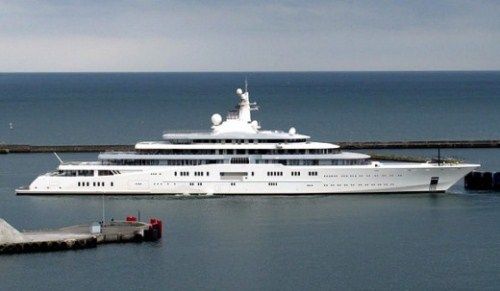 This 560-foot-long yacht has two helipads, 11 guest cabins, two swimming pools,
three launch boats, an aquarium, and a minisubmarine that can dive to 50
meters below the ocean surface, according to London?s Daily Mail.
The master bedroom and bridge have bulletproof glass, and the security
system includes missile detection systems that warn of incoming rockets.
The owner Roman Abramovich, a Russian billionaire who also owns
Britain?s Chelsea Football Club, reportedly fitted the yacht with a laser
system that prevents paparazzi from taking photos.
It was built by Blohm + Voss in Hamburg, Germany