Spitbank Fort or Spitsand Fort or simply Spit Fort is a sea fort is one of four located in the Solent, near Portsmouth, England. Spitbank Fort was built in the Victorian era to protect Britain from French invasion, and now serves for peaceful purposes as a luxury hotel. It is located in the Solent , near Portsmouth, England. The fort was built 1867 to reflect the occurrence of French troops and ultimately was not used as intended, as the French have not attacked but they still played an important role during the Second World War, when confronted by the Nazi ships. As a result, the ships were destroyed. But during the bombing of the fort was damaged by Nazi bombs and Spitbank Fort was decommissioned by the Ministry of Defence in 1982. Currently Fort is privately owned and once opened as a museum. It has 50 rooms, its own dance hall, restaurant, and was once available for private functions with limited accommodation available. It was the venue for the Coalition Festival in the summer of 2009, and other psytrance and hard dance parties. In 2009, he was put up for sale for 800,000 pounds, but sold at auction for more than 1 million pounds.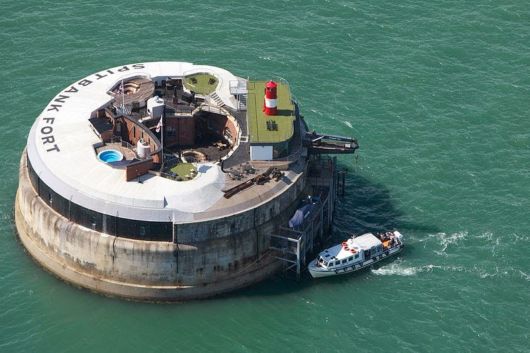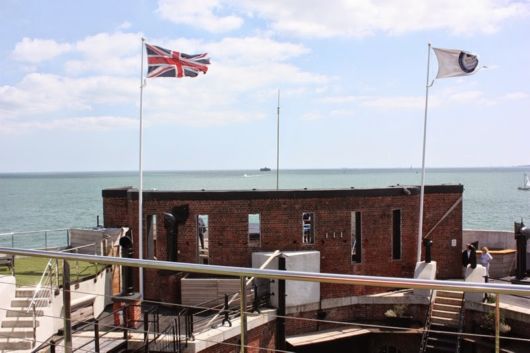 Currently Spitbank owned by Clarenco LLP (owners of Horse Sand Fort and No Man's Land Fort), and has been renovated for use as a small luxury spa hotel and retreat with 8 bedroom suites., which has created here, this luxurious hotel now, but the uniqueness and character of this military fort was abandoned, all rooms walls and ceiling were uncovered trim, brick. Holes through which the outside were exposed guns are now windows that offer great views of the sea, and loopholes are cozy niches. Once lived in this place 150 soldiers who slept in hammocks, but now guests arrived here on vacation can relax in eight luxurious and spacious bedrooms. All conversion fort hotel took invest 3 million pounds.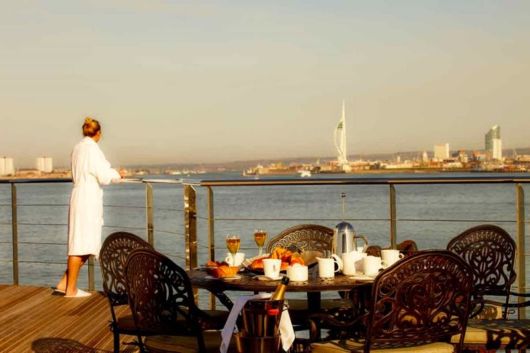 On the top of the fort is a swimming pool and a sauna where guest can relax and enjoy the views of the Strait, Isle of Wight, and two other neighboring fort. At the top of the fort is located, modern room with a beautiful view of 360 degrees, called "Crow's Nest" overlooking the Solent and Portsmouth Harbour. This is perhaps the most romantic room, it has a luxury double sofa bed, bar, doors open directly onto the terrace.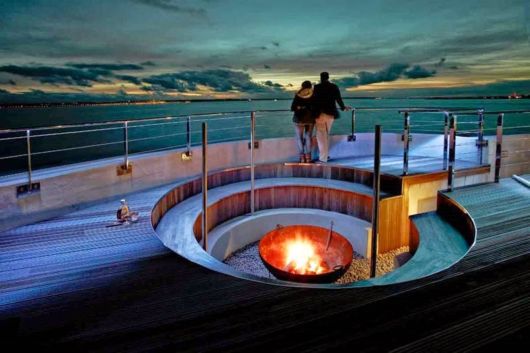 The hotel has eight luxurious double bedrooms with bathroom and another bedroom suite, each modern design intertwined with ancient walls, historic arches, the rooms have modern furniture, chandeliers. There is a cinema in the hotel, library, gym and rest rooms in the basement of the fort, where you can play darts, billiards, pinball, poker. Hungry you will not leave here, too, there are three private dining rooms, three bars and a wine cellar where you can taste wine. In Fort Spitbank recently even went shooting to the James Bond film "007. Coordinates: "Skayfoll" "(English Skyfall). Owner Spitbank Fort also has plans to turn the neighboring forts in the spa and Naval Museum.