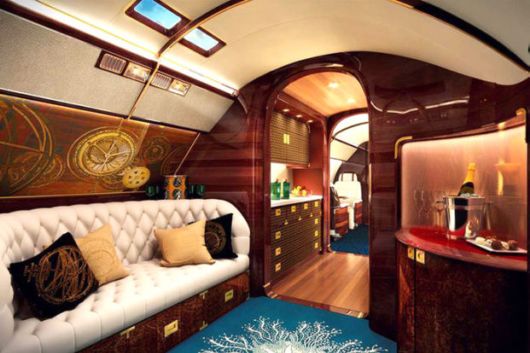 Most of us have to fly economy whilst some of us are lucky enough to fly in first class, but for those that really want to travel in style there is the
Skyacht One
, a private jet that is staking its claim as the world's most luxurious private jet. The Skyacht One is the end result of a partnership between Embraer an SottoStudios Design, based on Embrarer's very own flagship Lineage 1000E jet.
So what does the world's most luxurious jet come equipped with? onboard you'll find a cocktail bar, oversized comfy beds, a bathroom and shower finished to an incredibly high standard and even a conference room finished in the same classy style you'd find on a classic 1930's yacht.
It's the level of detail however that has gone into the finishings and furnishings of the jet that earn it it's 'most luxurious' status. From the brass inlaid window bezels to the mahogany wood cabin throughout just about every handle and rail is ever brass or gold. More information can be found here.