As Welsh cyclist Geraint Thomas rode the Tour de France while suffering from a fractured pelvis, we look at other sports stars who have gritted their teeth and battled injury to carry on:
1. Bert Trautmann Played in a Soccer Final with a broken neck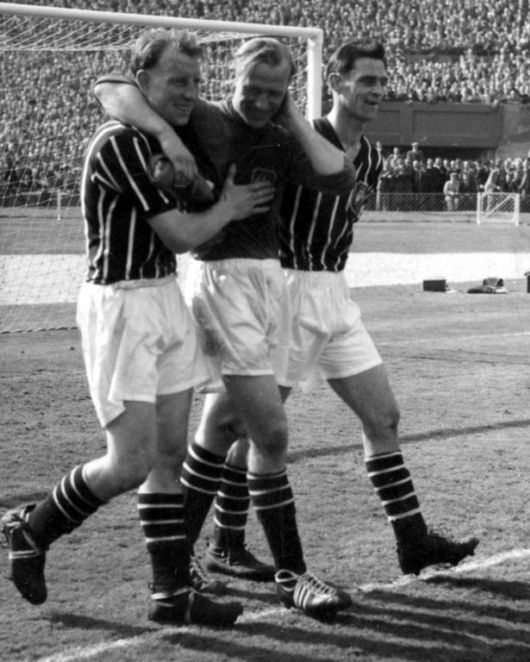 When it comes to playing on after injury, one performance immediately comes to mind. In 1956, German-born goalkeeper Bert Trautmann won an FA Cup winners? medal after he played the last 17 minutes of the final with a broken neck. Manchester City had taken a 3-1 lead against Birmingham at Wembley when, in the 73rd minute, Trautmann dived at the feet of the onrushing forward, Peter Murphy. The Birmingham player?s knee collided with the City goalkeeper?s neck in a clash which knocked Trautmann out. There were no substitutes in those days, so City looked as if they would play the game?s closing stages with 10 men. But Trautmann had other ideas, unsteadily taking his place between the posts and even making two fine stops to maintain the lead. It was only days later that an X-ray revealed a broken neck and Trautmann?s name went down in legend. It was a far cry to when he first arrived in Manchester.
2. Paul Wood plays on with a Ruptured Testicle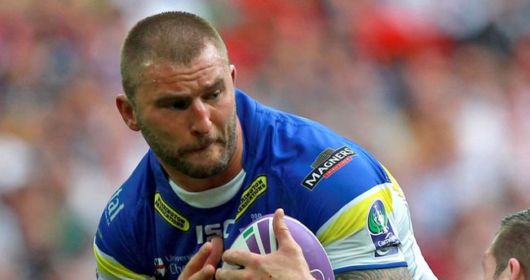 Male readers should look away now as we relate the tale of rugby league star Paul Wood. The Warrington Wolves prop played through the pain barrier after being kneed in the groin and suffering a ruptured testicle in the 2012 Super League Grand Final. He said: ?I was just running with the ball and collided with the Leeds lad. There was an accidental slight knee raise and it was over in a flash.
3. Manteo Mitchell runs relay with a broken leg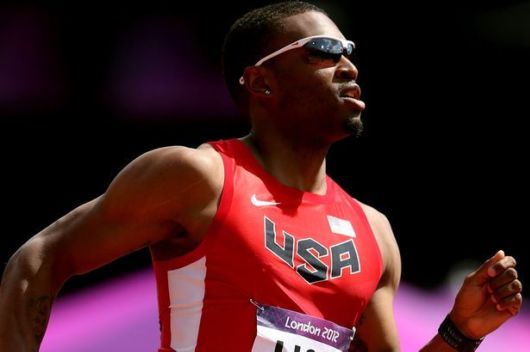 The 2012 London Olympics will live long in the memory for the feats of the home athletes, but none was more amazing than the story of American 400m runner Manteo Mitchell. Mitchell was the lead-off man in the USA team for the heats of the 4×400 relay. Just 200m into the race, Mitchell ? and a lot of the crowd ? heard an audible crack. His left fibula, the smaller of the two shin bones, snapped and X-rays revealed a clean break. ?It was literally bone, space, bone,? Mitchell said. ?It broke in two.?
Running on adrenaline through the pain and with an altered stride ? ?I just focused on lifting my knees? ? Mitchell posted a 46.1-second split.
Team USA went on to finish second in the final behind the Bahamas, and Mitchell received a silver medal for his role.
?I had to channel my attention and my focus on getting back to the finish line, knowing that there were three guys that were waiting for me and a whole country depending on me,? he said.
4. Tiger Woods wins golf?s US Open on one leg

From a time when he seemed to win every tournament he played in, Tiger Woods produced probably his best, and bravest, display at Torrey Pines. Woods had turned up in San Francisco with a knee problem which steadily got worse and worse as the tournament progressed. Grimacing in pain, it was doubtful whether Tiger would complete the four days let alone win the trophy.
But a fantastic putt for a birdie on the last forced a play-off with Rocco Mediate, who then missed a 20-footer on the first extra hole. It gave Woods the title, the last of his 14 Majors, and the magnitude of his achievement only became apparent after the full extent of his injury was known. It turned out Woods had torn the anterior cruciate ligament of his left knee and had sustained a double stress fracture in his left tibia, injuries which kept him out for eight months.
He said: ?I couldn?t have quit in front of all those people.?
5. Franz Beckenbauer plays in sling at World Cup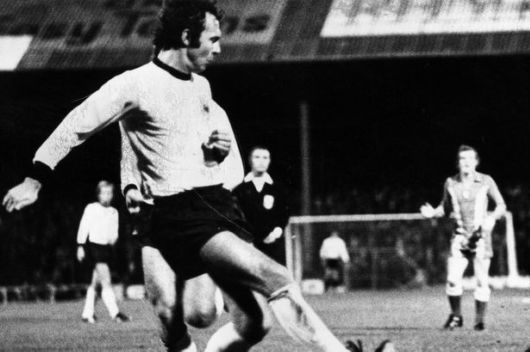 Franz Beckenbauer was known as ?Der Kaiser? during his playing days because of the classy way he bossed games as he glided around the field.
Nothing ever seemed to get in the way of his serenity, not even a broken collarbone in the 1970 World Cup semi-final between West Germany and Italy.
The West Germans were 1-0 down in Mexico City when, after a foul, Beckenbauer fell and was injured.
With his side having used their two substitutes, Beckenbauer sent away the stretcher and opted to carry on, with his injured arm put in a sling.
His bravery looked to have paid off when Karl-Heinz Schnellinger equalised in the time added on for Beckenbauer to be treated.
But the match, called the ?Game of the Century?, still had many twists and turns, with five more goals in extra time ? the only World Cup game in which this has happened ? as Italy won 4-3.
6. Tyler Hamilton rides Le Tour with broken collarbone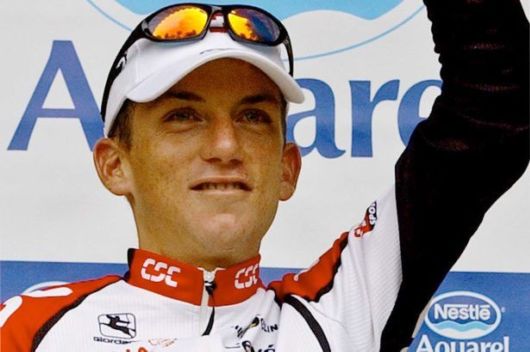 Geraint Thomas? bravery is wowing them in France, but in 2003 it was Tyler Hamilton who beat the pain in Le Tour.
On the first stage into Meaux, Hamilton fell heavily in a mass pile-up near the finish. He remounted, but it soon became clear there was a problem with his shoulder.
After going to hospital for an X-ray, he was diagnosed with a fractured collarbone and looked out of the race.
?The team (CSC) left it up to me,? said Hamilton. ?I didn?t want to give up. The doctor said if I could handle the pain, then maybe it was possible to continue.?
He started the next day and finished and went on, even winning the final mountain stage of the Pyrenees.
When the Tour ended, Hamilton lay fourth, having ridden 4,000km with a broken bone.
Earlier in Hamilton?s career, he had carried on riding in the 2002 Tour of Italy with a broken shoulder. He finished second overall, but ground his teeth so hard through the pain that he had to have 11 of them capped or replaced after the race.
7. Terry Butcher?s cut head against Sweden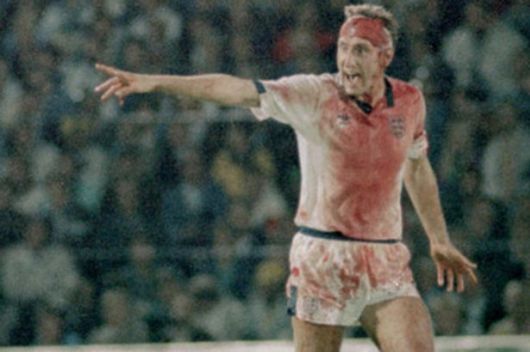 With the health and safety laws around these days, the sight of a player with a blood-splattered head is unlikely to be seen on a football field again.
Terry Butcher entered folklore after helping England reach the 1990 World Cup finals when he was bloodied, but unbowed in Sweden.
Needing a point to qualify for Italia ?90, England saw Butcher suffer a head wound early in the game, which was hastily stitched up and bandaged by the physios.
As happens in these situations, the ball then seemed to be attracted to captain Butcher, which reopened the wound all over his shirt as England battled to a 0-0 draw.
Butcher revealed: ?I?d have never have walked off, and Bobby Robson knew that if he?d have taken me off I?d have killed him.?
8. Chris Simms plays on with a ruptured spleen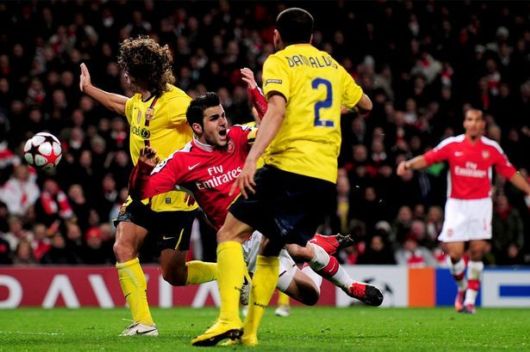 There are plenty of big hits in American Football, and Tampa Bay Buccaneers quarter-back Simms took several against the Carolina Panthers in 2006.
After one particular heavy challenge, Simms bowed out of the game, but returned to led a scoring drive as the Buccs went down 26-24.
After the game, tests in hospital revealed that Simms had ruptured his spleen, and emergency surgery would be needed.
Doctors removed his spleen, but Simms lost five pints of blood during the surgery. If he had gone untreated for another 45 minutes, Simms would have been near death.
?I remember the play, but the [rest of] the game is foggy, said Simms, whose career at the Buccaneers faded after he struggled to reclaim a starting spot and he has since gone into coaching.
9. Cesc Fabregas scores a penalty with a broken leg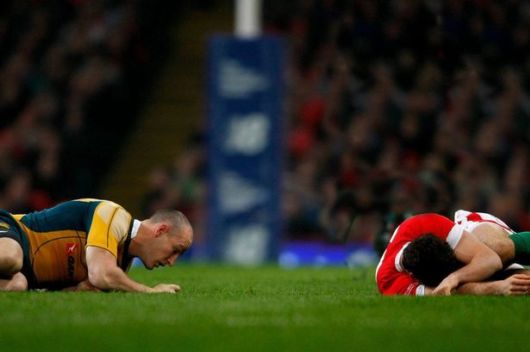 Fabregas had been a doubt for Arsenal?s crucial 2010 Champions League quarter-final with Barcelona because a bruised leg suffered in a challenge with Birmingham?s Craig Gardner.
But worse was to come for the Spanish midfielder after he was fouled by his future club colleague Carles Puyol in the 85th-minute of the clash, with Barca leading the first leg 2-1 at the Emirates.
Puyol was red-carded and Fabregas stepped up to fire home the equalising penalty before collapsing in a heap.
He was stretchered off and was later revealed to be suffering from a broken leg.
Afterwards, he said: ?I took the penalty quite strongly and then went to get the ball and after that I couldn?t walk any more. I don't know whether I did it then or when I was fouled for the penalty.?
There was even some suggestion that his leg may have been broken in the challenge with Gardner a week earlier.
Fabregas said: ?Yes, it's the same spot, but I didn't go into the game against Barca thinking ?My leg?s broken."
10. Ronnie Lott played in a 1985 playoff game with a crushed finger that eventually had to be amputated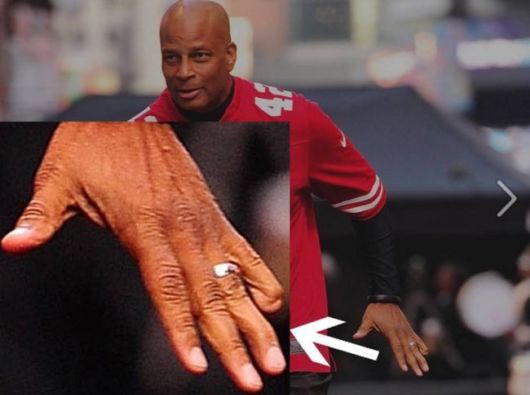 11. Curt Schilling won Game 6 of the 2004 ALCS on a bloody ankle. Before the game, he had a crude surgery where a tendon in his ankle was sutured to his ankle tissue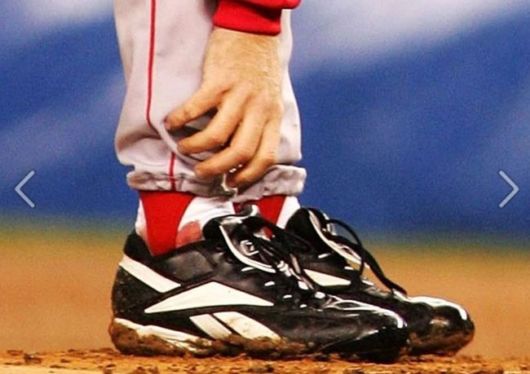 12. Shun Fujimoto helped Japan win the team gymnastics gold medal at the 1976 Olympics after breaking his kneecap. He competed on the rings with the injury, and ended up dislocating it when he landed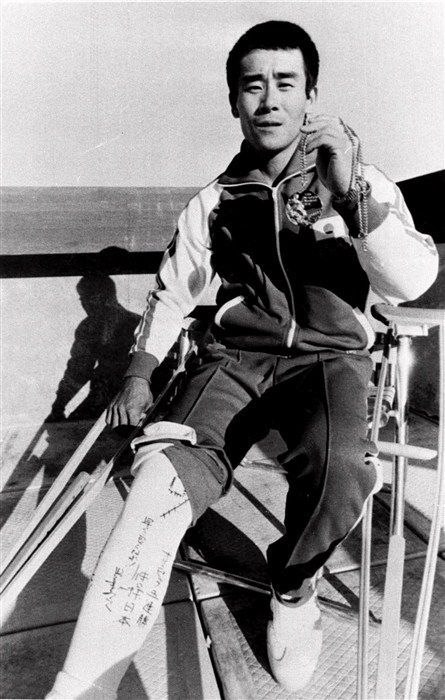 13. Keri Strung helped the US gymnastics team win gold in 1996 with an amazing vault right after spraining her ankle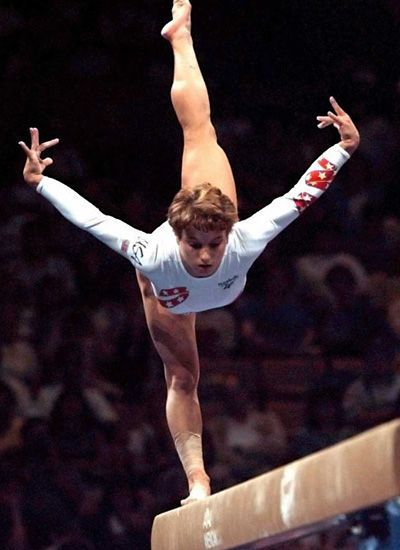 14. With the help of his dad, Derek Redmond finished the 400-meters at the 1992 Olympics after tearing his hamstring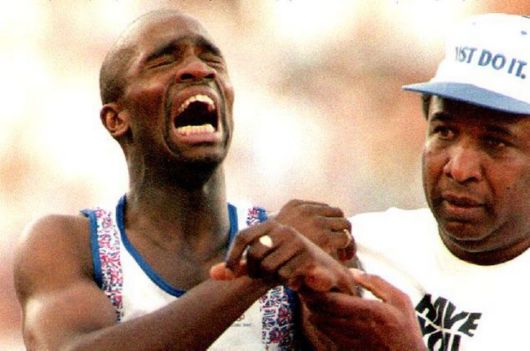 15. Michael Jordan scored 38 points with the flu in Game 5 of the 1997 Finals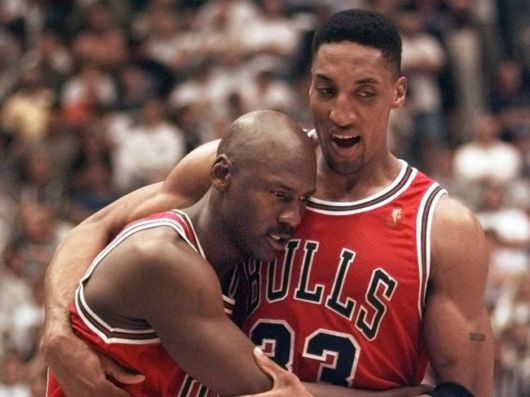 16. Byron Leftwich had his teammates carry him down the field after he broke his leg against Akron in 2002. His team came back from 17-points down to win
17. Five weeks after getting in a car crash that resulted in him losing 30 inches of intestines, Southern Miss QB Brett Favre beat Alabama in 1990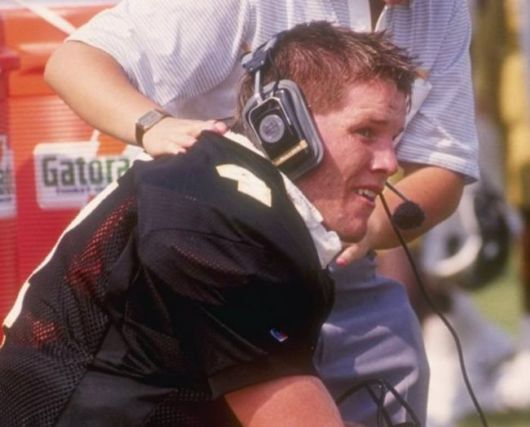 18. Rams player Jack Youngblood broke his leg during the second quarter of a 1979 playoff game. He stayed in the game, played two more playoff games, and even appeared in the Pro Bowl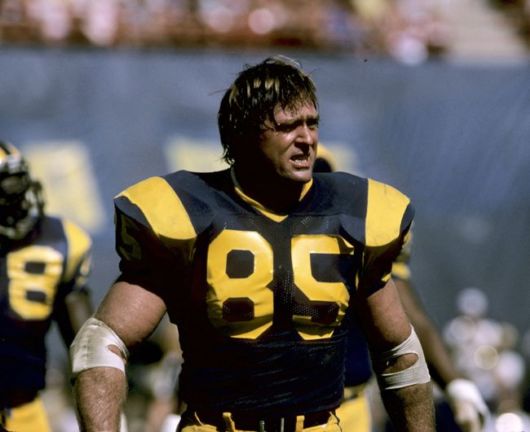 19. Jamie Roberts plays on with skull fracture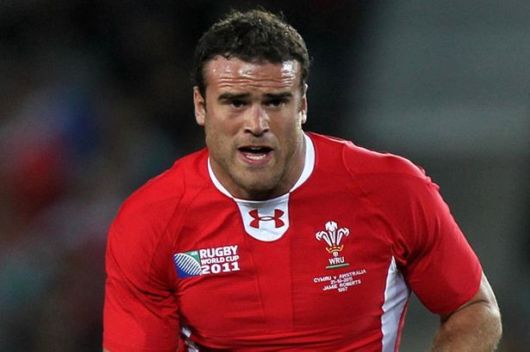 Wales and Lions centre Jamie Roberts achieved a rare feat in 2008 when a sickening clash of heads with Australia?s Stirling Mortlock brought a hush over the Millennium Stadium.
The 74,000 crowd held its breath as Roberts and Mortlock were helped off the field, looking in a bad way.
Yet, amazingly, the Welshman returned to play for a further 15 minutes, helping to create a try for Shane Williams in the Dragons? 21-18 victory.
After that, he left the field and joined a dazed Mortlock in going to hospital where X-rays revealed Roberts had fractured his skull.
The injury kept him out of action for six weeks, but he was back for the 2009 Six Nations.
The then-medical student said afterwards: ?I wasn?t unconscious at the time. I was feeling dizzy and knew I had taken a big bang.
?The world was just spinning for a second. I got to my feet and my head was hurting.
?I can remember the build-up to Shane?s try, but my head got worse after and I knew I had to go off.?