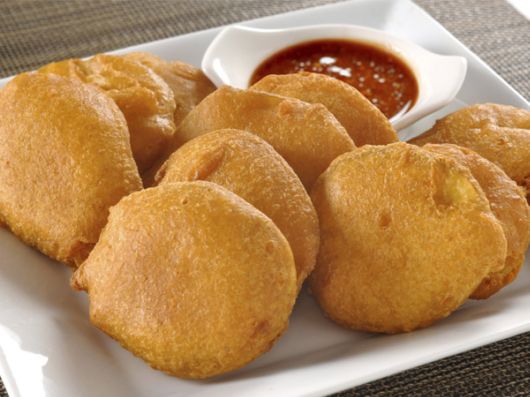 Street food has become the culinary signature of the city or state of its origin. Its unique identity connects people and places. You can't take away idli from the warm and sultry roads of Tamil nadu, while Stew-Appam makes Malayalis salivate. Even Bollywood has succumbed to this vibrant food culture with songs such as Main to Raste Se Jaa Raha Tha, Mein to Bhel Puri Kha Raha Tha. Every state has its own claim over food, often resulting in culinary rivalry. Jalebis will have UP-ites and Rajasthanies fight over its origin. Consider singing praises about Gol-gappa in front of your Bengali friend, and almost instantly you will touch a nerve and earn yourself a lecture on the ?actual' art of making and serving ?phuchka'.
Idli from Tamil Nadu
Fluffy and healthy idlis have ingredients ranging from raw rice, par boil rice, rice flakes (poha), white lentil (urad dal), semolina (idli rawa) and yogurt, flavoured with any combination of vegetarian and non vegetarian toppings, mixtures and fillings. These include mustard seeds, lentil, curry leaf, chilly, gun powder, ghee, coconut, chicken, lamb, carrot, beans, green peas, potato, banana flower, and definitely salt. Although idlis are available extensively across South India, the Tamil-style idly wins hands down for its fluffly and extremely light texture. It looks like a small wheel rather than the traditional flat patty. Generally believed to be white in color, various avatars of idli come in pale yellow (tempered idly), deep yellow (Kanchivaram idly), green (spinach idly, green pea idly) and even brown (ragi idli, matta rice idli). Idli is served with coconut chutney, nei (ghee), gun powder and sambhar. But you can also combine it with a veg or non-veg curry of your choice and relish.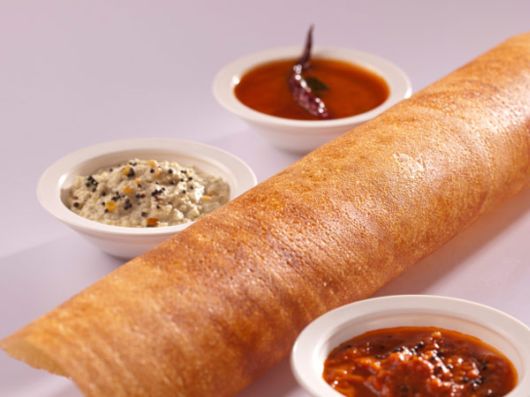 Set-Dosa (Karnataka)
No other state has been able to counter-produce this wonderfully fluffy dosa. It is sold in a set of three small dosas, piled one on top of the other with thin vegetable curry instead of traditional coconut chutney, sambar and a dollop of butter almost dropping off the edge. Set Dosas are soft, spongy and fluffy, made with parboiled and beaten rice. The batter though fermented is not allowed to turn sour. A generous dose of sugar is added to cut the sourness, if present.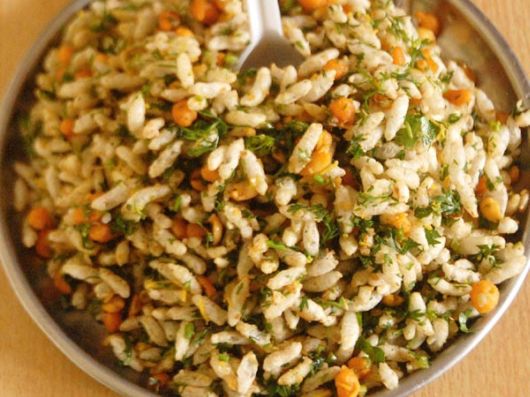 Bhel Puri (Maharashtra)
This ?snacky? dish has almost iconic status in Maharashtra. Bhelpuri is low-fat (barring sev on top), nutritious and delicious beyond words! A true blue Bhelpuri must be made just before consumption and let the taste takes its course since it will be finished in minutes, to prevent the puffed rice from getting soggy. It is often identified with the beaches of Mumbai like Girgaon or Juhu chowpatty. Gujaratis believe that this dish originated in their kitchens, Bengalies have Jhal-muri to their credit and Kannadigas will raise their voices till they turn hoarse as they cheer for the ?original? churmuri. But nothing can beat Bhadang – the amazing dish from western Maharashtra that comes closest to Bhelpuri.
Mumbai has its own spell on this dish lovingly called Bhel. Ask a vendor to prepare a serving for you, he will instantly enquire – Sookha ya geela? Don?t get tricked here, both options are correct based upon your choice of tossed in chutney or no chutney. Depending on your choice he will offer more – Meetha, khatta ya teekha? This implies whether you want it sweet, sour or spicy. It involves adding ?khand?, or powdered jaggery, more chilly and/or amchoor powder, or an extra dose of lime. But, all versions are just about ?mind-blowing? good.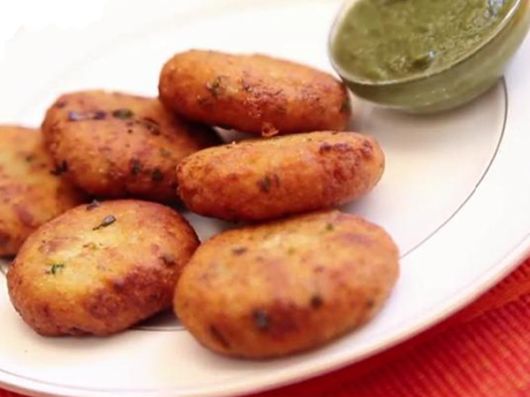 UP ki Aloo Tikki
This humble dish is known as the poor man?s kebab in good old Uttar Pradesh. Every state will fight to death over the deliciousness of aloo tikki with versions such as ?aloo chop?, aloo cutlet, alu ki tikri, aloo da tikkar, aloo patties or the tasteless McAloo tikki burger. But this amazingly simple, yet delicious dish belongs to the bustling narrow lanes of Lucknow, Kanpur, Faizabad, Unnao and Banaras. Every single ?Thele wala? (street hawker with burrow) has his own version of the dish, sauce, stuffing, fat or serving style.
It is often served with various toppings such as – onion, tomato, chana, chole, peanut, white pea, chilly, coriander leaves, mint chutney, dry ginger chutney, yogurt, fennel, cumin, dry mango powder, black salt, besan sev, broken wheat papdi, fried rice crispies, or crushed golgappa. This is one dish which can never go wrong.
Rajasthani Kachori
The queen of snacks is rated high in demand by all. It is one of the few street foods that has a high shelf life and is good as a travel food. The Rajasthani version has a crisp exterior but the skin can be easily broken into the hollowed centre. It is then filled with a dry potato preparation and topped with sweet-spicy chutney.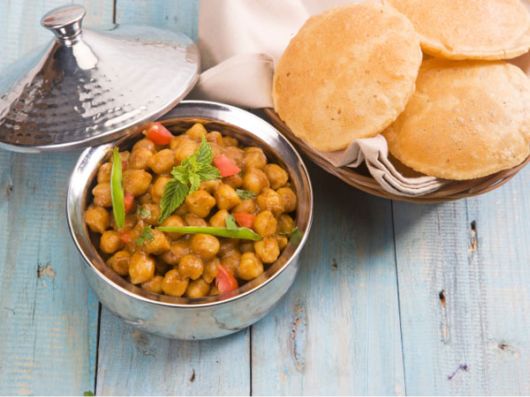 Punjab ke Chole Bhature
Huge and puffed-up bhaturas qualify as the ?Hulk? of street foods in India. It has a massive and loyal fan following from all corners of India. There are various methods to prepare Kabuli Chole (Chickpea), not to be confused with Desi Chana (Bengal gram). It can be cooked in mustard oil, Ghee, Dalda and refined oil. It can be flavoured with yogurt, tamarind, tomato, onion, watery-thin gravy, dry-roasted-with-lot-of-oil or the simple Jain version. Choose what you might, it is going to taste awesome. Bhatura could easily be confused with Bengali Loochi (refined flour poori). But Bhatura has semolina for a nice crispy texture and yogurt for a fermented kick. It can remain crispy for a long time provided it?s been prepared by a true street-food artist.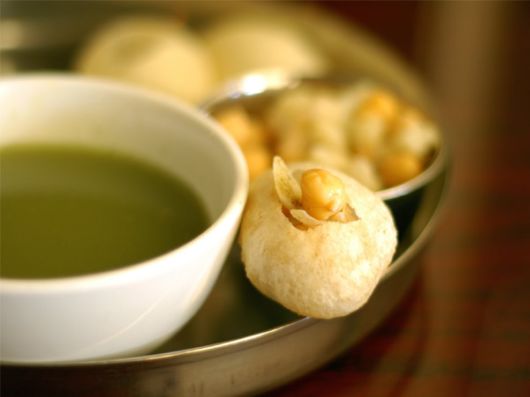 Bengali Phuchkas
Kolkata?s chaat vendors have done wonders with this humble dish of fried whole wheat round-lets. There are two major types of phuchkas – whole wheat flour and semolina. But the real taste is derived from what goes inside it – the filling and spicy water. There are white peas, green peas, kabuli chola, desi chana, potato, boondi, vegetable mixture, raw mango, any one or a combination of few that qualify as the filling. The taste of the spice-and-mint-based water is the deciding factor. The water can be spicy, very spicy, not spicy, sour, sweet water, yogurt-based or chutney-based. Almost every vendor stocks up on at least two varieties to maintain the foot-fall.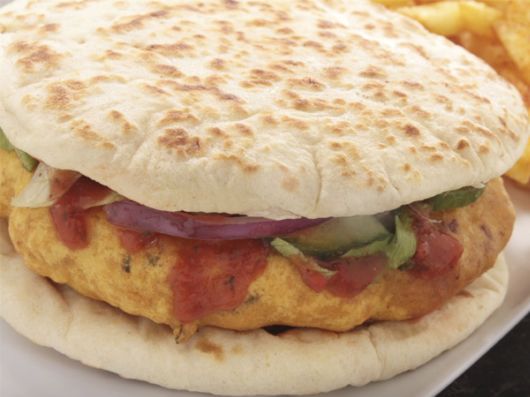 Gujarati Dabeli
First there were Gujaratis and then came Kesha Malam, the maverick from Kutch who concocted Dabeli. Traditionally, it was potato mixture with Dabeli Masala (a unique off-shoot of garam masala including peanut, dry coconut and dry red chilly) and garlic chutney. The name Dabeli literally means ?pressed? between two layers of our desi Pav. The modern version of Dabeli has a proper patty made with potato, beans, peanut, chillies and green peas. It is placed between the pav or sometimes burger-bun with garlic chutney and Dabeli masala, topped with besan sev.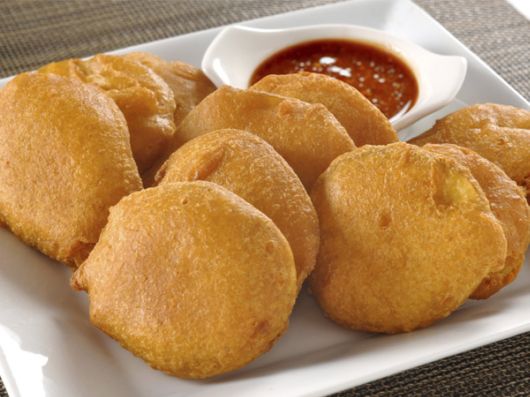 Litti-Chokha from Bihar
Litti is made with Sattu which is derived from chana dal (Bengalgram lentil), or with a combination of rice, wheat, millet, sorghum, lentils, onion, garlic, chilly, pepper corn, corn and any other ingredient of your choice. Chokha is either made with tomato, or with the more popular potato. Regardless of the choice of grain and starch, the end result will leave anyone asking for another helping.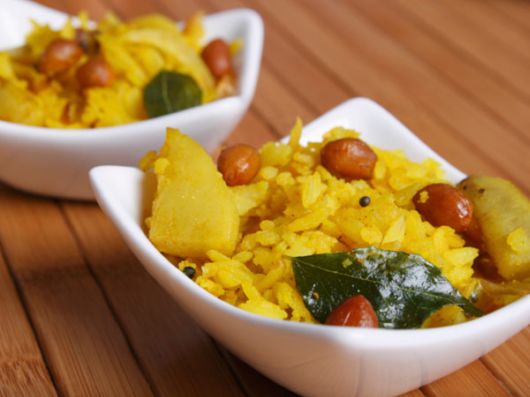 Poha-Jalebi (M.P.)
This unique combination of street-food, from the by lanes of Indore, will first hit you for its oddity; poha is savoury and Jalebi sweet. Nevertheless, this offbeat pairing will make your gorge. There is not much to say about the recipe or hidden ingredient in poha. In Indore, the poha has no potatoes. But topping it with raw onions and Indori sev (thick sev) is a must. The Jalebi served along with poha and eaten either together or just after poha makes this unique experience remarkable.